ABOUT
In Multihand Blackjack, players compete against the house that is represented by the dealer. Player's do not compete against one another; their card totals are only compared to that of the dealer's cards.
Multihand Blackjack provides multiple options for personalization in the settings, including turbo mode on/off, the number of hands you wish to play (x1, x3, x5), background music on/off, the colour of the table you'd like to play at (green, blue, red, black) and the limits you'd like to wager.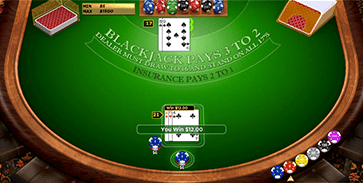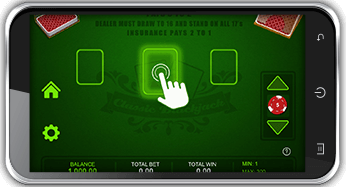 At the conclusion of every hand, you can click on the settings icon to the left of the screen and modify your betting selections. Take note that blackjack pays 3 to 2 and the dealer must draw to 16 and stand on all 17s. To get started, simply click on the chip denomination off to the right of the screen. Then navigate to the bet buttons on the table and click them.
You can change chip denominations at any time and then click the bet button accordingly. Once you have made your final bet selections, click the deal button. The option to take insurance is available too with insurance paying 2 to 1. Different aspects of the game are evident as you play through it, for example the option to re-bet and deal, start a new game, stand, hit and double.