Power up for an unparalleled gaming experience with Playtech's boldest addition to its live casino offerings: Adventures Beyond Wonderland. This world-class casino game, available to players at 888 Live Casino, is readily available to fans in the United Kingdom and across .com markets, far and wide. Once again, Playtech delivers big on expectations. They pulled a trump card with this blockbuster game show. Adventures Beyond Wonderland Live offers an immersive and rewarding gaming experience.
Gear up for fun & adventure as the magic of fairies, fables, and fun comes to life in spectacular fashion.
Industry leaders Playtech raised the bar in the live casino arena with their cutting-edge first-to-market solutions in creating Adventures Beyond Wonderland.
Fashioned from the iconic stories by Lewis Carroll, this thrilling live casino game draws inspiration from an existing Playtech slot and brings its distinctive theme and graphics to life in a brand-new way. Who would have imagined Alice's Adventures in Wonderland, otherwise known as Alice in Wonderland, written by Lewis Carroll (a.k.a. Rev. Charles Lutwidge Dodgson) in 1865, would become an iconic Live Casino game?
The Marvelous Revolving Studio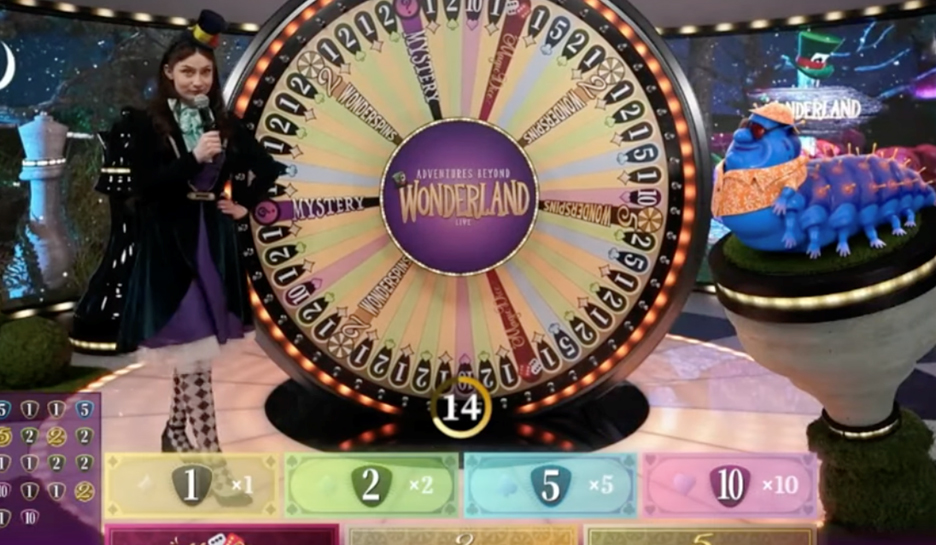 Playtech's revolving studio brings oodles of excitement to the scene. Cutting-edge tech delivers an augmented reality (AR) experience par excellence, with nattily-clad dealers dressed up as adorable characters from the fabled story. Professionally-trained dealers, instantly recognizable as characters in the game, bring added value to the live casino experience. Players are thrust into the 'Wonderspins' bonus round, where excitement, enchantment, and exceptional wins abound.
But the fun doesn't stop there; players can also look forward to three in-game bonus rounds of play:
Magic Dice
March of Card Soldiers
The Caterpillar Mystery Bubble
Each of these feature-filled bonus rounds adds something magical to the live casino game. Don't forget the primary bonus round for an even more enthralling and potentially lucrative experience. So, come on over and take advantage of this one-of-a-kind live casino game. Play Adventures Beyond Wonderland and go beyond the realm. Based on the world-famous slot of the same name, Adventures in Wonderland is barrels of fun to watch and thoroughly entertaining to play.
Fabulous In-Game Features Ready to Roll!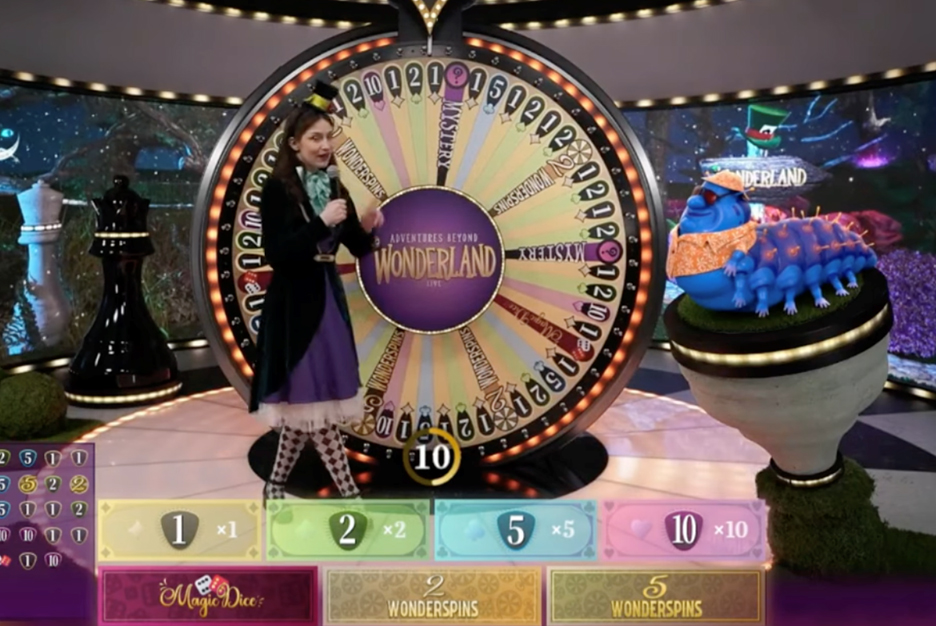 This wildly appealing live casino game utilizes cutting-edge technology and augmented reality to bring the beloved characters of Alice in Wonderland to life. The game is set in a revolving studio, where the hosts play the leading roles of Alice and the Mad Hatter, dressed in lifelike costumes. In addition, the White Rabbit and Caterpillar are also brought to life through animation, making appearances in the bonus rounds; they're quite amusing!
One of the thrilling aspects of the game is the Main Wheel, which rotates when a bonus round is triggered, revealing an additional bonus wheel on its backside. This bonus wheel is used for the WonderSpins round, which offers two and five wheel spin games. In addition, this bonus wheel also features a smaller inner wheel with multipliers and extra spins.
Another unique aspect of the game is the custom-made automatic dice shaker used in the Magic Dice bonus round. Players also have the option to speed up the game with an autoplay button that allows them to get to a bonus round more quickly. Adventures Beyond Wonderland offers a unique and exciting experience with its cutting-edge technology and interactive bonus rounds.
Step Right Up! Play Adventures Beyond Wonderland
Adventures Beyond Wonderland live casino game provides an exciting twist on the classic Spin A Win wheel. There are 54 fields to bet on, divided into four sections with different multipliers: 1, 2, 5, and 10.
But this wheel also has bonus rounds which offer more chances for players to win big! The bonus rounds include Mystery Bonus Spins, WonderSpins, and Magic Dice. Placing bets on the wheel can result in cash prizes or entries into bonus games with boosted multipliers.
Players can easily place bets on numbers. If you prefer, you're welcome to combine these numbers bets with one of the three available bonus rounds. Mystery Bonus Spins don't require any additional bets.
Plus, it provides an incredible surprise for all players. It's up to the individual to decide which strategy works best - betting on numbers only or combining them with a bonus round - to maximize their chances of winning.
Explore Your Big Bonus Potential in the Greatest Adventure Game Show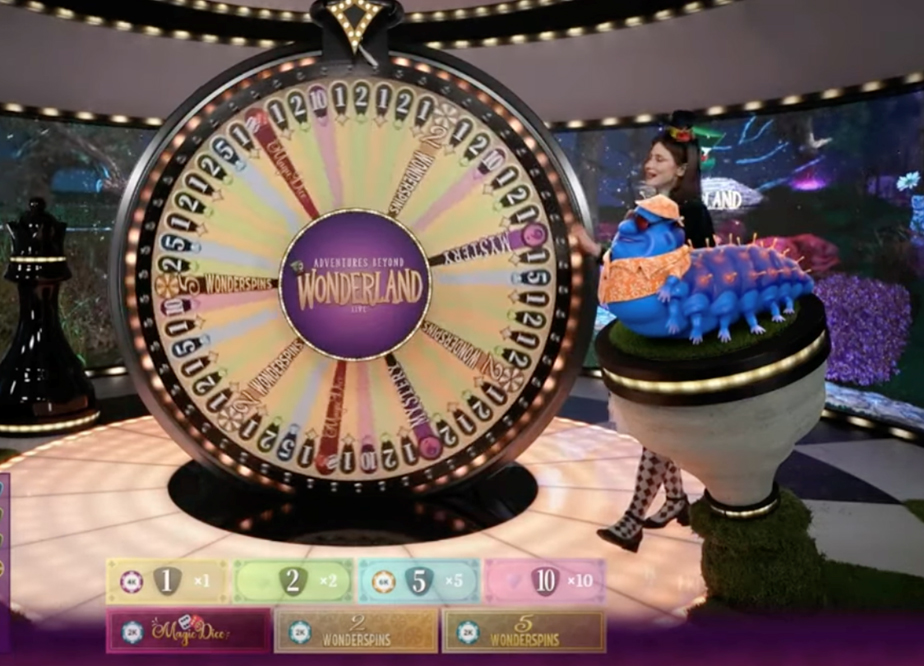 Experience the incredible magic of Alice in Wonderland with Playtech's Adventures Beyond Wonderland. This live casino game delivers action-packed entertainment direct to your screen on PC, Mac and Mobile devices. Watch as these beloved characters come to life right before your eyes.
Encounter the Card Soldiers, White Rabbit, and Caterpillar as you play. Remember there are three exciting bonus rounds - WonderSpins, Magic Dice & Mystery Bonus Spins. These rounds give players the opportunity to score more with generous multipliers, interactive gameplay, and the chance to see their favourite characters in action.
The Wonderland Wheel is bursting with fun-filled elements, including unique category items and a combination of winning numbers between segments. WonderSpins features two variations, 2 and 5 spins, and includes two additional wheels with popular characters from Alice in Wonderland; each one of them comes with a unique multiplier.
The White Rabbit, with a super-sized X50 multiplier, is the most valuable but can only be found on a betting felt. The White Rabbit also appears on screen as a well-meaning, good luck symbol, animated creature, using a mini wheel to select a character to ramp up the OG multiplier value, big time!
In the Magic Dice round, roll the dice and reach the top of the board to snag a mega X100 multiplier. The game board features six columns & 4 rows. The fields on the board are designated with an arrow, a multiplier, or even a multiplier for the entire board. Behold the Mystery Bonus Spins round! It brings good fortune to all live casino game show players, with two thrilling segments: The Caterpillar Mystery Bubble as well as the fascinating March of the Card Soldiers.
These spellbinding games are randomly chosen, and both variants offer whopping multipliers. With a range of bonus rounds to choose from, Adventures Beyond Wonderland is a truly unique and engaging live casino experience.
How to Play & Win Adventure Beyond Wonderland Live Casino Game Show?
It's all about finding hidden treasures. Is your sixth sense on target today? Seek out the game's rewarding features and let good fortune guide you to big wins. But alas, a solid strategy is a winning ticket. A single-unit bet on ten and a single-unit bet on each of these three bets will serve you well. That's a total of four bets per spin on the giant wheel. When lady luck pays you a visit, the cash payout is yours to enjoy with a payout of 10X. Chase down those unique in-game features – that's where the big prizes are holed up!