Why Are Casinos Designed the Way They Are?
You walk into a casino and find yourself lost in a maze of flashing slot machines, Blackjack tables, exuberant Craps players, and scantily clad cocktail waitresses. Are you confused and scared? Or are you excited and ready to pull out your wallet?
The way that casinos are designed has become a topic of significant interest, and many of the classic theories about how casinos should be laid out have recently come under significant scrutiny. The result is that casino layout theory is evolving – with the goal of encouraging more gambling while ensuring everyone has more fun.
Many Players, One Casino
A casino can't be designed and built for just one person. It has to serve the needs of thousands of visitors every day, from confused newcomers who've never dropped a quarter into a slot machine to cash-laden "whales" looking to play high-stakes table games for hours.
As such, when imagining a new casino, designers take the approach of segmenting all the possible customers they might attract and trying to create a design that works for all of them.
For example, a casino may identify three primary customers: High-rollers who want to bypass slot machines and other distractions, casual gamers passing by on the street who are looking primarily for the comfort of slots, and hotel guests who frequently pass through the casino on the way to their room.
The casino has to "work" for all of these players so they don't take their business elsewhere.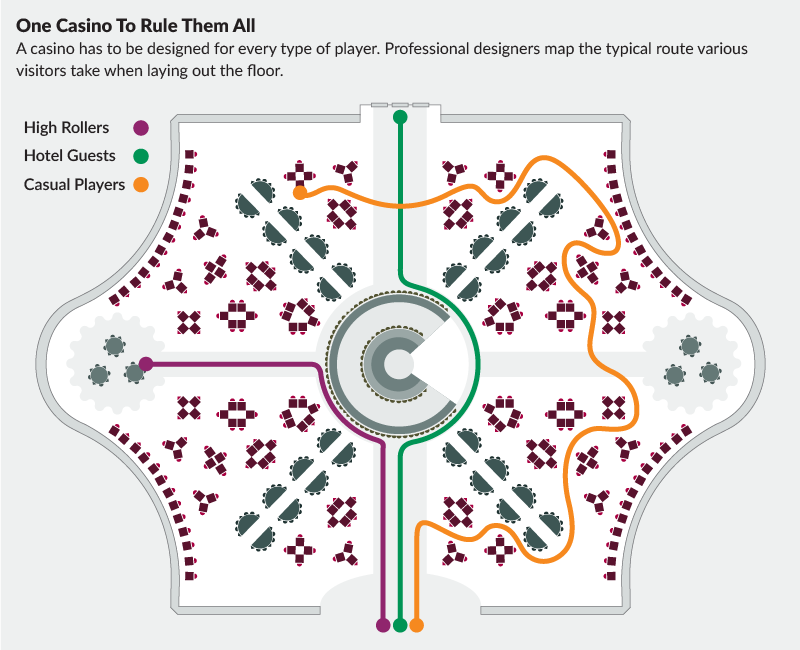 All manner of variables are taken into account, including what's visible above the level of the banks of slot machines, where crowds tend to gather, ambient noise, and even aromas in the casino. The tiny details matter.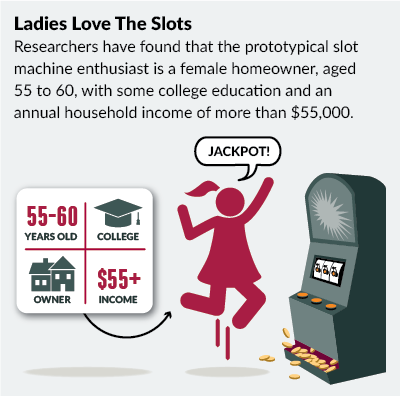 For example, studies have found that women are more comfortable gambling where crowds are smaller. One theory suggests that they tend to feel nervous while playing if they think they're being watched.
Designers map out the routes each of these customer types might take as they move through the floor – as the high-rollers walk toward the poker room, or as hotel guests make their way to the elevators.
That map is then tweaked to create the maximum amount appeal for each customer. The hotel guests may encounter a variety of game types, showcasing what the casino has to offer, while the casual gamer off the street quickly encounters the flashiest slots without having to walk very far. This leads to the second major step of the layout process: How you design a floor that entices customers to keep venturing inward and away from the exit.
From the Maze to the Playground
In the 1990s and early 2000s, when Las Vegas was experiencing its first throes of renaissance and massive gambling palaces were being opened on The Strip, casino designers widely adopted a theory known as the maze layout.
The idea was that a casino should quickly suck a player in, then make it incredibly difficult to leave. The maze concept was widely adopted and rapidly entered into the mythology of Vegas pop culture. This is why there are no clocks on the walls and no windows in casinos, it was often said, to keep you confused about the time.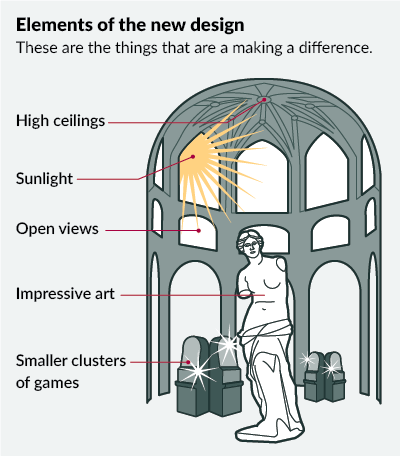 But the maze layout could be seen best on the floor itself, with slot machines arranged not in neat rows as they were in the 1960s but rather in haphazard curving arcs. A player that entered here would have to spend several minutes winding his way out – and hopefully dropping a few extra bucks into machines along the way. The overarching ideas of the maze are that the exits are hidden through spare signage and that, no matter where a player is standing, he should see a variety of gaming machines or tables.
As 2010 drew near, casino layout theory got its first major revision in decades, thanks to the opening of higher-end establishments like the Bellagio and the Wynn. The low ceilings of yesteryear were raised to the sky (often with the sky literally painted on them), and the maze was scrapped in favor of smaller groups of machines with more open space around them. When a player came through the door, he no longer saw slots. He saw sculptures and sunlight, and wide avenues leading to the gaming tables.
This concept has become known as the playground, the idea being to turn the casino from a place of confusion and apprehension and into a high-end palace where players could feel comfortable and excited, surrounded by opulence in every direction. The casino evolved into an inviting spa experience – the kind of place where you don't mind spending money even if you know the odds aren't really in your favor.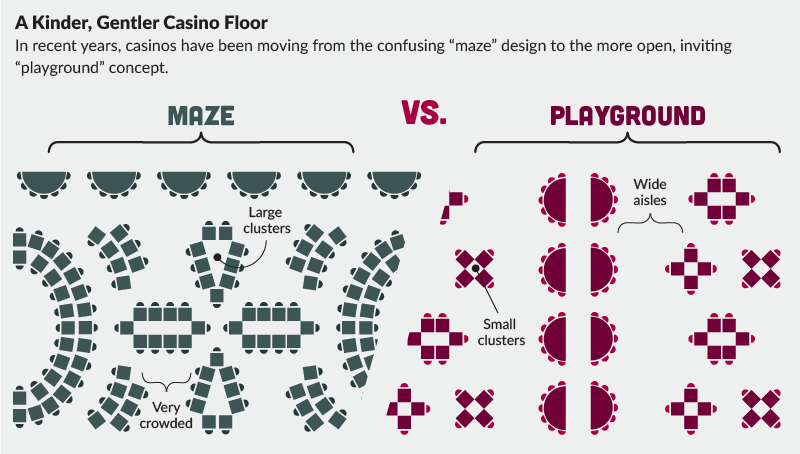 The playground design has proven incredibly successful at encouraging players to gamble, and designers have learned some powerful psychological lessons along the way. Players who are more at ease are happier when they win, and they're more understanding when they lose – all of which convinces them to bet more.
Slot Machine Layouts
The most critical aspect of any casino layout today involves slots. In the 1970s, slots earned about 40 percent of casino floor revenues. Today that's up to 71 percent, and gamers bred on iPhone games continue to vastly prefer playing machines (including video poker and blackjack) over traditional table games – even though the odds aren't as good. In most casinos, slots now outnumber table games by well over 10 to 1. Read more about Casino Odds.

The success of slots has been driven in large part by the advent of touchscreens, which have allowed designers to create a wild array of themed slot machines, often following along pop cultural lines. Today a casino no longer needs to have 300 identical machines. Now it can have four or eight units selected from dozens of different types of machines. This gives the consumer vastly more variety and more impetus to stick around and play different types of casino games. The psychology is a simple one: If "Wheel of Fortune" doesn't pay off, maybe "Money Madness" will.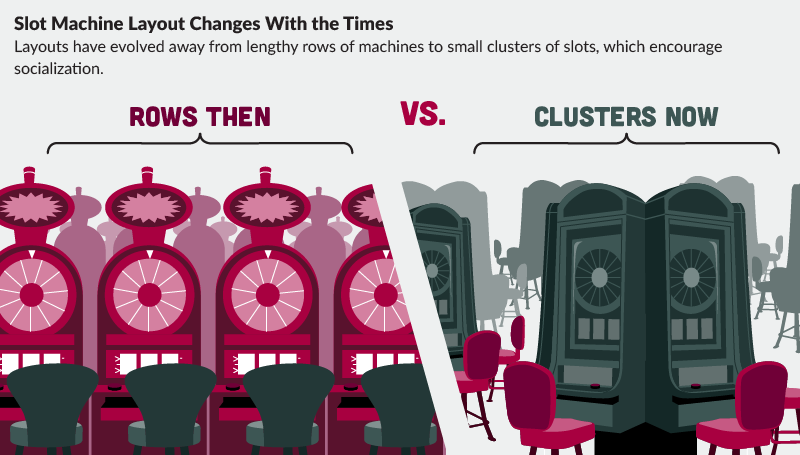 Variety in turn lets casino designers arrange machines in smaller groups. The result has been a shift away from long rows and toward smaller clusters of machines, which can be clustered in a circle or a smaller row. This design lets players see a wider variety of games from any vantage point, giving them more choices and more options to spend. Grouping slots has also been found to make playing them more social, mimicking table games.
Groups of people – particularly younger gamers venturing out as a group – can all gather around in a circle and play together, increasing camaraderie and making the experience more fun.
Table Game Layouts
Designers have less flexibility when positioning table games, which are traditionally placed together in the middle of the casino where they can be centrally managed and secured. These games aren't of much interest to casual gamers, and regular gamblers will gravitate here anyway, so placement isn't that critical.

Clustering table games in a group does have other advantages, though. Table games such as Blackjack are often rowdy and noisy, particularly when someone's on a hot streak (see also our article about Blackjack Etiquette), which generates energy and creates a partylike environment. Having these games centrally located allows that energy to spread out, drawing in new players.
Also, the experience of gaming itself is contagious. The higher the number people that are playing at a table, the more likely it is that more people will want to play at that table. Empty tables don't draw in customers, nearly full ones do.
The next time you walk into a casino, pause for a moment and think about why it was designed the way it was. And drop a chip on red for us!

Maximizing Your Slot Payouts
Is there a "best" place to play slots in a casino? While numerous urban legends claim that the machines by the front door or the slots in the very back of the casino are the best, the reality is that the loosest slots are likely to be randomly scattered throughout the casino. There's no way of knowing, unfortunately, and you're usually best off playing where you feel most comfortable and where the cocktail waitresses can easily find you.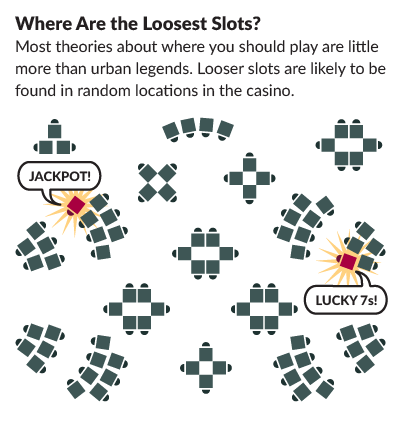 Slots have less favorable odds than most table games, but they have an advantage by providing lower stakes and the opportunity for a huge payoff that you can't get in a table game. That said, don't get blinded by those big jackpot numbers on progressive machines. The higher the jackpot, the less likely it is to come up. Don't overlook low-jackpot machines, as those prizes have easier odds at winning.
It's well known that playing multiple coins per spin generally opens up the option for bigger payouts, but this can quickly drain your bankroll. A penny slot that lets you bet a thousand coins at once is the same as playing a pricy $10 machine. Instead, look for slots that let you play a varying number of coins but which don't penalize you if you only play one. That is, where you can still win a proportional part of the jackpot on a single-coin bet. This way, you can vary your bets just like you would at a table game.