Human beings love to gamble. We'll put our money down on spinning reels, card games, tumbling cubes of ivory, horses, dogs, sporting contests, flips of a coin – even digital representations of any of the above.

But in an age when legal gambling is commonplace in many countries and online wagering – either legal or illegal -- is just a click or two away, why do people continue to patronize risky underground casinos, bet on sports with neighborhood bookies or take a seat at a card game where the "House" is the guy with the big roll of $20s in his pocket?

Illegal gambling conjures up images of elaborate underground casinos capable of being folded up and whisked away in moments if the cops show up, popularized by countless old movies.

Some operations do try to live up to the Hollywood stereotype, such as the high-stakes celebrity poker ring that federal authorities busted in April 2013, which hosted A-listers like Yankees star Alex Rodriquez and movie idols like Ben Affleck and Leonardo DiCaprio at some of New York City's ritziest hotels.

But the reality is usually more mundane: a few slot or electronic gambling machines in the backroom of a smoky bar, a row of "sweepstakes" machines in an Internet café or a poker game at folding card tables in a warehouse or office, with few of the perks that legitimate gambling operators offer their patrons.

The seedy atmosphere at an underground Texas casino chronicled last year by the New York Times is typical, with patrons sipping soft drinks and munching potato chips while rhythmically feeding 75 slot machines in a former tire store.

So why do gamblers continue to patronize such no-frills operations?

An analysis of recent illegal gambling busts in the U.S. and elsewhere by 888.com suggests that convenience, choice and conversation with one's peers play a big role.

Ethnic or racial bonds often play a role in attracting gamblers to a location where they can play traditional games. That's why Chinese immigrants flocked to three gambling dens in Boston's Chinatown until they were busted in March 2013 and Vietnamese bettors kept video gaming machines humming at 11 cafes in the San Francisco Bay Area.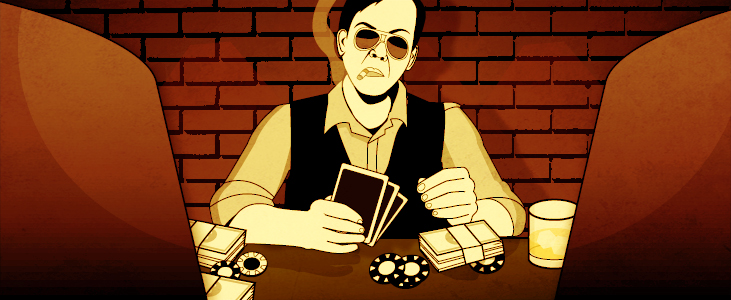 But the Rev. Richard McGowan, a professor of finance at Boston College and expert on gambling, says that in the United States at least, the biggest reason is the shift of public attitudes about betting that has occurred in recent decades as the government has steadily legalized and taxed games that once were illegal.

"Most people simply don't see anything wrong with gambling anymore," said McGowan, author of three books on betting, including 2007's "The Gambling Debate."

That view is shared Rick Rhodes, who spent much of his 30-year police career on the vice squad, including numerous assignments working undercover. He says the gamblers he used to see when he was busting numbers rackets and backroom gambling dens in the 1970s and '80s were a different breed than those who bet illegally today.

"They were street people, hustlers, men who had prostitutes out on the street," said Rhodes, who wrote the book "Gun, Badge & Cuffs" about his experiences on the Cincinnati, Ohio, police force. "… The ones who did have jobs were usually going there without the knowledge of their families."

Changing tastes and limits on the legal availability of certain games of chance also help explain why people would risk making illegal bets.

"If you look at the lottery -- the iconic game that appeals to the older crowd -- for instance, the median age of players right now is 56," said McGowan. "The millennials and that generation like to gamble but they like games involved."

That's why sports betting– currently legal in only four U.S. states: Delaware, Oregon, Montana and Nevada–is particularly in high demand.

"If you look at countries where sports betting and Internet gambling are allowed, 70 percent of the revenue is sports gambling, particularly among young males," McGowan said. "That also explains why fantasy sports (which is carved out under federal U.S. law banning other types of sports betting)is doing so well."

But who offers the illegal games, running the risk of jail, heavy fines and possibly the loss of a business?

To answer that question, you need to understand the possible rewards from an illegal gambling operation.

The National Gambling Impact Study of 1999, for example, estimated that illegal sports betting in the U.S. alone was a $150 billion-a-year business at that time.

And a 2014 study by the International Centre for Sports Security (ICSS) in partnership with Sarbonne University estimated the international sports-betting market at an estimated $280 billion to $680 billion annually.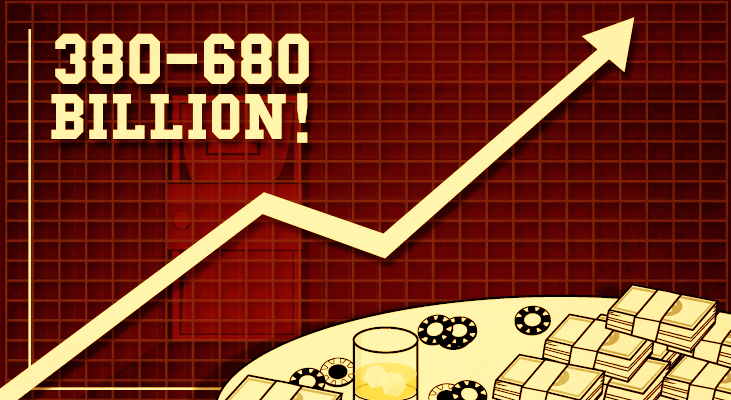 The website Havoscope.com, which tracks black market activity around the world, also has assembled an impressive list of estimates of the revenue generated by illegal betting around the world, based on news reports.

With that kind of money on the table, even a small piece of the action can be extremely lucrative. And that can persuade speculators of all stripes to take big chances.

A 2015 report on federal busts of illegal gambling operations in the U.S. the previous year concluded that many were run by organized crime syndicates -- outfits that "prey systematically upon our citizens and whose syndicatedoperations are so continuous and so substantial as to be of national concern."

Federal cases by their very nature involve betting operations that cross state lines – either physically or byusing communications technology like phone lines or the Internet to transmit wagering information– and often involve money-laundering aimed at disguising the source of the funds. These bigger operations are as complex as they are lucrative, so it makes sense that they would be most likely to attract organized crime groups.

Our unscientific review of more than 100 busts of illegal gambling in the U.S. and elsewhere, from January 2013 through March 2016, did find numerous big cases in which organized crime was allegedly involved. In keeping with the technological revolution, many of these operations involved use of gambling websites to launder funds, coupled with old-fashioned street operations and "muscle," in case gamblers fall behind on paying up.

The April 2013 bust of 34 people and 23 entities in connection with the illegal "Legendz Sports" offshore betting operation by federal agents offers a window into this world. Prosecutors say that operators used a web of operatives in the U.S. to solicit and collect more than $1 billion in illegal bets and funneled the money to a Panama-based Internet sports book. The alleged ringleader, Bartice"Luke" King, 44, from Spring, Texas, was found guilty of conducting an illegal gambling business and engaging in a conspiracy to commit money laundering.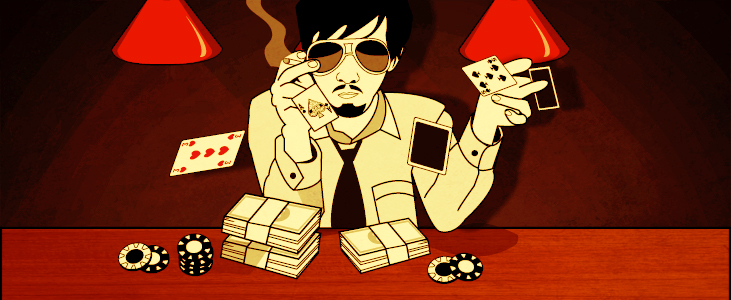 Other big operations allegedly have been intertwined with other illegal activities.

For example, a California-based sports betting ring busted in January, which authorities say was led by a former elite athlete at the University of Southern California, also allegedly was involved in distributing ecstasy and cocaine.

But our analysis also shows that the majority of illegal gambling operations – at least those that are busted -- are mom-and-pop operations that involve a few illegal gaming machines, unsanctioned card games or maybe pools on sporting events.

In the U.S., 48percent of the busts we looked at involved illegal gaming machines – ranging from traditional slots to various electronic gambling machines. Sports betting was second, accounting for 25 percent of the cases, followed by illegal poker or other card games (13 percent); other types of gambling, such as cockfighting or mahjong, or unspecified or multiple types of gambling (8percent).

The mix was different outside the U.S., with sports betting accounting for 32 percent of the cases, followed by online gambling, which is often listed as the offense in news accounts, with no indication of the type of games being played (18 percent); slots or electronic machines (14 percent); unspecified or multiple types of gambling (14 percent); card games (11 percent); casino gaming (5 percent); and other – spider death matches! – (2 percent).

The biggest difference between the two breakdowns was the popularity of illegal gambling machines in the U.S. Most of those cases involve a relatively new type of device known as a "sweepstakes" machine. Such machines, usually placed in Internet cafés, were designed specifically to get around state laws against casino-style gambling.

Business owners that install them sell time on the Internet or phone to customers, who then play the games in hopes of winning prizes. The businesses argue that this makes the machines legal because the results are determined in advance by the computer software and therefore do not meet the legal definition of games of chance. But the California Supreme Court has ruled they are illegal, state legislatures have been passing laws expressly banning them and authorities in many states have been raiding businesses and seizing the machines.

But sweepstakes machines alone don't account for all the action involving gambling devices. Many other types of machines are installed in bars or convenience stores to offer local patrons an added reason to drop by.

In 2013, for example, authorities in McKeesport, Pennsylvania, arrested 16 people – including a city councilman and police chief – on charges they were operating more than 300 illegal video gambling machines in 70 locations.

The popularity of such machines is counterintuitive, given that legal commercial or tribal casinos currently operate in 37 states, according to the American Gaming Association.

But McGowan, the expert on gambling, said the spread of casino gambling also has helped blur the line between legal and illegal gambling and prompts gamblers to question why they should have to travel beyond their neighborhoods.

"The bars are thinking they can pick up some extra money and keep customers from going to the casinos, and most people are probably saying, 'Why shouldn't my local bar have slot machines and why should I have to travel to the casino?'" he said.

The seizure of the machines also highlights an aspect of the illegal gambling cases that critics say helps explain law enforcement's continuing appetite for busting them: Money from the operations, as well as property and other assets that can be traced back to them, can all be seized by prosecutors and often ends up getting plowed back into the budgets of the departments that employ them.

The Legendz sports book case shows just how rewarding that can be: Six law enforcement agencies, including the FBI and IRS, split $9.6 million in forfeitures resulting from the prosecution of the site's operators.