HOW TO PLAY BLACKJACK
THE BASIC RULES WHEN PLAYING BLACKJACK:
Blackjack starts with players making bets.

Dealer deals 2 cards to the players and two to himself (1 card face up, the other face down).

Blackjack card values: All cards count their face value in blackjack. Picture cards count as 10 and the ace can count as either 1 or 11. Card suits have no meaning in blackjack. The total of any hand is the sum of the card values in the hand

Players must decide whether to stand, hit, surrender, double down, or split.

The dealer acts last and must hit on 16 or less and stand on 17 through 21.

Players win when their hand totals higher than dealer's hand, or they have 21 or less when the dealer busts (i.e., exceeds 21). The payoff is 1 to 1 (i.e., even money).

Players lose their bet when they bust, or when their hand totals less than the dealer's hand.

If the player's and dealer's hands total the same (known as a tie or push), the player retains his bet.

This is the basic to understand and to start the concept about how to play blackjack itself. Now let's go ahead...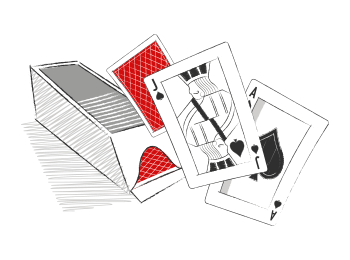 GETTING STARTED WITH BLACKJACK
In this opening chapter, you'll learn about:
The history of blackjack, specifically its origins, how "21" became "blackjack" and who the pioneers were that developed the first basic playing strategy for blackjack. Why blackjack is "different" from other casino games and how we can exploit this difference; and how the casino enjoys a built-in advantage over players and what we can do about it
Before you can begin to learn how to play blackjack, you've got to get the lay of the land (so to speak) on how the game is played - specifically the objective of the game, the value of the cards, betting rules, and player's options for playing their hands.
Written by Henry Tamburin Ph.D.
First published on: 26/5/2016