Sometimes slot players like to go whole hog. Sometimes they want to see the credits raining cats and dogs down onto their meters. Sometimes an elephant stampede is just the order of the day.
Whatever animal metaphor you'd like, there's a slot machine out there that will fill the bill.
Dozens of slots have animal themes. Graphics can be realistic nature scenes and they can be cartoon fun. Gameplay can be straightforward free spins and it can be quirky and filled with surprises.
Game makers are there to cater to all tastes, and that includes animal-themed slots. Let's check out a half dozen that rank high in the casino animal kingdom.
Raging Rhino, Scientific Games
Africa's population of incredible large animal life is unlike anything found anywhere else. It provides a striking backdrop for a six-reel, 4,096-ways-to-win slot with a free-spin bonus.
The six reels are each four symbols deep, creating much more territory for combinations – winning or otherwise – than on standard five reels, three-deep slots. There are no traditional paylines. Matching symbols on adjacent reels starting from the left can form winners regardless of reel position.
The setting takes you on safari with rhinos, gorillas, leopards, and crocodiles among the reel symbols, along with the common A, K, Q, J, 10 and 9 symbols.
There are two special symbols. The African Tree is a wild symbol that can substitute for any symbol except diamonds. Diamonds are the bonus symbol. When two or more diamonds land on the reels, they launch free spins ranging from five spins for two diamonds to 50 spins for six diamonds.
The African Tree carries a multiplier in the bonus spins. In addition to helping form winning combinations, it can multiply wins by two or three times.
Rhinos are the big-ticket symbols, and you want to see them raging on your screen. Rhinos included in a winning combination change into an animated gallop. When you see the rhinos gallop, you know your credit meter is growing.
Fortune Pig, iSoftBet
An online favorite, Fortune Pig takes advantage of a hot trend in Asian games while a golden pig face serves as the wild symbol. Mythical animals figure in the mix, too, as scattered dragons launch free spin rounds.
One fun animal feature: the pigs always come in stacks. The reels can stop so only the bottom of the stack shows at the top of the reel or the top of the stack at the bottom of the reel, leaving you with only one wild symbol. But the chance is there to land two or three pigs from the stack on a reel.
Fortune Pig has five reels, each three symbols deep, and 25 paylines. In addition to the golden pig and the dragons, symbols include a golden lion, a drum, gold coins on a red string, and a golden tree with coins as leaves, along with A, K, Q and J.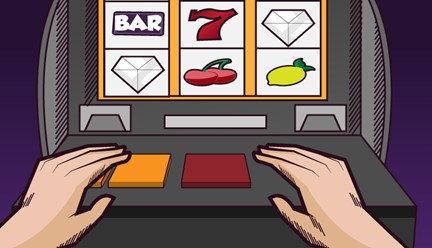 The dragons appear on the first, third and fifth reels. Collect three of them on the same spin and they'll take you to the Fortune free spins round, with eight spins.
The Fortune free spins feature synchronized reels that will stop with identical symbols in the three reel positions. If two reels are synchronized, you might see lion, king and drum from top to bottom at each. Then you can hope to match one or more of those symbols on adjacent reels to form winning combinations.
When three or four reels are synchronized, the wins are bigger and more frequent. And when all five reels are in sync, big-paying five of a kinds will boost your credits.
The money bags launch a cash respin bonus. When five or more money bags land on the screen, they're locked in place and you start three respins. Each bag displays a coin prize, and each time you add a bag to the collection, the respins reset to three. Should a golden pig turn up, he collects all coins and clears bags from the screen. That leaves space for you to collect even more bags and prizes.
Frog Grog, Thunderkick
A croaking golden frog, dropping reels that give you the chance for multiple wins on the same spin and a mystery free-spin bonus give Frog Grog its fun and intrigue.
A five-reel, 23-line game, Frog Grog is set up as a laboratory cabinet divided into cubicles, each holding a reel symbol. Symbols are in beakers, test tubes and phials with colored liquids. Some liquids hold hearts, eyeballs, moths and thistles.
These aren't static symbols. The liquids bubble away in their containers. And the golden frog certainly isn't static. When he lands in a cubicle, he lets out a big croak and blows away the other symbols in his row and column. Fresh symbols then drop into the vacated spaces, perhaps to form new winners.
Throughout play, the dropping reels create extra opportunities. Any winning combinations are paid, then those symbols drop out of place and are replaced by new symbols. Winners on the new configuration are paid double and eliminated and replaced. On the third go, winners are paid at 3x, then 5x, then 7x.
If you've made it all the way to the 7x cascade your wins can get very large indeed.
There's little added entertainment in a mystery bonus – you have no clue that it's coming. It just happens. At random times, all symbols expect frogs, thistles and moths will be removed from the screen, then replaced.
It's a fresh chance to add to your credit meter that helps keep you engrossed in this quirky little game.
Wolf Run, International Game Technology
A classic that includes three different wolf symbols, Wolf Run is a long-running favorite both online and offline.
It has five reels, each four symbols deep, and 40 paylines. Symbols include a white wolf, a grey wolf, a night scene of a wolf howling at the moon and wolf tracks on a bonus symbol. There are two different totem symbols as well as A, K, Q, J, 10 and 9.
The howling wolves are wild symbols, substituting for anything but the bonus symbols. Wild symbols sometimes come in stacks, and the really big wins in this game come when you collect wild stacks on multiple reels.
That's especially true in the free-spins bonus. When those bonus tracks appear on the second, third and fourth reels, they launch five free spins. During the freebies, all wins are doubled. That's when stacks of wilds can really pay off.
Five free spins might not sound like much, but they come frequently to both hold your interest and give you a shot at a winning session. That the combination works is proven by Wolf Run's long-lasting popularity among players.
Pink Elephants, Thunderkick
A quirky, fun take on animal themes, Pink Elephants' big-paying symbol is just what you'd expect: a big-tusked, animated pink elephant head.
The six-reel, four-deep 4,096 ways to win slot also includes four different animated meerkat symbols, peanuts that crack open and launch bonus spins, "W" symbols that are wild and the lower-paying A, K, Q, J, 10 and 9.
Cracking peanut shells takes you to a free spins bonus where the spins are only half the fun. It takes three or more peanuts to launch the spins, from a minimum of seven spins for three shells to a maximum of 19 for six shells.
In the free spins, the four meerkat symbols are displayed in a stack to the left of the reels. Each meerkat is surrounded by a ring of circles.
On the reels, some pink elephant symbols randomly display glowing orbs. When those appear, the orbs move to light up circles around the meerkats, first to the ring around the bottom meerkat. When that ring is completely lit, the next orbs light up the next meerkat up the ladder, and so on.
As each ring is completed, you're awarded an extra free spin and the corresponding meerkat is transformed into extra pink elephants on remaining spins.
The more meerkats that are transformed, the bigger your chances of landing a large elephant on screen in big numbers for super-sized wins.
Chicken Fox, Lightning Box
The five-reel, 25-line Chicken Fox is a farmyard frolic with the reel set surrounded by the interior of a big red barn.
In the main reel spins, symbols include four different cartoon chickens, a pig, goat, tractor, a pie-toting farmer's wife who serves as the wild symbol, and the ubiquitous A-K-Q-J.
Golden eggs are the bonus symbols. Land three golden eggs on the screen and you'll get eight free spins, and you can get 15 spins for four eggs or 30 for five.
In the free spins, you get a fresh reel set with chickens, eggs, wild foxes – including a 2x multiplier fox – and empty cubicles. The farmer might not like to see a fox in with his chickens, but you will. Land a wild fox with a chicken and you can win up to five more free spins. You can make it up to 10 free spins with a chicken and the 2x wild fox.
If foxes land on the reels with no chickens or eggs, you still can add an extra free spin or two.
It's a bit of madcap entertainment, a light-hearted counterpart to games such as Wolf Run, with more realistic graphics but frequent bonuses to keep you coming back.
There's room for both – and much more – in the slot players' animal kingdom.