At the table games conference last week, there was an ironic incident that I would like to share with you. It occurred during one of the premier panel discussions: "What You Can Learn from Table Game Players Who Are Smarter than All of Us," on Tuesday, November 19, 2013. Here is the description from the agenda on the conference website: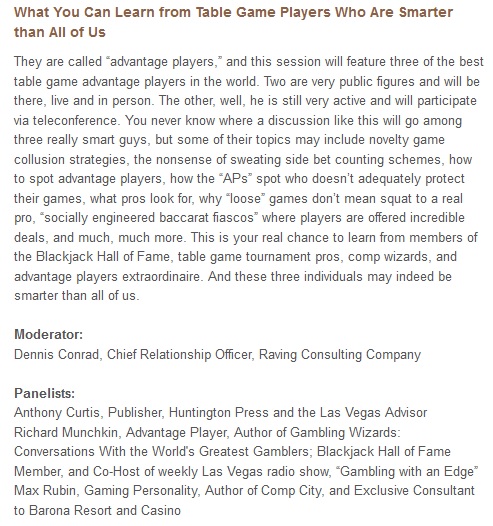 Here is another image of the same description, this one taken from the conference agenda that was handed out to participants at the conference (click for a full sized image, zoom into the lower right):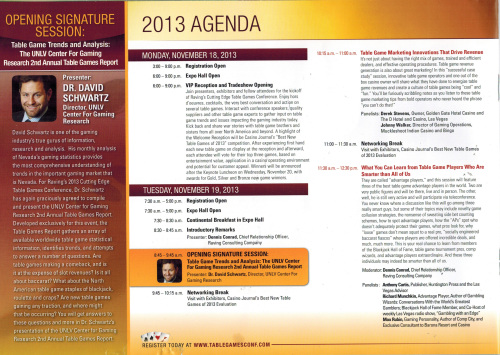 Reading this description closely, the following appears in each:
"... the nonsense of sweating side bet counting schemes ..."

About 40 minutes into the discussion, Dennis Conrad asked the panel if they could recommend any resources on advantage play. Anthony Curtis came prepared with a list. He read off his own website, followed by, "Wizard of Odds," "Discount Gambling" and then "A.P. Heat." At this point, Anthony was interrupted by Richard Munchkin, who said (and I copied this down right after I heard it),
"I wouldn't recommend that site, he posts about 21 + 3 and it's $9 per hour and he is making people so scared."

Later that day I wrote an e-mail to Richard about his unexpected non-endorsement, expressing the irony,
"Wow, my website traffic really spiked today. I guess if an advantage player tells a room full of casino management folks to not go to a website, it really perks their interest. You might enjoy my recent analysis of Pai Gow Poker hole-card play against the Dragon hand."
Here is Munchkin's response:
"I subscribe to your site via RSS feed so I do see all your posts pretty much as soon as they go out. I hope your talk went well. You were speaking on the Ivey case I take it?"
I have the highest regard for Richard Munchkin as an author and advantage player. I am a big fan of his Las Vegas-based radio show, Gambling with an Edge, which I have appeared on twice. Richard obviously knows that I analyze everything, no matter the final level of vulnerability that comes from the analysis. I recently wrote to Richard asking him about why he said what he did. I was grateful for his apology and reply, in which he shed light on an important issue. Richard wrote,
"... casino people should not turn off their brain when reading that something is theoretically beatable. I see you are making more of an effort to make that clear to them so kudos for that."
If your casino offers 21 + 3, really, don't worry about people trying to beat your bet. At least, don't worry about card counters.