Who makes these online roulette games anyway?
Online casinos do not offer their own games; they depend on software companies for this. The main responsibilities of online casinos are: customer service and marketing; the acquisition of new players and the loyalty of the old ones. The casinos are the front end or the operator or the middleman if you want, between the games and the player.
All games, including all types of roulette, are actually created and run by big and specialized online gaming software companies. They sell their games to online casinos (business to business, B2B) and have not direct contact with the players. They develop the infrastructure, provide the gaming platforms, manage the video production in live roulette games and often even control the back office of customer accounts. And for the most part the players don't even know who they are.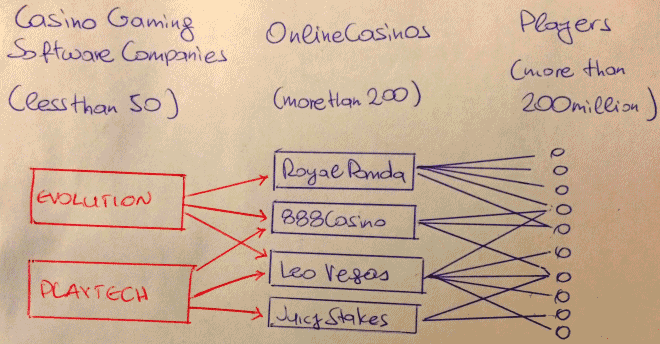 In this comprehensive critical guide we present the best gambling software companies, we review their roulette offerings and point out the pro and cons of each platform. Because the informed player is a better player.
Online roulette game types
There are too many versions of roulette you can play online. They range from Playboy Roulette, where the dealers are dressed up (or down) like Playboy bunnies, to double ball roulette, to the (Book of) Ra Roulette, which is a combination of Roulette and Slots. If one tries to categorize the different types of roulette games on offer he will soon be lost in the myriad of variations. In our opinion the roulette games can be divided into two big groups, based on the human element – whether they use a human dealer or not.
Electronic and live roulette are so different that most companies specialize in one or the other. Many live dealer companies do not offer games with computer graphics and vice versa.
Live dealer roulette games
A live dealer spins the ball in a professional, physical roulette wheel and the ball falls on a number, like it happens in a traditional brick and mortar casino. The game is recorder in video and streamed live (in real time) to the online players . The players are able to chat with the dealer and there is a predetermined time window to make their bets.
Some of the games are taking place in specialized studios and others are live feeds from well known European casinos like the Dragonara in Malta or the Campione d'Italia.
The software companies are responsible for the games from start to finish; from the creation of the game, the user interface, the production and the filming to the live feed, the outcome registration, the payouts etc.
Advantages of live games:
Realism, immersion and engagement.
You play in a live environment. You are not alone you with your screen. You can interact with the dealer. Close to the brick and mortar casino experience.
Disadvantages of live games:
Limited time to make bets – the game doesn't wait for you.
Usually require higher minimum bets than electronic games.
Usually you should play with real money, they do not offer free play mode.
3D graphics roulette (RNG)
These are old school, purely electronic games with 3D digital graphics that show a roulette table and wheel. The player spins the wheel with the press of a button. If he wants a super-fast game he can have it. If on the other hand he wants to think his bets and take more time between spins, he can do this to.
The outcomes of these games, since there is not real wheel, are determined by Random Number Generators (RNG) integrated into the game. You can see an example of RNG at random.org and read more in our article about online roulette RNG.
Advantages of RNG games:
Gameplay pace is controlled by the player, he decides the time between spins.
Can be played for free (fun mode) without betting real money.
Have lower bandwidth requirements than live games.
Disadvantages of RNG games:
The whole experience is far from the real casino experience.
The outcome is determined electronically and not physically.
CS:GO roulette
This is a totally new type of roulette that has a great following among young (sometimes underage) gamers. It is based on the game Counter-Strike: Global Offensive and uses exclusively game-skins as virtual currency. So far this type of roulette can only be played in specialized sites in connection with Steam and is not available in online casinos.
BEST ONLINE ROULETTE PROVIDERS COMPARISON

NAME
LIVE
SPECIAL GAME
COMMENT
RATING
Authentic

Yes

roulette Superieur
true French roulette
4,5
Evolution

Yes

Immersive roulette
the best overall
5
Extreme

Yes

Ra roulette
roulette-slots combo
4
Ezugi

Yes

–
licensed in New Jersey
3,5
Microgaming

Yes

Multi table roulette
incorporates Extreme's games
3,5
NetEnt

Yes

Wild West roulette
La Partage rule
3,5
Playtech

Yes

Prestige roulette
the biggest company
4
Vivo

Yes

–
play without money
4
BetSoft

No

Common draw roulette
–
2,5
Dragonfish

No

Rockin roulette
sister of 888casino
3
NYX

No

Chinese roulette
bought by Scientific Games
3
Best live roulette software companies
Authentic gaming

Authentic Gaming is specializing in live roulette games, live streamed from actual brick and mortar casinos like the Saint Vincent resort casino in Italy, Platinum casino in Bucharest, Romania and Casino International at the Hilton in Batumi, Georgia. While you play you can watch the live action and the players that are at the casino placing their bets on the table.
Authentic Gaming is doing a pretty good and professional job and although a new and small company they provide a very competitive live roulette product.
Special game: Roulette Superieur
This is (at least for now) the only true French roulette live game you can find online. It is a live video feed from a real casino and it is played on a traditional, big "French" table with four croupiers. The player can also choose between the two favorable rules of French roulette: La Partage and En Prison. This is one of our favorite live roulette games. Kudos!
Review rating: 4,5/5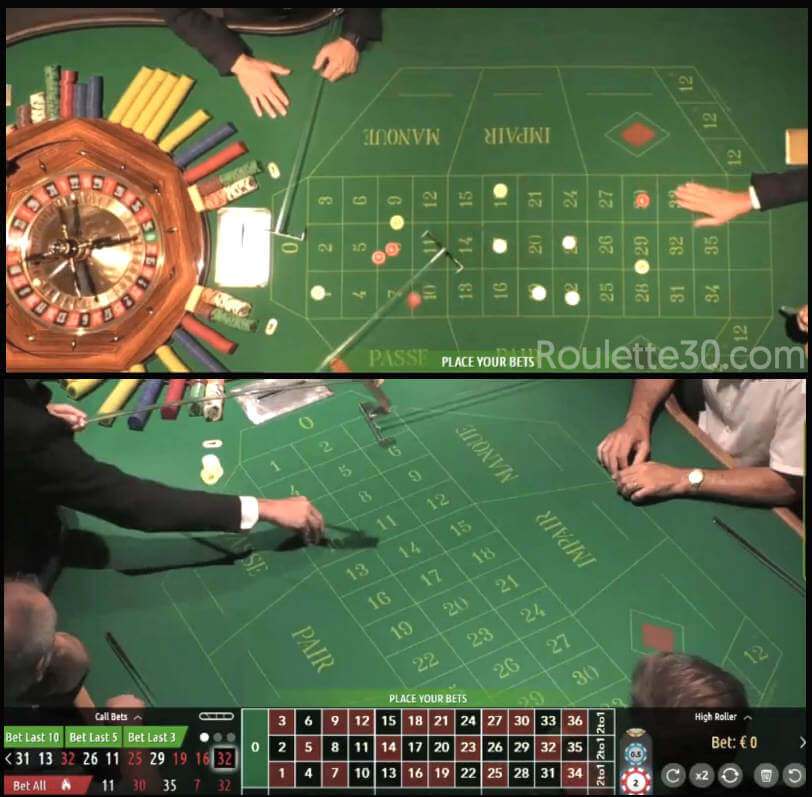 Evolution gaming

Evolution Gaming Group has over 7 offices and 2,500 employees across Europe and it is listed in Stockholm Nasdaq (EVO:SS) with a market capitalization of $2 billion.
It is licensed and regulated by the gambling authorities of UK, Belgium, Romania, Malta and Alderney Island. They have live game production studios in UK, Belgium, Latvia and Malta.
Evolution's live roulette games are the best roulette games you can play. They actually dominate the scene. They offer country specific roulette tables with Native Speaking Live Dealers in over 10 languages.

Main advantages of Evolution live roulette:
Their famous and innovative Immersive roulette offers the "closest to the real thing" roulette experience, with beautiful dealers and amazing slow motion camera angles.
Their game interface offers very detailed and beautifully presented stats of past spins.
Unfortunately they don't offer a true French table and La Partage or En Prison rules in their live games. (Update: There is a Evolution roulette game called French roulette, that is played with the La Partage rule. However it is not available in all casinos offering the Evolution roulette games.)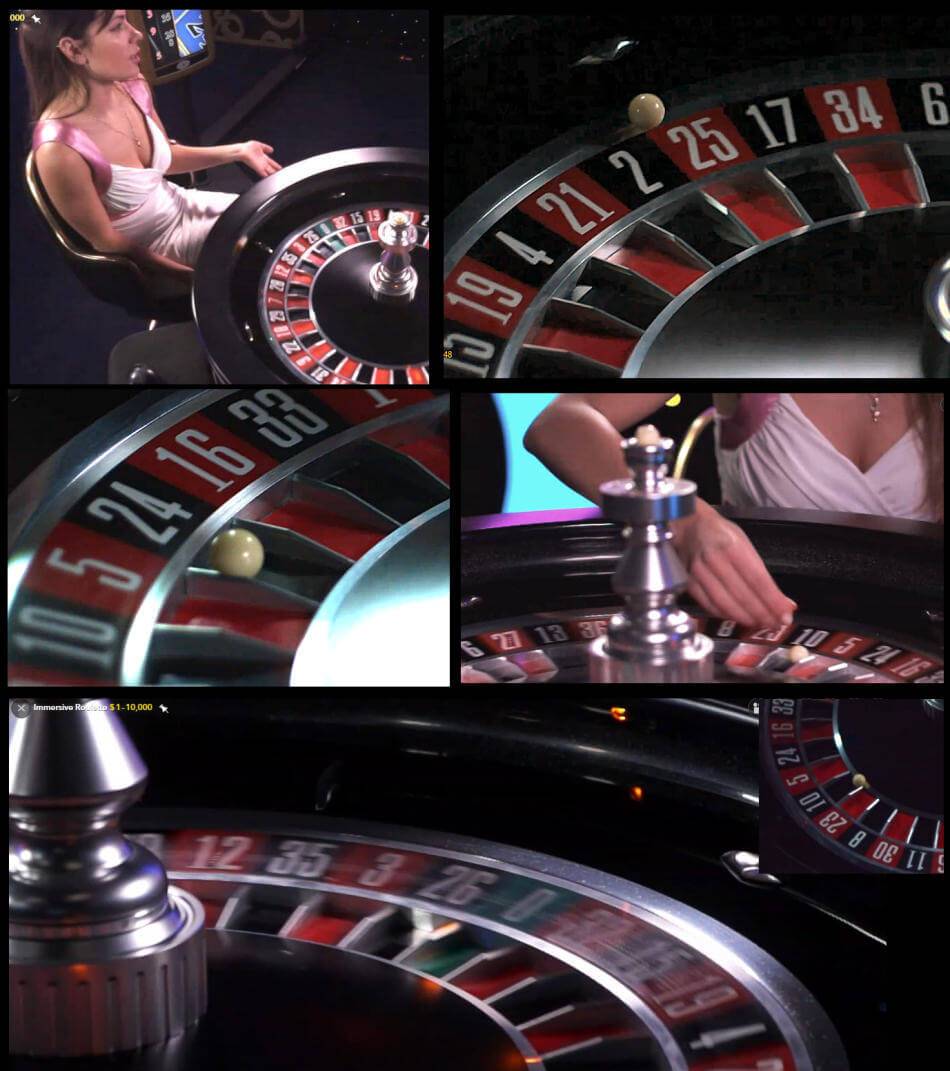 Evolution is such an important company in the field that we wrote an Evolution gaming live roulette and casino full review with much more information.
Review rating: 5/5
Extreme live gaming

Extreme Live Gaming has been bought out and is now a subsidiary of the gambling software conglomerate of Novomatic. They may not be focusing so much in the traditional, hardcore roulette player, but they innovate, producing games that mix roulette with slots!
We like very much their Multi Table Roulette which allows you to play on 3 different roulette tables simultaneously. In Golden Ball roulette, the highest bettor for 20 consecutive spins (once per 20 spins), decides exactly when the dealer will spin the ball.
Another point of attraction is their live roulette games from their London studio with a UK Gambling Commission license.
Special games: Roulette with Slots
These games are something really fresh and they have already a following. They combine live dealer roulette with well known Slots games by Novomatic, like Dolphin's, Book Of RA, Lucky Lady's Charm and Sizzling Hot! You play both roulette and slots with just one bet.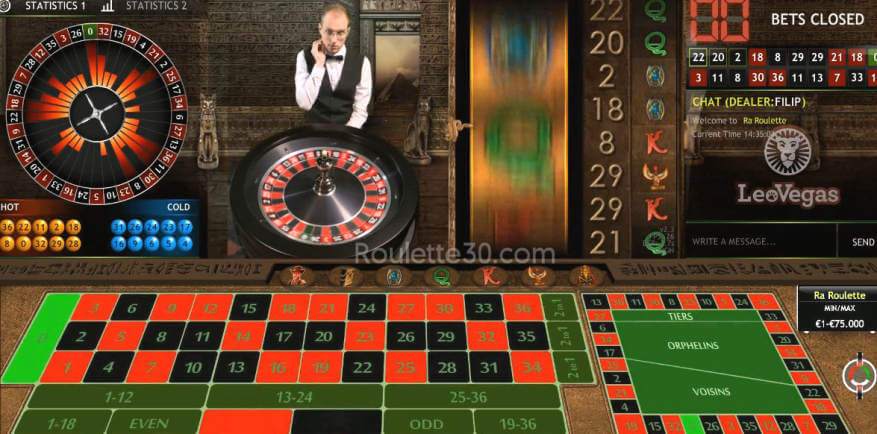 Review rating: 4/5
Ezugi

Ezugi is a new and upcoming casino games provider specializing live roulette platform. What made everyone take notice of Ezugi is that it was (in cooperation with NYX) the first company to offer live dealer games from within a US casino, the Gold Nugget Casino in Atlantic City. The funny thing is that their games are not actually licensed for all American players, but only for New Jersey. US players outside New Jersey are not allowed, while players from other countries can play.
The interface is well thought out and the games can be played without download. They definitely do not offer the most exciting live roulette platform, but at least their games can be played for free (without real money) in selected online casinos. They hold a regulator license from Curacao.
Review rating: 3,5/5
Microgaming

Microgaming was into online gambling software before everyone else, in 1994. It has a great reputation as a reliable and trustworthy platform with great slots games and an exclusive Playboy themed live casino.
They have game licenses from Malta and UK. They have three production studios, in Canada, Argentina and the Philippines.
The Multiplayer and Premier Roulette Diamond Editions are their best looking digital graphics games. They also offer the innovative Multi Table Roulette, where you can bet on 8 roulette wheels simultaneously.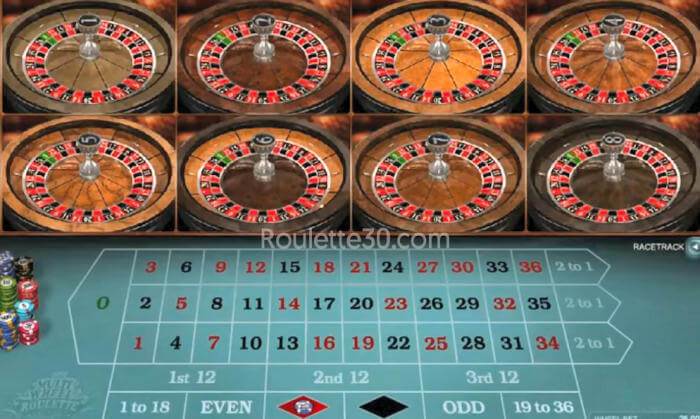 Outside the Playboy theme with live bunny-dealers, that actually isn't as impressive as it sounds, their live roulette games are nothing to write home about and their dealers are often bored and boring. They soon admitted this fact and instead of losing market share they struck a deal with Evolution and have integrated Evolution's top live dealer games into their platform. If you can't beat him, make him a friend!
Review rating: 3,5/5
NetEnt

NetEnt just like Evolution Gaming is part of the Stockholm Stock Exchange with a similar capitalization of nearly $2 billion. But they are actually quite different companies.
NetEnt doesn't specialize exclusively in live dealer games. They offer all kind of casino games from video Slots with progressive jackpots to online scratch cards. This lack of specialization is apparent in their live roulette games. While not bad, they lack the interaction, the stats and the excitement of other providers. Though you can find their RNG and live roulette games in many casinos, because they leverage their good reputation and large customer base from their other games.
On the plus side they do offer roulette players the favorable La Partage rule in almost all their live dealer games and their software is considered quite robust and technically reliable (Chroma key technology etc). They hold a great variety of gambling licenses from UK, Malta and Gibraltar.
Review rating: 3,5/5
Playtech

Playtech is simply the biggest online gambling company in the world with a market capitalization of nearly 3 billion GBP (~ 4 billion USD). It is not only multiple times bigger than most other software development companies in this list, but also larger than behemoths of the gambling industry like William Hill and Landbrokes.
Their games are offered in more casinos that you can count. In the past some casinos using the Playtech platform have been marked as rogue casinos but this has mainly to do with the specific online casino's practices (withdrawal options etc.) than the software itself. They have licenses from the UK and the Philippines and live roulette studios in Latvia, Romania and Philippines.
As you can imagine they offer a multitude of different version of roulette both with live dealers and digital graphics: Marvel, Mini, Pinball and Double Screen roulette are just a few of their exclusive offerings. Their live dealers speak various languages, so players from several countries can feel at home and chat in their native language.
Despite their size (or maybe because of it) they are not on the forefront of innovation regarding live roulette games. Their latest offering, Live Prestige Roulette, is just a less impressive imitation of Evolution's Immersive roulette. Still, Playtech is in the top 5 live roulette developers.
Review rating: 4/5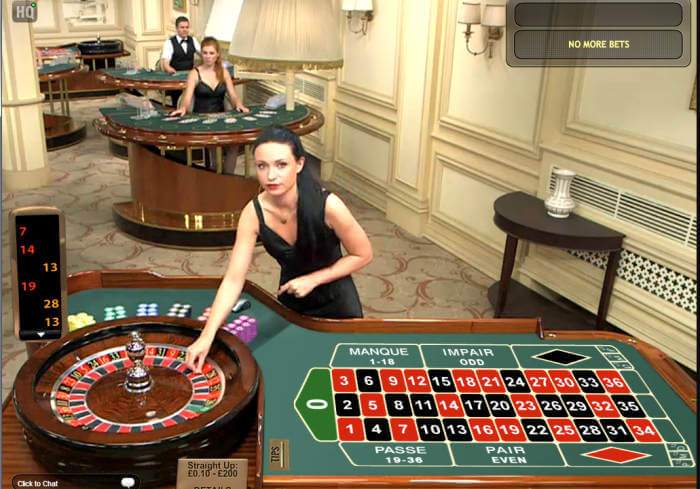 Vivo gaming

Vivo is another new and very dynamic software company. They hold a Curacao license and their biggest markets are Asia and South America. Some reviewers complain that their company website doesn't offer valuable information and they lack transparency. Personally I find their site as (not) informative as every other casino software provider. Although their selection of roulette tables is limited, their platform offers some very welcome innovative features:
It is one of the very few live roulette games where you can play free with "play money" (demo play) instead of real money.
Full frame view on the roulette wheel.
More time between spins (60 seconds) for the player to make their bets.
Disadvantages:
Limited selection of roulette tables
Poor environment. In the background you see the dealers of all live games (roulette and blackjack etc.) stuffed in one place.
You can play a demo of their games here.
Review rating: 4/5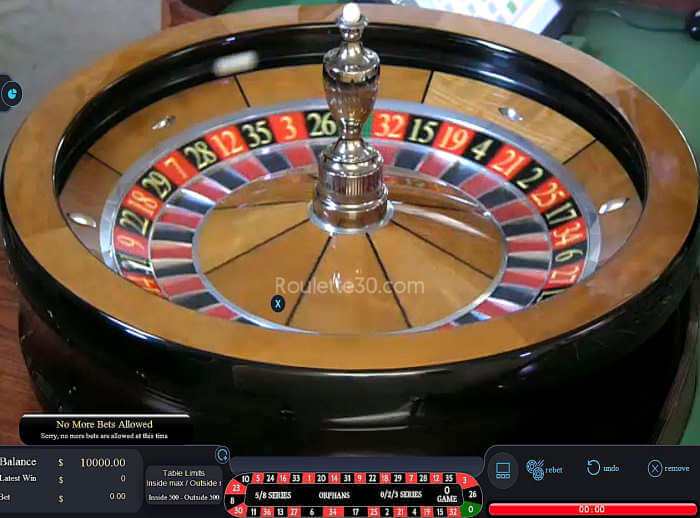 Best 3D roulette software companies
Dragonfish

Dragonfish is owned and operated by 888 Holdings who also run the prominent 888Casino. You can regard it as the in-house gaming platform of the 888Casino, though it tries to strike deals and offer its platform, called CasinoFlex, to other online casinos too. Its strong point are the myriad of excellent Bingo games but their roulette offerings are only limited to computer graphics electronic roulette. This is why the 888casino live roulette offerings are actually based on Evolution Gaming's cutting-edge live games software.
Special game: Rockin Roulette
Instead of a roulette wheel the numbers are drawn like lotto numbers in a lotto style glass dome,
Overall Dragonfish offers some simple, stable and reliable 3D roulette games and it is a good choice in this segment.
Review rating: 3/5
BetSoft
Betsoft Gaming is a big name in 3D slots. They offer some of the more impressive and immersive 3D slots games and for a time they were pretty hot – and still are. Then some question began to be raised about their progressive jackpot structure and this has hurt their business to some extent. They are not into live dealers games. They offer very few roulette games, all RNG, which are basically versions of American and European roulette. Their games are fun for what they are but nothing to write home about. Due to the high demand of their innovative 3D slots games their software is available in various casinos.
The BetSoft Gaming platform is tailored to 178 different devices, including PC, all Apple iOS and Android devices as well as Windows Phone 7 and 8.
Pros: Simple interface, free play
Cons: Very limited selection, no French roulette
Review rating: 2,5/5
NYX gaming

The NYX Gaming Group (also known ass NextGen) is not just big, it is huge in the gambling market. It is publicly traded in the Toronto Stock Exchange and with its many subsidiaries, it offers various gambling services, from sports betting to State Lotteries operation. Their online casino platform is called OGS™ and they offer their games, especially Slots, to Willian Hill, MrGreen, Bet365 and other big online casino operators. Their roulette offerings are not bad but some of the weakest in this list of the best roulette software – they do not offer live dealers. We do like however their Chinese Roulette, the Roulette Master and the French roulette with the La Partage Rule that favors the player: returns 50% of even money wagers when the ball lands on zero.
Update (Sep. 2017): Scientific Games to Acquire NYX Gaming Group
Review rating: 3/5
Compatibility with mobile devices
It goes without saying that all good casino software houses do not limit their games to PC and Mac desktop or laptops. They offer full compatibility with mobile phones and tablets, be it Android, iOS, TV gaming or what have you. Seamless mobile roulette is achieved by a wide range of software languages such as HTML 5, Adobe flash, Java, C #, C++, and .Net. This doesn't mean that all platforms are the same in terms of performance and user interface but it is actually really hard to do a fair comparison of their mobile roulette performance, since there are too many variables to take into account. If there are any special issues or features regarding mobile play they are noted it in the review. Generally mobile compatibility should be taken for granted.
Regulator licenses
Simply put regulators' job is to make sure the game is good and fair. They can also serve as mediators for disputes between software companies or online casinos and their customers (the players). What is confusing is that there are two kinds of licenses:
the license of the software company
the license of the online casino that offers the game to players
The former is about the procedures of the game while the latter is about offering the game to customers. In both cases the trustworthy behavior and commitment to a fair gaming policy is a prerequisite.
Most gambling software providers have licenses from at least one of these authorities:
UK Gambling Commission
Malta Gaming Authority
Curacao Internet Gambling Association (island country in the southern Caribbean Sea)
Gambling Supervision Commission (Isle of Man)
List of roulette gaming platforms
In our own biased opinion these are the top online roulette software platforms in order of preference.
Best live roulette
Evolution gaming
Authentic gaming
Vivo gaming
Playtech
Extreme Live gaming
NetEnt
Ezugi
Microgaming
Best 3D roulette
Dragonfish
NYX gaming
BetSoft
The rest
In this online roulette software guide we have listed and reviewed only the best 11 companies. Adding more would make this article less useful by providing too much information (info noise). But there are actually many more software developers out there offering roulette games. Just for reference we would mention these live roulette platforms in alphabetical order:
Actual (Vuetec)
Amaya (Ho Gaming)
BetConstruct
Betgames
Bodog
Global Gaming Labs (GGL)
LuckyStreak
Media Live
NetPlay
Opus
PlayPearls
Portomaso
Visionary iGaming
Xpro
Fun and responsible gaming to all!