Address: Kaiserallee 1, 76530 Baden-Baden, Germany
Phone: +49 7221 3530
Email: info@casino-baden-baden.de
Open hours: 2:00 PM – 2:00 AM (weekdays), 2:00 PM – 3:30 AM (Friday and Saturday)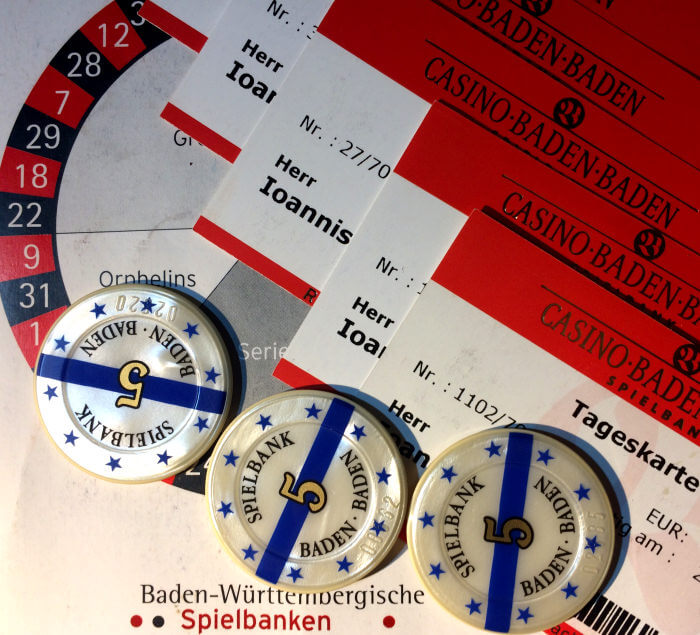 There are American and European and Asian casinos. There are old and new and big and small casinos. And that is… the casino of Baden Baden. It is apart any other and beyond any comparison.
Of all the casinos in the world, this is my favorite one, offering the most delicate and beautiful experience. We have not included it in the top casinos of Europe because we wanted to make a special article for it. Let's visit The Casino of Baden Baden. It is located in Kaiser Ave 1, 76530 Baden-Baden, Germany and should not be confused with the casino of the same name in Austria or the Grand Casino Baden in Switzerland.

Baden-Baden ("baden" translates as "bathing") is a spa town in the state of Baden-Württemberg in southwestern Germany. It is located in the northern foothills of the Black Forest, on the banks of the Oos River in close proximity to Strasbourg (France) and Switzerland.

Have you ever stepped inside a land-based casino so inviting and luxurious than you couldn't help but wonder whether you are dreaming or if that's reality? The Casino of Baden Baden has the uncanny ability of producing this effect on visitors, with the first impression being truly memorable.
It radiates history from all its pores and it makes you feel like a royalty, regardless of how much or little money you have the spin. Most casinos these days look like mazes, which makes perfect sense given the fact that players are supposed to enter and wander aimlessly for hours. The Casino of Baden Baden looks like a palace and it is the architectural landmark of the Black Forrest city.
A century and a half of excellence
The first thing that you notice when you step inside the Casino of Baden Baden is that time seems to pass at a slower pace. You can almost see the nobleman of the late 19th century spinning the roulette wheel with the nobility and splendor that is associated to those times. It's recent history is every bit as impressive, with the casino reopening its doors in 1950. With each new page turned, Casino of Baden Baden only added to its splendor and it offers an unmatched gaming experience.
Noblesse oblige -"nobility obligates"- so make sure you pack your most elegant clothes when visiting this fine establishment, to enjoy the ultimate casino experience. I couldn't overstate the advantages of taking the guided tours, offered by the owners, and this is the best way to discover the premises. If you have a keen eye for beauty, you will appreciate the Parisian interiors, the Oriental winter garden and the red room inspired by the Fontainebleau and Versailles. There is no better way to spend seven euros and these guided tours will also provide you with the impetus to start playing right away.
Games and entertainment go hand-in-hand
What makes Casino Baden-Baden more than your regular gaming place is that casino games represent just the tip of the iceberg. Back in the day, the roulette used to be the privilege of high society, but now you can spin the reels and feel like an aristocrat of old. While the roulette wheel remains the focal point of attention, blackjack and baccarat tables are immensely popular.
Slot machines are a discreet presence, so if you choose to play poker you won't get distracted by loud noises or flash animations. If this is the type of entertainment you seek, you need not to worry because there are in excess of 140 slot machines, buried deep into the vaults of Kurhaus. This is where players will feel like in Las Vegas, with this hidden city being more than a welcomed distraction.
As soon as you feel that you have had enough and seek a well-deserved break from your daily gaining routine, check out the Sommergarten casino restaurant. Whether you prefer Mediterranean or international cuisine, this restaurant will meet and exceed your expectations. If weather allows it, players can relax on the terrace in the garden and sip on a cocktail while preparing their return to the tables.
Overall rating 4.5/5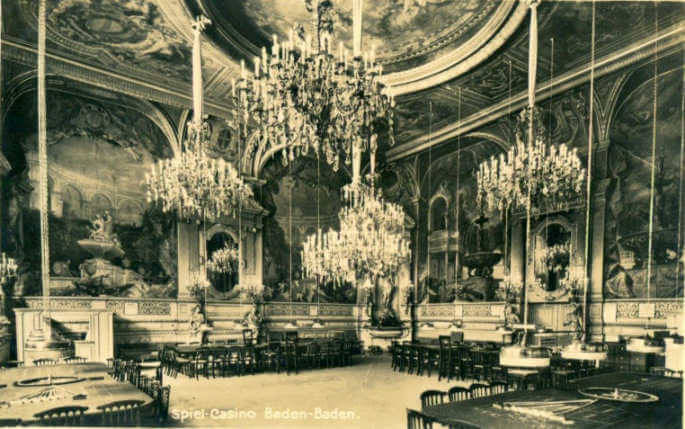 Dostoyevski: "The Gambler" of Baden Baden
A review of the casino Baden Baden would be incomplete without mentioning that Fyodor Dostoyevsky played passionately roulette there. Baden Baden was definitely the inspiration for his famous novel The Gambler. The story of the book takes place in the imaginary city of "Roulettenburg", but it is actually a reference to Baden Baden.
Here are some astonishing excerpts from the diary of Dostoyevski's wife describing their life in Baden-Baden and Dostoyevsky's passionate roulette adventures…
July 8, 1867:
I am so unfortunate as never before. Today we had 12 gold coins and 25 coins. Fyodor took 15 coins and went to play. After he had recovered 10 coins there, he came home, so we still had 55 coins. Soon after, he had gambled again and asked me for another 15 coins. I gave it to him, there were 4 coins left, because fifth would be used for lunch. After dinner he went to play, while I vainly asked at the post office about mail. Fyodor returned home just before me, very pale; as he was once again lost. He pleaded for the last 4 coins, I gave them to him, though I knew that he will lose them like the rest.
July 9, 1867:
We had 12 gold pieces again. Fyodor took 5 and went to the roulette. When he was gone, I was terribly sad. It was very clear to me that he would lose everything.
July 19, 1867:
At one o'clock he took the last piece of gold – I also gave him one of my preserved five-franc notes – and went with it to roulette. I also gave him 4 Florins that I had set aside. So we had 5 Florin left, but we owed the meals for three days, and tomorrow we have to pay the apartment, but how? Fyodor went away, but soon returned and had gambled everything. He had even sold his wedding ring on the road for 20 francs, but he hasn't won a spin! Then Fyodor rested a bit and then he went to roulette. He took my wedding ring with him give to the pawn shop.
July 21, 1867:
Finally Fedja came; he was pale and fell to his knees in front of me. He said everything was at an end; he had lost everything. He had already had 45 francs, but he was not satisfied and had gambled everything. He was terribly destroyed – I was afraid he would get another heart attack.
August 4, 1867:
By now everything was mortgaged and could probably not be triggered, and I feel so ashamed that I have to ask again my mother to help us. That's why I was perhaps a little furious – because I was desperate – that Fyodor still could not let go of the thought that he could win thousands.
August 12, 1867:
Today we got up anxious, as we should ultimately get some money. We already eat four days without paying, and today we must pay, otherwise they'll probably stop giving us food. Then we'll have to pawn my purple dress, the only thing we have left, our resources are exhausted.
August 21, 1867:
Fyodor came back in a terrible state and told me crying that he had lost everything, including the money I had given him to get back the earrings.
You can read more about Dostoyevski's life in Baden Baden here.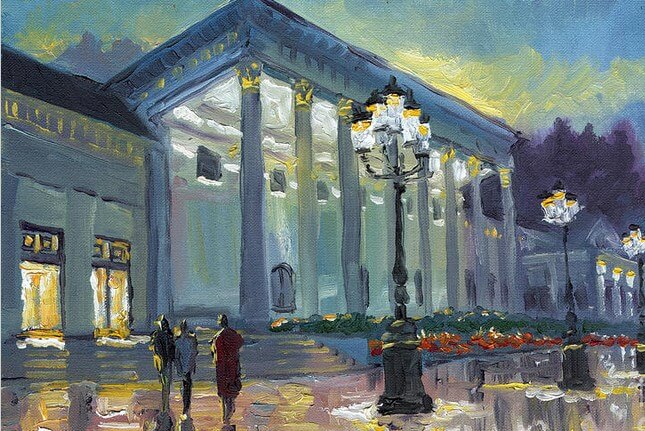 Casino Baden-Baden – painting by Yuriy Shevchuk