Live online game shows are all the craze at 888casino nowadays. So, it's no wonder that Crazy Time by Evolution is an instant hit with players. Fans of the Wheel of Fortune will feel a rush of nostalgia with Crazy Time. A funky attraction, this stylish live casino game brings plenty of excitement to your screen in a dizzying spin fest.
How to Play Crazy Time
Crazy Time features 8 unique bets, including 1-2-5-10 number selections. As with the Big Six, the straight payouts are equivalent to your number bets. For example, 1 pays even money, 2 doubles your bet, 5 pays quintuple your cash, and 10 rewards you tenfold. All of this unfolds in real time with a casino host. But that's the bare minimum that you can win because there are multipliers in this game.
Similar to the Dream Catcher concept, Crazy Time adds lots of multipliers to boost your payout potential. Directly above the giant money wheel is a Top Slot. This is where the multipliers are generated. Lucky you if your number bet comes in with a bigger multiplier than the standard payout. With 4 different bonus games in play, this game show delivers exciting action and giant-sized rewards.
You can scoop up different-sized multipliers during two of the four bonus rounds. Evolution's proprietary gaming tech lets you enjoy sophisticated RNG entertainment on-screen. When the multipliers are at full throttle, winnings of 25,000 X are possible. Designed as an audio-visual spectacle, Crazy Time rocks.
Once you make your bet selections 1, 2, 5, 10, Coin Flip, Pachinko, Cash Hunt, or Crazy Time, the top slot spins alongside the Crazy Time wheel. Suppose you land a selection with a multiplier; more power to you. This multiplier value can do one of two things: multiply your number bets or multiply the multipliers during a bonus round. Now, wait for the Crazy Time wheel to stop at the right spot.

Four Unique Bonus Rounds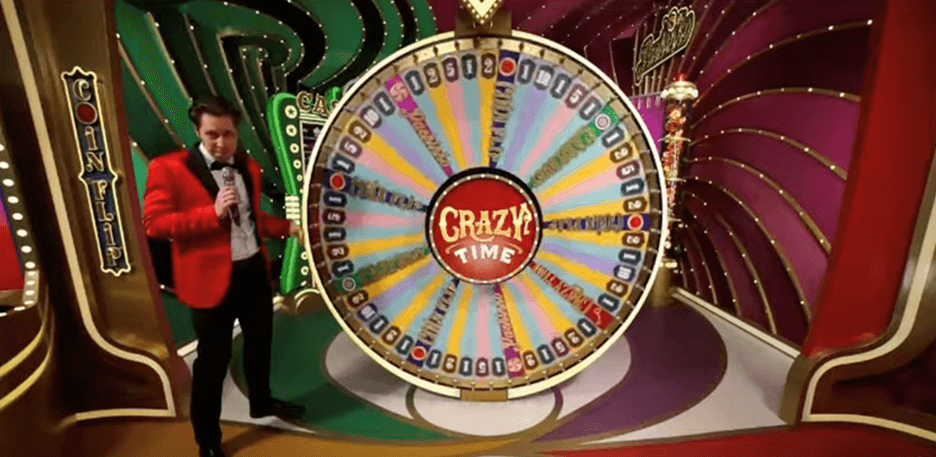 Everybody loves a bonus round, and this game has four of them. Crazy Time introduces players to the following bonus rounds:
Cash Hunt Bonus
Remember those carnival-style shooting galleries? Well, Cash Hunt features a shooting gallery with 108 random multipliers. Each random symbol is shuffled around on screen, courtesy of the RNGs. Then, you pick a target on screen – preferably hiding the biggest multiplier – and wait for the cannon to unload. This immersive bonus game brings you onto the field of play. Bullseye!
Pachinko Bonus
Pachinko is lots of fun. This bonus round showcases a giant-sized Pachinko wall with loads of physical pegs. The casino host drops the puck on the field of play. Away she goes, and where she lands, nobody knows. The multipliers will double if the puck happens upon a double value. There is a 10,000 X multiplier limit with the Pachinko bonus game.
Coin Flip Bonus
There's nothing like a good old-fashioned Coin Flip. It's a 50-50 chance of generating a big multiplier. Each coin has a red side and a blue side. Whatever side lands face-up wins. Before the Coin Flip, multipliers are randomly selected. You guessed it – two of them, one for each side. So, cross your fingers for the biggest multipliers on every Coin Flip bonus round.
Crazy Time Bonus
We saved the best bonus round for last – Crazy Time! If you bet on the Crazy Time bonus game and the Crazy Time wheel lands in that position, you're in luck. Watch the live dealer walk through the red door in the gaming studio. This is augmented reality gaming at its best, folks. A zany, surreal scene unfolds before your eyes. You will notice a brand-new version of the Crazy Time wheel with plenty of multiplier segments highlighted.
There are three stoppers on the Crazy Time virtual wheel. These are green, blue, and yellow. Choose one of these stoppers during this round of play. Once you've selected a colour, the dealer will press the red button on stage to spin the super-sized Crazy Time wheel. The result of the spin determines the size of the multiplier you receive. The multipliers on the Crazy Time bonus wheel can increase the size of the multipliers as the rounds progress. The maximum multiplier value during this round is 20,000 X.
Once the Crazy Time bonus round ends, the dealer exits the special room, closes the red door, and you're ready to do it all over again.
Nice to Know: With every bet you place, maximum benefits accrue when the top slot matches your wheel bet selection.
Play Crazy Time at 888 Live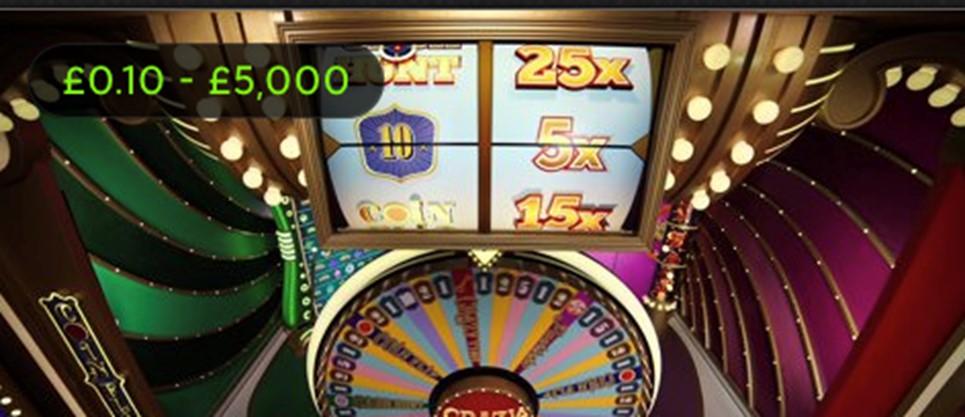 Get in on the action with the world-famous Crazy Time game show at 888. The minimum bet size is £0.10, and the maximum bet size is £5000 per spin. This popular game is a big hit with fans, thanks to the huge multipliers and eight unique bet selections. You've arrived at the capital of live gaming – the U.K.'s premier live casino. So, log in to your 888casino account, and make your play today.