[ See our collection of gambling videos and photos as well as our intriguing gambling stories]
Roulette 30 is happy to present the great list of gambling movies.
There are actually too many movies with a gambling aspect. Here we have chosen those that are more relevant to gambling as we see it. 33 titles in total. In order to make the list more readable and helpful, we categorized the movies (very subjectively) in two sections (the Best, the Rest) and sorted them in chronological order. Enjoy! (because when we are not talking about systems and strategies we can enjoy a good film)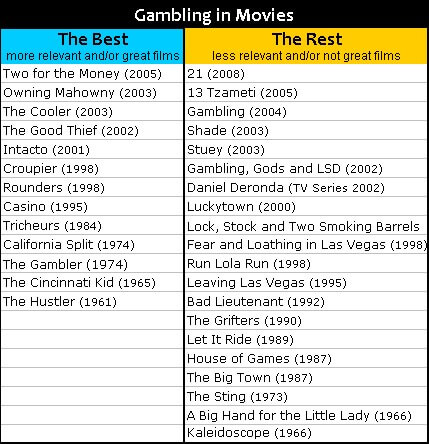 The Best Films about Gambling
The 13 more relevant and/or interesting movies in chronological order.
Two for the Money (2005)
Director: D.J. Caruso
Stars: Matthew McConaughey, Al Pacino and Rene Russo
After suffering a career-ending injury, a former college football star aligns himself with one of the most renowned touts in the sports-gambling business.
Owning Mahowny (2003)
Director: Richard Kwietniowski
Stars: Philip Seymour Hoffman, Minnie Driver and John Hurt
A bank manager with a gambling problem and access to a multi-million dollar account gets into a messy situation.
The Cooler (2003)
Director: Wayne Kramer
Stars: William H. Macy, Maria Bello and Alec Baldwin
In an old school Las Vegas casino, its top gambling jinx breaks his curse when he falls in love, much to his boss' consternation.
The Good Thief (2002)
Director: Neil Jordan
Stars: Nick Nolte, Nutsa Kukhianidze and Ouassini Embarek
An aging gambler on a losing streak attempts to rob a casino in the South of France. But someone's already tipped off the cops before he even makes a move.
Intacto (2001)
Director: Juan Carlos Fresnadillo
Stars: Max von Sydow, Eusebio Poncela and Leonardo Sbaraglia
An enigmatic tale of four people whose lives are intertwined by destiny are subject to the laws of fate…
Croupier (1998)
Director: Mike Hodges
Stars: Clive Owen, Nick Reding and Nicholas Ball
An aspiring writer is hired as a croupier at a casino, where he realizes that his life as a croupier would make a great novel.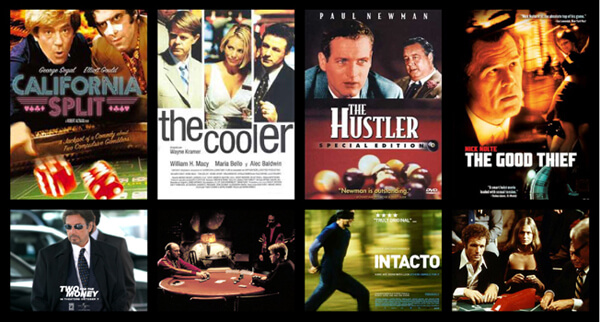 Rounders (1998)
Director: John Dahl
Stars: Matt Damon, Edward Norton and Paul Cicero
A young man (Damon) is a reformed gambler who must return to playing big stakes poker to help a friend pay off loan sharks.
Casino (1995)
Director: Martin Scorsese
Stars: Robert De Niro, Sharon Stone and Joe Pesci
Greed, deception, money, power, and murder occur between two mobster best friends and a trophy wife over a gambling empire.
Tricheurs (1984) (I'm looking for this movie, please message me if you can help)
Director: Barbet Schroeder
Stars: Jacques Dutronc, Bulle Ogier and Leandro Vale
The interaction of a professional player and an average woman, both after their golden years, in the fortysomething age.
California Split (1974)
Director: Robert Altman
Stars: George Segal, Elliott Gould and Ann Prentiss
A down on his luck gambler links up with free spirit Elliot Gould at first to have some fun on, but then gets into debt when Gould takes an unscheduled trip to Tijuana.
The Gambler (1974)
Director: Karel Reisz
Stars: James Caan, Paul Sorvino and Lauren Hutton
Alex Freed is a literature professor. He has the gambling vice. When he has lost all his money, he borrows from his girlfriend…
The Cincinnati Kid (1965)
Director: Norman Jewison
Stars: Steve McQueen, Ann-Margret and Edward G. Robinson
An up-and-coming poker player tries to prove himself in a high-stakes match against a long-time master of the game.
The Hustler (1961)
Director: Robert Rossen
Stars: Paul Newman, Jackie Gleason and Piper Laurie
An up-and-coming pool player plays a long-time champion in a single high-stakes match.

The "Rest" Movies about Gambling
The 20 less relevant and/or less interesting movies in chronological order.
21 (2008)
Director: Robert Luketic
Stars: Jim Sturgess, Kate Bosworth and Kevin Spacey
The fact-based story about six MIT students who were trained to become experts in card counting and subsequently took Vegas casinos for millions in winnings.
13 Tzameti (2005)
Director: Géla Babluani
Stars: George Babluani, Pascal Bongard and Aurélien Recoing
A young man, has decided to follow instructions intended for someone else, without knowing where they will take him…
Gambling (2004)
Director: J.P. Allen
Stars: J.P. Allen, Chopper Bernet and Mara Luthane
A man goes on a desperate journey through the Las Vegas night in search of a woman who has disappeared...
Shade (2003)
Director: Damian Nieman
Stars: Joe Nicolo, Carl Mazzocone Sr. and George Tovar
The world of poker hustlers working the clubs and martini bars of Los Angeles.
Stuey (2003)
Director: A.W. Vidmer
Stars: Michael Imperioli, Renee Faia and Michael Nouri
Based on the true story of the rise and fall of poker legend Stu "The Kid" Ungar.
Gambling, Gods and LSD (2002)
Director: Peter Mettler
Documentary
Daniel Deronda (TV Series 2002)
Director: Tom Hooper
Stars: Romola Garai, Celia Imrie and Kate Maberly
In eighteenth century London, Daniel Deronda feels slightly abused by his family and feels like he needs desperatly needy to get away from it all.
Luckytown (2000)
Director: Paul Nicholas
Stars: Kirsten Dunst, James Caan and Vincent Kartheiser
A young woman who is searching for her father finds herself at odds with her boyfriend who wants nothing but a carefree lifestyle playing poker.
Lock, Stock and Two Smoking Barrels (1998)
Director: Guy Ritchie
Stars: Jason Flemyng, Dexter Fletcher and Nick Moran
Four London working class stiffs pool their money to put one in a high stakes card game, but things go wrong and they end up owing half a million pounds and having one week to come up with the cash
Fear and Loathing in Las Vegas (1998)
Director: Terry Gilliam
Stars: Johnny Depp, Benicio Del Toro and Tobey Maguire
An oddball journalist and his psychopathic lawyer travel to Las Vegas for a series of psychadelic escapades.
Run Lola Run (1998)
Director: Tom TykwerStars: Franka Potente, Moritz Bleibtreu and Herbert Knaup A young woman in Germany has twenty minutes to find and bring 100,000 Deutschmarks to her boyfriend before he robs a supermarket. (good movie with a little roulette scene)
Leaving Las Vegas (1995)
Director: Mike Figgis
Stars: Nicolas Cage, Elisabeth Shue and Julian Sands
An alcoholic Hollywood screenwriter who lost everything because of his drinking, arrives in Las Vegas to drink himself to death. (not much about gambling, but a great film
Bad Lieutenant (1992)
Director: Abel Ferrara
Stars: Harvey Keitel, Victor Argo and Paul Calderon
While investigating a young nun's rape, a corrupt New York City police detective, with a serious drug and gambling addiction, tries to change his ways…
The Grifters (1990)
Director: Stephen Frears
Stars: Anjelica Huston, John Cusack and Annette Bening
A small-time conman has torn loyalties between his estranged mother and new girlfriend–both of whom are high-stakes grifters with their own angles to play.
Let It Ride (1989)
Director: Joe Pytka
Stars: Richard Dreyfuss, Teri Garr and David Johansen
Comedy. An average kind of guy who has a slight problem with gambling goes to the track, and mystically, it seems as though he can't lose, no matter how he bets.
House of Games (1987)
Director: David Mamet
Stars: Lindsay Crouse, Joe Mantegna and Mike Nussbaum
A psychiatrist comes to the aid of a compulsive gambler and is led my a smooth-talking grifter into the shadowy but compelling world of stings, scams, and con men.
The Big Town (1987)
Director: Ben Bolt, and 1 more credit »
Stars: Matt Dillon, Diane Lane and Tommy Lee Jones
It is 1957. and a young man from a small town, with a talent for winning at craps, who leaves for the big city to work as a professional gambler.
The Sting (1973)
Director: George Roy Hill
Stars: Paul Newman, Robert Redford and Robert Shaw
When a mutual friend is killed by a mob boss, two con men, one experienced and one young try to get even by pulling off the big con on the mob boss.
A Big Hand for the Little Lady (1966)
Director: Fielder Cook
Stars: Henry Fonda, Joanne Woodward and Jason Robards
Comedy western in which a traveler bets more money than he can afford in a poker game, and unusual events follow.
Kaleidoscope (1966)
Director: Jack Smight
Stars: Warren Beatty, Susannah York and Clive Revill
Romantic comedy which has Barney Lincoln and Angel McGinnis as a pair of amorous adventurers in the gambling places of London and the Riviera…
Ioannis Kavouras