Attracting slot players and keeping them entertained requires continual refreshing of approach, gameplay and themes. Once players have seen everything a slot has to offer a few dozen times, they're ready to see something new.
Something new can include games revolving around pop culture icons, innovative bonus events and sometimes non-traditional ways to play.
The latest group of games that was shown to casino industry professionals last autumn at Global Gaming Expo in Las Vegas includes all of the above.
Dozens of new games were on display. Let's pick out five and take a look.
THE ADVENTURES OF ROCKY AND BULLWINKLE AND FRIENDS, Everi Games
Most modern slot machines use at least five video reels that are at least three symbols deep, and have paylines by the dozens. The three-reel games that once dominated the market have been pushed to the back burner.
Still, there is a corps of players who still love the three-reel games, and Everi's two themes under the Rocky and Bullwinkle and Friends umbrella promise them a rollicking good time.
Based on Jay Ward's animated series that launched in 1959, the new slots take advantage of the sounds and graphic images from the show. One theme is Rocky and Bullwinkle, based on series heroes Rocky the Flying Squirrel and Bullwinkle the Moose. The other game is Boris and Natasha, built around the Cold War spy villains Boris Badenov and Natasha Fatale.
Each three-reel game has nine paylines along with a bonus wheel and multiple progressive jackpots. That gives it the basic ingredients for a successful three-reel game in the 21st century.
But the fun comes in the characters and voice overs, with actors doing spot-on impressions of the original characters.
The series, which ran in the 1950s and '60s, had multi-level humor, lampooning events of the day and keeping adults entertained as they watched with their children. Boris' plan to use metal-munching moon mice to take over the U.S.A. was detailed in a book labeled "Mice Kampf." The slot machine doesn't have to worry about the kids, and the humor is a huge nostalgia play for those attuned to the late Ward's comic touch.
ROCK PAPER SCISSORS INSTANT WIN, Aruze Gaming
Part of Aruze's new series of Acti-Play games that emphasize player participation, Rock Paper Scissors drew big crowds in its debut at Circa casino in Las Vegas late in 2022. As the game makes its way into other venues, nothing could be easier.
Rock Paper Scissors features a lighted wheel with a dot-animation hand in the center. Around the rim, the wheel is divided into segments showing potential win amounts. Included is a diamond symbol to indicate a top progressive jackpot that was in the thousands of dollars in a demo version. There are two ruby segments, each good for a secondary progressive, which was in the hundreds in the demo.
Players choose a bet size and push play to start the hand rapidly fluttering among rock, paper and scissors symbols. The player then must choose one of three buttons featuring white-gloved hands, one in a fist to denote rock, one flat-palmed to show paper and one with two fingers in a "V" sign to indicate scissors.
Once you've made your choice, a random number generator tells the hand in the circle to stop on one of the signs. Bets are decided by rules of the age-old game: rock breaks scissors, paper covers rock, scissors cut paper. If you tie, the game keeps your bet but increases the potential prizes in the wheel segments.
If you've chosen the winning sign, a light flashes around wheel segments. When the light stops, it indicates how much you win.
It's a different way to play than the usual spinning reels. It's so simple it might not hold up to extended play, but a big share of slot players is sure to want to give it a try.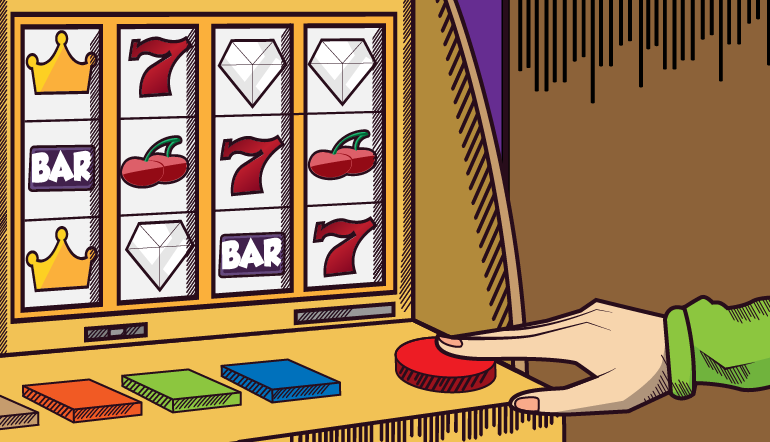 FRANKENSTEIN, Light and Wonder
The game maker formerly known as Scientific Games has rebranded itself as Light and Wonder. Horror fans are sure to find wonder in a new series of games called the Monsters Return.
Frankenstein is a showcase theme in the Monsters Return, along with games modeled on the Bride of Frankenstein, the Mummy, the Wolf Man and Dracula.
Above its five reels, Frankenstein features Light and Wonder's Cash Top. The top includes a field of rectangles displaying credit awards along with six progressive jackpots. The credit awards aren't fixed. If a "Power Up" symbol lands on the first reel below, wins are increased, including Cash Box multipliers.
Reels feature symbols and characters from the classic horror movie, with the main event being the monster himself. If you land an "It's Alive!" symbol on the first reel and a Frankenstein's monster face on any of the other reels, the monster grabs credit awards from the Cash Box. The monster symbols sometimes are stacked, so a stack of three monsters filling a reel takes multiple Cash Box prizes that send your credit meter soaring.
Opportunities are electrified when you land three Free Spins symbols. Then you get 10 free games with heightened chances to grab Cash Box awards and progressive jackpots. "It's Alive" symbols can be stacked as well as monster symbols. If you get a stack of three of the "It's Alive" symbols, then each Frankenstein monster symbol on the reel grabs three prizes.
Frankenstein also has a lock-and-respin bonus where fireballs are locked into place and held until respins bring no more fireballs. Respin bonuses are among the most popular features in slots today, and add another path to big wins in what looks like a monster hit.
LET"S MAKE A DEAL, IGT
Patterned after the long-running game show favorite, Let's Make a Deal bids for your attention with video from the show hosted by Wayne Brady and symbols such as jewelry, bedroom furniture and other prizes that might be featured on TV.
Dollar bill-shaped symbols usually are blue at the start, and as the spin ends, they reveal credit awards. When one of the bills is gold, that's when the fun starts. Gold bills bring the opportunity to make a deal.
Sometimes the deal is simple. Do you want the bill, or do you want what's in a virtual box? Your choice could bring a bigger or smaller credit award, or a bigger or smaller win multiplier.
Less often, the gold bill will launch the Big Deal. That plays just like the television show, with a chance to choose among Door No. 1, Door No. 2 or Door No. 3. One door hides one of five progressive jackpots. After you choose, one of the other doors is opened, showing a non-jackpot prize. That heightens the drama before your door is opened.
There are also games within the game featuring stunts used on the TV show. A free spins bonus doesn't end until you accumulate at least three "Zonks," the word long used on TV to describe bad deals with gag prizes.
Plenty of entertainment value is built into the game to keep you going between deals.
AMERICA'S RICH LIFE, Konami
With a star-spangled eagle complete with red, white and blue-striped feathers as a unifying symbol, this five-reel video slot leads you toward the land of jackpots. It's all set to the tune of Godfather of Soul James Brown belting out his Grammy-winning song "Living in America."
The American good time of big wins features a bonus wheel. When six or more wheel symbols, each containing a credit award, land on the reels, the eagle flaps at the top of the reels and takes you to the big wheel for a chance at credits and progressive jackpots.
On the big wheel, the total credits shown in the on-screen wheel serve as the base for your three spins to accumulate credit awards. You get three wheel spins at the start, and on each spin, awards in wheel segments increase by that base amount. If the base is 500 credits and a segment award is 1,000 on the first spin, it will be 1,500 on the second and 2,000 on the third.
Wheel segments are color coded. The eight white segments contain credit awards. If you land on either of two blue segments, you get a credit award plus a minor jackpot. One red segment brings credits plus a major jackpot, while one gold segment brings credits plus the grand jackpot.
But wait, there's more. Most of the wheel display is an interior wheel, but around the rim there's an outer reel. Most outer segments bring no further prize, but some award extra spins. So you could win more than three spins, bumping up your credit meter each time around.
Wheel-spin games tend to be more popular in live casinos than online. The big wheels serve as an attraction, drawing attention from passers-by. Indeed, live casinos are where you'll see America's Rich Life first, but if it proves popular, online distributors will want to take a look.