Other games may draw larger wagers, but slot machines attract more players than any other casino game. That's especially true in the United States, where slots have topped play in live casinos for decades. Online, slots are a wide-ranging phenomenon.
To make sure they get their share of players, slot manufacturers have to be sure to keep on top of innovations. They constantly bring out new bonuses and new ways to play to keep players coming out for more.
Hundreds of new games are introduced every year. Online casinos, not constrained by physical space, can give players more options than the most dedicated players can even dream. Let's check out three of the most attractive games that have started making their way into online play.
CARNIVAL IN RIO, Everi
It's party time for players with Carnival in Rio, with music and dancing to evoke the celebration and revelry in the week before Lent every year in Rio de Janeiro.
This is a five-reel slot game, with each reel three symbols deep. Carnival in Rio has its roots in a game released to live casinos several years ago when Everi was still called Multimedia Gaming. On original release, it had 50 paylines, but has been freshened for online play. Some online casinos list 120 paylines, giving you more ways to win.
The premium symbols on the reels are the dancers, women in skimpy costumes and tall feathered headdresses. They're tall symbols that can take up all three spaces on a reel, so if you line up several matching dancers, it leads to big multiple-payline wins.
The dancers' costumes come in green, blue, pink and gold, and each is labeled with a Rio de Janeiro neighborhood: Ipanema for green, Leblon for blue, Flamenco for pink, and Copacabana for gold.
Other symbols include the basic 9, 10, J, Q, K, and A you find on many slot games, free games symbols and "Carnival in Rio" spaces that alternate colors among the letters. Those multicolored Carnival spaces are wild symbols.
The main event launches when you land three free spin symbols on your screen. Then you get seven free spins. The premium symbols darken, putting the dancers into shadow as they spin, shake and sway to the music. If you're lucky, you'll see plenty of dancing because the dancers, in addition to the Carnival in Rio symbols, are wild during free spins.
Carnival in Rio is not a complicated game. The free spins are the only bonus event. But the freebies are frequent enough and the game atmosphere is full of good times.
WIZARD'S CRITTERS, High 5 Games
A big win can seem like magic on any slot machine. On Wizard's Critters, the good times can be downright supernatural with unlockable dragons. The more you play, the better your chance to win.
Five reels are each three symbols deep, with 20 paylines in a cascading reels game.
In the middle of a spooky old forest, a stone frame with runes etched into the edges surround the reels. The title wizard and his wand serve as a wild symbol. Other symbols include the J, Q, K, and A used on so many games; a swirl of magical energy that triggers a free spins bonus; a 5, because this is a High 5 games production; and three big-eyed baby dragons.
The red dragon is the biggest payer, followed by the green and then the blue.
At the start of play, each dragon is a single symbol, but a Spincrease feature enables you to increase so there are two, three, or four like dragons in the same symbol. If you've played enough to earn four-dragon symbols, then it's possible to line up not just five, but 20 of a kind on a payline for some truly enchanted payoffs.
To the left of the reels is a meter that rises as you play. When you fill the meter the first time, it enables double blue dragons. The second time through the meter unlocks double greens, the third double reds, and then you start the process again to unlock triple symbols. Finally, if you're able to stick with Wizard's Critters long enough, you get a change to unlock the quadruple dragons.
Reels cascade on any winner. The winning symbols disappear, then new symbols drop down onto the reels for a chance to form new slot winning combinations.
The cascade effect applies to free spins, too. Landing three magic energy swirls on the reels launches the freebies and a supernatural good time.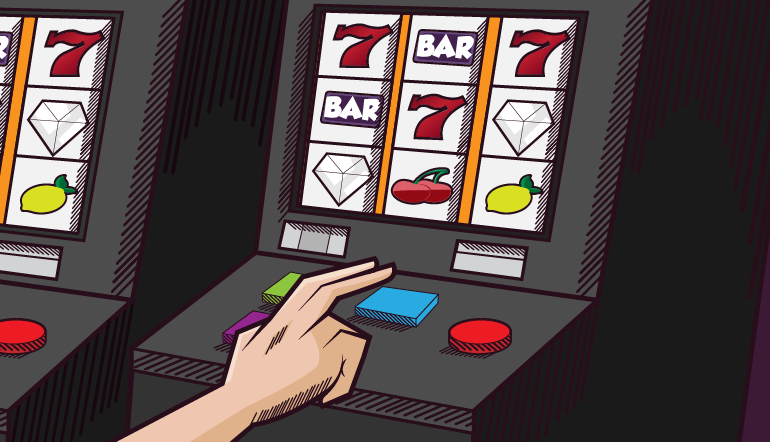 LIL' DEVIL, Big Time Gaming
Do you feel like soaring on angels' wings or taking a spin on the devilish side? It's up to you as Big Time Gaming's Lil' Devil gives you free spin options.
The game has a different look with six reels each four symbols deep, and a frame around the middle two reels. Instead of traditional paylines, Lil' Devil gives you 4,096 ways to win as any path of matching symbols from left to right can serve as a virtual line.
Along with 9, 10, J, Q, K, and A, symbols include alligators, scorpions, a purple heart-shaped locket, a lizard in a jar, and a house with a heart atop its chimney. It's the house that triggers the free spins bonus.
Land three or more houses on the reels, and you face a choice between the Be My Angel Free Spins or the devilish By a Dynamite Lover Free Spins.
In Be My Angel, where the angel icon is in white with purple tinges and highlight, you receive seven free spins that include sticky wilds -- land a wild symbol on the reels and it stays in place for the remainder of the free spins.
Even better, if you stack four wilds on the third reel, they become an angel wild that fills the column and carries a multiplier that increases by 2x on each spin. Should you get angel wilds on reels 3 and 4 and have 12x multipliers, they work together to multiply winnings by 12 x 12, or a whopping 144 times.
Should you select the "Be a Dynamite Lover" spins, you get 12 spins instead of seven. The wilds aren't sticky, but they are dynamite. Each time the dynamite blows up, a multiplier increases by 1x.
For some extra special fun, each time you see a Love Shack symbol, you collect a heart. Collecting 40 hearts launches the Heartstopper Enhanced Free Spins. You still have a devil or angel choice, but if you fly with the angels extra wilds are added to the possibilities, and if you stick with the devil the wins multiplier starts at 5x.
Those are extras that will make your credit meter bounce no matter which side you choose. It's all part of giving players extra entertainment to stand out among the never-ending parade of new games.