Power Up Roulette Live is the latest attraction from casino masters Pragmatic Play. This feature-filled live game show ramps up traditional roulette action in a big way. Power Up Roulette live features an incredible 5X bonus rounds, each offering players additional chances of winning. Every time a new bonus round begins, the prize pool doubles on the next spin. By the fifth round of play, payouts are a minimum of 2600X and a maximum of 8000X.
This engaging live roulette attraction showcases multipliers. Similar games include Mega Roulette, but shared features between these games are few and far between. The maximum payout on Power Up Roulette is an incredible 8000X. The game show uses RNGs to randomly generate a multiplier for every Power Up round of play. Existing bets on the roulette deck are rewarded when your number corresponds with the ball's position on the wheel.
Power Up Roulette: Features and Functions
Like other live games with multipliers, Power Up Roulette randomly picks 3, 4, or 5 PowerUp numbers. The live casino game begins once the croupier spins the ball around the wheel – counter to the wheel's rotation. Should the ball happen to land on one of the PowerUp numbers, the bonus round kicks into play. But here's the thing: players are not required to have bet on those numbers for the bonus round to initiate. What is needed is a straight-up bet to win a multiplier. The pay table determines your payout for the PowerUp numbers.
The in-game features and functions are further enhanced by way of power meters. These visual renderings are displayed at the top of each block bearing several numbers. The higher the bars, the greater the multipliers. On the first Power Up, expect multipliers in the region of 50X – 500X. Every spin qualifies for PowerUp numbers, with more in store during bonus rounds. Let's take a look at the multitiered bonus round Power Up system:
PowerUp #1 – up to 500X
PowerUp #2 – up to 1000X
PowerUp #3 – up to 2000X
PowerUp #4 – up to 4000X
PowerUp #5 – up to 8000X
Straight-up wagers (bets on numbers) are posted on the betting deck and remain in place during bonus rounds of play. The live game show host spins the roulette wheel for players at home or on the go. The winning multiplier is simply the pocket where the ball comes to rest. You must have a pre-existing bet on that number to win a prize.
Popular Bets and Payouts
6-line bets - 5:1
Corner bets - 8:1
Street bets - 11:1
Split bets - 17:1
Straight up bets - Up to 8000:1
Low/high bets - Even money
Odds/evens - Even money
Red/black - Even money
Dozen bets - 2:1
Column bets - 2:1
The Live Casino Action
This live casino game is fashioned on European Roulette with a single zero. That means there are 37 numbers on the wheel (1-36 & 0). Bets placed on numbers have a chance of winning multipliers. Unlike traditional European Roulette, the payout odds are lower with PowerUp Roulette at 24:1 instead of 35:1.
All numbers on the roulette racetrack are assigned a random multiplier
The computer system picks PowerUp numbers for each spin
The croupier spins the roulette wheel
All the action takes place with real dealers in real-time. This game has no mechanized wheels or computer-generated simulations generating ball and pocket results. While the Power Up round is in play, multipliers are randomly assigned to each of the 37 numbers on the track.
The betting action is complete within 20 seconds. All bets must be placed on a table using the Roulette Racetrack and/or Special Bets. Players are reminded that only bets on individual numbers qualify for multipliers in Power Up Roulette Live.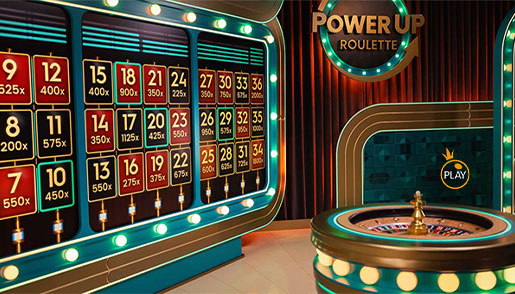 An interesting feature of the game is the concentration of blue gridlines above each block. The heavier the concentration, the greater the likelihood of high multipliers in that block. Note that these blocks can feature multiple columns. Bigger payouts can be expected from blocks of numbers with heavier concentrations of blue gridlines.
Next, the croupier spins the roulette wheel in the opposite direction to the previous spin. If a straight-up number lands, payouts will be made, and the next round of betting kicks into play.
Players with bets on PowerUp numbers win at the multiplier rate. Straight-up bets on multiplier numbers win that specific value.
Measuring Performance in Power Up Roulette
While past performance has no bearing on present performance, evaluating the Last Results in Power Up Roulette is interesting. This gameshow allows players to view up to 500 prior results, with all metrics available. These include 5X hot/cold numbers, sections of the roulette wheel where the ball has landed before, multiplier payouts, PowerUp rounds, and other statistics.
Statistics show that every individual number bet has an equal chance of coming up at any time. However, Power Ups boost your winning chances as much as 8000X. Of course, for bets on straight-up numbers, multiplier wins are required.
Power Up Roulette Useful Tips & Fast Facts
As a live casino game, Power Up Roulette requires a budget. Your budget and bet size determine how long you can play and enjoy this live game show. Straight-up bets have a payout of 24:1, with outside bets offering payout odds of 2 to 1 or even money on good spins.
Roulette players at 888casino tend to focus most of the action on the outside bets on even/odd, high/low, or red/black selections, which are approximately 50/50, except for the green zero. A combination of inside bets and outside bets offers exciting opportunities for generating returns.
Game-show roulette with bonus multipliers
Reduced payouts (24:1) on straight-up bets due to multipliers
Special PowerUP round triggers with 3-5 special numbers for massive prizes
Up to five PowerUP rounds with multipliers up to 8,000x for Straight Up bets
97.19% RTP for single-number wagers, 97.30% for other bets (European wheel)
Available 24/7 in HD with multiple UI languages
FAQs - Power Up Roulette Live at 888casino
What is Power Up Roulette Live?
It's a feature-filled live game show by Pragmatic Play, with up to 5X bonus rounds and 8000X maximum payout.
How do the bonus rounds work?
The prize pool doubles on each new bonus round, and players win multipliers up to 8000X.
How are PowerUp numbers selected?
The game randomly picks 3, 4, or 5 PowerUp numbers on each spin.
Do I need to bet on PowerUp numbers to trigger the bonus round?
No, a straight-up bet is enough to initiate the bonus round and win a multiplier.
Is Power Up Roulette Live based on European Roulette?
Yes, it's fashioned on European Roulette with a single zero and 37 numbers on the wheel.
How long do bets take in this live game?
Betting actions are completed within 20 seconds on each spin.
Can I view past results in Power Up Roulette?
Yes, players can check up to 500 previous results, including multiplier payouts and statistics.