Safari Riches slot machine game is an absolute riot. This 5x4 reel slot takes players on a wild ride through the African jungle. Designed and developed by Section8 Studio, our in-house software company, Safari Riches slot has captivated players' attention since its inception. It's going more hoof-stomping action, roaring, clawing, horns and tusks than any other game on deck. And now, Playtech has teamed up with 888 to deliver Safari Riches Live to players.
The original Safari Riches slot game features a generous RTP of 96.23%, with 40 lines in play. Available to players on PC, Mac, and mobile, Safari Riches slots bring the biggest beasts of Africa direct to your screen. A mix of high-value and low-value symbols form in combination to reward players. Behold the Buffalo, Zebra, Rhinoceros, Elephant, Cheetah, and Lion. These high-value symbols combine with Jack, Queen, King, and Ace symbols to form winning combinations.
Safari Riches slots by 888 delivers King of the Jungle stacked wilds, Creature Big Icons, and Flamingo Scatter Free Spins. Plus, Safari Riches is part of the Daily Jackpot series from 888casino. Best of all, players can instantly trigger jackpots with one spin. This thrilling online casino game – the forerunner to Safari Riches Live by Playtech- is available to players in demo and real money modes at 888casino.
The Big Reveal: Introducing Safari Riches Live Slot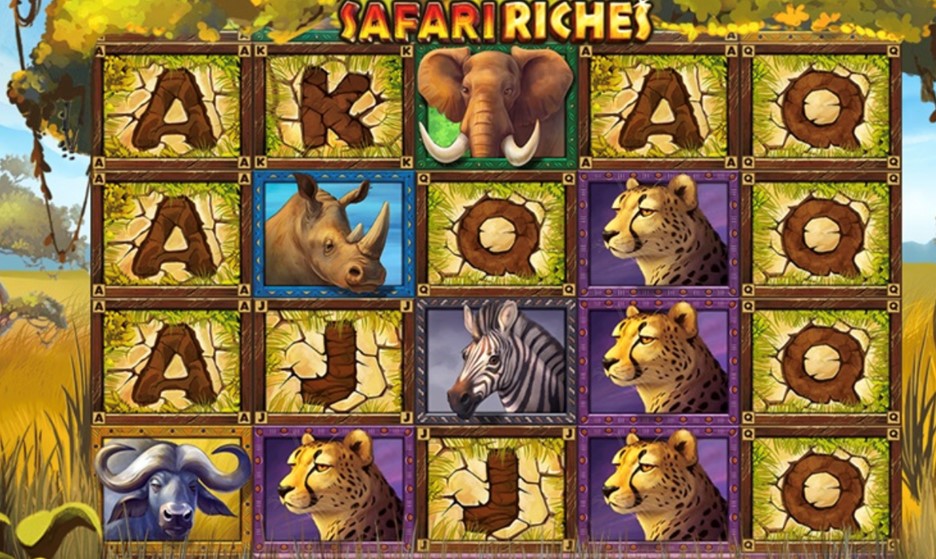 Playtech is a leading provider of casino games and live casino games. In April 2022, Playtech announced the official launch of Safari Riches Live with 888casino. This collaboration brings one of the hottest jungle-themed slots games to the live casino arena. Playtech Live and 888s Section8 Studio burned the candle at both ends to bring Safari Riches live to players. Unlike the traditional slot game, this one is hosted by a professional dealer in a high-tech studio. The action streams live to players' screens, uninterrupted and in real-time.
Of course, Playtech is no stranger to live casino games. This time around, Safari Riches Live is hosted at the Riga-based live studio in Latvia. Players experience the larger-than-life action with Free Spins, Big Icons, and Stacked Wild symbols in real time. Like the traditional version, Safari Riches Live features a Progressive Daily Jackpot. A portion of all real money wagers contributes towards the jackpot prize pool. This is the first time that Playtech features a Daily Jackpot on a live casino game.
All registered players at 888 Live Casino are welcome to play Safari Riches Live in real money mode. Back in 2021, 888 and Playtech inked a deal to showcase a world-class live casino studio, including a selection of the most popular orange e-generated casino games from Playtech. Professionally-trained, licensed dealers from Playtech are standing by to deliver an incomparable entertainment experience for live casino players. But, of course, it's the real deal, so only real-money play is possible at the live casino.
How to Play Safari Riches Slots
Safari Riches slots follow from the original casino game, except this version is live formatted. The 5 x 4 grid features a combination of high-value and low-value icons, including African animals and card symbols. The paytable determines payouts for different combinations of symbols. Fortunately, this game is available to players with low minimum bets and high maximums. It is a safari, after all, so you can expect all the sounds of elephants, cheetahs, lions, buffalo, rhinos, and more as the reels spin in real time. Plenty of free spins are up for grabs when you land the necessary number of Flamingos Scatter Symbols.
The vice president of business to casino operations at 888, Talya Benyamini, expressed tremendous excitement about the collaboration with Playtech:
"We are delighted with the new and exclusive Safari Riches Live casino slot game we developed jointly with the Playtech Live team. Packed with rich content and exciting features, including our Daily Jackpot, Safari Riches Live builds on the popularity and strength of the Safari Riches brand and extends it to Live Casino fans. In addition, this launch will expand our existing portfolio of exciting games and formats, which is a crucial part of our product leadership and content strategy. We can't wait to introduce the game to players in the coming weeks and continue to work with Playtech in the future."
The head of live casino innovation from Playtech, Kevin Kilminster, was amped about the launch of Safari Riches live:
'We are thrilled to collaborate with 888casino to create this bespoke live casino slot game, Safari Riches Live. It is a great honour that 888casino has chosen Playtech to develop this game and trusted the Playtech Live team with one of their best-performing gaming brands. At Playtech Live, we are seeing an increased demand from operators to create new and engaging content for their customers and having the opportunity to design a live casino slot game based on one of 888casino's most successful proprietary slot games made perfect sense to us! The Playtech Live team have developed tailor-made features to support the launch of Safari Riches Live. We are confident it will be just as popular with 888casino's customers as the original Safari Riches slot game.'
Safari Riches Live Slot is a thematic casino game with a real dealer. Advanced gaming technology brings jungle-themed action to players instantly. Augmented reality overlays and immersive gameplay deliver a transformative experience from the live casino platform. In addition, 888 Live Casino supports responsible gaming at all times.
*No humans or jungle animals were harmed in the production of Safari Riches Live Slot by Playtech and 888. Lace-up your boots, grab your insect repellant and enjoy responsibly