I originally posted my analysis of the Dragon side bet for EZ Baccarat in this post on the Wizard of Odds website. Shortly after, Michael Shackleford made this post, describing a card counting method to beat the Panda side bet for EZ Baccarat. Subsequently, Stephen How wrote about methods to card count both of these wagers in a series of posts on his website, Discount Gambling. In particular, he recently made this post about the Dragon side bet and this post about the Panda side bet. The countability of these two wages is now well established.
I was therefore very surprised to receive the following e-mail from a major casino. This e-mail is given in redacted form, and it is posted with the permission of the sender and the sender's casino: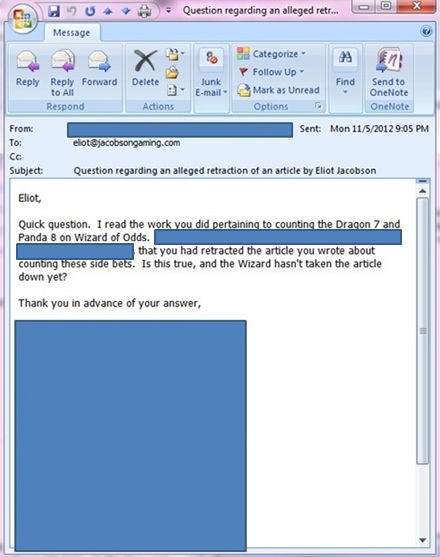 The e-mail specifically refers to this article: Card Counting the Dragon Side Bet in EZ Baccarat
I would like to answer the question raised in this e-mail here:
I have not retracted my article nor do I intend to do so.
No evidence has been provided to me in any fashion that the results I published in my article are incorrect in any way.
The Wizard of Odds website, as far as I know, has no intention of removing my article, nor have I asked them to do so.
Both the Dragon side bet and the Panda side bet are vulnerable to card counting.