Which is the best way to deposit and withdraw money to and from an online casino, Neteller or Skrill? We have used both extensively ourselves and have the answer.
It's been a while since electronic wallets were introduced and the conversation has shifted from whether they are a good choice for gamblers, to which one is better. Skrill and Neteller are two of the biggest operators in this line of work and also the ones that online casinos and their players use them routinely. The expansion of online gambling made it important to cash out and deposit funds quickly, without fearing for the safety of the funds or the manner in which sensitive information is handled. Read about the benefits and problems of playing online.

An e-wallet account is the best solution for gamblers and with these two leading e-wallet providers dominating the market, making a decision is not as easy as it sounds. These are competing services but offer similar products, with issues such as site friendliness, functionality, pricing, reliability and diversity of features to be factored in when making a decision.
One of the main benefits of using these two services for your transactions with the casino is anonymity. Yet they may not be as anonymous as bitcoins, but it is still better to give an online casino just your Skrill or Netter account number than your credit card number. Because your credit card is directly connected to you and your private information. With these services you add an extra layer of anonymity.
Site friendliness and performance
You only get one chance to make a good first impression and Skrill always knew how to impress new customers, without alienating existing users. The company opened shop in 2001 and since then the interface changed several times, with the most important transformation occurring when they made the rebranding. They used to go by the name of Moneybookers and this is the way they are called by many of their customers, although they do a fine job at building brand awareness as Skrill.
Unlike Skrill which celebrate simplicity and a minimalistic design, Neteller still embraces the traditional layout and the website looks a bit crowded. Existing users will surely appreciate the fact that they have all the important features and their fingertips, although prospective online casino fans can be overwhelmed at first. The bottom line is that Neteller grows on you and once you get hooked makes it difficult to return to the minimalistic approach of Skrill, but the latter is more appealing to new customers.
In terms of ease of use and functionality, both electronic wallets guarantee a streamlined process for setting up an account. Regardless of their choice, online casino players will have an account ready to be used right away and the only difference is that Skrill offers twice as many currencies. On a scale from 1 to 10, Skrill would score 9 in this category, while Neteller an honorable 8.
Pricing, Limits and Quickness of payment
Arguably the most important things about electronic wallets is how fast they process transactions, how much money they charge users and how much they allow them to transfer. Neteller charges a fee for deposits from the bank account with some of them being free while others incur a commission of at least 1.5%. The worst-case scenario is to be charged 7.5% when depositing funds, which is a lot of money, especially for those who make frequent deposits.
This is where Skrill takes the lead, as it offers free bank transfers in any currency from broad list of countries. For online gambling as well as online shopping, both electronic wallets are an excellent choice, because they have the support of many partners. As a result, casino players won't have to pay anything extra when funding their online accounts and the transfers usually take less than two hours. In this category, it is only fair to say that we have a tie, as both operators meet the highest expectations.
Withdrawing funds from an account will result in a flat bank transfer and cheque of €7.5 for Neteller, while those who use the dedicated Net+ Prepaid MasterCard won't have to pay anything. Skrill charges a fix amount of €1.80 for all bank transfers and €3.50 for cheques, so overall it is less expensive to use them on a daily basis.
Both e-wallets start with low limits which increase radically after the accounts get verified, with Neteller allowing customers to hold only $2850 as a maximum lifetime funding in unverified accounts. Once they provide the necessary formation to prove identity, the limits are lifted to $4000 for deposits using credit cards and a massive $400,000 for those who use bank transfers. Online roulette players who prefer to use Ukash or PaySafeCard will be allowed to deposit a maximum of $5000 per month.
Skrill has a similar procedure, with users being requested to verify their banking information, ID and address before performing any transactions. Those who use the credit card can perform transactions of €1000 per day and cash out a maximum of €250 and the ATM over the same period of time.
In both cases, players are provided with the option of becoming VIP members, which will result in higher limits for all transfers and inherent advantages. In order to join the select group of members, users are supposed to transfer significant amounts which count into thousands of dollars on a monthly basis. Most are prohibitive to regular players, so they need to focus on the basic package and the corresponding limits.
Once again, Skrill emerges victorious with 9/10 compared to Neteller's 8/10.

Skrill offers

Neteller deposit options
Special features and products
After the rebranding process Moneybookers introduced the prepaid MasterCard, which allows online gambling fans to also shop worldwide without any monthly fees. Skrill has won the best European Prepaid Card award which is given to those who score high marks in terms of reliability and credibility. It allows users to shop in four different currencies and grants them unrestricted access to a full transaction history, with users getting to choose between the Personal or Business account.
Neteller has its own credit card and compared to Skrill which only allows customers to cash out funds up to a maximum of €250 per day, the Net+ Prepaid Master Card has a more generous limit. It is possible to use the ATM for withdrawing a maximum of $3300 per day and it works for both off-line and online payments, with no monthly, annual or dormancy fee. The company uses the 128 bit encryption protocols to make sure that all the money transfers are flawless and perfectly safe.
Let's give it to Neteller who wins this race with the perfect 10/10, followed by Skrill with 9/10.
Safety, security and customer service
Skrill take great pride in following the Payments Card Industry Data Security Standards, which means that they use the ultimate in encryption protocols. The transactions themselves are absolutely secure and those who have any reasons to believe that their account has been compromised can lock it down immediately. The same can be done in regard to the prepaid credit card, with one phone call being enough to prevent wrongdoers from stealing your funds.
The dedicated application for mobile devices also serves this purpose and the fact that online roulette players who rely on them are supposed to use a combination of a password and PIN code further increases security. Customer support is available 24/7 and users are recommended to get in touch with them whenever they need assistance with a technical issue or a safety concern. So far, there have been no complaints involving users who lost funds or had their identity stolen, due to Skrill negligence.
As stated above, Neteller are also security buffs, who uses the128-bit encryption technology and they now also use a 3D Secure technology that is supported by both MasterCard and Visa. The credit cards can be blocked and the accounts suspended just as easily, with the customer support being available over phone, email and live chat. The differences between the two electronic wallets are so tiny in this subsection that the only logical conclusion is to proclaim a tie as both of them score a flawless 10/10.
Comparison – The Verdict
As expected, both Neteller (full review) and Skrill (full review) score high marks in all categories and choosing one over the other is mostly a matter of preference. The differences are small and those who already have an account with either of these electronic wallets are unlikely to make the transition to the other. Overall, Skrill wins the race by a nose due to its slightly higher limits, lower commissions and more currency options.
 
Check out our very own rating table below to make an educated decision: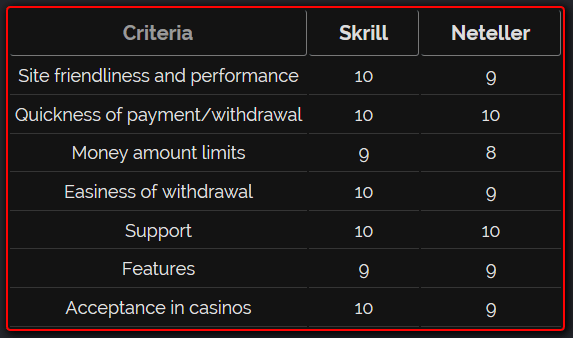 Comparing Skrill and Neteller