ETERNAL SLOTS: LONG-LASTING GAMES WE LOVE
There's a rhythm to the popularity of slot machines and their themes.
Excitement over new games hitting the floor at live casinos or the screen at online casinos builds to a popularity peak as the games find their target audiences. During peak popularity, players flock to the games and explore all the sights, sounds and bonus features. Once players have seen all a game has to offer, they start to drift away and explore other games. In live casinos, that drifting away is a signal to start replacing the games. The most popular games remain on the floor in reduced numbers, but others are eliminated entirely.
Games can hold on longer in online casinos, where they don't require physical space, but eventually even online slots are pushed to the sideline. A few select game themes seem to defy the rhythms and remain player favorites for years and even decades at a time. The original favorites might find their numbers reduced, but they retain a loyal following, and even inspire long series of sequel games.
In this chapter, you'll learn about some of the most popular slot machines of all time, the eternal favorites that keep players coming back, and back, and back for more.
BLAZING 7S:
Talk about lasting popularity. Blazing 7s has been with us since the 1970s, developed by Bally in its old Chicago headquarters. It was designed as a rapid-hit jackpot game, with 7s symbols on fiery backgrounds and a volatility that has proved appealing through more than four decades of slot evolution.
Jackpots come fast and furious on Blazing 7s, originally designed as a dollar progressive three-reel game. On the class $1 games, the top jackpot for three triple Blazing 7 symbols starts at $1,000. Jackpots pay frequently, so they usually hit before reaching $1,200 - the level that in the United States means players must sign a tax form before collecting.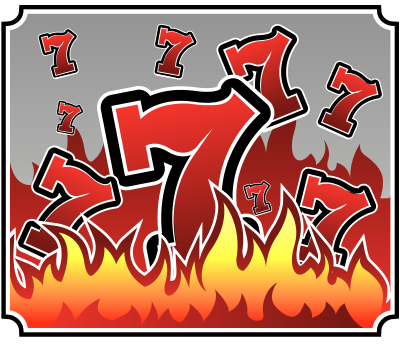 That's intentional. Designers thought about that very tax issue as they worked on the math for the game. Blazing 7s is a buy-a-pay game, and players must be aware they should bet enough to unlock all game features. On a three-reel, three-coin game, each coin unlocks a set of winning symbols. It's the final coin that unlocks the Blazing 7s symbols, and makes you jackpot-eligible.
Three-reel versions of Blazing 7s retain places on casino floors, though in nowhere near the numbers they once commanded. Still the Blazing 7s theme remains a major part of the slot experience, with a number of sequels including Blazing 7s 7x Pay; Double Jackpot Triple Blazing 7s; Triple Jackpot Triple Blazing 7s; and Diamond Line.
All feature the iconic symbols of one, two or three red 7s, engulfed in flame.
Bally, now a division of Scientific Games, has used Blazing 7s as a starting point for other innovations:
**Hot Shot progressives:
A huge hit in its own right, Hot Shot is a 40-line video slot that spotlights reel symbols depicting other Blazing 7s games. There's a unique reels-with-the-reels bonus for each featured game.
Land three Double Jackpot Triple Blazing 7s symbols on the screen, for example, and the reels on those symbols start spinning for potential wins all the way up to a progressive jackpot.
**Blazing 7s Multislot:
This was a unique attempt to offer multiple games on a mechanical-reel slot.
Multigame formats are easy to do on a video format. Each time you choose a different game, you get a different set of reels with different symbols. That's not possible on mechanical-reel games. The same symbols are going to be on the reels at all times. Blazing 7s Multislot changed the way the symbols were used on three games: Blazing 7s Free Spin, Blazing 7s Scatter and Blazing 7s Wild. They were just what the names implied - free spins were available on one game, scatter pays on another and wild symbols to create extra winners on the third. The symbols were the same, but how they worked together to form winners or bonuses was different.
DOUBLE DIAMOND:
With its elegant three-reel look, its diamond symbols and its jackpot multiplier feature, the three-reel Double Diamond slot machine has been with us since 1989. The format seems simple now, but it's led to a whole family of games from IGT.
Most reel symbols are the traditional 7s, bars, double bars and triple bars that you find on many slot games. What gives this one its spice is the Double Diamond symbol that doubles winning combinations. Get a Double Diamond symbol and two single bars, for example, and you get twice the payoff of three single bars. Make it two Double Diamonds and a single bar, and you double the payoff twice - you get four times the payoff for three bars. And three Double Diamonds, well, that's good for the machine's top jackpot. Double Diamond wasn't the first game with a multiplier, but it has had remarkable popularity and staying power. Among its many sequels: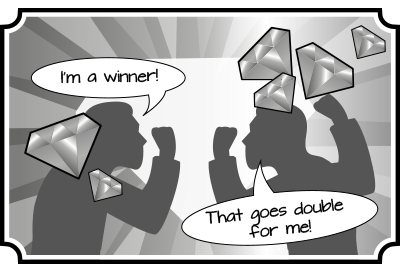 **Double Diamond Deluxe,
a "nudge" game in which bar symbols with diamonds either drop down to the payline from above if the diamond points down, or nudge up if the diamond points up.
**Triple Double Diamond,
where instead of payoffs being twice the usual with one special symbol or four times with two, they're triple the usual with one Triple Double Diamond, and nine times pay with two.
**Double Diamond 2000,
a five-reel video slot that brought the popular multiplier feature to low-denomination players.
**Double Triple Diamond Deluxe With Cheese:
A three-reel slot with Double Diamond and Triple Diamond symbols, this one also has the diamond-pointing nudge feature of Double Diamond Deluxe and a top-box bonus game.
In the bonus event, lighted dice roll in the top box they move you though layers of a cheeseburger – bun, burger, cheese – and you collect credits along the way. The success of the original Double Diamond also inspired Five Times Pay and Ten Times Pay, which use the same kind of multiplier format. Double Diamond is frequently used as a base game on IGT progressive and bonus systems such as Wheel of Fortune and Megabucks.
SPHINX:
Slot players have been happily exploring the mysteries of ancient Egypt since 1998, when Atronic introduced the original Sphinx five-reel video slot. Sphinx and its sequels remain with us today through IGT, which acquired the Atronic catalog through its merger with GTECH. Sphinx was one of the first video slots with a two-tiered bonus round, kicking the fun up a notch from the first second-screen bonuses. In the Sphinx bonus event, the second screen takes players into the Pharaoh's tomb where they must choose their path. The right choice leads to the inner sanctum, where more selections bring bigger bonuses.
Players loved it from the start, leading Atronic to bring out a sequel, Sphinx II. Sphinx II is basically the same game with the same mysterious, two-level bonus, but adds two-way wagering - increase your bet, and you can line up winning combinations from right to left as well as the traditional left to right.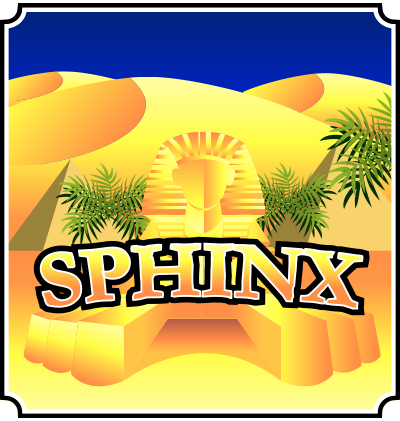 Atronic built further on that with Sphinx Magic, adding another bonus round for a progressive jackpot. One of the most recent additions to the family is Sphinx 3D, which features some amazing three-dimensional video. In a bonus event that takes you on a journey through the Sphinx, stacked wilds are really stacked. The stacks are no mere columns of the same symbol. Coin-shaped discs depicting a scarab stack up on the same reel position – the stack looks like it's rising right off the screen.
RED WHITE AND BLUE:
In the days that three-reel slots ruled casino floors, Red White and Blue perennially ranked near the top of the most-played games around. Now that video slots command the majority of play, Red White and Blue still holds its own. The attraction is the payoff on 7s combinations. The big jackpot is for a red 7 on the first reel, a blue 7 on the second and a white 7 on the third, but any combination of three 7s will bring out a nice payoff. Red 7s bringing the next biggest payoffs, followed by whites, blues and mixed.
The bar symbols are color-coded, too, with single bars being red, doubles being white and triples being blue. Red, white and blue bars in order bring bigger payoffs than mixed bars out of order. With colors as well as symbols making a difference, there are a larger-than-usual number of possible winners than on most three-reel slots. Red White and Blue was one of the first three-reel slots to draw players with a relatively high hit frequency – not as high as video slots made possible, mind you, but high for three-reelers. IGT has offered a variety of Red White and Blue-based games over the years, sometimes blending it with other product lines as in Five Times Pay Red White and Blue and Red White and Blue Double Stars.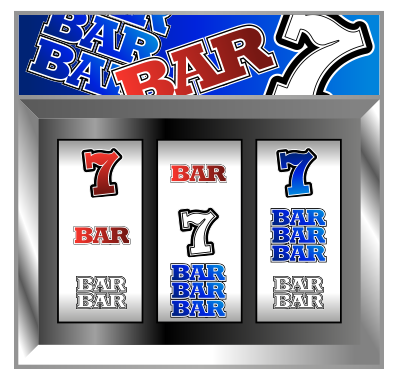 Early in the video revolution, when IGT was adding LCD panels to its top box for bonuses, it used Red White and Blue in the Racing 7s bonus where the first 7 to cross the finish line brought a bonus.
REEL 'EM IN: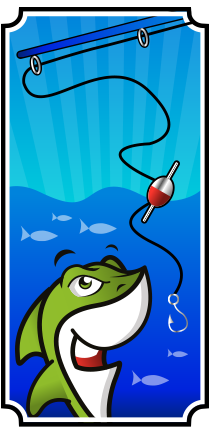 This WMS favorite has been mentioned a few times in this guide as a trend-setter that attracted players to video slots in the late 1990s. The game remains in play today with its original bonus event. You choose among five fishermen on a pond. The bigger the fish your choice reels in, the bigger your bonus. Follow-up games have built on the success of the original.
Among the sequels:
Reel 'Em In: Cast for Cash:
If one video screen is good, how could two not be better? You're still picking among fishermen on a pond, but this time they're on a screen in the top box. On the main game screen, you can see the fish swimming. When your fisherman drops a line in the water, you see a feeding frenzy below as the fish strike the bait. Again, the bigger the fish the better, but this time you can also win extras such as a fishing derby or a virtual trip to a global fishing hot spot. At each of those hot spots, there's a special fish worth a big prize, such as the Monster at Loch Ness or the Legendary Elvis Fish at Lake Mead in Las Vegas. Gotta love those sideburns.
Reel 'Em In: Big Bass Bucks:
This time there are three bonus events, with the best being the Big Bass Hole. At the Bass Hole, you don't stop at a single fish. You keep dropping your line in the pond until you fail to catch a fish. Each time you land a bass, you land a bonus, too.
Reel 'Em In: Compete to Win:
In a community-style bonus, you compete with other players to see who can land fish worth the most points.The popular fishing format has proved worthy of multiple trips to the ol' fishin' hole.
WHEEL OF FORTUNE:
Based on the worldwide hit TV game show, Wheel of Fortune slots have been a major presence in casinos since the original three-reel version debuted in 1997. The bonus-wheel games have been so popular there have been almost countless sequels. Rarely does a year go by without IGT bring out a new Wheel of Fortune game. Among the Wheel of Fortune sequels have been:
**Wheel of Fortune Ultra 3 Reels and Ultra 5 Reels:
Both are on video, but 3 Reels is designed for higher coin denominations and 5 Reels for low-denomination play. Both add stacked wild symbols to open possibilities for big, multiline payoffs. The Mini Wheels Bonus comes when three or more scatter symbols appear. The scatter symbols then turn into mini Wheels of Fortune, and when they stop spinning their values are added together for your bonus. The main event is the Ultra Wheel Bonus, and that's played out on three wheels overhead. A bonus reel will reveal how many wheels will spin - one, two or all three. Even one wheel brings a nice prize, but when all three bring you a combination of credits and multipliers, it's special.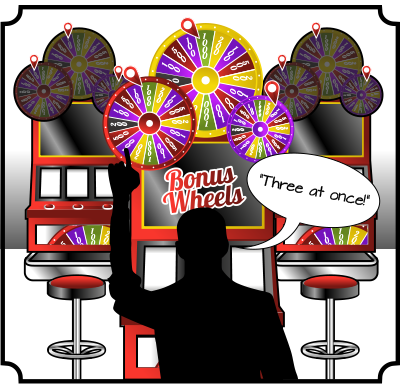 **Wheel of Fortune Special Edition Super Spin:
Nine players sit around a giant wheel. More than one player can get in on the same bonus spin for a community feel.
**The Wheel of Fortune Experience:
A community-style bonus enables three players to choose letters to solve a word problem.
**Wheel of Fortune Power Wedges:
A wheel game with a progressive jackpot, Power Wedges gives bigger bettors a bigger chance at a jackpot. A video bonus wheel gives you a chance at winning either bonus credits or progressive jackpots. Configured for 1-cent players, the bonus wheel has wedges for bonus credits, but none for the progressives if you bet 100 or 200 credits.
Bet 300, and there's one progressive wedge, bet 400 and there are two progressive wedges, and a max bet of 500 credits brings four jackpot wedges to the wheel. The bigger the bet, the bigger the jackpot opportunity. IGT has found a great deal of flexibility in what it can offer in the Wheel format, just as other gamemakers have found a great initial concept coupled with flexibility have led to enduring popularity.

Slot games have popularity cycles, but some games last as enduring player favorites.
Themes that last have initial popularity, but also lead to sequel games.
Among the slot themes with seemingly eternal popularity are Blazing 7s, Double Diamond, Sphinx, Red, White and Blue, Reel 'Em In and Wheel of Fortune.

TEST YOURSELF
Why can games hold on longer past peak popularity in online casinos than in live casinos?
True or False: Blazing 7s has earned its place in casinos for more than 40 years.
In Double Diamond games, if you have a single bar and two Double Diamonds, you are paid: A. The same amount as three bars, with the diamonds being wild; B. Twice the usual amount for three bars; C. Four times the usual amount for three bars. D. Nothing, you don't have three matching symbols.
What's the difference between stacked wilds on most games and stacked wilds on Sphinx 3D?
In Red, White and Blue, do the colors matter only for 7s?
Answers
Games hold on longer past peak popularity in online casinos than in live casinos because they don't take up physical space. In live casinos, slots that decline in earnings are removed to make way for new games.
True: Blazing 7s, invented in the 1970s, has earned its place in casinos for more than 40 years.
In Double Diamond games, if you have a single bar and two Double Diamonds, you are paid: C. Four times the usual amount for three bars.
On most slot games, stacked wilds means a column is filled with wild symbols. On Sphinx 3D, with outstanding three-dimensional imaging, wild can stack up on a single space, seemingly reaching above the screen.
In Red, White and Blue, the colors matter not only for 7s, but for bar symbols where getting red single bars, white double bars and blue triple bars in that specific order bring bigger payoffs than three mixed bars in any other order.
Written by John Grochowski