ONLINE SLOTS
Playing the slots doesn't have to stop when a trip to a live casino is over.
Today, there are a multitude of options for online slots players, whether they prefer their desktop or laptop computers, or mobile devices including pads and phones.
In this chapter, you'll find out about options for playing at online casinos, including:
The types of games available and how they work.
Game development and crossover between online and live casinos.
Opportunities to play for money at online casinos, and for free at social casinos.
Regulatory issues, including who may play and game randomness.

TYPES OF GAMES AND HOW TO PLAY
Online slots are basically the brothers and sisters of video slots in live casinos.
Among the similarities:
Results on online slot machines are determined by random number generators, just as are results on live slots.
Nearly all online slot games have multiple paylines, and most have five video reels, just like live video slots.
A minority of online slot machines has three reels and either one or only a few paylines, mimicking mechanical-reel slots at live casinos.
Bonus events account for a large percentage of payback on online slots, just as they do on live video slots.

That's only natural. Many of the same game designers and manufacturers that produce games for live casinos also sell their games to online casinos. You can find games from International Game Technology, Scientific Games through its Williams Interactive division, and Aristocrat Technologies online just as you can in live casinos.
Many online casinos also have their own proprietary games. And some game designers will use online casino space to try concepts they later will apply to games for live casinos.
High Five Games has been particularly active in that way. High Five, an independent design firm that has sold games that has sold games to IGT, Bally and WMS, is noted for creative touches such as double symbols – two of the same kind in one space, making 10-of-a-kind combinations possible.
There also are some differences between online slots and video slots at live casinos.
There are fewer games with progressive jackpots.
There are fewer games with bonus wheels.
Online slots often have a wider range of wagering options.
Online players just trying thing out have no-wagering options, whether on trainers at full-play casinos or free games at social casinos.
Let's explore each of those points a little further:
There are fewer games with progressive jackpots:
At some live casinos, progressive games take up a third or more of the slot floor. That's especially true of games with multilevel jackpots and bright, lighted displays that practically shout out their availability to players all around the casino. Such games exist online. There are jackpot hunters online just as there are in live casinos. However, the proportion of progressive games is lower at online casinos.
There are fewer games with bonus wheels:
In live casinos, bonus wheels typically tower above the base games, providing a visual attraction to players looking for a game.
At online casinos, there are no towers to rise above other games, so that benefit of wheel games doesn't apply. As with progressives, wheels exist online, but for the most part, bonus events online focus on free spins and pick'em bonuses, with free spins the more common.
Online slots often have a wider range of wagering options:
Many machines in live casinos are tied to a specific coin denomination – you'll see 1-cent machines, where you can wager 1 cent per payline, or 25-cent machines, or $1 machines. Even on machines that offer multiple denominations, players in live casinos have a limited number of options. The most common configuration is for players to be able to choose among three denominations – 1 cent, 2 cents or 5 cents per line, for example, or on high-denomination games, 25 cents, 50 cents or $1 per line.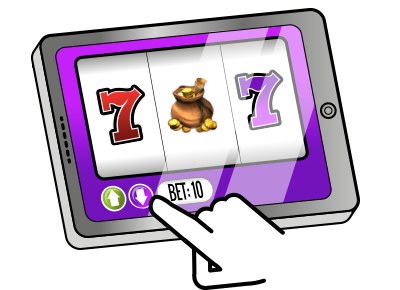 Online slots can be more flexible, depending on the regulations of their host jurisdiction. It's possible to offer all those potential wagers per line, along with amounts in between and above, all on the same game, if you have the available credits.
Online players just trying thing out have no-wagering options, whether on trainers at full-play casinos or free games at social casinos:
Playing for free isn't an option in live casinos. But millions of people play free games online. Of course, when you play for free, you don't collect winnings in cash. For that, you have to turn to wagering games in online casinos.

AVAILABLE GAMES
There are dozens of games available in almost any online casino. Different casinos contract with different game producers to provide their games, so the selection won't be exactly the same everywhere you look.
What follows is a brief selection of games found online with different play characteristics to demonstrate the kinds of
Cleopatra:
In the first months after online casinos began operating in the U.S. state of New Jersey, Cleopatra was the most popular game. It helps to have a familiar face. The original Cleopatra game has maintained a niche in live casinos for more than a decade and has inspired sequel games including Cleopatra 2 and Cleopatra Wild Tiles. Symbols are Egyptian-themed, such as scarabs, the Sphinx, the Eye of Horus and, of course, Cleopatra. The Cleopatra symbol is wild and worth double payoffs on any winning combinations that include it. Three scattered Sphinx symbols launch 15 free spins, with winning payoffs tripled. If you get three more Sphinx symbols on a free spin, you retrigger the event and get 15 more free spins. The retrigger feature and the multipliers mean bonus wins can get quite large, and that's a key to Cleopatra's popularity both online and in live casinos.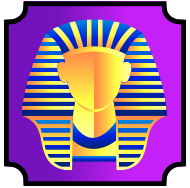 Cool Jewels:
Instead of usual video slot screen of five reels that are each three symbols deep, Cool Jewels has six reels, each six symbols deep. All symbols are gemstones, and they move down the reels in a "cascading reels" format. When jewels of the same type are grouped together in a winning combination, they explode, add credits to your meter, and leave blank spaces. The gems above then slide down to fill the blank spaces, and new jewels slide onto the screen to replace those that have moved down. That opens the potential for new winning combinations, and each play continues until no more winners are formed.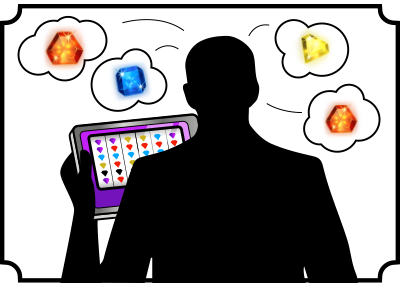 In addition, there's a meter to the right of the reels that keeps track of how many times the cascade has formed winners. If you win at least four times on a spin, you qualify for free spins. During the free spins, adjacent wild symbols do not disappear from the screen after a win. They continue cascading together, forming new winners as the go.
Super Jackpot Party:
This is an enhanced take on the classic Jackpot Party format that has been a popular favorite in live casinos since the end of the 1990s. The bonus is a pick'em event, the famous Jackpot Party field of gift boxes that rock and sway to the background music.
You pick boxes to reveal bonuses until you reveal a "Pooper" character that stops the bonus round.
There are several extras. When you pick a box you might win a "Whack-A-Pooper" bonus, a variation on the old whack-a-mole arcade game. Here you get a chance to build bonuses as you bop Pooper character such as the irate neighbor, party-ending cop or green space alien. Another extra is a dance bonus, where the animated host character boogies onscreen. Your bonus builds until he does the splits and you hear his jeans rip. Even after you pick a pooper, you get an extra chance. You choose among five party favors that either award you one final bonus amount or reveal a Party Saver logo that returns you the bonus screen to pick more gift boxes.
Black Knight:
Medieval times are the theme of this game with the traditional video configuration of five reels, each three symbols deep. Symbols include kings, queens, scepters, orbs – the sights of a European court of the Middle Ages. The black knight on horseback is a wild symbol, and he expands to fill all three spaces in a vertical column to create extra potential wins. The knight is on horseback, animated with a galloping motion. The free-spins bonus is launched with three shield symbols. The shield is black with a gold chess knight, befitting the black knight. In the free spins, the black knight symbol is something special. He not only expands to fill a column, he stays in place for all remaining free spins.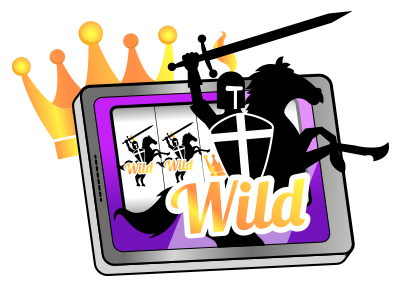 When you land knights on the reels during the first couple of spins, they keep galloping away and forming winning combinations, and your bonus can be something really special.
OMG! Kittens:
Cat lovers will have to try this one, with its three kitten characters. There's the orange Tiger, white Bubbles and brown and white Whiskers. Most symbols, including balls of yarn, milk bottles and kitty collars, take up only one space. But Tiger, Bubbles and Whiskers take up full columns, and the big wins come with multiple columns of kittens. Kittens can add extra value on the fifth reel.
They may carry random multipliers of two, three, five, 10 or 100 times your win. A big winning combination with a 100x multiplier will put your credit meter into overdrive.
The free spins bonus launches with kittens on the first four reels and an OMG! symbol on the fifth. That awards a minimum of five free spins. Kittens do not need to be the same to launch the bonus. As long as kitten symbols occupy the first four reels and you get the OMG! symbol on the fifth, you're on your way to the bonus There are extras, depending which kittens are on the reels.
Tiger multiplies winnings on the free spins, Bubbles awards extra free spins and Whiskers awards bonus credits. You could wind up with 45 extra spins, or have all wins multiplied by 10 for that OMG! touch.
Shadow of the Panther:
This looks like a standard five-reel game with each reel being three symbols deep, but look closely. The high-paying big cat symbols come in two varieties. Some symbols contain only a single leopard, tiger or black panther. But some contain two, and a two-image space counts as two symbols. If you have a single panther on each of the first three reels, then you have three in a row and will get a small payback. But if symbol with one panther on the first reel lines up with a symbol with two panthers on the second reel, then you have also have three in a row, worth the same return. Five single symbols in a row bring a nice return. But five double symbols on a payline is 10 in a row, and that's a credit- building bonanza. A common pay table for Shadow of the Panther shows a six-credit return per credit wagered on a winning payline if you have three black panthers, rising to eight for four panthers, 10 for five and so on, up to 250 for 10 panthers. Not only that. Shadow of the Panther uses stacked symbols. It's possible – though not common, of course – to land stacks of the same symbol to entirely fill columns all across the screen.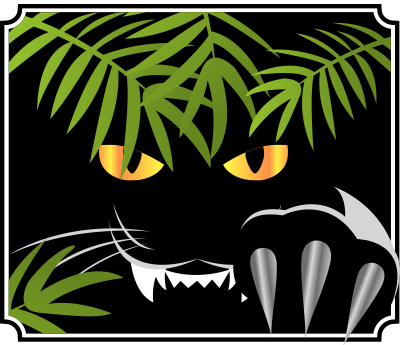 Five stacks in a row of the same double symbol fill the whole screen and means 10-in-a-row paybacks on all 30 of the game's paylines

Online slot machines are essentially video slots brought to an online environment.
Many online slots have live casino counterparts, though online casinos also have proprietary games.
Online slots use many of the same attractions as live video slots, such as free spins and pick'em bonuses.

RANDOMNESS ONLINE
Online casinos have their own set of conditions and requirements, largely imposed by the jurisdictions in which they operate.
Among the factors that must be taken into consideration are:
Who may play?
Where may they play?
How may players fund their wagering?
Are the games offered are as random as those in live casinos? Let's take that list from the top.

WHO MAY PLAY, AND WHERE MAY THEY PLAY?
There are dozens of games available in almost any online casino. Different casinos contract with different game producers to provide their games, so the selection won't be exactly the same everywhere you look.
What follows is a brief selection of games found online with different play characteristics to demonstrate the kinds of
Online slot play is legal through much of the world. Who may play and where they may play is governed by the regulations of the host country.
In the United Kingdom, for instance, the Gambling Commission regulates online play just as it regulates live casinos, sports and race betting shops, bingo and gaming machines at arcades.
Geolocation tools are critical. Online casinos must be able to tell where their players are located.
Online casinos may accept wagers from any nation in which online gaming is legal.
However, the situation is much different in the United States.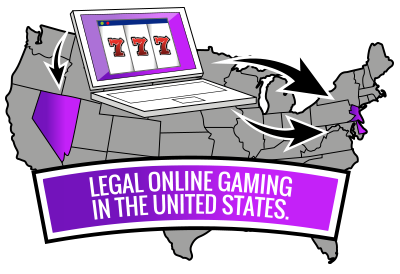 Through most of the U.S., online slot wagering is not legal. For the most part, U.S. players not only don't have access to online casinos in their own states, it is illegal for them to play in online casinos based in other states or nations.
The exceptions are in the states of New Jersey, Nevada and Delaware.
For the most part, a player must be physically in New Jersey to play in a New Jersey casino, or in Nevada or Delaware to play in those states.
However, that situation is fluid. In 2014, Nevada and Delaware agreed to a compact allowing poker players in each state to play in the other's online casinos.
The online casino industry is optimistic that more states will legalize online play, and that more such compacts will develop.
Another piece of "Where may they play?" is that each jurisdiction has its own regulations on licensing online casinos.
In New Jersey, for example, online casinos are required to be affiliated with the state's live casinos. To that end, Atlantic City casinos forged alliances with companies that already had online casino expertise.
Caesars Interactive Entertainment, associated with Bally's, Caesars and Harrah's casinos in Atlantic City, forged an alliance with 888casino for online gaming.
Atlantic City's Borgata, Golden Nugget, Resorts and Tropicana formed their own alliances with other companies.
Whether other states adopt similar restrictions on where we may play is an unknown that will have to wait for legalization in more states.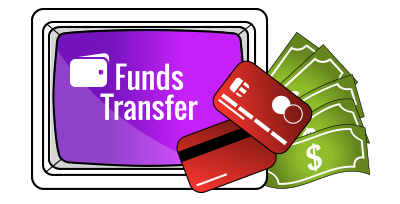 CREDIT CARDS:
Buying online casino credits with your credit card is fast, easy and available worldwide. This was problematic in the United States for several years after 2006 bill prohibited credit card transactions for illegal online gambling.
However, in a 2011 then-assistant Attorney General Virginia Seitz issued an opinion that the Wire Act of 1961, which had been interpreted as banning online gambling, applied only to sports and horse betting. Since then, the U.S. federal government has left it up to individual states to ban or legalize online gambling, and has opened the door to credit-card funding of accounts.
PAYPAL:
The well-known facilitator of electronic funds transfers works with online casinos just as it does with eBay and online merchants.
NETELLER:
A United Kingdom-based electronic wallet system, Neteller allows you to open account for funds transfers to and from online merchants, including casinos.
BANK TRANSFER (ACH):
The ACH stands for "Automated Clearing House," and it facilitates funds transfers between banks. It can transfer funds from your bank account directly to your online casino account.
CASH:
This works especially well in jurisdictions such as New Jersey, where online casinos are affiliated with live casinos. You can deposit funds at the live casino cashier's cage and have the money credited to you online account. There are other methods of funds transfers – when you investigate signing up for an online account, check the site of the casino you select.

ARE THE GAMES OFFERED AS RANDOM AS THOSE IN LIVE CASINOS?
Regulation is the key to randomness. In order to know how random the games are, you must know who's regulating them. In the United Kingdom, where a number of online casinos run from the Isle of Man, games have a reputation of being well-regulated. In many jurisdictions, especially in Caribbean nations, online casinos seek to build player trust with independent certification of their games.
If you see games have been certified by services including eCogra, GLI and its test labs either in Europe or Canada, Gaming Associates or iTech, you can be confident the games have been tested for randomness. Games in the United States must live up to the randomness standards of their host jurisdiction. Nevada, New Jersey and Delaware all are vigilant about randomness in live casinos, and online games are overseen by the same regulatory bodies. Regardless of whether you're playing OMG! Kittens in a live casino or online casino, you're getting a random game.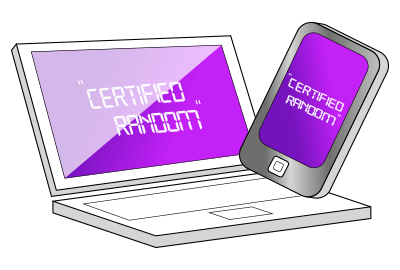 A WORD ABOUT SOCIAL CASINOS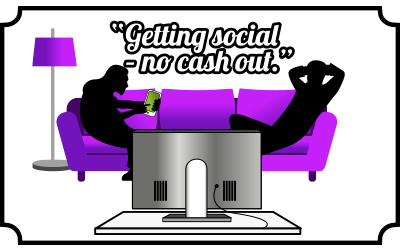 Millions of people play slots in non-wagering social casinos, whether via social networking sites such as Facebook or through mobile device apps. Social casinos are not regulated in the same way as wagering casinos. There are no age limits, and restrictions on who may play and where.
These social sites are not making money off game results, and there has been no regulatory concern over whether the games are random. However, social casinos are not nonprofit organizations with no interest in your money. Standard procedure is that they will give you free credits every day, or every few hours. If you want to play for free, you can, and no money need ever change hands. Like many online games, there's a level-up feature. The more you play, the more levels you move up, and as you move up you unlock more slot games to play.
Some players want to level up faster than playing with their allotment of free credits will permit. For those players, social casinos have credits for sale. Some social casinos have premium games, and if you want to unlock them, you must pay a fee.
That's how social casinos make money on the slots, by charging for premium games and selling you credits to play.
However, there is no cash out feature. You can spend money in a social casino, but you can't take cash away. If you could redeem for cash, then the regulators would take interest, fast.
Still, most players in social casinos are there just for fun, and it's a minority that every pays for credits.

Who may play and where you may play in online casinos is determined by regulation in host nations and states.
There are many ways to fund accounts in online casinos, including credit cards and bank transfers.
Game randomness is assured by regulators or independent certification companies.

TEST YOURSELF
Which live casino slots are most like the slots you'll find in online casinos?
True or False: The main bonus events in online slots are free spins and pick'ems, with fewer wheel spins and progressives than in live casinos.
Who produces slot games for online casinos?
Is everyone permitted to play at online casinos worldwide?
Who assures that online slot games are random?
Answers
Video slots found in live casino slots are most like the slots you'll find in online casinos. In fact, some of the same games are used both in live casinos and online.
True: The main bonus events in online slots are free spins and pick'ems, with fewer wheel spins and progressives than in live casinos.
Many of the slot manufacturers, such as IGT, Scientific Games and Aristocrat, who provide slot games to live casinos, also provide games for online casinos. However, some online casinos also offer proprietary games.
Not everyone is permitted to play at online casinos worldwide. Jurisdictions including nations and states may restrict their citizens from playing.
Either regulators in the host jurisdictions or independent certification companies offer assurance that online slot machines are random.
Written by John Grochowski