POP CULTURE AND THE SLOTS
For most of slot machine history, the games were gambling devices, pure and simple.
Bells, stars, bars and fruit symbols sufficed as long the emphasis was purely on wins and losses.
But the 1990s brought an expansion of legalized gambling across the United States, and that attracted millions of new players. Slotmakers made it a goal to keep those new players entertained by making the games fun to play beyond wins and losses. One way to that's been accomplished has been through licensing pop culture icons and adapting elements into game play with bonus events, video, audio and specialty reel symbols.
Categories sometimes overlap, but slots turn to pop culture in three key areas:

This chapter will look at those areas of pop culture and how we experience them on the slots.

CELEBRITIES AND THE SLOTS
Slot machine floors are filled with games from different manufacturers. Each gamemaker works hard at attracting you to play its slots, rather than the competition's games.
That goes for online casinos as well as live casinos. All of the celebs below have been featured on live slots. Some also are featured on online slots, with Elvis Presley being a particular favorite.
What better to entice you to play than the familiar face of a favorite celebrity?
It's only natural that early celebrity slots focused on celebs who had been regulars in Las Vegas showrooms – Frank Sinatra, Dean Martin and Elvis Presley among them. The range has expanded over the years so that now we see games featuring Michael Jackson, Ellen DeGeneres and many more. Once you're playing, the games work just like other slots. Results are determined by random number generators, there are a variety of bonus events, and some machines have progressive jackpots.
Let's look at a few of these games and how they use their celebrity tie-ins to keep us entertained.
FRANK SINATRA:
Part of IGT's Diamond Cinema series that also featured Marilyn Monroe, James Dean and other celebs, Old' Blue Eyes made his slot debut in 2001. The game featured Sinatra's image and four songs that played while the reels rolled – "My Way," "Fly Me to the Moon," "I've Got You Under My Skin," and "My Kind of Town." Frank Sinatra was a three-reel game that didn't have the bonus excitement that was beginning to take over casino floors. What the Sinatra slots did have was a big jackpot. It was a Megajackpots wide-area progressive, with the jackpot building at multiple casinos.
For the jackpot chasers hoping to score the big bucks, why not listen to Frank while you wait?
DEAN MARTIN'S WILD PARTY:
Sinatra's Rat Pack crony has had a long run with this game, which still is played in casinos a decade after its release.
WMS Gaming went to video on this one, with a reel configuration that was revolutionary at the time and since has been used in other games. Instead of having five reels, each three symbols deep, Dean Martin's Wild Party has five reels, but the first two are only two symbols deep, and the last three are four deep, like so: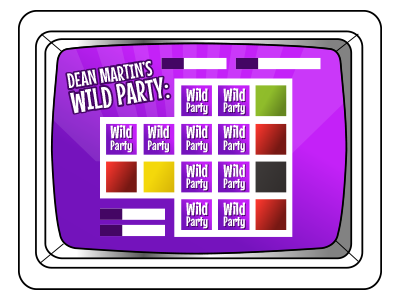 If you have matching symbols on the first two reels, they can set you up for big wins across multiple paylines. But since those reels are only two deep, you have fewer chances to start winning combinations than on games with three-deep reels. Reel symbols include roulette wheels, musical notes and clefs, showgirls, martini glasses and Dino himself – just what you'd expect in a Martin theme. There are two ways to start a bonus event. Three bonus symbols will do it, but so will matching all four symbols on the first two reels.
During the free-spin bonus, Dino sings his hit "Go! Go! Go!" while you hope to win! win! win!
CLINT EASTWOOD:
WMS Gaming based a series of video slots on Eastwood and his movie characters. The first Eastwood games, A Fistful of Dollars: Wanted, and A Fistful of Dollars: Wild Shot, had Clint shooting straight in the Old West. Later, Eastwood featured in the 15-line Dirty Harry slots.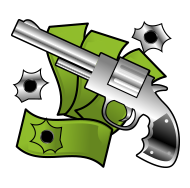 The main feature was the Make My Day bonus. That put Harry on the trail of a criminal – roll the dice in the top box and hope you're on the right track. The Do You Feel Lucky? Bonus gave players a fun option. The machine would offer a bonus, and you could decide if you liked your bonus, or felt lucky enough to try for a bigger one.
ELVIS PRESLEY:
The Elvis theme has resonated with casino players for more than a decade. The King of Rock 'n' Roll was also Las Vegas royalty with a record 636 consecutive sold-out shows at the Landmark and Las Vegas Hilton. IGT's first Elvis slot, released in 2002, was a Megajackpots game that featured his music while you played. It was a success in its own right, but spawned a line of successor games that has carried the King's legacy right up to the present.
The game that best blends the sights and sounds of the Presley era with a slot game that's fun to play is the Elvis progressive released on 2012. Reel symbols depict Elvis at different stages of his career. And there's Elvis music. LOTS of Elvis music. There are four progressive jackpot levels, each named for an Elvis hit –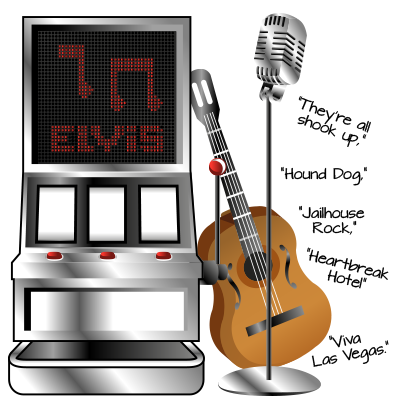 "Hound Dog,""Jailhouse Rock," "Heartbreak Hotel" and "Viva Las Vegas."
Jackpots are tied to other bonus events, such as the Heartbreak Hotel bonus. An onscreen hotel has seven stories and a penthouse. You choose hotel room doors to find bonus credits, and if you find Elvis, he awards you all the credits on that level. You don't want to find broken hearts. They keep you from advancing to the next level.
Then there's the Juke Box Bonus. You choose a song such as "That's All Right Mama" or "Blue Suede Shoes." Your song blares out the speakers and credits rolled up on the screen alongside Elvis video and trivia. When it's over, a voice announces, "Elvis has left the building."
MICHAEL JACKSON: KING OF POP:
Bally Technologies was a little later than some other gamemakers in getting to the celebrity party, but has scored big with Jackson slots. The first Jackson release was King of Pop, and Bally went all out to create a mega-hit.
The game was designed with a big-money wide-area progressive jackpot, but there was plenty to play for even leaving the jackpot aside. King of Pop was topped with a bonus wheel, and any time you won a spin of the wheel you could advance to one of six bonus events spotlighting Jackson and his music. Video, graphics and songs including "Beat It," "Bad," "Smooth Criminal," "Billie Jean" and "Dirty Diana" made the game and its bonuses come to life.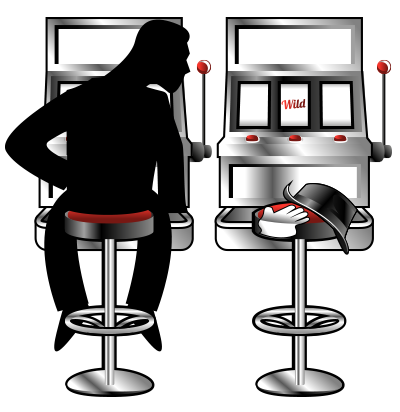 Lots of slots add wild symbol during bonuses. Michael Jackson: King of Pop made that a show-stopper in itself. In the "Smooth Criminal" free games bonus, the music video is overlaid on the reels, and at a cymbal clash Jackson will halt, point – and the indicated symbol will turn wild. During the base game, Jackson's image will moonwalk across the screen at random times to add wild symbols. At the end of a bonus round when a golden statue of a bandolier-clad Jackson rises in the top box, you'll know you'll have been through an entertainment extravaganza.
ELLEN:
One hit game is a good thing. If a brand is strong enough to inspire a series of successful games, the gamemaker knows it has hit the jackpot. That's what IGT is aiming for with Ellen, using images, video, animation and audio of comedian/actor/talk show host Ellen DeGeneres. The first release of Ellen in 2014 included two versions: Dance Party, a 432-ways-to-win game, and 12 Days of Giveaway, a five-reel video slot with traditional paylines.
Both play off elements of DeGeneres' talk show for bonus fun. In one Dance Party Bonus, a stack of Ellen symbols on the first reel sends an animated Ellen dancing across the screen, adding more Ellen symbols as she goes for potential big wins. In 12 Days of Giveaway, fans of DeGeneres' talk show will know the Wheel of Riches bonus before they even play – and you get to spin the wheel by touching the screen, dragging and letting it fly.
That's barely a beginning in the world of celebrity slots. Look around live casinos, and you'll see Britney Spears, Dolly Parton and many more entertainment icons, and many of the same icons populate online slots, too. When you see such games, you should have a good idea of what to expect, with bonuses, sights and sound tied to the celeb's work and image.

Game manufacturers use celebrity images to attract you to their games.
Bonuses are tied to the celebrity's work and public image.
The games work the same way as other slot machines, with random number generators, bonus events and jackpots.

TV AND THE MOVIE THEMES
As much as celebrities have been a big attraction for slot players, the movies and television shows that feature those celebs have been an even bigger draw.
Live slots have been the trend-setters, but online casinos hear the call of player demand, too.
Players have sent the message loud and clear: They'll give a game a try when it features their film and video favorites. Once players try a game, they don't always stay. Just as with any slot, TV/movie games have to give players the right combination of entertainment and chance to win, whether on live slots or online slots. But when the gamemakers get the combination right – wow!
Here are some of the TV and movie themes that have resonated with players, and how gamemakers use show elements to keep us coming back for more.
WHEEL OF FORTUNE:
The original version of IGT's Wheel of Fortune, with a bonus wheel atop a three-reel slot, is the most successful slot machine in history. It's been a player favorite for two decades.
It incorporates the graphics and sounds of the TV show. The lettering is in the same font as the TV logo. When you win a wheel spin, there's a clicking sound that's the same as on the TV show. What the original doesn't have is a puzzle-solving bonus, or the images of U.S. TV hosts Pat Sajak and Vanna White. But the original Wheel has inspired more than a dozen successor games, each with its own take on the long-running game show.
One that does incorporate a puzzle-solving bonus is the Wheel of Fortune Experience. It has a community-style bonus where three players are randomly selected to play. Video of Vanna White invites players to choose letters from among those displayed at the individual machine. All the letters are part of the puzzle – there are no misses. There will be more games in a very successful series of slot machines, but this is as close to the TV experience as IGT has come so far.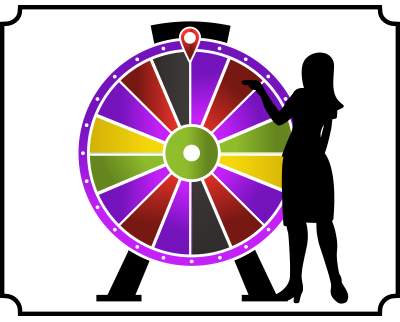 HOLLYWOOD SQUARES:
Another popular TV game show is the theme for a long line of successful slot machines for WMS Gaming. The Hollywood Squares slots incorporate the TV show's tic- tac-toe board, with a celebrity sitting in every square, in a bonus event. In the original, Whoopi Goldberg sits at center square as you choose stars to answer trivia questions. If the stars get the answers right, your bonus builds. One of the successor games was Hollywood Squares Premiere Night. This time, a bonus took you to a Hollywood premiere with Joan Rivers announcing as a limousine pulled to the curb.
It was up to the player to touch car windows and choose a celebrity to award a bonus.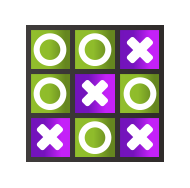 THE WIZARD OF OZ:
One key in turning a successful slot machine into a successful series is having a source filled with elements game designers can use.
The Wizard of Oz has memorable characters, flying monkeys and memorable moments galore.
WMS Gaming has been turning them into bonus entertainment ever since its first game as a hit in 2007. In live casinos, Wizard of Oz games feature Sensory Immersion chairs for 3-D sound and motion effects.
The original Wizard of Oz game has players collecting characters in a journey down the yellow brick road toward the Emerald City.
Dorothy, the Cowardly Lion, Tin Man and Scarecrow are all there to witness a little witchcraft and monkeys flying across the screen.
In a later Wizard of Oz game, called Ruby Slippers, each of the four main characters triggers a different bonus event.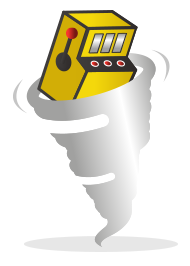 With Munchkins singing, the Wicked Witch bringing thunder and lightning to the screen and, in the best of times, Dorothy enthusing, "It's too wonderful to be true!" Even the tornado stars in a game called Not in Kansas Anymore. Your road to bonuses and progressive jackpots come through a "Prognado" – and amalgam of "progressive" and "tornado." During bonus play, reels swirl around left to right, twister style, instead of the usual slot reels' end over end. Characters and symbols whoosh past, in black and white in the top box, color on the main screen. You keep playing as long as the spins bring tornado symbols to the reels.
If you're slot fan who loves the Wizard, you'll want to give it a whirl.
BETTY BOOP:
The iconic animated flapper girl has had a long run on Bally Technologies games.
The first Betty Boop games were on slots with three mechanical reels. They were successful, but the main tie-in was strictly with the character artwork.
Video has allowed game designers to be more playful with Betty, using animation and creative bonuses.
On Betty Boop's Love Meter, one feature is the How Hot Are You bonus. Images of hands appear on a screen, and you place your hands on the outlines. The hand outlines change colors a la the mood ring fad of the 1970s. Then a meter in the top box rises, from lovable to romantic to sexy to wild to smokin' and beyond. The higher it rises, the hotter your bonus.
Boop-oop-a-doop, indeed.
SONS OF ANARCHY:
Aristocrat Technologies used this game, based on the FX television drama about an outlaw motorcycle club, their lives and challenges, to introduce a new way to play called Cluster Power.
With Cluster Power, any three or more adjacent symbols can form a paying combination. Matching symbols can be touching vertically, horizontally, in a line, on the first three reels, in a stack on the last reel alone – as long as you have three or more adjacent, that's a winner.Having no matching symbols on the leftmost reels doesn't eliminate your chances at a winner. With Cluster Power, you still have a chance right to the end.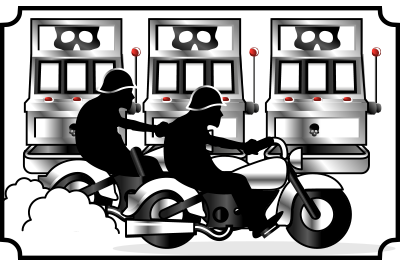 There are plenty of video clips and sound bites as Aristocrat designers worked hard to focus on the personalities of Jax Teller and the rest of the Sons.
TOP GUN:
When first shown to the casino industry in sneak previews at the 2006 Global Gaming Expo, Top Gun had as much pre-release buzz as any slot ever made. Based on the 1986 Tom Cruise film about a hot-shot pilot sent to U.S. Navy elite flying school, Top Gun the slot put the player in the pilot's seat. Top Gun introduced WMS Gaming's Sensory Immersion series, with speakers in the chair for 3-D sound and motion effects that made you feel the soars and dips. In the main bonus event, you are the Top Gun, targeting bonus awards as they fly through the air. My first attempt, I tried to zero in on the big bonuses, zooming up, veering hard left, hard right. On a barrel roll, I FELT it, and exclaimed, "Whoa!"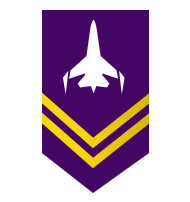 A thrill ride of a game, Top Gun set the scene for many Sensory Immersion games to come.
BREAKFAST AT TIFFANY'S: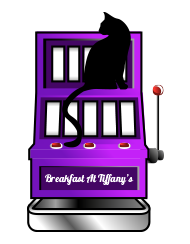 Audrey Hepburn as Holly Golightly lights up the slot video screen just as surely as she lit up the silver screen in the 1961 comedy that co-starred George Peppard. The IGT slot machine version is chock full of video, and those who love the movie will have a great time at the game. Holly's cat – just called "Cat" – walks across the screen from time to time. Pet the cat to earn bonus credits.

There are two sets of five video reels, so you basically play two games at a time. On the left is Holly's Game, and on the right is Paul's game, themed for Peppard's character, Paul Varjak. They lead to five bonus events and four multi- tiered jackpots: the Gold and Silver progressives, Holly's Party Progressive and the Five & Dime Progressive.

But when the video rolls, all eyes are on Audrey.
DEAL OR NO DEAL:
Atronic Gaming spotted this game show franchise when it was first a hit in Europe, and signed a licensing deal before the show ever hit U.S. screens.
Atronic is no more – a series of mergers has brought the company under the IGT umbrella. But Deal or No Deal lives on. There have been several successful games in the slot machine series, but the Suitcase Bonus is a vital part of each.
Just as on the TV show, there are a number of suitcases holding rewards big and small.
The player chooses one suitcase, then must decide whether to hold on as other suitcases are opened to reveal the prizes the player could have won. Along the way, a banker character offers compromise credit awards that grow if small-reward cases or opened and shrinks if the big payers are eliminated.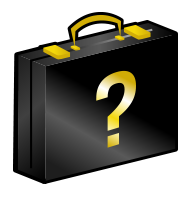 Ultimately, the player must tell the banker, deal or no deal. There's a lasting attraction to a TV element that works extremely well as a slot machine bonus.
SATURDAY NIGHT LIVE:
All the classic comedy bits on the long-running NBC series gave given Bally ample material for a multigame series.
Slot games featured the Church Lady, Wayne's World, Hans & Franz, the Coneheads – it ran on and on.
Remember the Coneheads lifting complete six packs to "consume mass quantities"? One slot event is the chance to Win Mass Quantities by bouncing your spaceship off planets to reveal bonus amounts.
Another: In the Senso-Ring toss, you could select either an animated version of Jane Curtin's Prymat or Dan Aykrod's Beldar to toss the rings over the other's cone. Unearthly fun.
STAR TREK:
The Star Trek universe has become embedded in our pop consciousness starting with a 1960s TV show, then continuing through movies and TV sequels. WMS Gaming wanted to do something special with the franchise, and used to launch a line it calls Adaptive Gaming. When you play Star Trek in a live casino, you create an identity, just as you would on a computer game. On later visits, you can log in with this identity, even if you're at a different casino.
That's important, because Star Trek features unlockable games. The initial release was three games in one. You collect medals during bonus rounds to unlock new game themes.
The starting point was Star Trek: Explore New Worlds.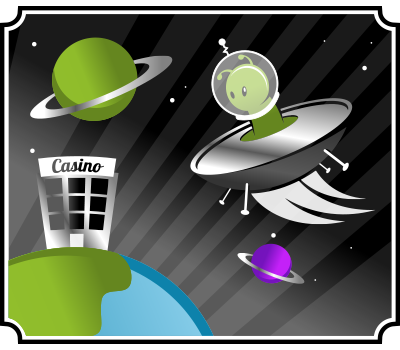 Fifty medals unlock a second game, Trouble With Tribbles, and 50 more unlock the third game, Trek Through Time. WMS continued to add game themes, and used Star Trek as a stepping stone to its next Adaptive game, Lord of the Rings. Lord of the Rings allows players to unlock some features and graphic packages by logging into a WMS website on their home computers or mobile devices. That's a big step toward the merger of live slots and online slots. But it was Star Trek that started to explore this strange new world.
The 10 games above just scratch the surface of what's out there in terms of TV and movie-themed slots. More are released every year. But you get the idea. When you see themes from the big screen or small screen, you can expect video, animation, sound and gameplay that incorporate key elements of the shows.

Slots with television and movie themes have been even bigger draws to players than those themed on individual celebrities.
When you see a TV or movie-themed slot, expect elements of the show to be incorporated in the game.
Movies and TV shows with a number of characters and iconic elements can spur long series of slot games.

BOARD GAMES COME TO THE CASINOS
Slot players love to see their favorite stars and their movies and TV shows on the games we play in live casinos and in online casinos. But we interact with board games in a different way altogether.
When we play Monopoly, Yahtzee or Clue at home, we're active participants, pitting our skills against family and friends.
On live slots and online slots, we expect a degree of interactivity with a similar experience when we see the board game name, too.
That interactivity is the key to the success of board game slots, even when there's no actual skill involved.
MONOPOLY:
Monopoly slots have been player favorites ever since their introduction by WMS Gaming in 1998. It's been the most popular board game-theme on the slots. There have been nearly 50 games in the series, and there's no sign of the success stopping. Monopoly themes have been used on five-reel video slots, three-reel games, wide-area progressives and community-style slots.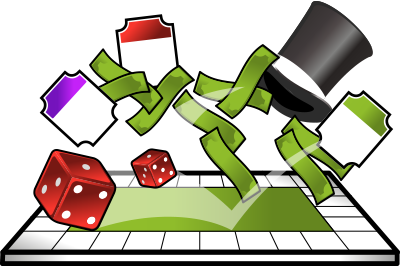 Game elements such as railroads, hotels, Electric Company and Water Works have been used to build game themes and bonus events. But the event that has consistently kept players coming back for more is the around-the-board bonus. Atop Monopoly slots that have the board game bonus is a lighted game board, with all the properties, railroads and other spaces such as Go, Community Chest, Chance and Jail that are on the at-home game.
Dice roll on the screen, and you move around the board and collect properties for bonuses. The most common configuration allows one trip around the board, though a bonus with up to three trips around has been used. On the three-trips game, players could buy houses and hotels to collect bigger bonuses if they landed on the improved properties. That heightened interactivity. The board game was invented in 1903 and has never grown tired.
There's no reason to believe Monopoly slots will fade away anytime soon.
BATTLESHIP:
One of the first games that included a test of skill was released in 2001 from Mikohn Gaming. Mikohn since has left the slot machine business, but a niche of players remembers Battleship fondly. In the bonus event, the player would see a 36-square grid, six squares wide and six squares deep. On the grid were hidden four ships: a carrier that took up five squares, a four-square battleship, a three-square submarine and a three-square destroyer.
The player's job was to touch squares on the grid to fire up to eight missiles. Each time you hit a ship, it is revealed on the screen and you'd collect a bonus. There was an extra bonus for hitting all four ships. There was an optimal pattern for seeking out ships. It was best to start on one of the four center squares, then slowly extend the range outward.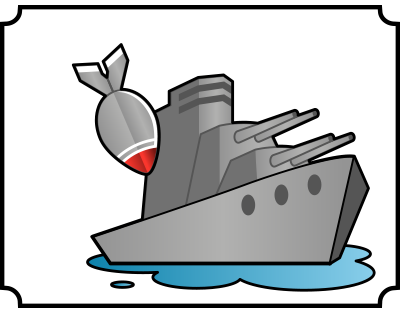 Players who loved Battleship the board game also loved Battleship the slot, and it maintained popularity for several years.
YAHTZEE:
This dice game has had two casino lives so far. Today, it's available as both a live slot and as on online slot from WMS Gaming. Yahtzee's big bonus is the Yahtzee Party, where you get three dice rolls to try for a Yahtzee – landing five dice on the same number.
During regular reel play, you collect bonus triggers. You can play a bonus after each trigger, but if you save five triggers, you're also eligible for one of eight progressive jackpots.
In the early 200s, Mikohn's take on Yahtzee included an element of skill.
In the main bonus event, five dice would roll, just like in the home game. You could choose which dice to hold and which to re-roll up to two more times. The object was to make the highest possible combo, such as Yahtzee, four of a kind, full house, large straight, small straight or three of a kind. There was skill in knowing which dice to hold, when to go for a big hand and when to settle for a lesser one. Game developer Olaf Vancura even wrote a booklet on the strategy.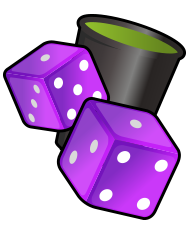 CLUE:
Players get their chance to solve a murder mystery in another board game favorite. Did Col. Mustard commit the dastardly deed in the library with a candlestick? Was it Mrs. Peacock in the kitchen with a rope? Clue is not a community-style win-together game, but your actions do affect others.
In a bonus event played on big screens overhead, you choose a room to play, and at the end take a guess solving the murderer, room and weapon mystery. Wrong guesses are X'd out. That narrows down the possibilities for the next player to reach the bonus, and takes everyone a little closer to solving the mystery.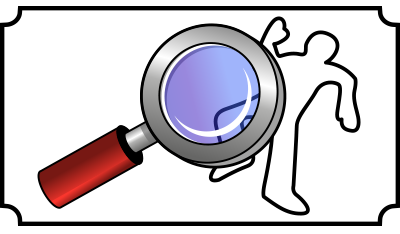 THE GAME OF LIFE:
Here's another that's such a good concept with so many potential bonus elements that it's had two lives. The latest version, from WMS Gaming, is a community-style slot filled with shared bonus features. One of them is Speed Spins, a quick spin bonus where everyone moves together along the board, but there's also an individual pursuit element. You pick your career – do you want to be a doctor, an athlete, a lawyer? Then in the big event, if the lawyer gets called, the ones who picked lawyer get an enhanced payoff.
The first Game of Life slot was from Atronic, and it had a fivelevel progressive jackpot. The bonus round was a trip around a Game of Life board. Progressive award levels were placed throughout your trip on the board – the farther you went, the bigger the progressive you could win.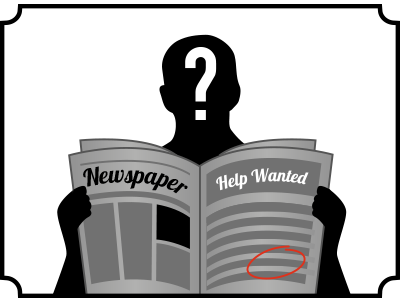 Atronic had a small success with the game, then let the license lapse. With the success WMS has had with Monopoly, it's no wonder it's trying another trip around the board.

Interactivity has been a key to board game-themed slots' popularity with players.
Monopoly has been the most popular board game-themed slots, with nearly 50 games in the series.
Some board game-themed slots, such as Battleship and Yahtzee, have included elements of skill.

TEST YOURSELF
True or False: Early celebrity-themed slots focused on the current TV shows of the 1990s.
What are some ways celebrity-themed slots are tied to their celebrity?
In what ways are celebrity-themed slots like other slot machines?
Which Rat Pack member has had a longer run with a themed slot, Frank Sinatra or Dean Martin?
What television-themed game is the most popular slot machine of all time?
What movie-themed slot introduced WMS Gaming's Sensory Immersion chair for 3-D sound and motion effects?
True or False: Gamemakers are looking for TV shows or movies with a tight focus on one really big moment to make an impact on slot players.
What is the most popular board-game-themed slot?
Do board-game-themed slots ever include elements of skill?
True or False: One key to popularity for board game-themed slots is interactivity.
Answers
False: Early celebrity-themed slots did not focus on the current TV shows of the 1990s. Many of the early celebs featured on slots were entertainers who had appeared in Las Vegas, such as Frank Sinatra, Dean Martin and Elvis Presley.
Celebrity-themed slots are tied to their celebrity through images, graphics, sound, video and bonus events.
Celebrity-themed slots use random number generators, bonus events and jackpots, just like other slot machines.
Dean Martin's Wild Party, a video slot, has had a much longer run of success than Frank Sinatra, a three-reel slot.
The television-themed Wheel of Fortune is the most popular slot machine of all time.
The movie-themed Top Gun slot introduced WMS Gaming's Sensory Immersion chair for 3-D sound and motion effects.
False: Gamemakers are not looking for TV shows or movies with a tight focus on one really big moment to make an impact on slot players. They prefer sources with lots of strong characters and iconic moments that can lead to a series of slot games.
Monopoly, with nearly 50 games in the series so far, is the most popular board-game-themed slot.
Yes, board-game-themed slots sometimes include elements of skill. Among those that do are MikohnGaming's Battleship and Yahtzee.
True, one key to popularity for board game-themed slots is interactivity. Players interact with board games at home, and expect a similar casino experience.
Written by John Grochowski