Back in 2012, I was very fortunate to be able to speak at the annual convention of the Casino Chip and Gaming Token Collectors Club. There was an expo associated with the convention, where people were selling casino collectibles of all sorts. My interest was in obtaining a collection that had a single card representing each distinct design used by each U.S. casino, as well as casinos worldwide. There was one vendor who was selling exactly what I was looking for (and much more): a collection of 750 distinct playing cards along with six books that cataloged these cards. These are a must-have for the card collector. Though it took me a while to buy the full set of cards and books (until last week), I am completely satisfied with the purchase. One glance will tell you that putting together this collection was an act of love.

Here is a picture of the collection (click for larger image):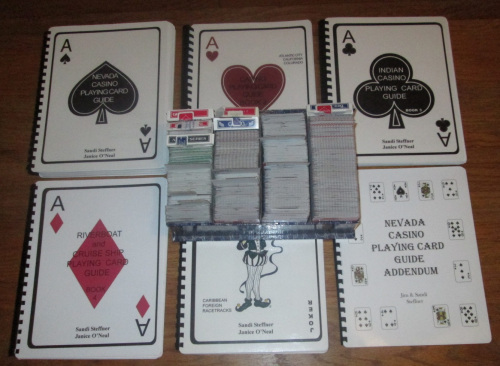 The playing card guides were put together by Sandi Steffner and Janice O'Neal, and were printed and published by Jim Steffner from Eagle Creek Gaming. Here are the titles for the six guides:
Nevada Casino Playing Card Guide
Casino Playing Card Guide, Book 2, Atlantic City, California, Colorado, Detroit, South Dakota, Washington
Indian Casino Playing Card Gide, Book 3
Riverboat and Cruise Ship Playing Card Guide, Book 4
Australia/New Zealand, Canada, Canadian Riverboats, Caribbean, Foreign, Racetracks, Book 5
Nevada Casino Playing Card Guide Addendum
I went through the 750 casino cards and selected one card of each type. Note that I did not include cards with a blank back or unusual collector cards. Also, the cards I selected are for use on table games on the main casino floor, and are not designed for the poker room.

Using the guides, I was able to identify the manufacturer for these cards. I also have included some cards not in the books that I found from my own travels.

The images are presented as thumbnails. Click on the image to view it full-sized.

Here is the survey:
---
The United States Playing Card Company (USPC) sells cards under several different brands, including Hoyle, Fournier, Bee and Aristocrat.

Aristocrat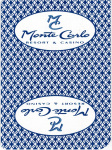 Aristocrat Diamond

Aristocrat Diamond Fade

Aristocrat MGM Custom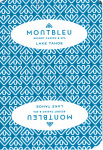 Aristocrat Montbleu Arrows
---
Bee

Bee Diamond

Bee Diamond Fade (Stinger)

Bee Fan Blade

Bee Harrahs Stars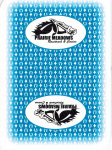 Bee Horseshoe Fade
---
Fournier

Fourier Carnival Logo
---
Hoyle

Hoyle Diamond Broken Line
---
Gaming Partners International (GPI) sells cards under the brands Gemaco and Paulson.

GPI

GPI M Grand Pip Fade

Gemaco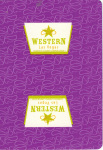 Gemaco Cowboy Hats

Gemaco Gemback

Gemaco Harrahs Stars

Gemaco Jax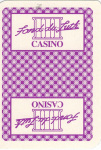 Gemaco Large Gemback

Gemaco Mini Diamond

Gemaco Pinwheel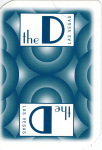 Gemaco Sentinel D Fade

Gemaco Sentinel Hooters Fade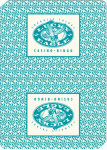 Gemaco Swirl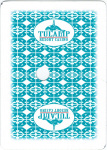 Gemaco Tulalip Fade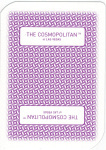 Gemaco Weave Fade
---
Paulson

Paulson Circle Back

Paulson Circle Back Fade

Paulson Honeycomb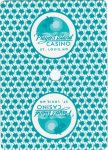 Paulson Palm Tree

Paulson Web[/caption]
---
Angel

I do not have any images of Angel cards with an imprinted logo.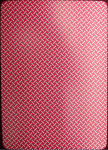 Angel 01

Angel 810
---
Liberty Playing Cards

Liberty Crusader

Liberty Small Diamond
---
Carta Mundi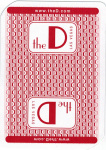 Carta Mundi D Fade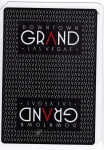 Carta Mundi Grand

Cartamundi 8 Negative

Cartamundi 8 Positive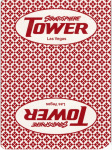 Cartamundi Diamond Single Line

Cartamundi Circle Negative

Cartamundi Circle Positive Fade
---
Sun Pacific

Sun Pacific 01 Fade
---
Some Website Links
Card companies: