This post is a question waiting for an answer: "State-by-State, which casino table games are approved for use?" I spent the morning scouring gaming commission websites searching for lists of approved games. I was frustrated by the difficulty in finding this information. For example, after searching gaming.nv.gov for about 30 minutes, I finally gave up and wrote an e-mail to one of their agents. Surprisingly, I got a call back and an answer within an hour. Way to go Nevada!
Here are the lists of approved table games I found in my search or was sent via e-mail:
For Atlantic City, the games are listed as part of the monthly revenue reports. However, there is a list on their website of all games on trial.  The most current list from Oregon dates to March, 2010. The state of California is similar to New Mexico; table game approval is left to the individual tribal agencies.
In case you are curious, there are 749 games approved in Nevada. Here is where the information for Nevada is located on their website: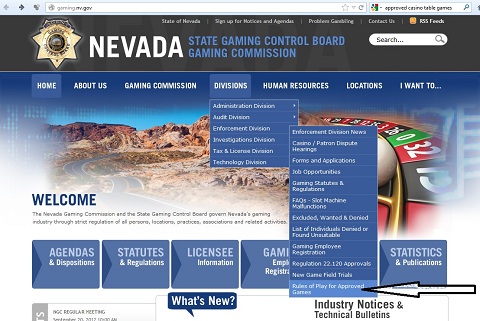 https://gaming.nv.gov/Modules/ShowDocument.aspx?documentid=7097
Here are the states that I contacted directly and have not yet heard from:
Other states in my wish list include Arizona, Michigan, New York and Oklahoma.
Casino management and game developers should be humbled by the sheer magnitude of games that have been approved.  Most of these games have been approved without any consideration for advantage play or other game protection issues. AP's are ready and waiting.