This article contains:
Five common mistakes made by video poker players
Tips on how to prevent making these mistakes
I recently spent two weeks in Las Vegas and played video poker. Usually when I play, I don't pay any attention to what adjacent players are doing. However, on this trip I did because I took frequent, short breaks while playing due to a sore hand.
What I observed the players doing nearly blew me away. I'm writing this article based on those observations so you won't make these mistakes when playing video poker. This article is in reference to those players that were adjacent to me while I was playing video poker.
Table of Contents
Mistake #1 – Game Switching and Short Pay
Most of the players constantly switched from one video poker game to another, presumably to change their luck. The Random Number Generator software program that randomly generates the cards in a video poker machine does so irrespectively of the game you select to play.
You're not going to get "better" cards when you switch games. Moreover, most players don't realize that the playing strategy for one video poker game (Jacks or Better for example) is much different from another (such as Deuces Wild).
If you're going to play video poker, you need to learn a playing strategy for one particular game and be able to implement its strategy accurately when playing.
Additionally, for any specific video poker game, you should only play "full pay" and not the "short pay" version.
Tip: You will know if a particular game is "full pay" by looking at the pay schedule on the machine's video screen. You can find out what it should be for a particular game by checking the database on vpfree2.com. Click on "video poker" then "pay tables" in the dropdown menu.
The importance of playing a "full pay" version is this: it has the highest theoretical return of all the pay schedules for that game.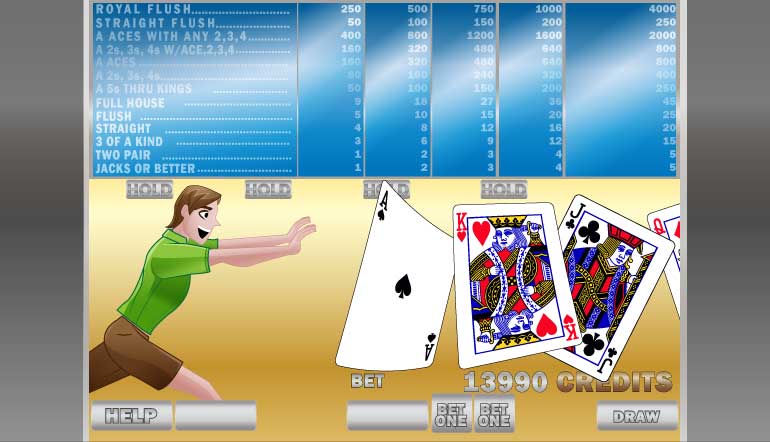 Mistake #2 – Not Using a Strategy Card
Not a single player used a strategy card when they played. This always amazes me when I see casino players risking their hard-earned money playing video poker without having a legal strategy card. Players can refer to it when they aren't sure how to accurately play a particular hand.
You'll never achieve the potential of 99%+ theoretical returns on most full-pay video poker games if you don't play every hand perfectly.
Tip: Strategy cards for different video poker games are commercially available. So are video poker software programs that you can play on your PC to learn and practice the playing strategy. This small investment to play every hand accurately will pay big dividends in the long run.
Mistake #3 – Playing the Wrong Games
Most video poker machines have several different video poker games. There might be a choice between playing Jacks or Better, Bonus Poker, Double Bonus Poker, and several different Deuces Wild games.
I know from experience that the game with the highest theoretical return on the machines that I was playing was a specific Deuces Wild game known as Not So Ugly Deuces Wild or NSUDW. The game came with a 99.73% theoretical return.
Yet, I never saw anyone playing that game. Instead, they were playing different video poker games on their machines that had a much lower theoretical return.
Tip: There is a vocabulary used by skilled video poker players to denote full-pay games. For example, the full-pay version of Jacks or Better is known as 9/6 JOB (because it pays 9 coins for a full house and 6 coins for a flush per coin played).
However, you won't see "9/6 Jacks or Better" on the screen of a video poker machine. Instead, it will only state "Jacks or Better," and it's up to the player to look at the pay schedule to know whether it's full- or short-pay.
Therefore, you must know the pay schedule for a full-pay version of a video poker game you want to play, and which casinos offer it. This information is also available in the vpfree2.com database.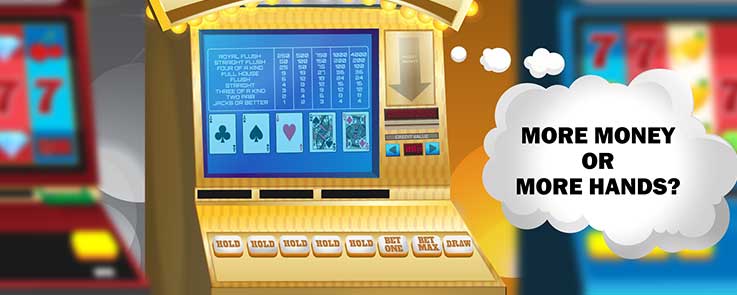 Mistake #4 – Not Maxing Out
I lost track of how many players I saw who were playing less than the maximum of five coins per hand. They were varying their bets between one and five coins, depending on whether they were winning or losing.
What the players didn't know is that the high return for a full-pay game assumes you are betting the maximum of five coins per hand. If you bet fewer than five coins, your return decreases by roughly 1%.
For example, if you play 9/6 Jacks or Better perfectly, betting five coins per hand, the theoretical return is 99.54%. If you play the same game and bet fewer than five coins, your theoretical return is only 98.37%.
The reason the theoretical return decreases is that players get a bonus payout when hitting a royal flush when betting five coins. The payout for each winning hand is proportional to the number of coins played except for the royal flush.
For the latter, the payout in coins is 250-500-750-1,000 for 1 to 4 coins wagered respectively; however, when you wager the fifth coin, the payout increases to 4,000 coins.
Also, the particular casino I was playing at offered players 0.30% cashback based on their coin-in (total amount wagered). The NSU Deuces Wild game has a return of 99.73% but when factoring in the 0.30% cashback that the casino offers when using a player's card, the overall return is slightly over 100% (99.73% + 0.30% = 100.03%).
Playing any other game on these machines will not get your overall return over 100%.
Tip: Even though percentage-wise, betting five coins is better than betting fewer than five coins, it's a different scenario when looking at a player's theoretical loss. If you play an average of 700 hands per hour on a dollar-denomination, 9/6 JOB game, your theoretical hourly loss is $16.10. (700 times $5 per hand times a house edge equal to 100% minus 99.54%).
If you play the same game, betting only one coin per hand, the theoretical hourly loss is only $3.22. So as a general rule, if the overall return on a game is less than 100% (including the benefits of the casino's slot club), you'll lose less money in the long run betting one coin versus five coins in the same denomination game.
However, keep this in mind. If you bet only $1 in a dollar-denomination machine, for example, and hit an infrequent royal flush, you'll be paid only $250 instead of the $4,000 won if you had bet $5 per hand.
If the latter leaves you emotionally distraught, don't bet only one coin even though in the long run it will save money. Lastly, it never makes sense to bet two, three, or four coins per hand, so avoid this.
Mistake #5 – Skipping the Players Club
I estimate about a dozen players didn't have a player's card inserted into their video poker machine. That's a costly mistake especially when obtaining a player's card is free.
When you insert your player's card into a video poker machine, the casino tracks your coin in (the dollar amount of bets made) and how long you play. In turn, the casino rewards you with cashback, free play, bounce-back, and an assortment of comps.
Tip: Never play video poker without inserting a player's card into the machine. The card doesn't affect the results of your hands (a misconception among video poker players).
The card only gives a player benefits that reduce the overall cost of playing, or in some cases, boost the overall return to over 100%.
Summary
Don't make these mistakes when you play video poker:
Switching between different games in the same session
Not having a strategy card with you
Not playing the full-pay version of a game
Playing fewer than five coins if your overall return is over 100% (including the player's club benefits),
Not applying for and using a casino player's card