Roulette has a long and interesting history; and it keeps changing and adapting to the times. The internet and the wide use of smartphones have evolved the way we play roulette today in many ways. In mid-18th century, when it was first presented to enthusiasts of gambling, it was played on heavy wooden tables that featured a spinning wheel and a playing layout. Later, the entertainment was made available to players worldwide thanks to software providers that came up with unique online solutions, bringing roulette to everyone's homes as long as the person owned a playing device and an Internet connection. Additionally, mobile roulette hit the market, thus making the latest roulette apps for real money accessible to millions of users of iOS, Android, Windows and Blackberry mobile devices.
As if nothing will ever satisfy the hungry-for-new-experiences roulette players, game developers took everything a step further with the release of live dealer gaming platforms where roulette is always one of the main games offered. These amazing platforms, in fact, offer a gameplay streamed directly from real studios where the games are played on real tables and hosted by real people. Thanks to the authenticity, which is actually the closest players can get to land-based gaming properties at the present, live dealer casinos became a huge hit among customers from all around the world. After all these great inventions, it seems only right that the next big thing in terms of online gambling as well as remote roulette playing should be Virtual Reality.
Virtual Reality has been talked about for quite some time now, but people have mostly considered it science fiction movies technology nonetheless. However, once leading suppliers such as Microsoft, Oculus, Sony, Samsung and HTC presented their VR headsets that literally take you to other worlds, everyone was instantly aware that Virtual Reality isn't just a concept anymore, but reality instead. Therefore, we've already seen numerous videos of revolutionary Microsoft's HoloLens, which is combining real world and virtual reality elements with the help of a chic-looking headset, which resembles fancy sunglasses. HTC, on the other hand, released an $800 headset that completely covers your eyes and isolates the outside world. Thanks to the Lighthouse room, users of this fantastic product can mount some sensors in their homes and then move around with the headset on; how cool is that?
This takes us back to the main topic of this article – virtual roulette and software providers that have taken the risk to come up with their solutions of the concept. It's good to first point out that Virtual Reality gambling isn't all that new and unimaginable, since the world has already got its first VR casino site thanks to SlotsMillion. Those that aren't familiar with this site should know that the operator in addition to a regular online casino offers a VR options as well. Visitors can either access the virtual casino in 3D mode without using a headset, or they can enter the magical VR world if they own the Oculus Rift technology. At this destination VR players can enjoy approximately 50 slot machines by NetEnt and Microgaming; however, the game catalogue doesn't include any roulette variants, thus making it useless for fans of the table game. Playtech, on the other hand, has focused on Virtual Reality sports betting and it showcased its Virtual Sports platform at ICE 2015. However, the developer failed to meet the needs of thousands roulette enthusiasts who were hoping to see one of industry's best-established names launching a ground-breaking roulette product.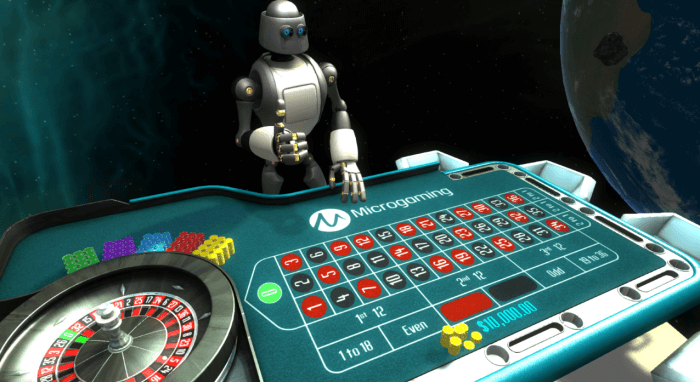 As there are several leading software providers and most of them still haven't really managed to impress players with an attractive Virtual Reality roulette variant, it's easy to highlight Microgaming as the one to lead the way when it comes to this concept. There's been speculation that the Isle of Man-based company was preparing to have our minds blown with a solution never seen before and everything made sense at the ICE 2016 exhibition when Microgaming showcased its impressive VR Roulette. The provider collaborated with Oculus, thus in their specially designed room featured at the event visitors were given the chance to try their luck on an European-style table hosted by a robot once they put on an Oculus Rift DK2 headset and a Leap Motion 3D Controller; the headset takes you to outer space, whereas the controller tracks your hand movements so you can place bets, change wager size and even interact with the surroundings. Once everything's set up, players can feel as if they're in front of the real life-like looking table, while Planet Earth peacefully exists in the background. With their hand players could complete several actions and altogether avoid clicking on a computer mouse or tapping on a smartphone screen; thus, getting as authentic roulette experience as possible.
Obviously, betting limits and game rules weren't such a big deal at the event, considering the fact this is a truly ground-breaking product that could completely change the way we play roulette. However, it can be expected that, once available to the masses, VR Roulette will be suitable for both low and high rollers; in terms of rules, the original version was played under European ones, but that doesn't exclude the possibility to see American or French versions or even Microgaming's recognizable Multi-Wheel Roulette featured on a neighbouring planet.
In conclusion, noting that Microgaming is in fact the only provider that has offered a Virtual Roulette game, the company deserves to be considered a pioneer at least when it comes to VR table game solutions. However, this doesn't mean that other developers such as Playtech and NetEnt, which already have experience in the field, won't follow and surprise fans with their products inspired by one of world's most popular table games. After all, these headsets cost around $350 a piece, plus the technology requires a strong playing device in order to run smoothly; this makes it clear that providers have more than enough time to work on Virtual Reality games until the technology necessary for fully experiencing them becomes accessible to the masses.