For the second consecutive year, the 26th Blackjack Ball was held at one of the unique buildings in Las Vegas, the Cleveland Clinic – Lou Ruvo Center for Brain Health. (See photo of its unique and distinct architecture.) The building contains a large ballroom that could easily accommodate the 144 invitees to the Ball, who could socialize, network, dine, and drink all evening in comfort. Additionally, a professional audio-visual company prepared the slides that were projected on numerous screens throughout the ballroom.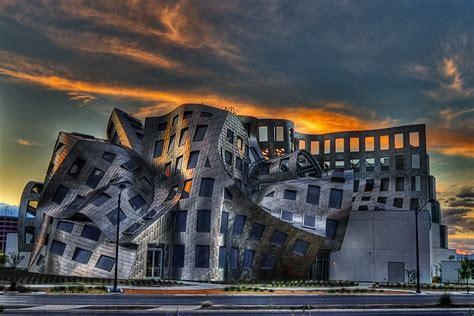 The attendees include some of the most dangerous blackjack players from the USA and abroad, as well as others who have contributed to the craft. The Blackjack Ball Attendance Committee screens all persons who want to attend the Ball and only those that meet certain criteria receive a written invitation. Co-hosts Max Rubin and Richard Munchkin screen all attendees upon entering the facility to be sure they are on the invited list.
This year guests paid $350 to attend (an increase of $100 from last year), or they could purchase a table for $5,000, or $10,000, with premium, reserved seating. Every male guest was required to wear a tuxedo or suit. Ladies wore formal attire.
The Blackjack Hall of Fame became a 501c3 non-profit corporation that allowed it to have a charitable objective. Last year they donated $25,000 to the University of Gambling Policy and Health, which is dedicated to the study of problem gambling and the development of policy recommendations for regulators and the industry to help minimize the harms of problem gambling. This year $37,800 was donated to the National Council on Problem Gaming. (Its Executive Director gave a talk at this gala. See below.)
The event began with guests gathering in an outside garden for cocktails and hors d'oeuvres. There was also an open bar where you could obtain almost any libation of your choice. Here guests gathered, chatted with each other, and many met old friends they had not seen in several years. Card expert Jason England demonstrated his cheating moves that baffled even the best card counters in the room. At one point, I asked Jason the following question.
"Let's assume you and I are confederates and you are dealing a blackjack game in a casino. I walk up to your table that has three other players, sit down at first base, and after you shuffle the cards, I place a max wager on my hand. Could you deal me a blackjack on the first hand after the shuffle?"
Jason proceeded to shuffle the cards, I cut them, he burned the top card, and he began dealing. The first card in my hand was a queen. After dealing the initial cards to the other three players and one to his hand, the second card on my hand was an ace of hearts for a blackjack. Amazing!
Following the socializing in the garden, we all proceeded inside the ballroom for dinner and dessert. Of course, the bar was open for wine, beer, and libations during dinner.
The first speaker was Keith Whyte, Executive Director National Council on Problem Gambling. This organization is the national advocate for problem gambling, advocating for programs and services to assist people and families affected by problem gambling.
The message to the gathering of skilled blackjack players was more or less this. You, ladies and gentlemen, comprise the less than 1% of the population that gambles with an edge. The remaining 99% of the public does not take the time to understand the risks involved in gambling in casinos, sports games, or online. If you know or suspect someone who has a gambling problem, speak to him, her, or a family member for help/treatment. (There are plenty of resources on their website www.npcgambling.org.)
Max then gave a tribute to long-time professional blackjack player, George Long, who had been attending the Ball for many years. George was a road warrior, living the high life off the casinos' dime. His first job was as a teacher then he moved to Florida and made a small fortune in the insurance business. Then he figured out how to beat the casinos here and abroad, not only at the game of blackjack but by taking advantage of lucrative comps long before Max Rubin's classic book Comp City was published. He played solo and with teams, and also bankrolled several high-profile teams. On one memorable trip to Australia, a team consisting of George, Max Rubin, and other sharpies took advantage of the casino's rolling chip rebates and made a killing. George had a habit of saving items from every casino that he visited. After he passed away in December 2022, at the ripe old age of 89, his wife donated hundreds of items he collected to the Assistance League of Nevada. His wife still has a collection of chips from casinos all over the world, which she is carefully perusing and most likely sells. George lived the good life courtesy of casinos everywhere.
Next up was a tribute to Arnold Snyder given by Anthony Curtis. Many of the skilled players in attendance owe their success at beating the casinos to the wisdom that Arnold shared in his books and Blackjack Forum periodical. He analyzed and developed several new techniques for card counters (e.g., depth penetration, unbalanced red seven and Zen counting systems, etc.). When casinos started to figure out "how card counting worked" he analyzed and developed methods to track a casino's shuffle for profit and shared this information in his classic book The Blackjack Shuffle Tracker's Cookbook. Besides his writing and technical analysis of blackjack, he was also a very successful high-stakes player who knew how to stay under the casino's radar. Arnold published nine books, he was the self-proclaimed "Bishop of the Church of Blackjack" (to watch a video of one of his sermons, click here), and he appeared (in disguise) on the Travel Channel and the 2003 video documentary "The Hot Shoe," on card counting. He was a true legend and one of the seven-chartered members in the Blackjack Hall of Fame (2002)...
(Note: I was one of the original subscribers to his Blackjack Forum newsletter and learned a lot from Arnold and other experts who wrote articles in his newsletter. I communicated with Arnold on several occasions and he was always very helpful. In 2022,
I published a review of his Radical Blackjack book, a masterfully written expose on the techniques he and his wife used to extract money from casinos. Arnold was 75 years old when he passed away on June 6, 2023.)
Anthony also paid tribute to Joe Pane, A former NYC police officer, he moved to Las Vegas and quickly became an expert at blackjack, video poker, table poker, chasing promotions, and blackjack-tournament strategy. He was also an avid fan of the Vegas Golden Knights hockey team and wrote a book about them. Joe shared his gambling knowledge on radio shows, on lasvegasadvisor.com, and was a frequent contributor to my Blackjack Insider newsletter. He was also one of my mentors on blackjack-tournament strategies. I remember when he came to my home and spent half a day teaching me tournament playing and betting strategies. (He said that he earned "over a half million dollars": in tournament winnings.). Joe was well liked in the blackjack community. He passed away on April 14, 2023, at the age of 72.
2023 Nominees for the Blackjack Hall of Fame
Every guest that either was a member of the Blackjack Hall of Fame, a skilled blackjack player, or a contributor to the craft, voted for one of the following seven nominees. (Note: Every person cast one vote and the votes of Hall of Fame members counted as three.)
(After you read each of the nominees' accomplishments, who would you have voted for?)
Colin Jones
Colin founded and co-managed "The Church Team," one of the largest and most prolific card-counting teams in the 21st Century.
In 2008, Colin began building BlackjackApprenticeship.com, which has grown into the premiere blackjack training and community worldwide, regularly graduating professional blackjack players to winning careers and costing casinos millions of dollars each year.
BJA's secretive and infamous boot camps have sold out for the last seven years and counting. Colin authored The 21st Century Card Counter: The Pros Approach to Beating Today's Blackjack and continues to be the voice and leader for the next generation of card counters.
John Gwynn, Jr.
Blackjack theorist extraordinaire, John Gwynn, Jr., taught computer science at Sacramento State University, where he often worked with fellow instructor, Peter Griffin.
Gwynn authored several papers on blackjack, including Experimental Comparison of Blackjack Betting Systems, with Armand Seri, which defined the power of various blackjack point counts. Gwynn published work on the randomness of casino shuffles and strategy for pai gow tiles, while also contributing computer simulations in collaborative efforts with Griffin. He was a frequent contributor to Blackjack Forum, where he co-authored "The Floating Advantage" with Don Schlesinger, and was a mainstay presenter at the National Conference on Gambling and Risk Taking.
Maria "The Greek"
Maria is the co-founder and one-time manager of "The Greeks" blackjack team. Having quit their day jobs as very successful New York attorneys, she, her brother, and highly respected colleagues formed the largest single group of players in history; at one time she simultaneously managed scores of individual players.
She recruited only the top talent, having the most notoriously difficult set of tests required to pass to get onto the team. Additionally, Maria's team won countless millions utilizing a "slash and burn" technique in which BP's would wade into the middle of a game, often betting table max. Needless to say, each BP didn't last long, but the enormous bets resulted in some of the largest card-counting wins in history.
An extraordinary businessperson, she utilized her business acumen, extraordinarily high I.Q. (even among the best of the best) along with common sense to guide the most successful single Card Counting team this Century.

Along with being a master at Sequencing and Tracking, Maria is also the only woman to have ever won the coveted title of "World's Greatest Blackjack Player" at the Blackjack Ball (even in the days that arm wrestling, chip shuffling, card tossing and more were among the 11 events at the final table : )

Mark Billings
Starting in 1981, Billings enjoyed a blackjack career that included many of the usual suspects (counting, shuffle-tracking, steering, etc.). In addition, he traveled the world as one of the very early computer players and was instrumental in pioneering advanced non-counting methods of getting an edge. Many of these exploits are recounted in his book, The Ultimate Edge. Roulette was next, taking over where Doyne Farmer and the Eudaemons had left off and succeeding in a way that had to be seen to be believed. That adventure can be found in his latest book, Follow the Bouncing Ball. For a 26-year career, Billings has played in over 500 casinos on six continents and has been thrown out of some of the best of them.

Norm Wattenberger
Norm is the foremost blackjack software developer in the world today, and his line of Casino Vérité products has come to be known as the quintessential tool for analyzing virtually any problem associated with the game of blackjack. The incredible graphics and the realism of the practice modes of CV have received the highest praise from the thousands of satisfied customers who have honed their skills on this magnificent product.

Norm has made a great many of his computer studies and applications available free of charge on the Internet, and you will be amazed at the sophistication of his analyses, as you visit his website, at www.qfit.com. A consummate programmer, Norm is an industry legend, who continues to provide computer simulations and studies to answer problems on his blackjacktheforum.com site while continuing his blackjack research. His two-volume Modern Blackjack is perhaps one of the most original and comprehensive treatments of the game in print, and represents hundreds, if not thousands, of hours of computer-generated insights into the game not to be found anywhere else.

Rick Blaine
Rick Blaine, known throughout the elite blackjack circles as "Night Train," is a skilled, disciplined, and winning blackjack player. Rick has taken professional play as a part-timer to new levels while staying under the radar.

During his career as a high-powered executive in the financial world, Rick was introduced to winning methods in the 1980s. While traveling worldwide, Rick mastered the art of expense-free play by combining business trips on Corporate America's dime with profitable casino visits.

After being recruited onto an existing high-stakes blackjack team, Rick learned the ins and outs of team play. That experience, along with his managerial expertise prompted him to organize teams in the late 1990s.

Sharing his unique insights, Rick authored Blackjack Blueprint: How to Play Like a Pro … Part Time, which many consider the most comprehensive book on the game.

At the annual Blackjack Ball in 2015, Rick "Night Train" Blaine won the intense competition to claim that year's title of World's Greatest Blackjack Player.

Night Train is still active, and due to his low profile, is often sought out as a player by high-stakes teams.

Robert Loeb
"Bob" Loeb is a criminal defense lawyer, law professor, and successful card counter, and has been a lawyer for the AP community for over 25 years. He is the co-author, with I. Nelson Rose, of Blackjack and the Law, the original book that covered the legal issues of card counting, countermeasures, barrings, arrests, searches, chip and cash seizures, civil forfeitures, taxes, Indian gaming, and Internet gaming.

Bob first became an advocate for APs in a case involving a bogus airport seizure by federal authorities of over $100,000 from a Tommy Hyland team member. Since then, Bob has represented dozens of players in cases, resulting in the recovery and return of over 1 million dollars illegally seized or which casinos have initially refused to redeem.

He has defended APs against numerous serious criminal charges. One case involved five defendants who won 1.2 million dollars in machine play and who were charged with a total of 84 counts of cheating, computer fraud, computer tampering, theft, and structuring. At trial, he obtained findings of not guilty on all 84 counts. He has also defended criminal charges for hole-carding. Despite one misdemeanor conviction in a tribal court, he has won every hole-card case he has tried in state courts.

Bob has also been a consultant with attorneys on several civil and criminal gambling cases in several states and has been an expert witness for Bob Nersesian in a case regarding the right to play anonymously. He has fielded hundreds of calls from the blackjack community over the years, counseling them at no charge on their legal rights in casinos.

NEWEST INDUCTEE INTO THE BLACKJACK HALL OF FAME
After the votes were counted, the winner was Maria "The Greek."
With the addition of Maria, the current list of members of the Blackjack Hall of Fame, and the year they were inducted, is summarized below. Those in bold type attended this year's Ball.
(Note: You can view the physical Blackjack Hall of Fame at the Barona Resort and Casino, located in San Diego, CA.)
• Al Francesco (2002)
• Peter Griffin (2002)
• Tommy Hyland (2002)
• Arnold Snyder (2002)
• Edward O. Thorp (2002)
• Ken Uston (2002)
• Stanford Wong (2002)
• Max Rubin (2004)
• Keith Taft (2004)
• Julian Bruan (2005)
• Lawrence Revere (2005)
• John Chang (2006)
• James Grosjean (2006)
• Roger Baldwin, Wilbert Cantey, Herbert Maisel, and James McDermott, collectively known as the "Four Horsemen of Aberdeen" (2008)
• Richard Munchkin (2009)
• Darryl Purpose (2010)
• Zeljko Ranogajec (2011)
• Ian Andersen (2012)
• Robert Nersesian (2014)
• Don Schlesinger (2015)
• Bill Benter (2016)
• Don Johnson (2017)
• Wally Simmons (2018)
• Rob Reitzen (2019)
• Anthony Curtis (2020)
• Blair Hull (2022)
• Cat Hulbert (2022)
• Maria "The Greek" (2023)

CALCUTTA
Next on the agenda was the charitable Calcutta, which is sort of a pari-mutuel wagering where the attendees can bet on who they think will win the coveted Grosjean Cup and title of "World's Greatest Blackjack Player." Below is the list of the seeds (i.e., THE PLAYERS) where attendees were slotted into an appropriate grouping. The second column (BEST FINISH) shows the results for each seed in previous Balls. Max posted the opening odds of winning (on his overhead slide at the Ball) for each seed and then started the lively bidding. (The first row titled THE FIELD is everyone else that isn't listed on another team.) Attendees in each seed are also allowed to purchase up to 50% of themselves from the highest bidder.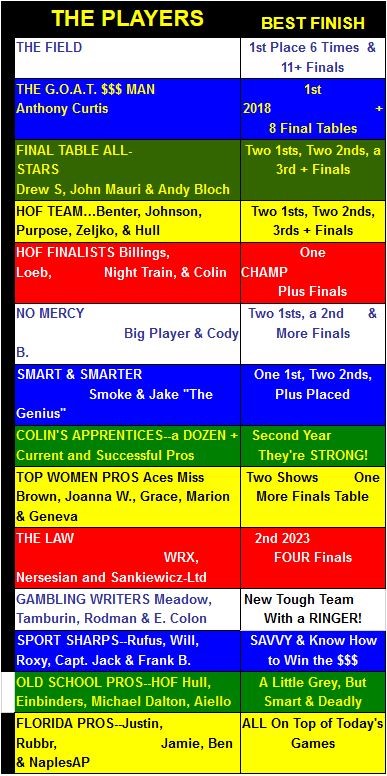 COMPETITION FOR "WORLD'S GREATEST BLACKJACK PLAYER"
The competition for the title (and bragging rights) as the "World's Greatest Blackjack Player" consists of several rounds, the first being a challenging, 21-question, written test followed by a series of subsequent rounds conducted on a blackjack table that tests the players' basic playing strategy and card-counting skills.
(Note: The written test includes a mix of questions on blackjack, gambling trivia, and general knowledge. This year, like last year, there were seven true-false, seven multiple-choice, and seven fill-in-blanks questions. Max Rubin's philosophy on the questions is this: "A world-class blackjack player should know lots of stuff because you never know when it might come in handy.")
The instructions for the test were as follows.
1. You must completely answer each true or false question or multiple-choice question and fill in the blanks before we move on to the next question.
2. All answers must be marked with dark ink. You cannot change your answer once you have marked your card. If there are any blanks or changed answers when your graded card is turned in, you will be disqualified.
3. You are allowed to use the back of your playing card to calculate your answers.
4. You may only play with one card and only write on the back of that card.
5. Score one point for each correct answer.
21 TEST QUESTIONS
Note: The following are the 21 test questions shown on the screens in the ballroom via PowerPoint slides. I did NOT edit any questions for style or grammar. What you see is exactly what was projected on the screens.
Number 1
True or False?
Arnold Snyder's "Give Greed a Chance" Sermon was filmed OVER 100 days BEFORE Wall Street and the "Greed is Good" speech premiered.
Number 2
Which of these is NOT TRUE About Arnold?
A. He Shuffle Tracked on the Gulf Coast
B. 1st Publisher to Accurately Explain the Values of Deck Depths
C. He and LSD took a Lot of Trips together
D. 1st to Write Accurate HPH on 21 Games
E. 1st Publisher of an Unbalanced Count
F. His RGE Publishing Store-Front in Oakland is Still There
Number 3
True or False?
Arnold Published This "Deep Penetration Technique" that Relied on "Card Eaters" Depleting Single-Deck Games
Number 4
True or False?
You're Playing Full Pay DD at Stations, Betting in Spots One & Two.
Off-The-Top, You see the Dealer turn over an 8-Up, True or False:
BEFORE YOU LOOK AT YOUR CARDS, You already Know that Your E.V. on Both Bets Combined is More Than 5%?
Number 5
Who is the First Person to Introduce the Illustrious 18?
A. Blackjack Hall of Famer Arnold Snyder
B. Blackjack Hall of Famer Julian Braun
C. Blackjack Hall of Famer Ken Uston
D. Blackjack Hall of Famer Ed Thorp
E. Blackjack Hall of Famer Don Schlesinger
F. Blackjack Hall of Famer Peter Griffin
Number 6
You're getting a 25% Loss Rebate. Pennsylvania Rules. The Max Bet is $100,000—aka "a Johnson" on One Spot. When You're Winning, Within a Quarter Million Dollars, What is Your Win/Stop Playing One Hand on This Trip?
In Other Words, When Should You Quit Playing if You're Up? Within $250,000
Number 7
True or False?
The Las Vegas Sphere measures 150' Wider than it is Tall.
Not 149' or Less. Not 151' or More.
150 Feet On The Money. True or False?
Number 8
The Washington Tribal Max Bet is $125 on These Games. If You KNEW that the First Card Dealt to You would be an Ace, Which Game would Give You the Highest Possible Expected Profit?
a. Blackjack—53%
b. Mississippi Stud—69%
c. Three Card Poker—64%
d. Ultimate Texas Hold 'Em—85%
Number 9
NAME THAT CASINO.
For Some, This "Dream Stream" in Northern Cal Has Graciously Taken BIG BETS For Over 20 Years
Number 10
True or False?
Donald Trump tried to get a casino in Las Vegas and wasn't able to. The only state that he's ever Owned or Managed a casino in is New Jersey.
Number 11
You're on a Special Team of Four that Needs a $100,000 Bank for a Single Play. You have One BP and Three Play Callers for Five Hours Each. Up $27,200, Investors and Players get ½ the Win.
You put in $12.5k How much did you earn?
A. $3,100
B. $5,850
C. $3,900
D. $6,800
E. $3,400
F. Not Enough Information
Number 12
Las Vegas' Oldest Casino That's Still Operating Once had a Hotel Called the Sal Sagev (That's Las Vegas Sorta Backwards.) NAME IT.
Number 13
True or False?
IF you were playing DD at Barona, which we know none of you would, and got a 9/8 off the top with a Dealer Ace up, you should Surrender that hand?
Number 14
The closest casino to Amarillo, TX featuring legal Blackjack is the:
A. Lawton Apache Casino, Lawton, OK
B. Lucky Star Casino, Clinton, OK
C. Inn of the Mtn. Gods, Ruidoso, NM
D. Red River Casino, Red River, NM
E. Taos Mtn. Casino, Taos, NM
F. Boot Hill Casino, Dodge City, KA
Number 15
This technique has Made Money For Half-a-Dozen Blackjack Hall of Fame Members, among others who are with us tonight
Number 16
True or False?
Istanbul is in Both Asia and Europe. The Bosporus Strait Splits the Cities. To the South, Blackjack is Illegal Throughout All of Asian Turkey, Including Istanbul. You Can ONLY play Blackjack on the European side of Istanbul.
Number 17
Which two-card Starting Blackjack Total will Lose More Money for All the Blackjack Players in the Casino than Any Other Two-Card Hand?
A. 17
B. 16
C. 15
D. 14
E. 13
F. 7
Number 18
This Casino Has Been a Pit Stop On The Tour For Almost 25 Years (Southwest of Vegas)
Number 19
True or False?
Resorts World in NEW YORK CITY has over 600 Blackjack Betting Spots that stay open from 9:00-5:00 a.m. every day. EVERY GAME pays 3/2 for Naturals.
Number 20
You're playing a 3:2 H17 6-Deck Game Online.
Just as the initial cards get dealt, you Lose your Internet Connection, meaning that the Website will auto-Stand on your First Two Cards, no matter what they are.
What is YOUR Percentage Edge on that hand?
a. Minus 15.75%
b. Minus 45.25%
c. Minus 9.37%
d. Minus 5.40%
e. Minus 62.25%
f. Minus 37.78%
Number 21
A Mouth-Watering Event for Everyone on Blackjack Teams.
Note: You'll find the answers to the test questions in Part 2 of this article (including the names of the players who had the most correct answers) as well as a summary of the subsequent rounds in the competition for the "World's Greatest Player," and who won the competition.
Acknowledgement: I want to acknowledge the assistance of Michael Dalton, Anthony Curtis, Richard Munchkin, and Max Rubin for reviewing this article and providing me with some additional details prior to its publication.