The one question I often get from casino players is this: "What is the Blackjack Ball?" Therefore, before I discuss what went down at the 2019 Ball, I'll briefly summarize its history and content.
Max Rubin is universally credited for implementing the Blackjack Ball. Rubin was a casino executive, an advantage player, and author of the popular book Comp City. He also had a vision for an event that would recognize and celebrate players, gaming mathematicians, gaming authors, and others who made the greatest contributions to the game of blackjack. His vision came to fruition when he held the first Blackjack Ball in 1997, and it has been an annual event ever since.
The Blackjack Ball consists of a dinner, a Calcutta (more about this shortly), voting for nominees into the Blackjack Hall of Fame, a 21-question test to determine the five finalists who compete in a skills competition on a blackjack table to determine the year's "World's Greatest Blackjack Player" (and bragging rights). The gala also allows the unique group of professionals the opportunity to renew old acquaintances, make new ones, and exchange playing experiences.
Only a highly select group of advantage players, including some of the world's best (and most dangerous) active and retired players, as well as others who have contributed to the craft, are invited to the Ball. There is a waiting list and each potential candidate must be approved by a committee of Blackjack Hall of Famers. (Note: If you accept the invitation and don't show without canceling, the likelihood of receiving a future invitation is nil.)
The Ball had been hosted solely by Max Rubin; however, beginning in 2017, Richard Munchkin began co-hosting. Munchkin is a long-time advantage player, co-host of the podcast "Gambling with an Edge," and author of Gambling Wizards: Conversations with the World's Greatest Gamblers. (Besides being a professional gambler, he is also a writer, producer, and director of film and television.)
The list of invitees has grown to about 100 attendees. Each guest receives an email invitation from Max or Richard shortly before the Ball that gives the date, time, and location of the event. The location of the Blackjack Ball is a closely guarded secret because if a casino employee were to discover its location and somehow infiltrate the event, it would make that employee's career, while at the same time destroying the livelihood of many professional players in attendance. Security is also tight the evening of the event. Guests go through several screenings consisting of presenting a valid driver's license to a security guard who confirms that the individual is on the official list of invitees, and then another screening at the entrance to the Ball. (In the invitation email for this year's Ball, Munchkin wrote: "There are more than 50 players clamoring for one of the seats at the Ball; therefore, if you don't RSVP by December 31, your chances will be somewhere south of zero of attending the 23rd soiree.")
Invited guests must bring a bottle of chilled premium champagne to the event to share with their colleagues. (Anyone bringing a "cheap" bottle of bubbly would be refused admittance and permanently removed from the invited guest list.) Beginning this year, each guest must also pony up $100 at the door, twenty bucks is used to "seed" the Calcutta pool, and the rest is used to pay for the Ball's extraordinary operating expenses.
The Blackjack Ball is sponsored by Barona Casino (San Diego). You might find it strange that a casino would sponsor an event for professional blackjack players. The reason is that the players in attendance agree to never play blackjack in their casino for life, a very smart move on Barona's part because all other casinos are fair game. (Additionally, Barona offers a "lifetime comp" consisting of free room, meals, and beverage to all inductees into the Blackjack Hall of Fame, as long as they agree to never play blackjack at Barona during the remaining days of their lives.)
The winner of the "World's Greatest Blackjack Player" competition used to receive an engraved trophy (known as the Blackjack Cup). Several years ago, professional blackjack player James Grosjean beat his peers in the Blackjack Ball competition three out of four years, and took second place the other year. Because of his extraordinary feat, Rubin barred Grosjean from further competition; however, the Blackjack Ball Committee also acknowledged Grosjeans's accomplishments by renaming the Blackjack Cup the "Grosjean Cup." Beginning in 2016 another change was implemented. The Grosjean Cup became a Nebuchadnezzar, a 15-liter, three-foot-tall, engraved bottle of Luc Belaire rare Rose Champagne (equivalent to about 20 regular bottles of champagne; see photo), courtesy of Blackjack Hall of Famer Don Johnson. Additionally, Richard Munchkin won the competition three times and was also banned from future competition. To honor Richard's accomplishments, the second place winner in the competition receives a smaller engraved trophy known as the "Munchkin Award."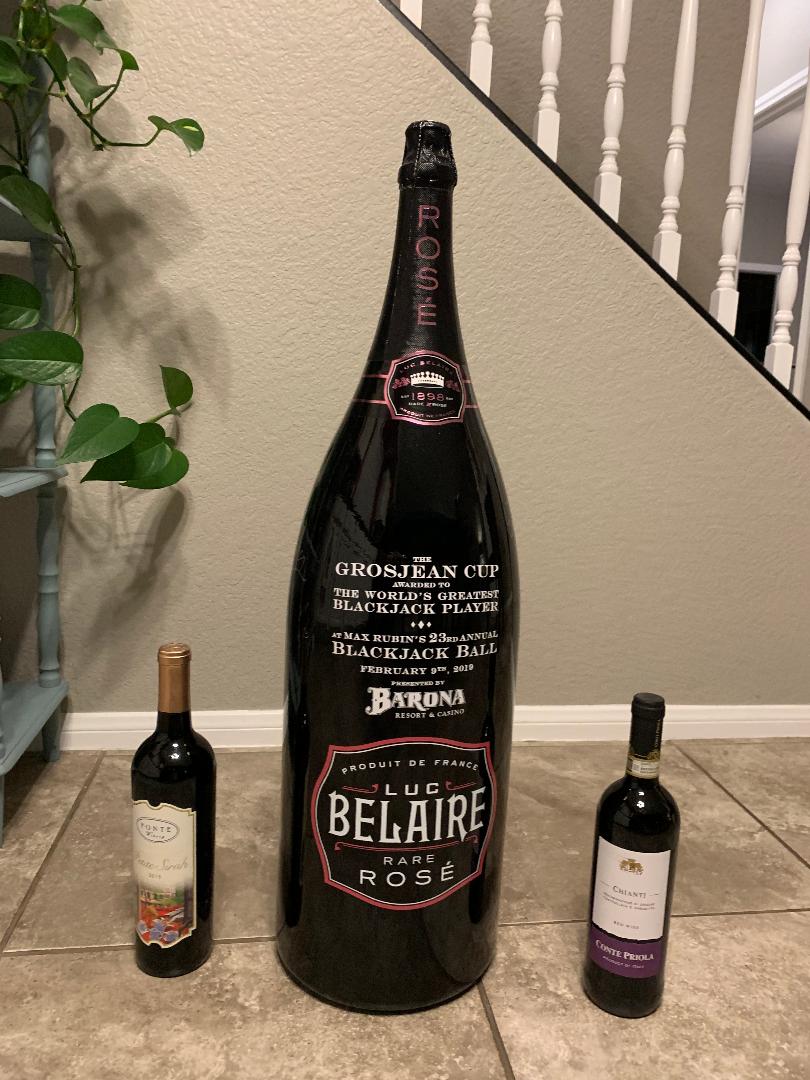 2019 BLACKJACK BALL DETAILS
There were several changes made to the 2019 Ball, which included:
The invitation stated: Please no jeans, tennis shoes, or cargo shorts – the Ball is not formal but the dressier the better. (By my observation, more guys wore suits and sport jackets, and ladies had more formal attire than previous Balls. Good change!)
Instead of each guest's paying $20 at the door, as mentioned above, each guest had to pay $100 in cash.
At the first screening, a guest in a car had to produce an ID corresponding to his/her name on the invited guest list. Guests "blackjack handle" were on the guest list when you entered the party, and anyone's real name was kept anonymous.
During the Blackjack Ball test questions, attendees had to use only one answer card, and after the last question was announced, attendees, had exactly 30 seconds to turn in their card. (This new rule is known as the "John Chang" rule; see the reason for implementing this rule in the instructions to the test questions appearing at the end of this article.)
To help preserve the future of the Blackjack Ball, Dr. Edward Thorp (who was present at the Ball), graciously donated 15 boxes containing his collection of rare gambling books (along with personal letters that go with them). Only a very small portion of his historical library was auctioned during this Ball. (Blind auction, meaning you submit your bid without knowing what anyone else bid.) The collectable books included:

The Weekend Gambler's Handbook. Hard cover in pristine condition, written and published in 1963 by Dunes owner Major Riddle. Includes internal handwritten commentary by Dr. Thorp. Embossed as part of Dr. Thorp's personal gambling library.
Playing live Blackjack as a Business. Excellent first edition, hard cover, written by Lawrence Revere in 1971. Signed with message to Dr. Thorp. Includes written commentary disputing certain notions cited by Mr. Revere. Also includes original five-page letter written by Lance Humble, Ph.D., about Mr. Revere and Dr. Humble. An Irreplaceable gambling book without peer. Embossed as part of Dr. Thorp's personal gambling library.
Turning the Tables on Las Vegas. Perfect condition, first hard cover edition published by Ian Andersen in 1976. Includes message: "To my famous friend," signed by Mr. Andersen. Embossed as part of Dr. Thorp's personal gambling library.
How to Win at CARDS ("21" & Poker), DICE, RACES, ROULETTE. Used Paperback, written by Mike Goodman, legendary gambler and Casino Manager, published in 1963. Includes a full page of hand-written commentary by Dr. Thorp. Embossed as part of Dr. Thorp's personal gambling library, the book's back cover specifically states that he CHALLENGES anyone to use their system to take him on. He then says if they don't have the guts to back up their systems with hard cash, then he specifically challenges such "experts" as Edward O. Thorp, Ph.D., John Scarne, and others to meet him face to face in public to debate any phase of gambling on which they claim to be authorities and finishes with, "How about it? Any takers?" A fascinating read for any student of the game.
Professional Blackjack. Good condition hard cover originally published in 1975 by Stanford Wong. Includes six original letters between Messrs. Wong and Thorp, along with internal commentary by Dr. Thorp regarding certain math "proofs" provided by Mr. Wong's book. Embossed as part of Dr. Thorp's personal gambling library, this is an ultra-exclusive, one-of-a-kind, collection of blackjack history.
Note: The money raised from the sale of Thorp's library will be used to create and maintain a legal entity so that the Blackjack Ball and the Blackjack Hall of Fame will continue in perpetuity.
The evening's festivities began with hors d'oeuvres and drinks (with plenty of champagne!), followed by a delicious buffet featuring carved prime rib, salmon, and lots more good eats courtesy of Barona Resort and Casino.
(Note: According to Rubin, 13 members out of 26 Blackjack Hall of Famers attended this year's Ball.)
At this year's ball, the attendees got to vote on a slate of six nominees for induction into the Blackjack Hall of Fame. What follows is the process used to choose nominees for induction into the Hall of Fame (by Max Rubin).
"The living members of the Hall of the Fame sent names to me for suggested nominees, and all names were then discussed and voted upon. The six prospective nominees that received the most votes were then placed on the ballot.
"Much to their consternation, this process has prevented several well-known but lesser accomplished "one trick ponies" that have written introductory-level books or excelled at running numbers from joining the mix of truly worthy candidates that have achieved the highest levels of success, either on the tables or through their contributions to the craft."
Summaries of each nominee's accomplishments are below. All bona fide professional players at the Ball selected only one name on their ballot out of the six worthy candidates. (Hall of Famers not present sent their vote to Rubin; all Hall of Famers votes count triple.)
THE NOMINEES WERE:
CAT HULBERT
Cat was selected as one of BBC's 100 Women of 2016 – an honor given to "high-profile women from the spheres of entertainment, sport, business and politics." Chosen for being the first woman to break through the glass ceiling of professional blackjack in 1978, she played on the Czechoslovakian blackjack team in over 300 casinos worldwide. Cat's aggressive play and fearlessness changed many opinions on the mathematical and emotional capabilities of women to bet it up under pressure.
Selected by Card Player Magazine in 1996 as one of the best and smartest card players in the world, she was one of only eight professional gamblers to be included in Richard Munchkin's book, Gambling Wizards. Along with teaching a women's-only poker class for many years at the Hollywood Park Casino, Cat also wrote Outplaying the Boys, a humorous book and guide for women, published in NYC in 2005, teaching ladies how to become more competitive in life and at the tables.
Cat was featured in LA's The Daily Breeze and the Sunday LA Times for her top-notch card- playing abilities in blackjack and poker. Also a contestant on Blackjack's Tournament of Champions, Cat has been a guest on numerous radio shows including NPR, Gambling with an Edge, and BBC's The Conversation; often sought out due to her unusual successful life choices and her mission to change how women are viewed – by men and by themselves alike. On December 7, 2016, the BBC published a biographical article based on her remarkable exploits that claimed to have received a million reads the first day it appeared on their homepage.
MIKE MICHALEK
Mike was one of the earliest card counters to realize that there were opportunities in blackjack, beyond straight counting. Credited by many for creating some of the earlier shuffle- and ace-tracking methods, he was one of the very few AP's that could walk through a casino, see a game or procedure, and often design unique plays to exploit new opportunities "on the spot."
When Mike's name comes up among those in the know, the word "creative" often begins that conversation. As the brain behind many successful sports and blackjack projects, many famous advantage players relied on the lessons learned from Mike to accumulate massive bankrolls and mostly all of them attribute money they've made over the years to his influence. Renowned professional blackjack players including Tommy Hyland, Bill Benter, John Chang, Peter Wagner, Richard Dougherty, and many, many more often pay homage to Mike for taking their games to new heights.
Although Mike has been inactive for more than ten years due to serious health issues, some of his more clever blackjack "inventions" are still being used by talented AP's across the globe to harvest money from casinos that continue to remain unfamiliar with the unique playing and betting techniques that he created decades ago.
RICHARD DOUGHERTY
Richard has long been one of the blackjack players casinos fear the most ... and most often. Casinos have sent out literally hundreds of flyers, bulletins, and alerts about Richard during his more than three decades as a blackjack "Road Warrior," and yet he still marches on.
Throughout his long, illustrious and (in)famous career, blackjack has been Richard's virtually only source of income; no matter how many times the casinos back him off, assault him, and even go so far as to have him arrested for his legal activities, he never stops his relentless attack on their games.
Not only does Richard refuse to be intimidated by casino and surveillance personnel, he's also "turned the tables" on casinos and extracted hefty scores via profitable lawsuits after suffering through illegal "back roomings" and outright beatings in front of the public on the casino floor on the Las Vegas Strip! As if that weren't enough to put Richard in the casinos' crosshairs, as a fearless and fun-loving casino prankster, he's also pulled off a number of clever and legendary practical jokes that leave everyone (other than the casinos) laughing with glee.
ROB REITZEN
There are few, if any, players that have won more money in the history of blackjack than Rob Reitzen. From simple card counting, to shuffle tracking/sequencing, to bottom steering, to advanced computer play, Rob has beaten games in more innovative ways than most professional blackjack players even know to exist.
The founding partner of CORE, which went on to become the largest and most profitable player- banking operation in history, Rob was featured in an Esquire magazine article in which the reporter followed him and watched him beat Caesars Palace in Las Vegas out of more than $500,000, while using a sequencing technique he dubbed "The Hammer" on a single weekend!
MARIA "THE GREEK"
Maria is the co-founder and one-time manager of "The Greeks" blackjack team. Having quit their day jobs as very successful New York attorneys, she, her brother, and highly respected colleagues formed the largest single group of players in history; at one time she simultaneously managed over 40 individual players.
She recruited only the top talent, having the most notoriously difficult set of tests required to pass in order to get onto the team. Additionally, Maria's team won countless millions utilizing a "slash and burn" technique in which BP's would wade into the middle of a game, often betting 3 x $10,000. Needless to say, each BP didn't last long, but the enormous bets resulted in some of the largest card counting wins in history.
An extraordinary businessperson, she utilized her business acumen, extraordinarily high I.Q. (even among the best of the best), along with common sense to guide the most successful single card counting team this century.
Along with being a master at sequencing, tracking, and now a high- stakes poker professional, Maria is also the only woman to have ever won the coveted title of "World's Greatest Blackjack Player" at the Blackjack Ball (even in the days when arm wrestling, chip shuffling, card tossing, and more were among the 11 events at the final table).
PAUL RYLANCE
Paul was an early pioneer regarding team play especially as it related to shoe-based 21. During the '70s he implemented a professional and mathematically-based approach to bankroll sizing that involved running blackjack simulations. He is possibly the first player to organize a team and attack the European casinos. Paul organized and managed the Czech team. His team was able to play simultaneously in multiple countries on multiple continents. All players including women were treated with integrity and respect. He organized and managed one of the largest 1979 Atlantic City teams and paired up with Ken Uston. This was written about by Uston in the book One Third of a Shoe.
NEWEST INDUCTEE INTO BLACKJACK HALL OF FAME
Congratulations to Rob Reitzen for being voted by his peers into the prestigious Blackjack Hall of Fame.
(Note: Reitzen garnered the most votes followed by Cat Hulbert (2nd), Maria "The Greek" (3rd), Mike Michalek and Richard Dougherty (tied for 4th), and Paul Rylance (6th).
Reitzen now joins an illustrious group of blackjack luminaries in the Blackjack Hall of Fame. (You can view the physical Blackjack Hall of Fame at the Barona Resort and Casino, located in San Diego, CA.) The up-to-date listing of the members of the Blackjack Hall of Fame (and the year they were inducted) follows:
Al Francesco (2002)
Peter Griffin (2002)
Tommy Hyland (2002)
Arnold Snyder (2002)
Edward O. Thorp (2002)
Ken Uston (2002)
Stanford Wong (2002)
Max Rubin (2004)
Keith Taft (2004)
Julian Bruan (2005)
Lawrence Revere (2005)
John Chang (2006)
James Grosjean (2006)
Roger Baldwin, Wilbert Cantey, Herbert Maisel, and James McDermott, collectively known as the "Four Horsemen of Aberdeen" (2008)
Richard Munchkin (2009)
Darryl Purpose (2010)
Zeljko Ranogajec (2011)
Ian Andersen (2012)
Robert Nersesian (2014)
Don Schlesinger (2015)
Bill Benter (2016)
Don Johnson (2017)
Wally Simmons (2018)
Rob Reitzen (2019)
CALCUTTA
Next on the agenda was the usual Calcutta, which is sort of a pari- mutuel wagering where the attendees can bet on who they think will win the coveted Grosjean Cup and title of "World's Greatest Blackjack Player." Below is the list of the seeds (THE PLAYERS) where attendees were slotted into an appropriate grouping. The second column (BEST FINISH) shows the results for each seed in previous Balls. Max posted the opening odds of winning (on his overhead slide at the Ball) for each seed then started the bidding. (During the Calcutta, the bids ranged from a low of $600 for a particular seed up to a high of $3,500 for another.)
| THE PLAYERS | BEST FINISH |
| --- | --- |
| The Field | 1st Place 6 Times & 10+ Finals |
| COAST TO COAST CHAMPS Rick "Night Train" Blaine & Smoke | 2 Championship |
| LOCAL CHAMPS Anthony Curtis (CHOKED! in'18) & John M | TWO 1st & LOTS at Final Table |
| THE MIT TEAM John Chang and Andy Bloch | A 2nd, 3rd's, A 4th & Brains |
| World Class Pros Darryl, Tommy & Cat | Two 2nds, Three 3rds & One 4th |
| Blair R and Cody S. | A 1st, 2 2nds, A 3rd & Danger |
| Horse Pros...Johnson, Zeiljko, Benter & Wally | 1st |
| Old School Pros Thorp, Hull, Aeillo & Any Solo Players 65+ | DNQ |
| Gambling Sharps, Captain Jack, Pete C | 1st '18, 4 Final Tables |
| The Gambling Writers Henry Tamburin, Hollywood Dave, B Meadows, Nick Colon | 5th 2013 but Dangerous |
| GREEKS Maria, Nick, Joanna, Rozanna, Tony S | 1st, and 2 Final Tables |
| The LAW Bob N, Thea, Bob Loeb, WRX | * Final Table Twice! |
| Holy Rollers..Colin and Joe E. | DNQ |
| The Florida Solos Jamie, Justin, Geneva & Steve | DNQ |
Bidding was lively amongst this group of advantage players. (The reason, of course, was due to the overlay created when we all chipped in $20 at the door to seed the pot. There was some serious money to be won in the Calcutta, and the group of advantage players knew it.) Max, of course, was the auctioneer, and he kept extolling the virtues of players in each seed to bump up the bidding, which was often fast and furious. (Note: The money collected from the highest bidder for each seed goes into a pool, and the prize money was disbursed to the persons who purchased the finalists finishing first, second, and third (win, place, and show), and 10% was awarded to the winning bidder for the fourth place finisher, in the competition for the "World's Greatest Blackjack Player.") Also, the attendees in each seed are allowed to purchase up to 50% of themselves from the highest bidder.
The competition for the title (and bragging rights) as the "World's Greatest Blackjack Player" consists of several rounds, the first being a challenging, 21-question, written test followed by a series of subsequent rounds conducted on a blackjack table that test the player's card-counting skills.
(Note: The written test includes a mix of questions on blackjack, gambling trivia, and general knowledge because, as Rubin puts it, "A world-class blackjack player should know lots of stuff because you never know when it might come in handy.")
Below are instructions read by Rubin prior to reading the test questions. Put on your thinking cap and try to answer them.
BLACKJACK BALL 2019: ROUND ONE QUESTIONS
In order to eliminate opportunities for mischief, as always, as you fill out your game card, you must completely answer each true or false question or multiple choice question and fill in the blank before we move on to the next question. All answers must be marked with dark ink. You cannot change your answer once you have marked your card. If there are any blanks or changed answers when your graded-card is turned in, you will be disqualified. It's happened before, right Anthony? So be sure to complete every answer. One time only—with NO revisions.
Please write your name on your card now to make sure that your pens are working. If they aren't, hold up your hand and we'll bring you another one.
Also, anyone who looks at their cell phones for any reason, other than to take an emergency call, in which case we will all wait until that emergency has been dealt with, will also be disqualified from play. You are allowed to use the back of your playing card to calculate your answers.
One last thing…it's a new rule in honor of advantage player extraordinaire John Chang, who cleverly used TWO GAME CARDS, wrote extensively on both then took over a minute to complete his "OFFICIAL" (and unblemished) card that took him to the top of the qualifier's list. Nice try, but no thanks anymore.
So don't get caught changing (with two cards), or you'll be DQ'd. We'll start collecting with John exactly 30 seconds after I've repeated the last question. Anyone who hasn't completed his or her cards within those 30 seconds may be eliminated.
MAKE SURE YOUR PENS WORK. READY? HERE WE GO. I'll read each question twice. Ready?
1. True or False? Edmond Hoyle was born in 1672, lived 96 years, and never wrote about poker, yet he is in the Poker Hall of Fame.
2. For you Vegas history and golf buffs, which of these world famous hotel casinos NEVER had their own golf course adjacent to, or within a few hundred feet of, their hotel/casino? This question does not include miniature golf courses.
a. Tropicana
b. Dunes
c. Aladdin
d. Desert Inn
e. Hacienda
f. All of the above hotels/casinos once featured a golf course as part of their amenities.
3. You're betting $100 on the pass line with max odds of 3-4-5. You roll a number, take max odds, and then hit that number. How much did you get paid in total?
4. True or False? Although you can find them in almost every casino except Barona, and they even outnumber the number of full-pay 21 games, pitch or shoe, on the Las Vegas Strip, the Current Blackjack News now considers 6/5 as just another of many "carnival games," and no longer even bothers to include them in its extensive list of blackjack games in U.S. and Canadian casinos.
5. What team has won the most NCAA football titles?
a) Harvard
b) Yale
c) Notre Dame
d) Ohio State
e) Alabama
f) None of the above
6. The former owner (Mr. Ricklis) of the Riviera Hotel and Casino recently passed at age 95. He had a beautiful, and sort of talented, wife who was a singer and actress. In 1981, she won the Golden Globe Award as "New Star of the Year," for her role in the movie "Butterfly," which Mr. Riklis personally financed. She also "won" the "Razzy Award" for "Worst Actress of the Year" for the same film. Some claimed that Mr. R. gaffed the votes by hosting comped RFB press junkets for the Golden Globe voters at his hotel on the Strip. Name his multi-untalented wife, who has never stopped attempting to be a movie and recording star, and who still has regular performances at Piero's (Italian Cuisine) on Convention Center Drive. (Mrs. Riklis does not count.)
7. True or False? The Excalibur has dozens of live blackjack games. None of them pay 3/2 on blackjacks.
8. This question comes from James Grosjean. Which of the following is NOT a legal way for a teenager to gamble in North America?
a) Legally betting real money on bingo at the age of 16.
b) Horse betting over the internet at the age of 18.
c) Playing blackjack at certain casinos in Oklahoma at 18.
d) Slugging down a cocktail while playing any game they like at the age of only 18 at the casino in Quebec.
e) All of these forms of teenage gambling are legal in North America right now.
f) None of these specifically mentioned methods of teenage gambling legally exist in North America today.
9. Donald Trump is the 45th American president. Express the number forty-five in roman numerals.
10. True or False? This comes from the world of entertainment. Ms. Gladys Knight, who recently sang the Star Spangled Banner at the 2019 Super Bowl, began her professional career singing with the Pips in 1952.
11. In a National Basketball Association game, with 0.2 seconds left, the ball is out-of-bounds in possession of the team trailing by 2 points. The inbounding player throws the ball directly at the basket … and the ball would indeed have gone in except one of the in-bounder's teammates gently touches the ball when it is directly above the basket, 12 inches from going in. The teammate guides the ball into the basket. What happens?
a. The inbounding team scores three points and wins the game.
b. The inbounding team scores two points and sends the game into overtime.
c. The inbounding team is guilty of offensive goal-tending, which causes them to lose possession and the game.
d. 0.2 seconds is not enough time for any of this to happen, so time runs out before any points are scored or there's a change in possession. The inbounding team loses.
12. Dixie State University is located in one of the few states where there are still no legal blackjack games. Name that state.
13. True or False? According to the Nevada Gaming Abstract, Nevada's statewide gaming revenue grew in 2018 and 2017.
14. When a Major League team invokes the "Baseball Rule" in a court case, which of the following is possibly being argued?
a. Throwing cups of beer at opposing pitchers warming up in the bull pen is okay so long as it's less than three ounces of liquid, but throwing beer bottles is never allowed.
b. If two fans are making out in the stands and a foul ball hits one or both of them, the teams are not liable.
c. Pete Rose is not allowed into the Hall of Fame until the commissioner says so.
d. Team security officers are allowed to tackle male streakers but not female streakers.
15. Within three years, name the year that the first street in Las Vegas was paved. Hint: It was hot.
16. True or False? MGM/Mirage is the only casino corporation included in the Dow Jones Industrial Average.
17. Not that he needs it, but we finally have a question where Zeljko, and any other Aussies present, have a home-court advantage:
"Waltzing Matilda" is the unofficial anthem of Australia. What is that song about?
a. Dancing with a pretty girl.
b. Dancing with an ugly girl.
c. Training a kangaroo to box.
d. Poaching an animal at a watering hole.
e. Dancing with a man, but you're a prospector and really lonely in the outback, so it doesn't mean anything. Really.
f. Skinny dipping in a Billabong.
18. Fill in the blank. Spell "Caesars Palace"—include any punctuation, if any. Remember, any crossing out disqualifies your test.
19. True or False? On the front cover of the dust jacket of Dr. Ed Thorp's first printing of Beat the Dealer (1962), it states that Dr. Thorp had developed—and I specifically quote—"a scientific analysis of the world-wide game known variously as Black Jack (two separate words), Twenty One (two separate words), Vingt-et-un (three hyphenated words), Pontoon, or Van John."
20. Assuming that you're playing blackjack basic strategy, the dealer stands on soft 17 with an infinite deck, which of the following hands gives you the greatest E.V.?
a. 20 versus an A (after the dealer peeks).
b. 11 versus a 5.
c. A, A versus a 4.
d. 10, 9 versus an 8.
21. Only in Las Vegas. Beginning in 1951, the U.S. government began having above ground nuclear tests visible to the public at the Nevada Test site some 65 miles northwest of downtown. Vegas soon jumped on the bandwagon; named a Miss Atomic Bomb; and began hosting viewing events, both on the mountainsides with close up views of the entire bomb sites, and from observation parties held on the roofs of casinos, until the above-ground atomic explosions were finally stopped.
Within two years, when did America stop blowing up nuclear warheads above the ground outside of Las Vegas?
2019 Tie Breaker
Everybody cut their cards. High card goes first. If two tie, they cut again until we establish the order. Line up.
Tiebreaker: Name a casino that USED to be in the Las Vegas area, but isn't here anymore. If a person misses, the next person must say a correct answer before that person is eliminated. If we run out of names, the balance of the contenders will then cut cards to advance to the final table.
Note: You'll find the answers to the test questions in part 2 of this article as well as a summary of the subsequent rounds in the competition for the World's Greatest Player and who won the competition.