As his name would imply, Richard Munchkin started small. As his high-flying status among professional gamblers confirms, however, he did not remain that way. In fact, he ranks among the most astute, most successful advantage players in the business.

Years ago, I had a chat with Stanford Wong, an icon of advantage playing who turned to book publishing after he got too hot to make a serious go of it in the casinos. I was unschooled on the ins and outs of the high-stakes world and felt compelled to get a handle on Munchkin. I asked Wong what he thought Munchkin's strong suit was. "Richard Munchkin's strong suit is anything he wants it to be," Wong told me. "Munchkin can do whatever he wants and be successful at it."
FROM BACKGAMMON TO BEATING BLACKJACK
For the big-time gambler with the diminutive sounding alias, it began when he was attending university in the United States during the 1970s. "I played backgammon and poker, making maybe $100 or $200 a week," he tells me, standing in the living room of the home he recently purchased in Las Vegas. "I was playing backgammon with a dentist in a bar and he told me that he had a way of beating blackjack. He explained card counting to me and I thought it made sense."

For his 21st birthday, Munchkin bought himself a trip to Las Vegas. He knew basic strategy perfectly, applied it to blackjack games at casinos on the Strip and won a couple hundred dollars. Then he taught himself to card count, moved to Vegas and got a job as a dealer. The idea, ultimately, was to win money at blackjack and poker so he could finance a trip to Los Angeles, have a bit of a bankroll there and pursue his real passion: acting.
DISCOVERING HOLE CARDING
Munchkin eventually made it to LA, but, by then, gambling was too lucrative to forsake for acting. His big break as a casino player came when he met Alan Woods. Now deceased, Woods was a world-class blackjack master who went on to become one of the planet's most successful gamblers by using computer models to crush horse racing betting. Woods wound up providing financing for Munchkin and partnered with him at blackjack. "We played for three months and I could not win," Munchkin remembers. "I got buried but discovered that I was doing nothing wrong. I was just running badly."

Things improved dramatically when Woods recruited Munchkin to shuffle track with a team of five others. An advantage play invented in the late 1970s, it involves observing shuffles and predicting where certain cards in the new deck will be. Munchkin was taught the then-groundbreaking maneuver from a gifted bridge player of his acquaintance. Hole-carding – spotting the bottom cards of sloppy dealers – was enjoying a heyday as well. Munchkin took advantage of it. "There were so many games where you could just sit at first base and catch the dealer's cards," he says. "I would get barred on day shift and go right back on swing shift. Being out there and taking down casinos is part of the fun. I made enough money that I didn't have to deal. I realized that it's nice to not need a day job."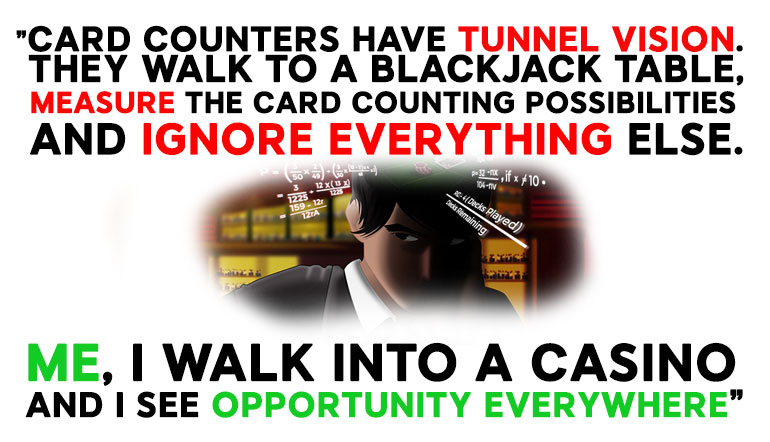 "EVERY SINGLE GAME IN THE CASINO CAN BE BEATEN"
Astute, adventurous and creative, Munchkin also learned that successful gambling does not begin and end with blackjack. "I believe that every single game in the casino can be beaten," he says. "I have played winning games at almost everything." And he is not even including the ever popular rebate gambits – in which advantage players find situations where casinos give back more money, in the form of rebates on loss, than gamblers necessarily will lose. "I don't think that rebate plays count as beating the game. They count as beating the rebates."

Surely, though, Munchkin does not view slots as being beatable. Or does he? "With slot machines, to beat them, you focus on the progressives," he says, referring to machines that must pay off when a certain amount of money builds up in the jackpot. "If the machine has to hit by $30,000 and it is at $28,000, then it might be a play. A sign tells you [if there is a point at which it must pay] and there are teams that do nothing but beat slot machines. They check the machines as if they are on a route."

As we talk, Munchkin underscores his point by beating horse racing. He makes wagers based on information coming in from a knowledgeable source. Then he smiles and says, "I just found out that a sports book will take more racing bets than I thought."

He places a few more wagers, then resumes his discussion on the soft spots to be found in casinos. "I know people who have beaten craps, roulette, the Big Six wheel," he says, recognizing that I find the last of these gambling opportunities to be a little far fetched. "It's the old dealer's signature. You find live roulette dealers who spin the wheel consistently. At the Sahara [now defunct; SLS Las Vegas stands in its place], they had a promotion where you could spin the wheel yourself. People figured out how to make it land on the 50-to-1 spot. They kept spinning onto that until they got kicked out."

Just knowing one card in the deck and how to get it to a blackjack dealer is massive – drive a 5 his way and every hand on the table is playing at a 23-percent advantage – but for Munchkin, and others of his ilk, it goes way beyond that: "You can win at craps by controlling a single die; it's not easy to learn but there are guys who do it. You beat roulette by watching the speed of the wheel and being able to predict where the ball will drop. It's a learned skill – and you won't pick it up in your basement over the course of a week."
REGRETS FOR NOT USING EDGE SORTING
One play Munchkin did not do – and he seemingly finds it impossible to keep from envying – is the baccarat maneuver pulled off by Kelly Sun and Phil Ivey. It was a famous edge sorting play in which they manipulated dealers into turning cards so that Sun would be able to recognize them from the manner in which their patterns on back were trimmed. "If you want to win a lot of money from a casino, you have to play the major games," says Munchkin. "If you want to win a real lot of money, you play baccarat. People routinely bet massive sums and the casinos don't sweat the action because they think there is no way to beat it."

He hesitates for a second and adds, "Kelly is f*****g brilliant. She made millions and millions of dollars with that edge sorting play."

As for everyone else who wants to make serious money in casinos, Munchkin advises that you do not think like a card counter. "Card counters have tunnel vision," says Munchkin. "They walk to a blackjack table, measure the card counting possibilities and ignore everything else. Me, I walk into a casino and I see opportunity everywhere."