Many novice blackjack players are self-conscious about saying or doing the wrong thing when they play blackjack. They are afraid of putting themselves in an embarrassing situation, or worse, getting admonished by a dealer or chastised by a fellow player. Although there are blackjack rules, there are also unwritten rules that you usually won't find in casino brochures; over time, they have become the modus operandi for blackjack players. What follows are some tips to help you avoid a potentially embarrassing situation.
RULE #1: CHAIRS ARE FOR PLAYERS
Finding an empty chair at a blackjack table doesn't always mean an open spot. Check to be sure that the adjacent player isn't playing two spots before you sit down. And when you do find a seat and there is an adjacent chair next to you, don't use it as a footstool or armrest. (I've seen many players over the years do this.) Chairs are for players only; although if the casino isn't crowded, they will usually allow a friend or spouse to sit at an adjacent chair to watch you play.
RULE #2: CONSIDER GIVING ANOTHER PLAYER ONE OF YOUR SPOTS
Speaking of "crowded casinos," if you happen to be playing two (or more) spots on a busy Saturday evening when all the tables are filled with players, and you notice someone standing behind your table waiting for an open seat, consider giving that player one of your spots. (Someday, it might be you waiting for an opening.)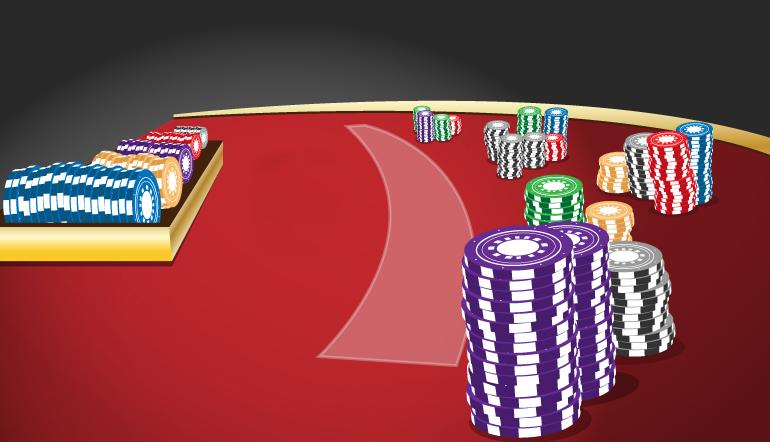 RULE #3: CHECK THE MINIMUM BET BEFORE BUYING IN
Nothing frustrates blackjack players more than when the following occurs. A player buys into a game, and on his first bet, he places a red chip ($5) into his betting spot, and then is told by the live blackjack dealer (while pointing to the placard on the table), "Sir, the minimum bet is $25 on this table." Always check the placard that lists the table minimum (and maximum) betting limit before you buy in. (If you are unsure, ask the dealer.) Additionally, in most casinos, if you decide to play more than one spot, ask the dealer what the minimum amount is that you must bet on each spot. (Most casinos, but not all, require at least double the table minimum on each spot.)
RULE #4: PLACE THE MONEY ON THE BLACKJACK LAYOUT
Usually, when a novice player buys in at a blackjack table, he will try to hand the money directly to the dealer. Blackjack dealers are not allowed to take cash from a player's hand; therefore, always place your money on the layout and ask the dealer for chips.
RULE #5: MIND THE SHOE
Most seated blackjack players get annoyed when another player takes a seat, immediately puts money on the layout to buy in, and then makes a bet. Most players believe the new player will "disrupt the flow of the cards" for the remainder of the shoe and cause them to lose. Of course the latter is hogwash; nevertheless, I suggest you do one of the following before you enter a game in mid-shoe:
Wait until the shoe is completed before you buy in
Ask your fellow players if they don't mind if you enter the game in mid-shoe (does not apply to card counters).
RULE #6: PLACE ONLY ONE STACK ON THE BETTING SPOT
When you want to make a bet using different colored chips (meaning chips of a different denomination), always put the larger denomination chip on the bottom of the stack of chips that you place in your betting spot. Also, you should never place (or leave) two stacks of chips in the betting spot; place only one stack there. (The latter is a common mistake made by players when the dealer pays a player's winning bet. If you want to let your initial bet and the winnings ride on the next hand, stack your chips in one pile, with the lower denomination chips on the bottom of the stack.)
RULE #7: SINGLE & DOUBLE DECK RULES
If you are playing in a single-deck blackjack or double-deck blackjack game, where the dealer pitches the cards face down to players, don't pick up and hold the cards with two hands (use one hand only). Additionally, always keep the cards that are in your hand over the table where the dealer (and the surveillance cameras) can see them. And, with the exception of when the dealer shows an ace and you are considering insurance, if you are playing two or more hands, do not look at a hand until you have played the prior hand (to the right) to completion.
RULE #8: YOU CAN'T SMOKE EVERYWHERE WHILE PLAYING
Many casinos have implemented no smoking areas or non-smoking tables and have signage stating this. If you are a smoker, before you light up, be sure your table allows smoking. (I can't tell how many times a smoker has sat down and started playing on my no-smoking table and then lit up, only to be admonished by a fellow player or the dealer.) Additionally, if are a smoker, be courteous to your fellow players (because some might be non-smokers), and to blackjack dealers, by not blowing smoke in their faces.
RULE #9: BAGS AND WALLETS SHOULDN'T BE ON THE TABLE
Don't place any objects such as bags, wallets, or purses on the table. Drinks are all right as long as you secure your drink in the drink holder provided by the casino. (Here again, I've been subjected to players, sober and inebriated, that have spilled their drinks on the table layout, resulting in a stoppage of play while the floor supervisor tries to soak up the mess with a towel.) Additionally, if you are using a basic strategy card (which is legal to use), don't place it on the layout; instead, hold it in your hand.
RULE #10: KEEP YOUR ADVICE TO YOURSELF
Don't offer playing advice to other players unless they specifically ask you. Also, don't criticize the play of another player, or complain to the dealer when she gets a blackjack and beats your 20. If you happen to be losing, using loud and abusive language is verboten. And please don't blame the dealers for your bad luck or accuse them of cheating in blackjack; most likely, you are just having a bad run, which sometimes happens when you play blackjack, no matter how skillful you might be.
RULE #11: QUITTING? COLOR UP
If you've had a particularly good session (with stacks of winning chips in front of you) and you want to quit playing, tell the dealer you want to "color up." The dealer will take your chips, count them, and then give you an equivalent value of higher-denomination chips. It makes it easier for you to carry a few large-denomination chips rather than a bunch of smaller-denomination chips plus it helps prevent the table from running out of the latter. (The latter is a pain for a floor supervisor because he has to fill out paperwork to get more chips brought to the table, known as a '"fill," which requires a stoppage of play.)
RULE #12: DO NOT TOUCH THE CHIPS AT THE TABLE
Once you place chips in your betting spot and the dealer starts dealing the cards, do not touch those chips. If you decide to double down or split a pair, place the chips for your secondary wager next to (not on top) of the original chips wagered on the hand. Additionally, don't touch (or remove) any of your winning chips until after the dealer collects all the losing bets and pays off all the winning bets.
RULE #13: CONSIDER TIPPING THE DEALER
Drinks are free (in most casinos) when you play blackjack but it is common courtesy to tip the server who brought your drink. Likewise, if a dealer has been friendly and helpful and made your playing experience enjoyable, consider giving her a tip (or making a bet for her on your hand).
RULE #14: HIGH ROLLERS, MIND THE FLOOR SUPERVISOR
If you are a high roller (and not card counting), pocketing large-denomination chips while you play often annoys a floor supervisor because it makes it harder for him to keep track of all the high-denomination chips, and determine how much each player won or lost. (If you insist on doing this, I'd suggest you do this discreetly to avoid the staring eyes of a disgruntled floor supervisor.)
If you follow the above advice, you'll be playing like a seasoned veteran and avoiding any confrontations with other players or a dealer.