If you like to go to casinos then you know it can be a lot of fun, especially when you get on a hot winning streak.
And, while it's always more fun to walk away as a winner, unfortunately, that doesn't always happen. Of course, many people will just chalk up their losing sessions to the old adage "the casino always wins," but smarter casino players know that phrase isn't necessarily true and that there actually are ways to get more value for your gambling dollar and also to increase your chances of winning.
Let's take a quick look at eight ways you can accomplish this with your casino play:
TIP 1: PLAY THE RIGHT GAME
Most casino games require luck for you to be a winner. Examples of these would be: slot machines, keno, roulette, craps, baccarat and most novelty table games, such as let it ride. However, there are some casino games that have an element of skill. Examples of these would be blackjack and video poker. Players who know how to play their hands properly, will achieve a better return on these games, in the long run, than players who guess how to play their hands.
TIP 2: USE THE CORRECT STRATEGY
You can get a better return by playing a game of skill such as blackjack or video poker but, as mentioned above, you can only achieve that higher overall payback percentage (in the long run), if you use the proper strategies.
For blackjack players you need to know basic strategy. Computer simulations of millions of blackjack hands have been made and it turns out that there is only one mathematically correct way to play your hand in any given situation. All of these possible situations have been combined into a basic strategy chart for blackjack and you should memorize this chart so you know how to play your hands properly. The chart will tell you exactly what you should do with your hand based on the total of your first two cards and whatever up card the dealer is showing. These basic strategy charts are widely available for free on the Internet. Just do a Google search for "blackjack strategy chart" and you will find numerous sites where you can download them for free.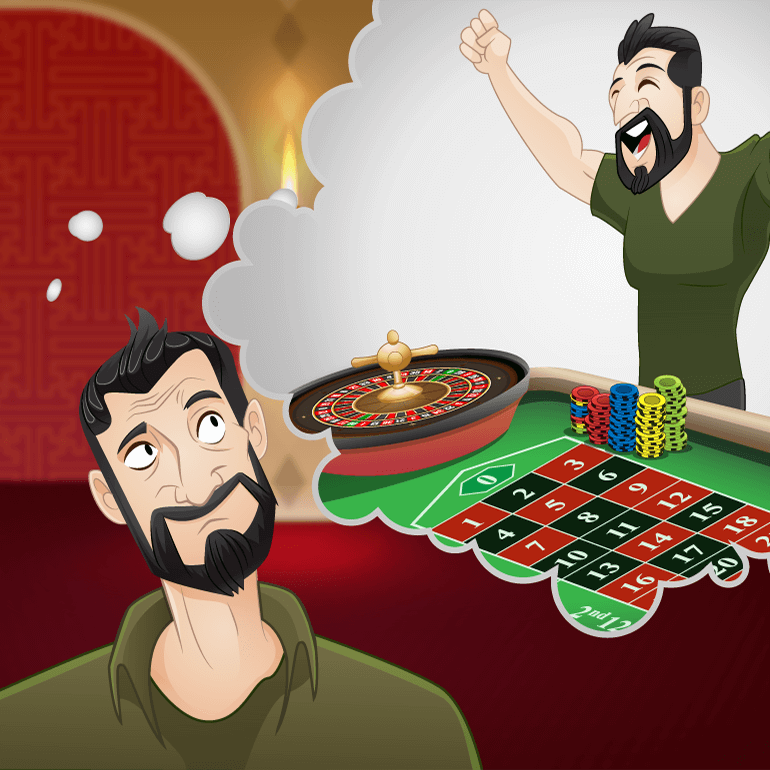 The strategy chart may change slightly, depending on the number of decks used, and the particular rules of the game, so make sure that you use the correct chart for the game you want to play. By following the correct basic strategy, you can lower the casino advantage from as high as two percent to less than one-half one percent. And, this strategy would also apply to blackjack games played at Internet casinos.
Video poker players are in a similar situation because, once again, there is always only one mathematically correct way to play your hand in any given situation. And, naturally, there is a strategy chart that will show you how to properly play your hands. For instance, if you are dealt 2-3-4-5-5, should you keep the four card open-ended straight (2-3-4-5)? Or, should you keep the pair of 5's (5-5)? Well, the strategy chart will tell you which choice will give you the highest expected return and that is how you should play your hand. No guessing on your part, just follow the chart!
Keep in mind that the video poker strategy can have major changes, depending on the game you are playing, such as jacks or better, double double bonus, deuces wild, etc. However, once again, these video poker strategy charts are widely available for free on the Internet. Just do a Google search for "video poker strategy chart" and you will find numerous sites where you can download them for free.
Just make sure that you use the correct strategy chart for the particular video poker game you want to play. And, these strategy charts would also apply to video poker games played at Internet casinos.
TIP 3: TAKE ADVANTAGE OF THE CASINO COMPS
"Comp" is short for complimentary and it means anything that the casino will give you for free in return for your play at that particular casino. You've probably heard stories of "high rollers" in casinos who bet thousands of dollars per hand and get treated to a huge assortment of lavish freebies, such as: luxury hotel suites with butler service, delicious gourmet meals prepared by private chefs, an endless supply of the finest champagnes, private jet transportation, and more! Not many of us will be gambling at that level of play, but it turns out that even low-limit players can also earn lots of great comps from casinos.
Be sure to sign up for a player's club card upon your first visit to any casino so that you will eligible to earn those great casino comps. Your card can then be used to track your play on both table games as well on electronic gaming machines, such as slots and video poker. The casino will then track how much you have played and they will give you comps based on your level of play. Comps are a great way to, essentially, lessen the casino advantage over you and you should always use your player's club card whenever you play in a casino.
An important final note on comps, however, is that you never want to bet extra money in order to earn extra comps. So, if you're a quarter slots player, don't start playing dollar machines to get more comps. The vest idea is get comps for gambling that you were going to do anyway.
TIP 4: PLAY DURING CASINO PROMOTIONS
Many casinos run special promotions where they give bonus points for earning player's club points. Most will offer double or triple point bonuses as a casino promotion, but some casinos will even go as high as 10 times points on select days. If you can play on these special days you can really rack up points very fast.
Also, sometimes casinos will have gift days where you can get a free gift once you earn a certain number of points on your card. These are also good days to play in the casino, but make sure that the gift you will receive is something that you really want because some might just be totally useless to you. Actually, the best things to play for are gift cards for gas stations, super markets, or drug store chains. Those are great to get because they will save you money that you would normally have to spend anyway.
Be sure to keep all four of these gambling tips in mind when planning your next visit to the casinos. They will all make you a smarter gambler and help you to have more fun!