Canada is home to tremendous diversity, from the cutting-edge modernity of life in Toronto to the pristine natural beauty of Nunavut's ice-covered tundra. Renowned for its developed economy, high quality of life, and inclusiveness, Canada has adopted an open-minded approach to gambling activity. The gambling industry in Canada is a booming enterprise, encompassing land-based casinos, sports betting, lotteries and scratchcards, limited online gambling, etcetera.
According to a research paper by ResearchandMarkets.com, titled 'Analyzing the Casinos & Gambling Industry in Canada 2018', the Canadian gambling industry is characterized by a shift from traditional gambling activity to online gambling activity. Plus, bricks and mortar casinos have witnessed decreasing revenues as the online gambling sector takes root. Several major corporations are active in the Canadian gambling market, including Ontario Lottery & Gaming Corporation, MGM Resorts International, Caesars Entertainment Corporation, Great Canadian Gaming Corporation, and Gamehost Incorporated.
During the post-recession period in Canada (2012 onwards) the Canadian gambling industry, encompassing traditional casinos and online casinos, sports books, lotteries et al, has experienced moderate growth. This has been tempered to a degree in recent years where a slowdown has taken place. IBIS World, an industry research organization, also conducted extensive analysis of casino gambling, table games, electronic gambling machines, lottery, horseracing, bingo, and raffles, and concluded that the gambling industry in Canada generates revenues of approximately C$15 billion with an annual growth rate between 2013 and 2018 of 0.4%. The direct gambling market of Canada employs approximately 40,967 people across 790 businesses.
Between 2013 and 2018, there has been a sharp downturn in gambling activity overall. Reduced gambling demand is a global phenomenon, and not specific to Canada. The post-recession period has been characterized by reduced spend on chance-based games like slots, roulette, bingo, keno, and others. Canadian GDP is on the rise, and this will present the gambling industry with additional growth opportunities, thanks to increased rising disposable incomes. While casinos are feeling pressure from other entertainment sectors, many are incorporating multiple fun-filled options to attract clientele. The unprecedented interest in online gambling is siphoning players away from land-based casinos, and helping to fuel a burgeoning online gaming market.
ONTARIO TOPS THE LIST WITH HIGHEST GAMBLING REVENUES
The dispersion of gambling activity in Canada is highly skewed towards specific areas. In terms of gambling revenue, the most populous provinces in Canada also account for the lion's share of gross gambling revenue (GGR). These include Québec at 20.3%, British Columbia at 24.6%, and Ontario at 28.1%. Other provinces like British Columbia account for 13.1% of GGR in Canada. The revenues generated by the gambling industry are all-encompassing, and cover table games, video gambling facilities, conventions, conference facilities, accommodations, food & beverage, entertainment etcetera.
2017 was a strong year for gambling in Canada. Research company, Fantini Gaming Research concluded that the 5% year-on-year growth accounted for C$17.3 billion worth of GGR. At today's rates that is the equivalent of US$12.90 billion. In 2017, Toronto, Ontario, comprised 43% of all gambling revenue generated in Canada. The gambling spend measured charitable gaming, lottery games, online gaming, and land-based casinos. The CDC gaming report indicated that Ontario province was fueled by 12% year-on-year growth. Given that the Ontario Lottery & Gaming Corporation moved to privatize operations, growth increased at a steady clip. Various publicly traded enterprises have benefited from the privatization initiative, notably the Grand Canadian Gaming Corporation.
QUÉBEC GAMBLING REVENUES RISING
Québec followed hot on the heels of Ontario in 2017, with C$3.6 billion in revenues generated for the year. That represented a 2.12% year-on-year increase. Third in line was British Columbia with C$3.14 billion and a year-on-year increase of 1.36%. According to the Canadian Gaming Association (CGA), gross gambling output of C$31 billion is generated by the industry, with goods and services purchases valued at C$14 billion. Since 1995, legal online gambling in Canada has shown a 300% increase in GGR. Such is the significance of gaming in Canada, that it is the most important source of revenue in the entertainment industry. Multiple charitable initiatives and government functions are supported by gambling revenues.
indirect employment jobs. The Canadian gambling industry is also a net exporter of services, with substantial global operations. The Kahnawake Gaming Commission (KGC) of Québec is one such example of a Canadian licensing authority with global operations. Of paramount importance is the safety, security, and regulation of gambling activity in Canada. The gambling industry is fully committed to socially responsible gaming practices, with no underage gambling permitted. With just 2% of Canadian gamblers considered problem gamblers, the country also boasts a generous budget of C$100 million earmarked specifically for annual problem gaming awareness, research and prevention.
RECENT INITIATIVES IN THE CANADIAN GAMBLING INDUSTRY 
Ontario Place is tipped to receive a major renovation in the form of a downtown casino. The current Premier, Doug Ford is seeking to revive the gambling industry at this prize location. The theme park has been neglected in recent years, but Ford is keen to get operations up and running. The Mayor of Toronto, John Tory is not inclined to greenlight the project, and any plans would have to be approved between Ontario-based gambling companies and the provincial government. Current agreements between Ontario casinos and the Ontario Lottery and Gaming Corporation indicate that no new casino developments can take place in the region. That has not stopped Premier Doug Ford from pushing his agenda of a revitalized gambling complex. Provinces can overrule the city council with a ruling known as a Minister's Zoning Order effectively allowing Ontario Place to have a new land-based casino.
CURRENT GAMBLING TRENDS IN CANADA
The CGA estimates that some C$9 billion is funneled to the government for community programs, and charitable initiatives. The entire Canadian entertainment industry hinges upon gambling revenues to drive employment and economic growth. Owing to the increased liberalization of online gambling legislation in the US and elsewhere, Canada is also enjoying booming online casino activity. However, the topic of online gambling legislation remains opaque. From a social perspective, online gambling is acceptable, but from a legal perspective, things are different. Current legislation in Canada, specifically the Criminal Code, indicates that non-state licensed operators may not accept online wagers. However, Canadians are not prevented from accessing foreign-based sports books, online casinos, online bingo rooms, online poker rooms etcetera.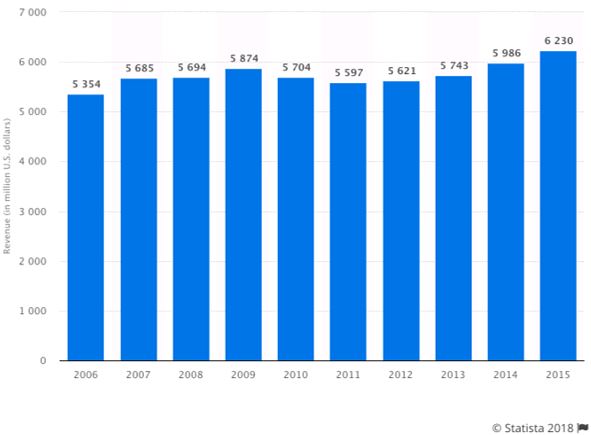 Canada Casino Gaming Market Revenue from 2006-2015 (Statista)
Canadian players tend to enjoy a variety of online gambling games, notably roulette, baccarat, blackjack, poker and from old to new slot machine games. Other popular betting games include ice hockey betting with the NHL and, football betting with the CFL. Canadians are currently only allowed to place parlay bets a.k.a. accumulator bets (at least 3 bets) on sports betting. This despite the fact that 92% of sports wagers placed in Las Vegas are actually single event bets. Nonetheless, many sports books offer Canadian online bettors this option. The whipsaw activity in GGR from Canadian casino gaming between 2006 – 2015 makes for interesting reading. For example, revenues steadily increased between 2006 and 2009, going from US$5,354 million to US$5874 million. Between 2009 and 2012, casino gaming revenues declined to US$5,621 million. Since then, there has been a significant rise in gambling revenue (US$6,230 million in 2015).
IMPORTANT GAMBLING FACTS IN CANADA
Official Government of Canada Statistics provide further insights into the Canadian gambling market (2016 figures). According to Canadian industry statistics, some 1189 businesses were categorized as gambling industry operations (code 7132), with 90.7% of these organizations having between 0 – 99 employees. 2016 figures indicate these SMEs (small and medium enterprises) typically generate average revenues of C$617.7 thousand, and 80.8% of these SMEs report profitable earnings. Canada has multiple provinces, each with the following stats:
Ontario – 25 casinos, charitable gaming, sports betting, lottery games, horse racing, and slots.
Quebec – 9 casinos, charitable gaming, bingo, sports betting, online gambling, and horse racing.
Nova Scotia – 2 casinos, video lottery terminals, sports betting, horse racing, charitable games, and offshore online gaming. 
British Colombia – 15 casinos, horse racing, lottery games, sports betting, and limited online casino. 
Newfoundland and Labrador – no land-based casinos, video lottery terminals, sports betting, offshore online gaming, horse racing, and lottery games. 
New Brunswick – 1 casino, video lottery terminals, offshore online casinos, horse racing, charitable gaming, sports betting, and lottery games. 
Alberta – 25 casinos, online casinos, charitable gambling games, lottery games, sports betting, horse racing, and video lottery terminals. 
Manitoba – 2 casinos, lottery games, video lottery terminals, charitable games, horse racing, and sports betting.
Saskatchewan – 6 casinos, offshore online casinos, charitable gambling games, horse racing, sports betting, and video lottery terminals. 
Prince Edward Island – racino, offshore online gambling, horse racing, video lottery games, lottery games and sports betting.
The scope of gambling activity in Canada is certainly impressive. Players have access to a wealth of options, particularly in Ontario, Alberta, British Colombia and Quebec. Other provinces are rather limited in terms of their current offerings. With dozens of land-based casinos in operation, including sports books, and horse racing facilities, Canada's gambling market has plenty of promise.