History promises to be made on the night of August 26 when Floyd Mayweather (40 years old, weighing 151 pounds) and Conor McGregor (29 years old, weighing 154 pounds) square off in the boxing ring at MGM Resorts International's new T-Mobile Arena in Las Vegas. Not only will their pugilistic showdown be the first time that a boxing champion meets a UFC champ in such a high-profile setting, but it also promises to be a record nudging (if not record-breaking) payday for Sin City.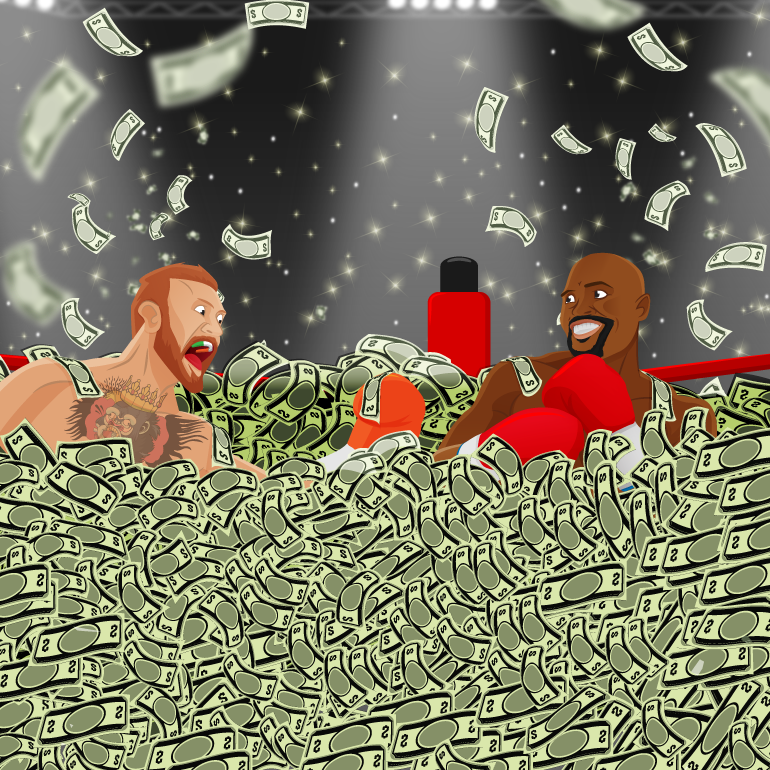 THE MONEY
The gate for this fight is anticipated to be in the $77 million range — and that doesn't even account for pay-per-view, which experts say could exceed the $455 million grossed when Mayweather fought Manny Pacquiao in 2015 (one expectation has pay-per-view revenues hitting $475 million for Mayweather vs McGregor). It is estimated that some 5 million people around the world will find out whether the mixed martial artist or the old school boxer is the tougher man.
CELEBRITIES ATTENDING THE FIGHT
While all celebrities attending the fight have yet to be announced — Arnold Schwarzenegger said he will be there, Mayweather hinted to TMZ that Barack Obama and Donald Trump might show up, Drake is intrigued enough that he materialized at a press conference in Toronto — there is no doubt that everyone with a good seat will be well heeled: Ringside perches are going for a whopping $10,000.
SPONSORS WILL PAY $10 MILLION
Anticipated sponsorship revenues are staggering. According to reports published by Darren Rovell of ESPN, any corporation wanting to be a premier sponsor for the fight better be prepared to shell out big bucks for big exposure. It will cost $10 million for a company to have its logo displayed center ring, on the ring girls, on ropes, in neutral corners. If all sponsorship spots clock in at the expected $22 million, they will combine to exceed the $18.4 million sponsorship gross of the Mayweather - Pacquiao fight.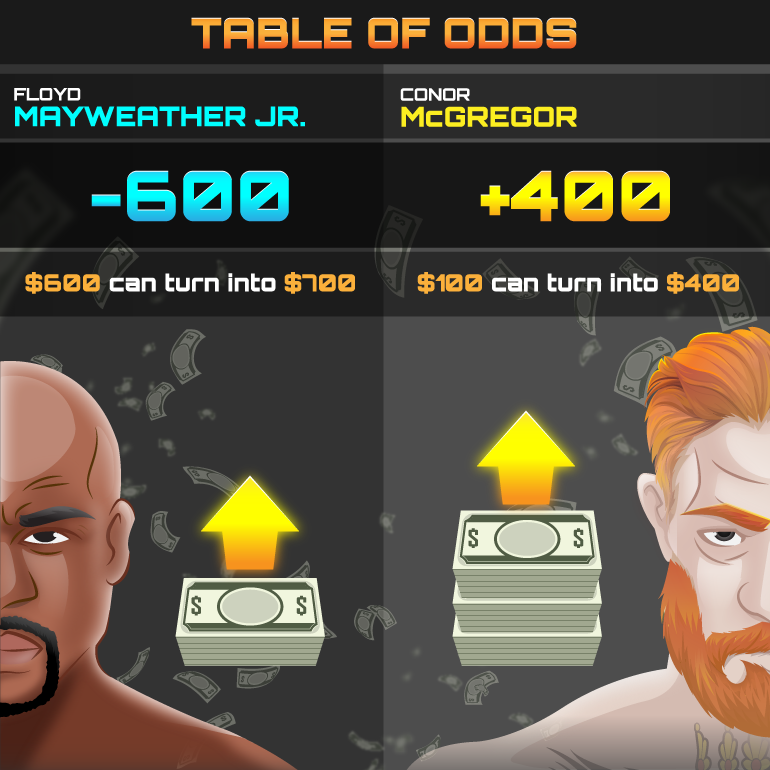 BETTING ON MAYWEATHER VS. McGREGOR
In terms of betting, Mayweather is a huge favorite. But, according to a story in the New York Times, bettors are nevertheless leaning heavily toward McGregor who, if he defies odds and wins, will make for huge paydays. As of this writing, Mayweather is -600 and McGregor is +400 (meaning that a $100 bet will get you $400 if McGregor wins and a $600 bet will get you $100 if Mayweather takes it). That puts a damper on gamblers shelling out huge bucks at the Vegas sports-betting windows. Nobody likes such a small return on a favorite. Therefore, it's anticipated that handle for the fight will be in the $30 million range. That's $40 million less than what Mayweather - Pacquiao generated.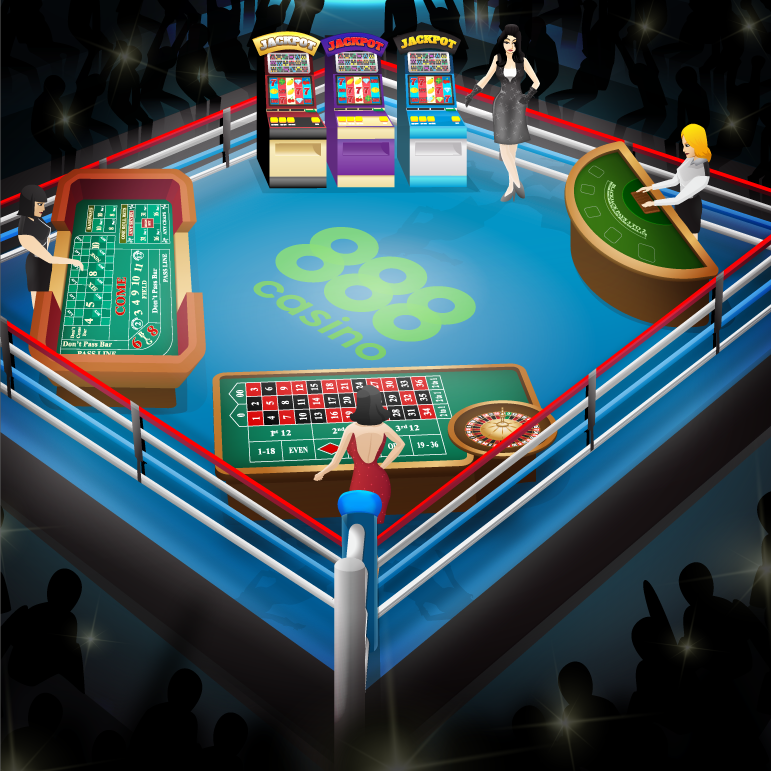 CASINOS & BOXING
But don't feel bad for the casinos, because lots of new and veteran players will play casino games before and after the fight. While it's hard to say precisely what MGM will net from the fight, total revenues on the match are expected to exceed $600 million. While the total purse has yet to be determined (due to unsettled sponsorship money, the sum remains up in the air) and the split is confidential; there is an expectation that some $300 million will be shared between the fighters and the split has been estimated at 75%/25%, with the larger sum going to local hero Mayweather. Casinos around town won't fare too shabbily either: revenues in Vegas generally increase by over $100 million on weekends when big fights are in town.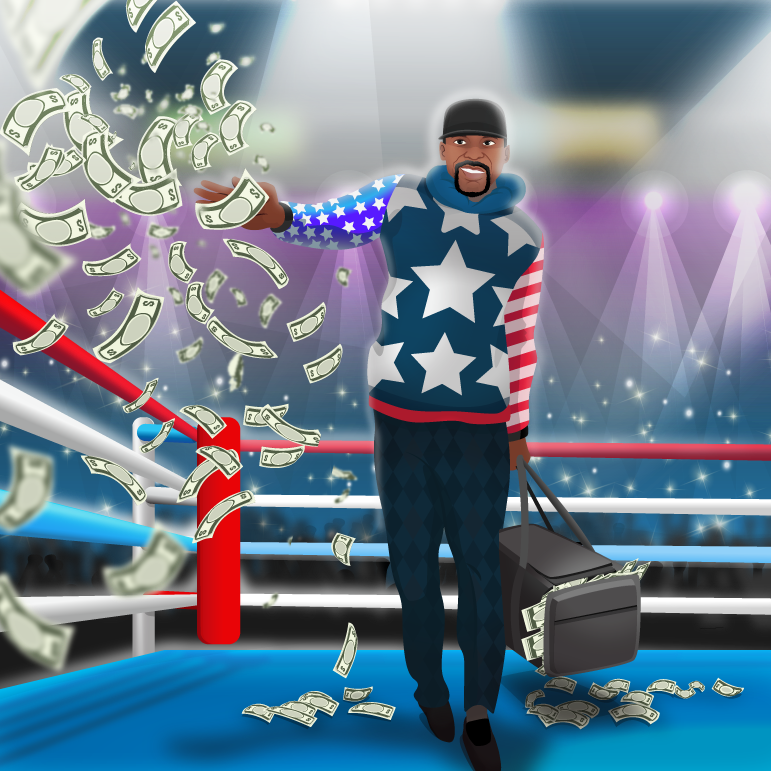 EVEN IN GAMBLING: MAYWEATHER ALWAYS WINS
That the fight will generate big money is no surprise. As a boxer, Mayweather possesses a record of 49-0, with 26 knockouts, and championships in four different weight classes. Mayweather holds a pay-per-view record with 4.6 million purchases when he fought Pacquiao in 2015. He's a big name with a big personality who's known for being splashy — in and out of the ring. Notoriously averse to credit cards, he is said to routinely stroll around with a backpack containing $60,000; for big nights on the town, he has a hockey bag that apparently holds $1 million. It's no wonder than his nickname is Money.
Showing that he doesn't mind spending his hard-earned dough, Mayweather blew $40,000 at a Detroit strip club, brought a trunk full of currency into his own recently opened topless joint (Girl Collection, in Las Vegas, of course), has been regarded as a high-stakes sports bettor and will risk as much as $300,000 on a single game (in fact, he once bet $220,000 on Texas A&M covering the first half — Mayweather won the bet). He can afford to roll high. Forbes magazine, for multiple years, ranked Mayweather as the world's best paid athlete. His worth is estimated at $340 million — and he told ESPN that he keeps $123 million in a checking account.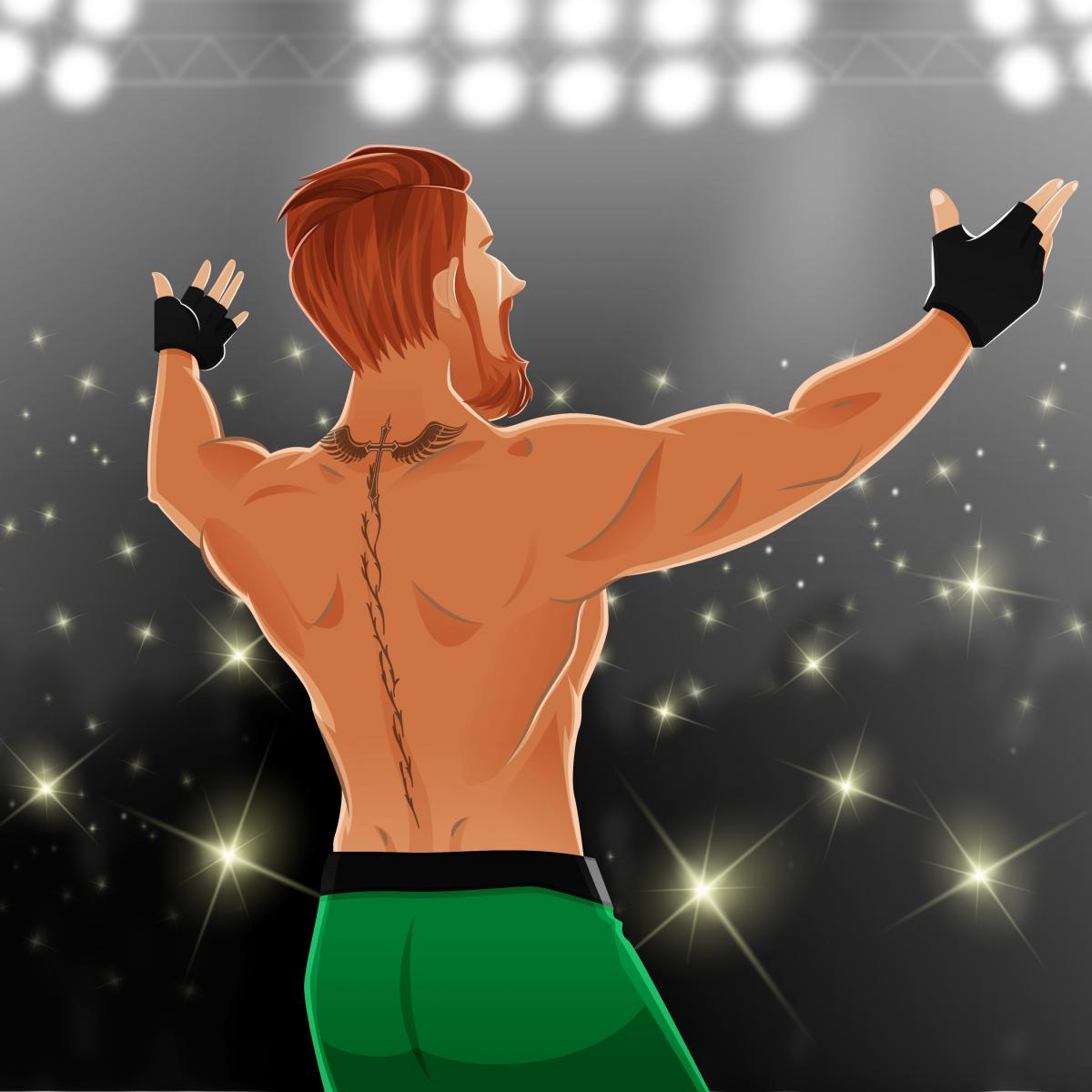 McGREGOR - THE PLUMBER WHO CONQUERED THE OCTAGON
Conor McGregor is the reigning UFC lightweight champion with a mixed martial arts record of 21-3. He has drawn more pay-per-view money than any other fighter in UFC history, with 1,650,000 purchases for a single fight of his (UFC 202 in which he fought against Nate Diaz). Forbes estimates that McGregor earned $34 million in 2016 alone. His bankroll may pale alongside that of Mayweather, but massive paydays make him the wealthiest mixed martial arts fighter out there. His net worth has been put at $25- to $35-million. The sum is expected to increase dramatically after the fight in August. He is known as The Notorious.
Not much of a casino gambler (though he tried betting Dana White and UFC cofounder Lorenzo Fertitta $3 million that he would beat Chad Mendes — wisely, they declined the action), McGregor, a former plumber who once wanted to be a soccer player, stands out for other attributes. For one, he is a trash talker non pareil . Besides the demeaning comments he lobbed at Mayweather during a press conference in Los Angeles ("He's in a f*****g track suit! He can't even afford a suit anymore!"), he's known for trashing UFC opponents about everything from how much they earn to how hard they fight.
Mayweather, no slouch at standing up for himself, attacked back, insisting that Mayweather is worth fewer zeros that he claims. Less contestable is their social media standing. Business Insider ​reports that "McGregor's posts generated 419.0 million interactions in a year, more than three times that of Mayweather." Nevertheless, McGregor has 5.18 million followers on Twitter while Mayweather has a gargantuan 7.36 million followers on the social media platform.

Whatever the outcome of the match, there is little doubt that it will be entertaining — in and out of the ring — generate big paydays all around (for the fighters, for Vegas, for gamblers astute enough to bet on the winning man) and keep us glued to the action.