Big casino wins of unbelievable luck
Every now and then, someone wins big at a casino through a sheer stroke of luck. Though they may not have skill, these people certainly have the balls to place a big bet, and the intelligence to walk away when their life changes for the better.
Take Jessica Agbunag, for example, who in 2008 walked away with a whopping with an absolutely whopping $2.4 million after winning the jackpot on a Vegas slot machine. She made a couple of smaller wins, and then scooped the biggie wagering just $16 on a Mega-Jackpot machine. Nice!
Of course, for every story about a millionaire made from roulette, for every craps high-roller who has made their early retirement, there are a dozen others who have lost their life savings – and they don't want to talk about it to the newspapers!
Nevertheless, it does happen. Some lucky souls win big, and some people are even clever enough to make an advantage out of a game that apparently doesn't have one.
LUCKY WINNERS
NAME

GAME

CASINO

DETAILS

Patricia Demauro

Craps

Borgata, Atlantic City

Rolled a 154-roll streak
(world record)

Ashley Revell

Roulette

Plaza Hotel, Las Vegas

Double or nothing win
for $270,000

Frederick Smith

Blackjack

MGM Grand, Las Vegas

Won $30.000
and saved Fedex

Dominic LoRiggio

Craps

Las Vegas, Atlantic City

Craps Veteran

Elmer Sherwin

Slots

The Mirage, Las Vegas
Cannery Casino, Las Vegas
Won the Megabucks jackpot twice:
$4.6 million + $21 million
Patricia Demauro: Craps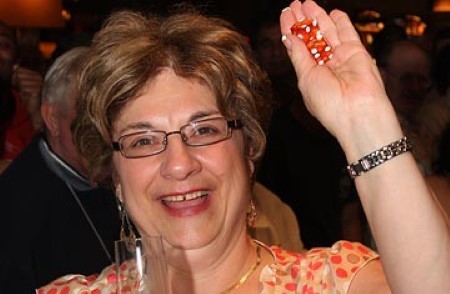 Who doesn't get a little bit happy when they hear about a grandma winning a fortune. You can see her delighted face, her false teeth falling out from grinning. She rolled a 154 roll successive streak in craps over the course of 4 hours and 18 minutes, without sevening out.
She set a new world record for the most successive rolls, and also the longest craps roll in history. The odds of her managing this epic feat of gambling? Approximately 1 in 1.56 trillion. To give you an idea of what that means, they say the odds of winning the lottery are 1 in 14 million. Yup!
In an act of sheer luck or fate (assuming this old dear isn't later revealed to be a mastermind cheater!), this lady defied all odds.
Ashley Revel: Roulette
This man, Ashley Revel, did something that no fool in the world should be stupid enough to do, but which makes for great entertainment. As part of a mini-reality series called "Double or Nothing", he placed his entire life savings on a red or black roulette bet.
In front of an adoring crowd, this man, who was either insured by the program, or was a complete and utter delinquent, placed $135,300 on red, and won! He doubled his money, gave the dealer a quick tip, and went home a happy man.
It's worth taking a look at his victory here, but we definitely do not recommend this behavior to anyone at home!
Frederick Smith: Blackjack
Have you heard of the delivery company Fedex? They are worth billions, and they revolutionized their industry by offering delivery anywhere in the world overnight. Well, one time they nearly went bust, were losing millions every month, and couldn't get any finance to continue.
Fedex was scraping the barrel with their last $5000 of funds, not even enough to run their own planes on the coming Monday, that CEO Frederick Smith decided to go to Vegas. Why not, given that the company was in ruins?
He flew to Vegas, played Blackjack, and managed to turn the $5k into $32,000, which was enough to fly their planes and buy them a little more time. This time was all they needed, and soon after they received $11 million funding and began to make serious profit. They are now worth $30+ billion.
OK, Blackjack was not just a game of luck back then, before the automatic shuffling machines and $32,000 is not huge money, even if you factor in the currency depreciation. But this is nonetheless a great story of a desperate gamble that went good.
Dominic LoRiggio: Craps
Dominic LoRiggio blends the line between winning and cheating. He claims to be able to count cards and combines this with an optimal strategy to gain an edge. He is also known as having an edge Pai Gow poker, and has final tabled 20 percent of the 200 poker games he has entered.
Perhaps LoRiggio's greatest claim, is that he can gain an edge in craps by exercising dice control. He claims to be able to control the outcome of the dice using simple physics, and has written books and teaches classes on the matter.
Indeed, his record does seem to suggest that he has the control that he speaks of, and has recently rolled both a 75 streak and 79 streaks before sevening out, as well as having many one-hour long rolls to his name. It looks like LoRiggio is rolling his dice away from the luck, and towards his own outcome. Can you believe it?
Elmer Sherwin: Megabucks slots
Elmer Sherwin is an amiable old guy with an adventurous life. He was a winner in the Megabucks slots. Few people have ever won the Megabucks slot as the chance of winning it is 1 out of 50,000,000. However Elmer Sherwin did not just win the big jackpot only once, he actually won it twice. The first time, he won the Megabucks jackpot of $5,000,000 in the year 1989. 16 years later, he also won $21,000,000 in the year 2005. Mathematically speaking, in order to win the Megabucks twice, someone would have to play 2,500,000,000,000,000 spins; that is 2,500 trillion spins!