The bright lights, the glitz and the glamour – gambling has an aura about it that just makes it seem such a lucrative and entertaining pastime to partake in. Yet others see it as a way to make a quick buck, with illegal gambling rings being built up in the dark underbelly of our major cities.

We've taken a look at a few of the biggest underground gambling dens in recent years, how they came about and the repercussions for those involved.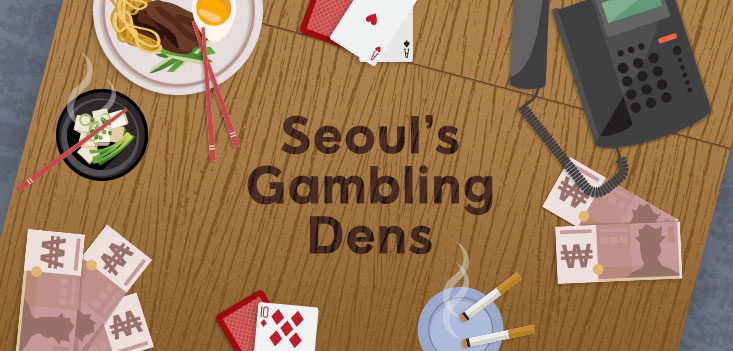 SEOUL'S GAMBLING DENS
Gambling laws in South Korea are rather unusual compared to other countries around the world. In principle, all gambling activities – including casinos, sports betting and lotteries – are prohibited and anyone who attempts to make money off any of these will face the consequences of the South Korean police. Yet there is one bizarre rule – you can legally gamble in the abandoned mining district of Gangwon. It's a highly remote area so unsurprisingly, it's pretty quiet. All the major Korean cities do have casinos, but they are for tourists only – that's why underground circuits began to grow. Gangwon is almost 150 miles away from Seoul, so it'd be quite the trip to the mountainous state for a quick game of blackjack.

In May 2016, the Seoul Metropolitan Police Agency announced they'd busted an underground gambling den in the city – one they believed to be the biggest shut down to date. The entire sting was based on in-depth underground work from the police, spanning a total of five years before reeling in the criminals and booking them.

To get involved in the gambling, uncover cops managed to worm their way into the inner-circle of the den's organisers in 2011. They originally operated out of what looked like business offices – some even had receptionists and employees working to add to the charade. However, to keep the dens well-hidden, the criminals would move locations every few months in an attempting to throw the cops off any potential scent they may pick up. Little did they know that they were already under surveillance.

The profits the dens were turning over seem ridiculous. The gambling ring which was busted in 2016 was said to be running 70% of all illegal gambling in Seoul and, during the peak years, was handling a huge $12m per day in bets and wagers. It was estimated that since 2011, the gang had made $25m in profit . But they weren't targeting the big spenders – their clientele tended to be the small 'few-bucks-a-time' gamblers. So to make around $5m a year in profit, you can only imagine the amount of gamers heading into these dens on a daily basis – it was astronomical. The gang looked after their clients so much, that if they'd blown all their money, the crooks would pay for the player's taxi home! Such an act of kindness amid criminal behaviour.

The police bust identified two main leaders of the gambling dens – Yoon, a 39-year old male who was the chief organiser, and his assistant Ahn, who was in charge of the gang's finances. A total of seven people were arrested, while 70 others who were involved were charged with breaking the law.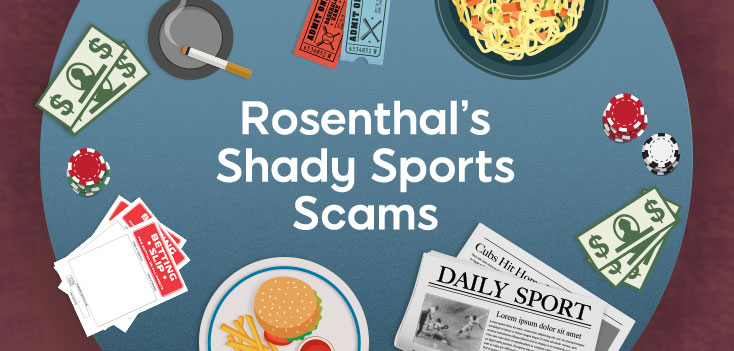 ROSENTHAL'S SHADY SPORTS SCAMS
From the earlier 1950s up until his death in late 2008, Frank Rosenthal was one of the biggest, and most notorious, names in sports betting and gambling. From an early age, Rosenthal was involved in crime syndicates and dodgy dealings, whether it was fixing games of basketball or illegally running casinos in Las Vegas.

Technically a "handicapper" in the sports betting industry, Frank's first taste of dirty deeds came on the bleachers of Wrigley Field, the home of baseball team Chicago Cubs. He was a huge Cubs fan, often playing truant to catch the games – but it wasn't long until he became embroiled in the business of the Mafia. He became part of a betting syndicate, ripping off punters in the stands by working with gangsters to fix the matches.

As Frank grew into a young adult, he took up a role with the Chicago Outfit, a group of local Italian-Americans renowned for causing trouble. With a focus on bookmaking, he soon found himself running the biggest illegal betting circle in the country. His role was to use funds from Cicero Home Improvement, a Mafioso run business, to bribe players to do anything from strike out, miss a shot or purposely hit a shot to a fielder – often taking part in huge national games.

His behaviour had become so notorious that the authorities had cottoned on and he had to get out of Illinois when sports bribery charges landed on his doorstep. A clever move to Miami saw the cases against him disappear, but it didn't stop his criminal behaviour. From his new Floridian base, he still ran betting syndicates and was now known on a national scale.

However, Rosenthal was eventually subpoenaed to appear before the Gambling and Organized Crime subcommittee for his behaviour. But, in classic mob style, he refused to cooperate with officials, pleading the 5th amendment of the US constitution (no citizen shall be compelled in any criminal case to be a witness against himself) 37 times during proceedings so no charges were actually brought against him. He was so unwilling to help with the case, he wouldn't even confirm whether or not he was left handed – something so obvious, it was even his nickname, 'Lefty'. He was continually arrested for foul play but nothing ever happened – apart from once, the only charge he pleaded a no-contest for was for bribing a basketball player from New York University to purposely miss shots. He was so sought after by the powers that be, the FBI had a 300-page dossier complied on Rosenthal.

By the time he moved to Vegas, he was a huge name on the gambling circuit and casinos became his next venture. But of course, he didn't do this legitimately either – he ran four of the Strip's biggest casinos without even having the correct paperwork. And even when he tried to obtain the relevant documentation, he was knocked back due to his connections with the Mafia.

It's safe to say old Frank was truly embroiled in the darker side of gambling, but even an attempted assassination (when his car was rigged with a bomb and explode) didn't put him off.

THE RUSSIAN REVOLT
After the fall of the Soviet Union, gambling was reintroduced to Russia, producing huge profits and creating a prosperous industry – it was valued at $6bn before it was made illegal. Yet addiction had become a huge problem and Prime Minister Vladimir Putin had to take some sort of action. To a degree it worked, but on the other side of the coin, it made it worse.

In July 2009, Russia took the brave and bold decision to ban all forms of gambling within its country limits to the dismay of nation. The government left four areas where you could still legally gamble, but similar to South Korea, they were based throughout far stretches of the country. Many casinos and gaming halls did still operate after the law was enforced – however, the corruption was much different to that seen in Korea.

According to sources, the police were actually responsible for the gambling dens staying open, often taking huge bribes from the owners with the promise to let them operate and not report them. One source told the BBC that:
Underground circuits are becoming more and more popular in bigger Russian cities such as Moscow and St Petersburg – where the new legislation has come in the hardest – but in the more remote areas, it's widely said that not much has changed. Gambling is still rife, but corruption is more so. It only took a matter of months for illegal gambling rings to rise up from the ashes after the law was introduced according to sources within the casino industry. However, it isn't all doom and gloom when it comes to Russia's battle with the dark underbelly of gambling.

Speaking in 2010, Col Oleg Bolderov, a member of the Economic Crimes Department of the Russian police, commented that the powers that be had taken a serious stance on gambling rings, stomping out 70 casinos and more than 4,000 slot machine arcades in the first six months of the legislation. 600 illegal gamers were also said to be brought to justice by the authorities.

The shutdowns weren't just a note on the door and a quiet word for the gamers to move on. Russian police would bombard the illegal rings brandishing automatic weaponry – equipment capable of blowing the joint wide open and causing real damage. Bolderov also commented that the battle was being made more difficult due to corrupt officials, who were letting criminals get away with gambling.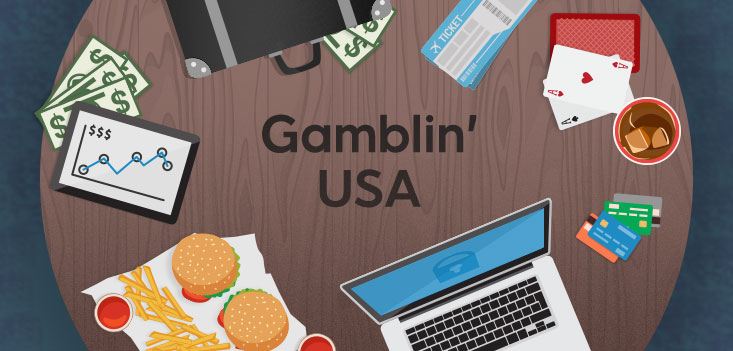 GAMBLIN' USA - 2016
The most recent of our tales brings us forward to 2016 and the story of a national gambling ring in the USA worth a cool $1billion of bets and illegal casino gaming. The four horsemen of the illegal gambling apocalypse - Arthur Rossi, 66, Claude Ferguson, 43, Joseph Schneider, 39 and Gordon Mitchnick, 58 – were based across New York state and California and employed an offshore team in Costa Rica to help process the large sums of money passing through their accounts on a daily basis.

Gordon Mitchnick was thought to be the ringleader of the gang and was accused of buying more than 20 properties in NYC's borough of Brooklyn to help with his cash laundering. Claude Ferguson was accused of laundering $50,000 per flight they took, stashing the money in briefcases while travelling between cities. The secret to their successes was through password protected websites, where clients had to enter specific word and number combinations to access illegal games.

According to reports, the syndicate was paying fees of $200,000 a month to their team based in San Jose, Costa Rica during their peak, just for the up-keep of the sites and keeping figures well-hidden from US authorities.

It's believed that during the 2015 NFL season, a huge $927m in wagers passed through the illegal circuit – that's $3.6m for every game played across the entire season! They were also caught dealing on the likes of blackjack and poker on the website.

A decision is still yet to be made on the sentences the men will have to serve, with additional arrests still expected on the case.

Some may see gambling as a fun pastime and a great hobby, but for others it's seen as the perfect way to break the law. The tales above have involved huge sums of money, but the majority of time, the law will win and the criminal's comeuppance will be served.