Casinos are a big UK buzzword for 2015, and the number of people enjoying casino games in Britain has never been higher. The relaxation of gambling laws almost 10 years ago has allowed for much freer access to both land-based and online casinos, resulting in a more open and accountable gaming industry that's more easily accessible to the average gambler.
And, it's not just online casinos that are booming right now – their land-based cousins are enjoying unprecedented interest as well. Where British punters were once forced to visit smoky underground spielers or blacked-out, back-street casinos to play their favourite games, today's UK casinos are able to operate much more out in the open.
From easier membership to offline casinos and fixed-odds betting terminals in high-street bookies, offline gambling has never been so accessible.
But what effect is the boom in online casino action having on land-based casinos, and how do they cross over? With the help of official statistics from the Gambling Commission, we can see that:
More recreational players and women are taking to both online and offline casinos
A boom in TV advertising is "normalizing" casino gambling and attracting new players
A crossover between online and live loyalty programs is driving gambling traffic
The growing economy is more responsible for UK gambling habits than overall participation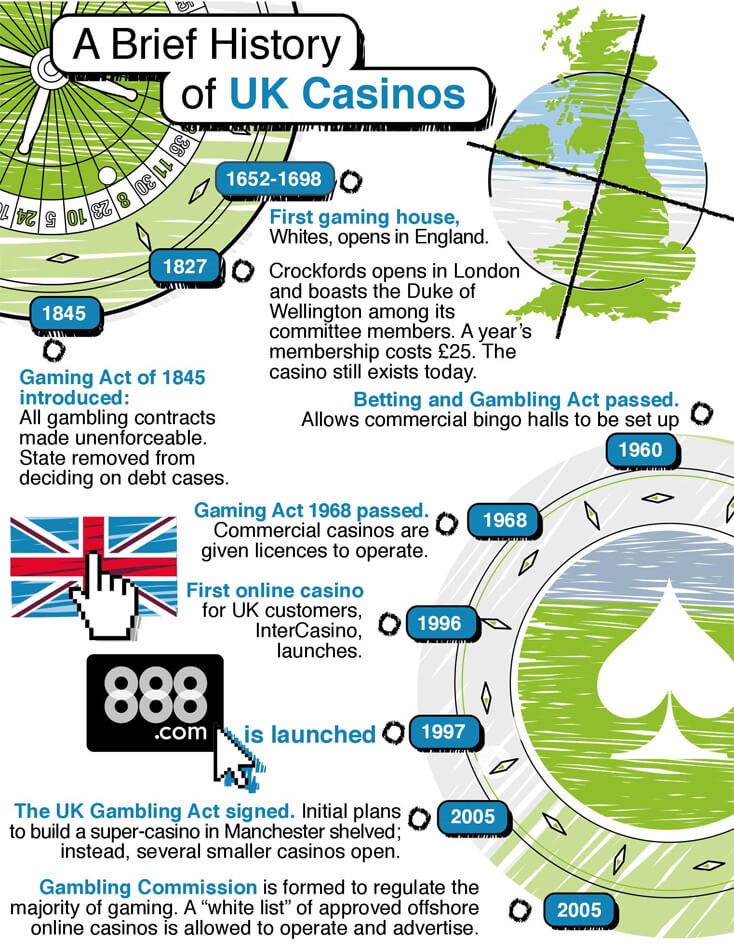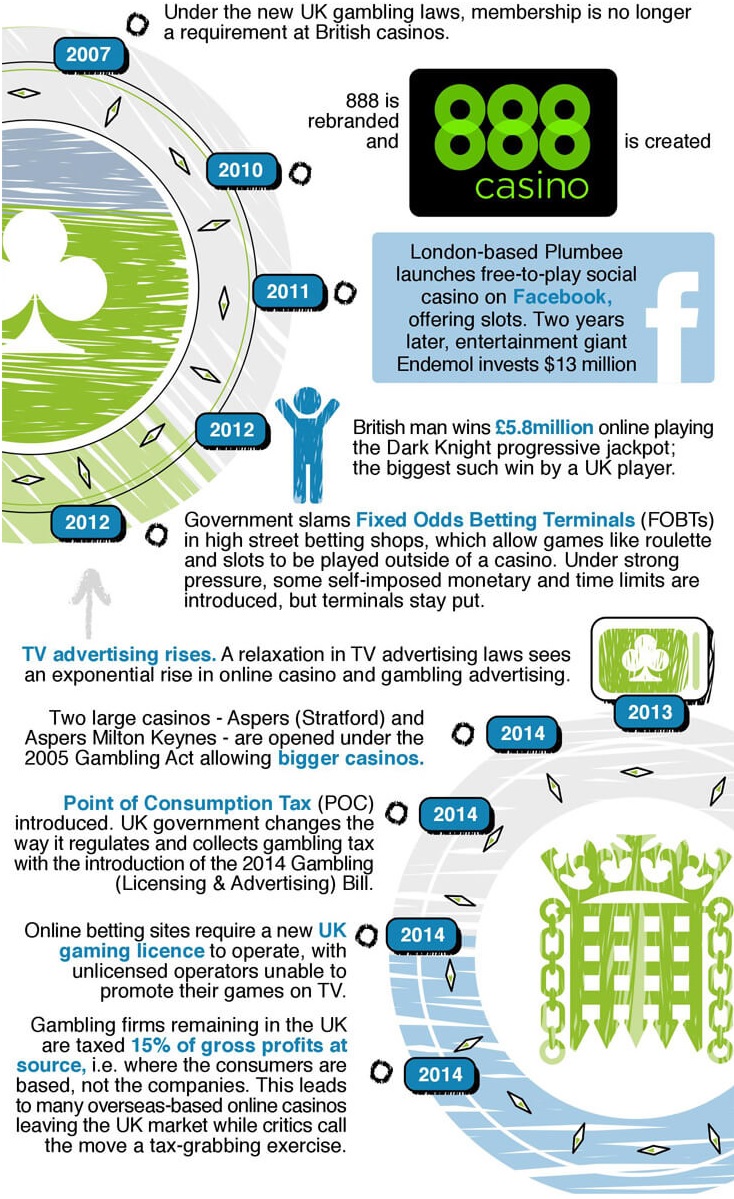 UK CASINO GAMES: NOW AVAILABLE EVERYWHERE
While casinos may have once been the preserve of the ruling classes, they are now entertainment venues where you're more likely to have a meal and watch a show than hit the roulette tables.
That said, casino games have never been as accessible. FOBTs are available on the high street, offering slots and roulette without the need for a membership, while UK casinos themselves have scrapped membership (and, in some cases, dress codes), allowing anybody to walk in off the street and have a bet.
At the same time, the latest 3D slots or roulette games are available on your desktop or smartphone at the touch of a button.
FACTORS IN UK CASINO GROWTH
The growth in UK casinos is perhaps best illustrated by Aspers Casino – the first big casino created under the relaxation of laws that followed the 2005 Gambling Act. Occupying the top floor of Westfield shopping centre in Stratford, East London, the casino overlooks the London Olympic Park and attracts 140,000 visitors each month.
I believe it's down to several factors, says General Manager at Aspers, Bea Stevens. There's the change in laws since 2005, improved acceptance of gambling, and an acknowledgement that casinos offer a great night out with a broad range of entertainment.
They give a unique live gaming experience that the online operators cannot match.
With a relaxation of the laws brought in by the last Labour government, casinos are no longer a terrifying, no-go area: they are entertainment venues where you can both take a partner and ditch the gladrags. Even the former requirement to show photo ID at casino facilities has been loosened; allowing punters to walk in off the mall after a hard day's shopping.
These relaxed laws are doing wonders for UK casinos' business, with betting volume rising and 'drop and win' stats growing.
VISITORS NUMBERS ARE UP
Casino attendance in the UK has been growing rapidly since the late 2000s, with an increase of more than 3.7 million visitors to live casinos in just four years.
According to the Gambling Commission, the proportion of those surveyed who had gambled in a live casino rose from 84% in 2013 to 98% in 2015.
VISITORS NUMBERS ARE UPCASINO ATTENDANCE IN THE UK (IN MILLIONS)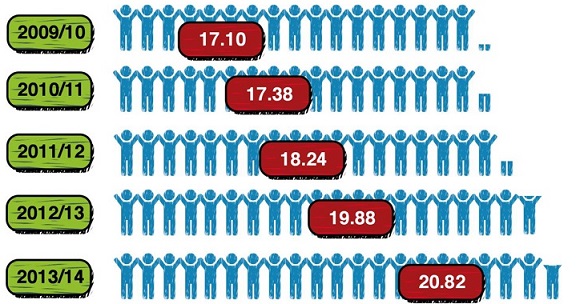 Source: Gambling Commission
...AND SO IS CASINO REVENUE
Unsurprisingly, with the extra visitors, revenue is up as well.
The latest stats voluntarily supplied by 148 UK casino operators showed the following:
The table game 'drop' (the amount of money exchanged for chips in the casino) across Great Britain as a whole rose by almost £40 million from 2014 to 2015, though that trend has been going up for a while.
The house win (essentially, the profits minus the drop) across the UK also rose.
For slots fans and electronic roulette players, there has been a big rise in gaming machines overall, with average numbers rising from around 2,500 in 2008 to almost 3,000 in 2014.
UK CASINO DROP (AMOUNT IN GBP EXCHANGED FOR CASINO CHIPS)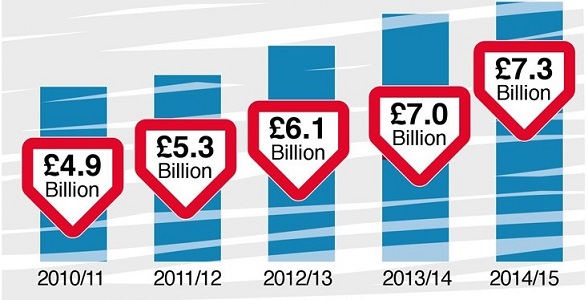 Source: Gambling Commission
HOUSE WIN (CASINO TAKE IN GBP)

Source: Gambling Commission
AVERAGE NUMBER OF GAMING MACHINES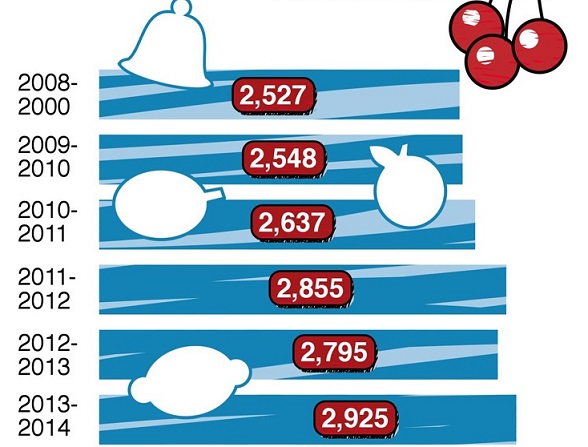 Source: Gambling Commission
THE RISE IN ONLINE CASINOS
As land-based casinos have loosened up their restrictions, so have their online brothers and sisters. There has been a steady rise in online gamblers for any product over the past few years, with 9.7% of the general adult population gambling online in 2008, rising to 15.9% in 2014.
OVERALL ONLINE GAMBLING PARTICIPATION IN THE UK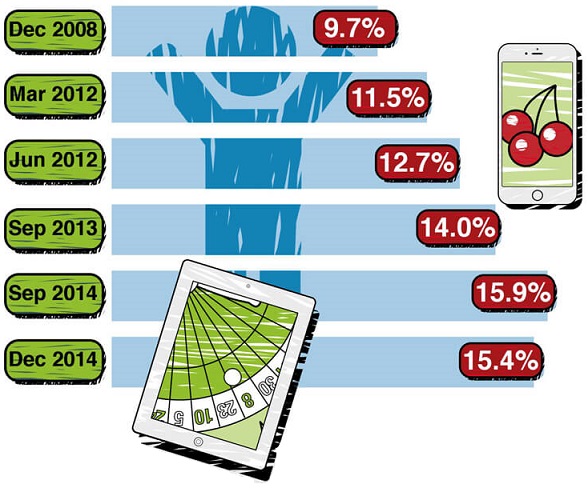 Source: Gambling Commission
Interestingly, however, UK customer accounts (defined as those accounts on which a customer has gambled within the last 12 months) have remained fairly constant since 2008, with around 16 million accounts held over 2008-2009 and 18 million in 2014.
In fact, numbers of both live and online casino players are on the rise.
CASINO GAMES PARTICIPATION ONLINE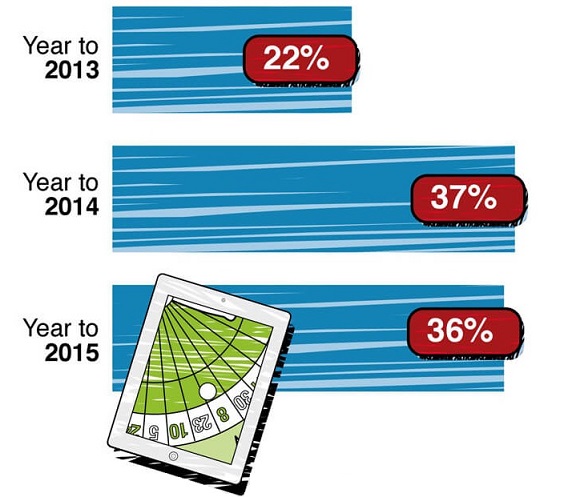 Source: Gambling Commission
ONLINE CASINO BOOMING
Despite the number of accounts in play, online casino turnover has risen, with online slots pulling in £86 million alone from 2009-2010 and a whopping £366 million in 2014, according to Gambling Commission figures.
2010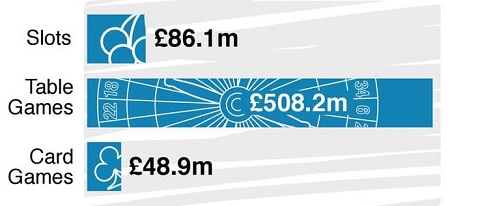 2011

2012

2013

2014

There are a few interesting takeaways that can be gleaned from this data:
The rise in turnover for slots indicates that punters haven't been able to get enough of them in recent years. It's the reason for so many TV adverts offering free spins on signing up, and it's easy to understand their popularity. Slots are easy to play – perhaps more so than any other casino game.
Two additional factors driving this growth include their low stakes and the massive size of the potential progressive jackpots associated with them. More players online means bigger contributions to 'pooled' progressives, which can regularly hit millions of pounds
In 2015 alone, players have won slots jackpots worth $7.5 million, though many of the biggest games are 'seeded' (or 'reset') at £1 million after a win. In 2012, a UK player hit a record jackpot of £5.8 million playing a progressive slot online.
There is also a better range of slots games available online, as limited floor space isn't an issue at an online casino. Plus, the RTPs (the theoretical, long-term, 'Return to Player' percentages) are higher online. Whereas land-based slots in the UK run around 85% RTP, online slots can rise to 97%.
RELAXED ADVERTISING LAWS
Does TV advertising affect your gambling habits? Of course not. You couldn't be so easily influenced, could you? Many of us like to think we're immune to the adverts on TV, but the stats suggest otherwise; a rise in TV advertising in the UK has correlated with a rise in gambling on the net.
Commercial television in the UK is now full of adverts encouraging us to give gambling a try, but it hasn't always been this way. There was a time when only TV ads for the National Lottery , football pools and bingo were allowed.
The Gambling Act 2005 was the game-changer, and since the laws have been relaxed, TV advertising for casinos has grown and grown. Switch on your TV now and you won't have to wait long to see ads for online casinos, poker rooms and sports betting websites.
So how much are we talking? Well, between 2005 and 2012, the number of ads shown has doubled, while the proportion of ads related to gambling has increased from 0.5% to 4.1%.
So that's more adverts, about more forms of gambling, on more of the time. It's hardly surprising that this constant messaging has had an impact on the amount we like to bet.
Gaming Adverts On UK Television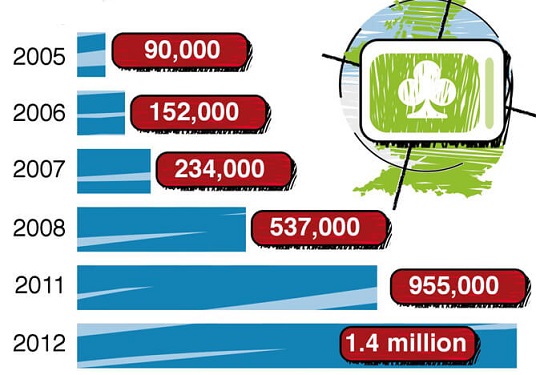 Source: Gambling Commission
MOVING FORWARD: HOW WILL THE GAMBLING (Advertising and Licensing) BILL AFFECT THINGS?
Before we jump into their long-term implications, let's start by explaining what the new rules are. Previously, many betting companies had moved their digital businesses overseas to places – Gibraltar was popular – where they would have to pay little or no tax on their profits.
Needless to say, the government wasn't pleased and has since tried to close the loophole with new rules introduced in late 2014. The so-called Point of Consumption tax (POC for short) means online casinos and betting sites offering gaming must now pay tax on where their customers are based, not where the company itself is located.
So, basically, it doesn't matter now if you're based in Manchester or Madagascar – Barnsley or the Bahamas – if you service UK betting customers, you must pay 15% of your gross revenue to the UK government, in addition to holding a special UK Gambling Commission licence.
As of now, it's still too early to say how much the new POC tax will affect the profitability of online casinos that target UK customers. Although it's unlikely that extra licensing and tax costs will be passed down to consumers, changes in regulation will surely hit online casino profits over the next few years.
Will that have a negative impact on players, or will it lead to more competition and even better promotions? Only time will tell.
HOW ARE LIVE CASINOS LINKING UP TO ONLINE GAMES?
The rise of online casinos in the UK has resulted from a relaxed legal framework, an abundance of social casinos, and increased gambling advertising on TV.
But with visitor numbers up at land-based casinos, there does seem to be some crossover; likely due, in part, to the fact that UK casinos are now easier to enter, more relaxed, and attract more women.
In addition, players are able to practice games online for free before venturing into a land-based casino to try games out for real money. That is a privilege that has not been enjoyed by UK gamblers before, meaning that most players have previously had to 'learn the hard way.'
It isn't, however, a case of online versus offline casinos. Several major UK casino chains have their own significant online casino presence. A recent trend is for loyalty cards (traditionally, the preserve of the live casino visitor) to be used in conjunction with player points earned online. These points can now be earned by playing slots or table games online and cashed in a next live visit.
IS THE UK THE NEXT LAS VEGAS?
It's now been 10 years since the Gambling Act came into force. While councils in entertainment hubs like Blackpool may have initially cried into their fish and chips about what could have been with regards to their failed 'super casino' projects, the boom in casino gambling generally means that the future of UK gambling is sunny.
As Aspers' Bea Stevens says, UK casinos have taken advantage of the Brits' wider acceptance of gambling in general, while the relaxation of membership laws means anyone can walk in off the street to play roulette and blackjack. And casinos aren't just gambling venues any more: they're far more focused on dining, entertaining and grabbing an evening drink than they were 20 years ago.
Meanwhile, more TV advertising means a larger target market is being attracted to the 'safe' environment of the online casino. Brits who've never played a slot or a hand of blackjack before can now try out these exciting new games before testing their skills out on the live casino floor.
As Las Vegas moves into a new era of casinos, where millionaire DJs are the main draw rather than a progressive jackpot and where 20-somethings are the target market, the UK is slowly catching up. With gambling in the UK more popular than ever, expect that trend to continue.