Countless solo artists and bands over the years have inspired new music – but have you ever wondered which artists are the most influential? To gain a better idea of this, we've analysed the discographies of thousands of British artists and ranked them according to who has been sampled, remixed and covered the most by other commercially released songs.
As the music industry has evolved over the decades with new trends, production styles, and technology, it's no wonder that old songs often serve as a direct inspiration for new and emerging artists.
You don't have to look further than the charts to find a piece of music that echoes another in tune, lyrics, or composition. In fact, the all-time most streamed song on Spotify as of June 2021 ('Shape Of You' by Ed Sheeran) even reuses the melody from the 1999 TLC track 'No Scrubs' – released nearly two decades before Sheeran's smash hit.
Some of the best-selling singles of all time are also directly influenced by earlier music. Whitney Houston's 1992 hit 'I Will Always Love You' sold 20 million copies and won multiple awards on its release – and also happens to be a cover of the 1973 Dolly Parton song of the same name.
If we crunch the numbers on every sample, cover and remix that has appeared in commercially released music, who comes out on top as the most influential artist in British history?
THE BEATLES ARE THE MOST INFLUENTIAL BRITISH ARTISTS OF ALL TIME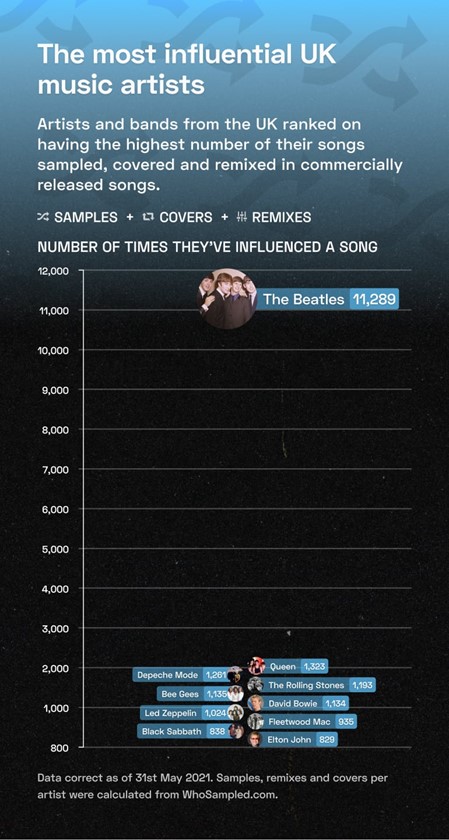 Based on the number of times their music has been remixed, covered, and sampled, we can reveal that the Beatles by far top our ranking of the top ten most influential British artists of all time. The music of Britain's most beloved band has been used a staggering 11,289 times in remixes, covers, and samples – more than any other solo artist or band in our analysis. The Beatles' most influential work includes 'Yesterday' (1965), 'Eleanor Rigby' (1966), and 'Come Together' (1969).
Queen ranks in second place, with 1,323 instances found in our analysis of samples, covers, and remixes of the rock band's music. 'We Will Rock You' (1977) has been sampled and remixed more than any other song of Queen's and by a wide range of artists, from Lady Gaga to Nine Inch Nails. Also appearing in our top ten ranking are Depeche Mode, the Rolling Stones, and the Bee Gees.
While our combined ranking gives us an overall picture of the most influential artists, we also wanted to break down the most influential artists by the way their music is transformed by other musicians; either by sampling, remixing, or by being covered.
Here's what we found out…
THE BEATLES ARE THE MOST SAMPLED BRITISH ARTISTS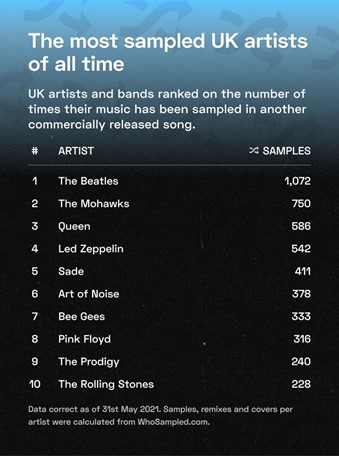 The Beatles' music has been sampled 1,072 times, which is more than any other UK artist in our analysis. Their most sampled music includes their 1969 single 'Come Together' and 'All You Need Is Love' (1967). Also featured on our list are the Mohawks, Queen, and Led Zeppelin.
THE BEATLES TOP OUR RANKING OF THE MOST COVERED BRITISH ARTISTS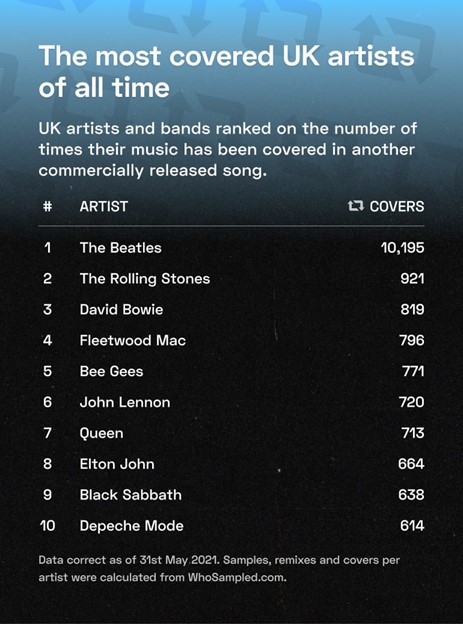 Our analysis found 10,195 covers of Beatles' songs, ranking the band first in our list of the most covered UK artists. We counted 440 cover versions of their 1965 hit 'Yesterday', making it their most covered song – but classics such as 'Eleanor Rigby' (1966), 'Come Together' (1969), and 'All You Need Is Love' (1967) have also seen their fair share of covers.
DEPECHE MODE ARE THE MOST REMIXED BRITISH ARTISTS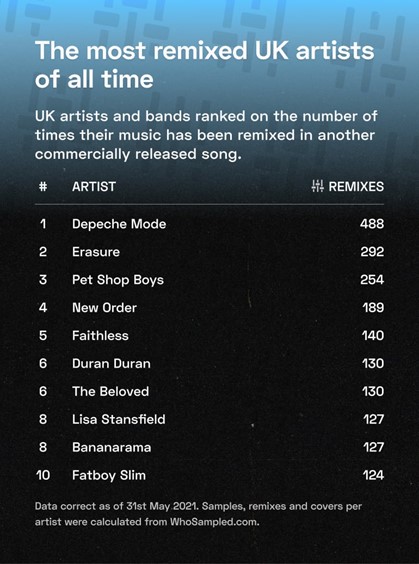 Depeche Mode tops our ranking of the most remixed UK artists. We found a total of 488 remixes of the band's music, with 'John the Revelator' (2006) being their most remixed song. The synth-pop duos Erasure and Pet Shop Boys also feature on our list.
Our analysis so far has focused on music throughout the decades – but we wanted to build a picture of the most influential artists on modern music. To find out, we first compiled a list of every artist that has appeared in the British Spotify Top 200 charts for at least ten weeks since 2014, then searched for the singer or band most remixed, sampled, and covered by those artists who have appeared in the modern charts.
DRAKE IS THE MOST INFLUENTIAL ARTIST IN MODERN MUSIC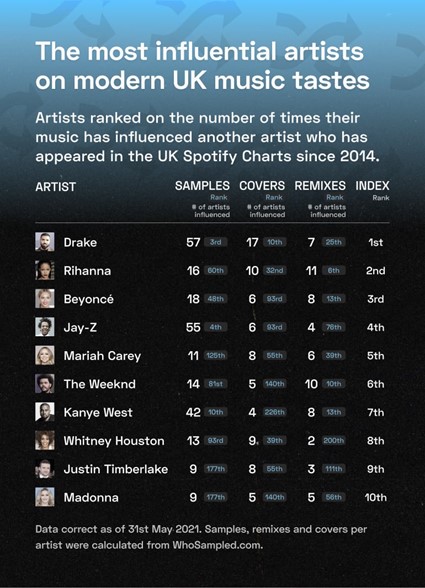 We discovered that the Canadian hip hop and R&B artist Drake takes the top spot in our combined ranking. Overall, Drake's work has inspired more recently charted artists to reuse his work than any other musician; we found 17 artists who had made Drake covers, 7 who had made remixes, and 57 who had made songs using Drake samples.
Rihanna comes in second place, having inspired 37 artists to reuse her music. Beyoncé, Jay-Z, and Mariah Carey also feature highly in our ranking.
THE UK'S MOST POPULAR CHARTED ARTISTS ARE MOST LIKELY TO SAMPLE LYN COLLINS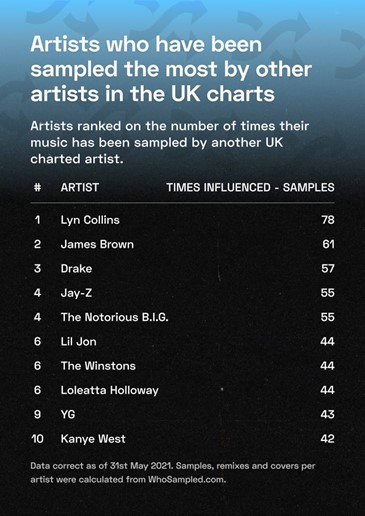 Lyn Collins' music has been sampled by 78 artists who have appeared in recent UK charts. That's more than any other artist in our analysis. Her 1972 song 'Think (About It)' and its signature drumbeat has been widely sampled for decades. James Brown, Drake, and Jay-Z also feature in our ranking.
MODERN ARTISTS ARE MOST LIKELY TO COVER TRACKS FROM THE BEATLES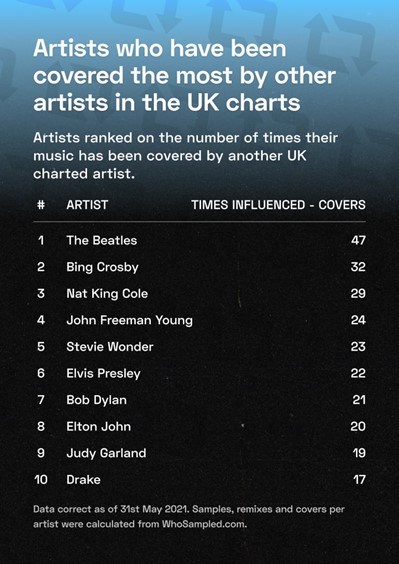 Our analysis reveals that the Beatles have been covered more by recently charted artists than any other solo artist or band. In total, we counted 47 artists who have made covers of the Beatles' music, which beats out American singers Bing Crosby and Nat King Cole.
DAVID GUETTA HAS INSPIRED THE MOST REMIXES BY MODERN ARTISTS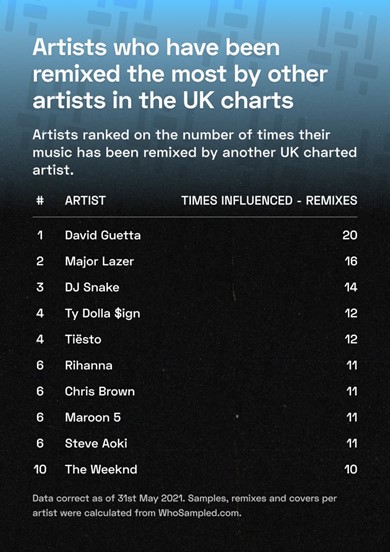 The music of French DJ David Guetta has been remixed more times by recently charted artists than any other solo artist or band in our analysis. We counted 20 modern artists who have remixed Guetta's music. Also featured in our remix ranking are Major Lazer, DJ Snake, and Ty Dolla $ign.
METHODOLOGY
Our research began by collating a seed list of notable artists from Britain. Our sources were LastFM, the Ranker Top 100, and WhoSampled. We then scraped WhoSampled.com to see how many times each artist has been sampled, covered, or remixed.
For our analysis of influence on modern chart music, we collated a second seed list of all artists who have appeared in the Spotify charts for at least ten weeks prior to 17th May 2021. We then used WhoSampled.com to find out which artists have influenced the most amount of modern artists into making samples, remixes, and covers of their music.
Our index of influence on modern music is determined by a scoring system. Each artist is scored on where they individually rank on the number of modern (charted) artists who have sampled, covered, or remixed their work. The higher they rank for each individual measure, the higher their overall rank of influence is in the index.