In the glory days of video poker, many players sought to make a living playing the game. Games were loose: comps, bonus point multipliers, special promotions, and come-back cash were easy to find and earn.
As regular video poker players know, those perks have been tightened or eliminated.
In today's casino environment, is professional video poker play realistic? Let us find out.
1. Why choose video poker for professional play?
Many of the same features of video poker that lured video poker fans to consider playing professionally years ago are still there today. The return is still high compared to other casino games. One can find video poker games with returns over 100%. They may be more difficult to locate, but they are out there.
Unlike blackjack and other casino games where players can obtain an advantage, video poker players tend to be left alone – there is generally little casino heat while playing.
Unlike blackjack, there is no need for camouflage to be a successful professional player (although it might be wise to ditch the strategy card while playing).
It is extremely rare that video poker players are banned from casinos.
Others are not involved in video poker play – just the player and the machine.
2. Tips for success in professional play
Play the highest return games and pay tables.
Buy or produce from an app the playing strategy charts for the game and pay table combinations being played.
Practice the strategy until it is played perfectly.
Have an adequate bankroll. Playing professionally means playing more often with longer sessions. Make sure the bankroll is large enough to handle any severe drawdowns that are almost certain to occur.
Unless the player has a huge bankroll, it is best to keep the denomination at the 25-cent level. The variance at the dollar denomination can wreak havoc on a bankroll.
Play only when alert, focused, and relaxed. Playing when not at your best will cost real money.
3. Consider all costs
Professional play is significantly different from recreational. Recreational play is discretionary. It is less stressful, less rigorous than play that requires wins to survive.
Requires additional playing time to be successful. This means several sessions a day and several days a week throughout the year.
If the player does not live within easy access to a large gambling destination such as Las Vegas, there will be travel expenses which must be covered by winnings. Recreational players can use funds from the "day" job to pay for travel expenses.
The same is true for meals and hotels. These expenses must be covered by winnings from video poker play.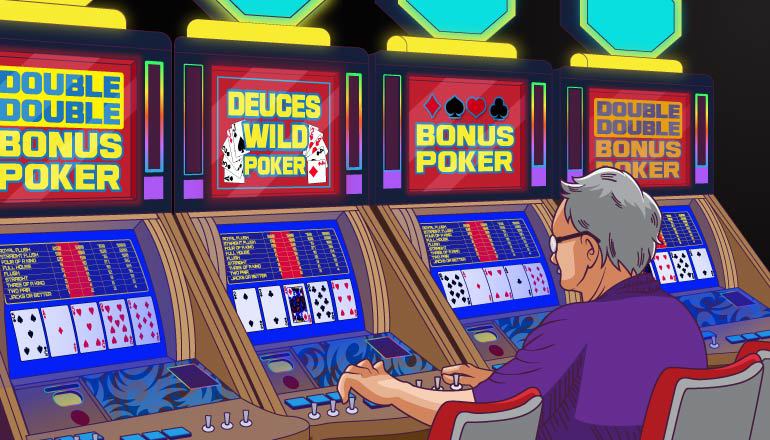 4. Cautions for professional video poker players
Professional video poker play is quite different from recreational play. Things that are trivial to recreational players are potential killers when playing professionally.
Additional pressure on the player because winnings are required to survive. The professional cannot simply go home for several days or weeks before heading back to the casinos. This is the professional player's job – no play, no pay.
Casinos like occasional winners. They can induce additional gamblers into the casino. They despise consistent winners, however. As consistent winners, professional video poker players will have comps reduced or eliminated. The free nights and free food can dry up. This adds to the overhead of a professional player which must be covered by additional winnings.
If consistently winning players concentrate on just a few games and pay tables, casinos can – and do – change the games. They may eliminate the game(s) altogether, or they may reduce the returns by changing pay tables.
Professional players must make sure to not overstay their welcome at one casino or casino brand. Spreading play over several different casinos and brands can help minimize unwelcome game and comp changes.
5. What about player's club cards?
Player's club cards can offer additional rewards such as cash back, free food and lodging. They can also be the ticket to free promotions and tournaments. These all help add to the bottom line of a professional player.
The freebies provided by player's club membership are required, or at least extremely helpful in becoming a successful professional player.
6. How much can a professional video poker player earn?
As with any profession, the net amount is what matters. That is, winnings plus comps (such as cash back, free food, lodging, and similar items) minus losses minus expenses. Free play can also be included at the rate of return for the game played. For example, $100 free play on a 99.9% return game would be $99.90 – over time with perfect play.
Currently, player-positive games are an endangered species. Some of the best player-positive returns on the more common games available are:
Double Bonus Poker Full-pay (10/7) – 100.1725%.
Double-Double Bonus Full-pay (10/6) – 100.067%.
Deuces Wild Full-pay (25/15/9/5) – 100.762%.
Note: many casinos offer no player's club bonus points for games with these return rates.
Listed below are some of the better game returns, followed by some of the better typical cash back or free play.
Game returns:
Jacks or Better Full-pay (9/6) – 99.544%.
Bonus Poker Deluxe (9/6): 99.641%.
Double Bonus (9/7): 99.106%.
Deuces Wild (25/16/10 – ("Not So Ugly") 99.763%.
Cash back or free play:
0.1% – One of the best available gives one point per dollar played with 1,000 points good for $1 in cash back or free play.
0.05% – More typical good video poker rate gives one point per two dollars played with 1,000 points good for $1 in cash back or free play.
Earnings per hour:
Full-pay Deuces Wild games earn 0.762% of the amount played. At $1.25 per hand and 1,000 hands per hour, the total earned is 0.00762 times $1.25 times 1,000 = $9.525 per hour**
Full-pay Double Bonus games earn 0.1725% of the amount played. At $1.25 per hand and 1,000 hands per hour, the total earned is $2.15625 per hour**
** These full-pay games usually do not qualify for player's club points.
Full-pay Jacks or Better games earn (99.544 minus 100%) or a loss of 0.456% of the amount played. At $1.25 per hand and 1,000 hands per hour, the total loss is $5.70 per hour.
With a 0.1% cashback, play is still a loss of $4.45 per hour.
7. Progressive video poker
Profits can also be taken from the casino by playing certain progressive video poker games. One or more winning hands on a progressive game increase as the game is played. These can include the royal flush, certain four-of-a-kind hands as well as other hands.
A full discussion of progressive games is beyond the scope of this article. However, for more information about progressive video poker, please go here:
8. Summary
Video poker returns and comps have dramatically diminished over the years.
Profits can still be achieved playing video poker.
Professional play has additional costs.
Professional play adds the pressure of needing wins to survive.
Casino heat for long-term video poker winners is not as severe as heat for advantage players of other games.

Pay table changes to reduce return.
Some games are eliminated entirely.
Reduced or eliminated comps.
Video poker players are rarely banned.

Even under the best circumstances, earning a living as a full-time professional video poker player is difficult.
Look at the numbers in Section 6. Even with the very rare full-pay Deuces Wild game, the earnings are less than working at a fast-food joint. In addition, the rate is not guaranteed. There will be losses and there will be wins. Sometimes the losing streaks will be very long. Add the probable additional costs of travel, food and lodging and the decision whether to play full time as a professional seems obvious.
Playing on a less rigorous schedule for supplemental income, however, is certainly an option. Some cautions, however:
Realize there will be ups and downs.
Have an adequate, dedicated video poker bankroll.
Do not allow the pressure to win to spoil the fun of the game.
Conclusion:
Video poker is an enjoyable and potentially profitable game – but it is nearly impossible to live solely on video poker play.