DOUBLE DOUBLE BONUS POKER STRATEGY
Double Double Bonus Poker is still another variation of Jacks or Better. Like Bonus Poker and Double Bonus Poker, this game pays a premium for four of a kind hands. However, in order to generate even higher payouts for certain hands, the concept of a "kicker" is introduced in this game.
A kicker is simply a card from a certain set of cards. For Double Double Bonus, four aces pays 160 for 1. However, four aces with a kicker of a 2, 3 or 4 pays a whopping 400 for 1. This is two and one half times what is paid for four aces without a kicker. Getting four aces with a kicker pays half as much as a royal and it occurs two and a half times as often. Four 2's, 3's, or 4's pay 80 for 1. Four 2's, 3's, or 4's with a kicker of an ace, 2, 3, or 4 pays double that or 160 for 1.
Clearly this game is geared toward people who love hitting big wins. Apparently many people do as this game is very popular.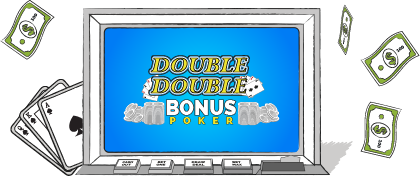 9/6 (FULL PAY) DOUBLE DOUBLE BONUS POKER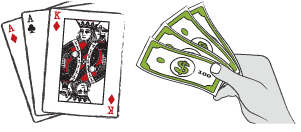 Unfortunately, the full pay (9/6) version of this game returns only 98.98 percent to the player making it one of the lower paying full pay games. The variance is high at 42.0 caused by so much money being tied up in a few very large hands. Also, the strategy is more complex than any so far due to the very high value of aces and low cards and the presence of kickers.
Full-Pay Double Double Bonus games tend to be fairly widely available. The casino is getting more than one percent without degrading the pay schedule so there is not a lot of pressure to do so. Short pay schedules are present, however, so make sure to check the entire pay table before sitting down to play.


Getting more high paying hands is always fun. However the strategy for Double Double Bonus is fairly complex and the variance of this game is high. Also, the payback is lower than a lot of other full pay games. If you choose to play this game make sure you are aware of these downside issues. Bring enough money with you to make sure you are able to play as long as you want to play on live casinos and online casinos, such as 888casino. Long periods without hitting a high paying hand will very quickly consume your bankroll. This game is exciting. Make sure you will last long enough to cash in on some of that excitement.

Written by Jerry "Stickman" Stich