When you hear screams of glee coming off of a casino floor, it usually means one thing: There is another gambler who's winning slots. Often the excited sounds are punctuated by ringing bells and flashing lights. A casino attendant rushes over and facilitates payment.
When the charmed gamblers win really big, they get to pose for pictures while holding giant checks. Considering the random nature of it all, few casino windfalls are as satisfying, or as unexpected, as a gargantuan slot machine jackpot. Here are tales from the frontlines of fortune, documenting some of our favorite slot machine winners.
1. Online Hero
Sometimes it pays to be distracted. In 2015, Jon Heywood, a soldier with the British military, was watching a TV documentary about World War II tanks when an online gambling site caught his eye. What the heck, he must have figured, as he augmented the viewing experience by throwing a bit of money up on the site.
A slot machine spin was just 25-pence, the equivalent of less than $1. He took his small-stakes chance and was in for a gigantic surprise: the play paid out £13.2 million, the equivalent of around $17.3 million.
At first he thought it was just £10,000, which already seemed pretty sweet. But even upon realizing how much his jackpot really was, it might have taken a few minutes for Heywood to realize that it was a record-setting win.
Guinness Book of World Records, in fact, confirmed Heywood's score to be the largest online slot machine victory at the time. A good soldier in every possible way, Heywood was asked by the BBC what he would do with all that money. He replied that he will arrange to get "the best possible medical treatment" for his dad, who was waiting on heart and lung transplants.
While he also vowed to upgrade his automobile, from a supermini Fiat Punto to a far more elegant Bentley Continental convertible GT, the real reward of the win came from what he could do for his father.
"Family comes first," he told the BBC. "I'd give all this money back for him to be healthy again."
2. Anonymous Luckbox
Some people like to brag about their big slot machine wins, pose for photos, celebrate with friends, order bottles of champagne and do TV interviews. Then there is the 25-year-old man who won the largest slots payout at the time. He lays low and nobody, to this day, really knows who he is.
Back in 2003, the software engineer traveled from Los Angeles to Las Vegas so he could watch and gamble on the NCAA basketball finals, a series of hoops games known as March Madness. They bring out the gambler in all of us and are going on as this story is being posted.
Apparently taking a break from the sports book, he wandered over to a bank of slot machines and placed three $1 coins into a progressive Megabucks Jackpot machine. Because these are hooked up with other machines in different casinos, the payoffs can be extremely large.
Such was the case for the engineer. His prize totaled $38.7 million. And we don't have to worry about him having put it all on red, hoping to double up via a spin of the roulette wheel. The money gets paid out over the course of 25 years, landing him more than $1 million per annum.
One thing he did not spend his money on: a press agent. Publicity is the last thing that this lucky gambler would want.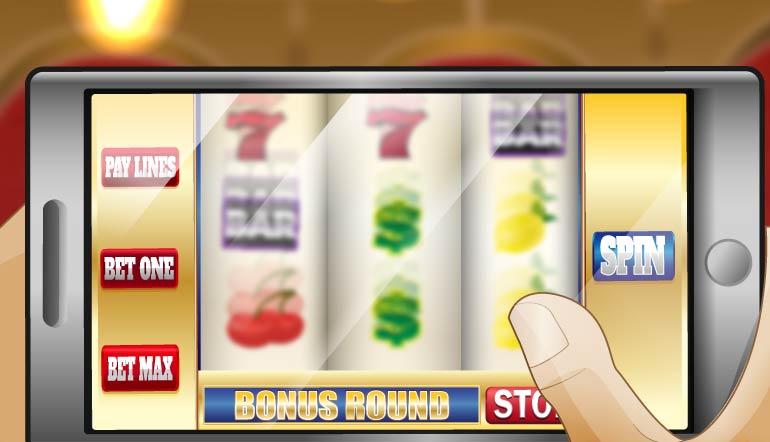 3. Twice Blessed
Most of us feel fortunate if we experience one major casino payout. Elmer Sherwin, a veteran of World War II, landed $4.6 million back in 1989 when he got lucky on a Megabucks machine during opening weekend at the Mirage in Las Vegas.
Shockingly, he had exhausted his gambling budget of $100 before asking his wife to front him $20 for another round of spins. The one that hit would be worth some $10.5-million in today's dollars.

No doubt, it was life-changing money for the man. But he knew better than to quit when he was ahead. In 2005, while plunging money into a different Megabucks machine at the Cannery Casino & Hotel in Las Vegas, he did unimaginable: hit the jackpot again, this time for a whopping $21.1 million.
Apparently set from his big win in '89, Sherwin donated a good portion of that payout to help those who survived the devastating Hurricane Katrina, which slammed New Orleans in 2005.
Unsatisfied with just two scores, he vowed to for a hat trick: "I'm gonna try for a third win on Megabucks but I may go for the Wheel of Fortune slot too." Alas he died two years later, at age 93, just short of making his casino dream come true.

4. Lost and Found
Robert Taylor came nowhere close to spinning his way to the world's largest slot machine win. But he did benefit the most from casino technology and provides proof that the gambling dens are not as greedy as some people like to think.
Taylor, who lives in Arizona, was visiting Vegas with his family and began playing The Mask slot machine at Treasure Island. After what he figured would be his final spin, the machine seemed to get stuck. The message on its screen: "Resolving progressive prize. Please wait."
He waited. But, after a few minutes, Taylor figured that the malfunction hid the fact that he had lost his money, which is what happens to most of us. He and his family went to dinner and he gave no thought to the incident.
It turns out that he should have followed up. The malfunctioning machine was trying to figure out his prize, which totaled $229,368. Even though he had split the scene, casino employees were adamant about making things right after fixing the busted one-armed bandit. They analyzed credit card receipts, surveillance footage and even ride hailing data to identify the winner and track him down.
On January 28, 2022, 20 days after the win, Taylor got handed his six-figure score. Along with the money, he received a giant check and posed with it in front of the lucky machine.
Speaking to the Washington Post, a Gaming Control Board sleuth said, "There's never been anything like this before, and that's why it's so exciting to have a great conclusion to this story.