On the fields, courts and courses, our greatest professional athletes rank among the most competitive people on earth. In boxing rings and MMA octagons, top practitioners endure dozens of bouts, absorb hundred of punches and dig deep to remain undefeated. Relentless as they are while executing feats of physicality, however, some of our favorite athletes can be equally driven to win while on casino gaming floors.
FLOYD MAYWEATHER
In the case of Mayweather – highly regarded as one of the biggest gamblers in his hometown of Las Vegas – casino bosses revel in his nickname, Money, because he's willing to lose it. The compulsion to gamble is so great that odds-provider RJ Bell predicted he'd bet $5 million on winning his most recent fight, the match against UFC star Conor McGregor; ESPN ​later reported that he attempted to bet $400,000 on himself. The M Resort in Vegas, though, refused to take his wager, acknowledging fears that it may have been illegal.

Undaunted, Mayweather sent in a friend to get down. He managed to bet $87,000 on the champ's behalf. A source reported that "[Mayweather] was pissed" that the limit was so low. His soreness was surely magnified after he won the fight and lost out on a second, significant, windfall.

Late last year Mayweather hosted a $300,000 blackjack tournament in the Bahamas and made clear that he is no stranger to that game. In fact, the fighter is reputed to bet as much as $100,000 per hand. He went so far as to tell the Daily Telegraph, "I want to go places by myself, I want to go to the casino by myself and play blackjack."
WAYNE ROONEY
Former Manchester United legend and current Everton star, Wayne Rooney, stands as an inspiration for all athletes who seek action away from the games that make them great. Earlier this year, as reported in the The Sun, he managed to drop a whopping 500,000-pounds while binge gambling at blackjack and roulette. A source reported that the hard-gambling athlete takes his losses just as badly as the rest of us: Rooney is said to have looked miserable as the thousands-per-hour fleecing transpired. "He was cursing under his breath and seemed to be in his own little world – fixated on the tables and the machines all around him," a source told the paper. "He looked really down in the mouth towards the end."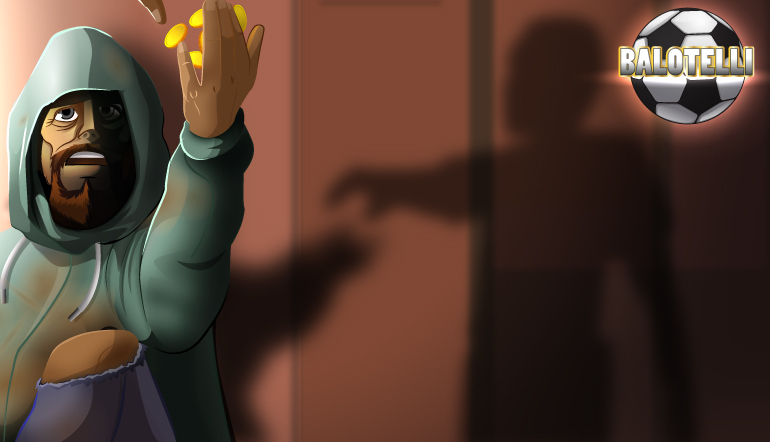 MARIO BALOTELLI
Not all deep pocketed athletes are single-mindedly in it for themselves. Former Manchester City Football Club forward and current Nice Player at Ligue 1, Mario Balotelli, appears to have a soft-side when it comes to sharing the wealth from casino wins. After pocketing 25,000-pounds from a gambling den in Manchester, he encountered a homeless man outside and made the guy's week by peeling off a cool 1,000-pounds and handing it to the fellow in need. "The tramp couldn't believe his luck," said a bystander. "Mario handed him a wad of notes."
Now that's our idea of a good – and good-hearted – gambler!
OTHER SPORTS LEGENDS
It's the kind of financial risk-taking that puts him into a hall of fame most athletes would just as soon pass on. Among the most prolific athletes who mix it up at casinos are basketball superstar Michael Jordan (he once admitted to dropping $165,000 on the night before a game against the Knicks), former Mets player Alex Rodriguez (he was famously photographed alongside Phil Hellmuth at the table of an underground – and illegal – poker den in New York City) and golf great John Daly who admitted to dropping between $50 million and $60 million over the course of a disastrous 12-year run. Charles Barkley, who left opponents flummoxed on basketball courts, has been less successful when confronting the gambling dens of Las Vegas. He's come clean about dropping $20 million at the casino tables and Wynn Las Vegas once sued Barkley to try recouping $400,000 that it had allegedly fronted him.

While Barkley insists that he has reined things in a bit, he also makes a statement that shows just how warped his chancy habits can be. "When I go to Vegas now, I try to win a couple hundred thousand dollars," he has insisted. "If I lose a couple hundred thousand dollars, I quit and still have a good trip. If you do it in moderation, it's all right."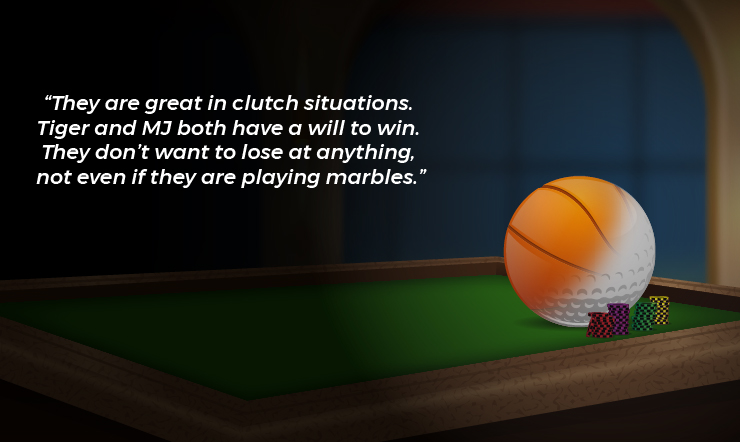 Wild as all this sounds, there is a method behind the madness. Emma Vickers, who studies the psychology of professional athletes, wrote on the website believeperform that sports stars have many qualities that earmark them to be people who love to gamble. Like most gamblers, she wrote, athletes who make it to the professional level have high degrees of energy, they unreasonably expect to win, they're overly optimistic and tend to have high IQs. So the very things that make them successful at their chosen games also lead them to bet big in the casinos. Citing one of the few studies done on elite athletes and high stakes gambling, Vickers wrote that athletes "need to remain actively competitive even when the activities are friendly or simply for fun."

Phil Hellmuth, who's gambled with Tiger Woods and Michael Jordan, has told me that both athletes perfectly fall into this category: "They are great in clutch situations. Tiger and MJ both have a will to win. They don't want to lose at anything, not even if they are playing marbles." Hellmuth has played blackjack with both of them – and the experiences sounds pretty good, complete with snifters of Louis XIII cognac and tumblers of 70-year-old scotch. "[Jordan] plays similar stakes to Tiger Woods. They take $2,500 shots and play to win."