If you are a casino aficionado then most of what I am about to share with you may be common knowledge. Still many players know this "knowledge" but for some reason when the going gets going they violate many or most of the correct rules of play.
Don't let that be you. Play wise; play correctly and you will have a better chance of beating the casinos at their own games. The better you play, the better your prospects. The worse you play…well, that is self-explanatory.
COMMANDMENT #1:

DON'T GO ON TILT!
Going on tilt has a simple definition: You emotionally lose control and start betting more and more money over more and more time. You keep thinking that you must win eventually but very few players have the bankroll to sustain a truly prolonged bad streak.
The thought that shoveling out more money will help you make the inevitable comeback is totally wrong thinking. The casino has, with few exceptions, an edge on every bet a player makes. The more money you bet over time the better chance you will be behind the curve, not in front of it.
Tilting can actually be caused by both good and bad previous results. We rarely hear of tilting in a positive situation but it certainly does happen. I interviewed a woman named Sandra about her slot playing strategies and she told me that what caused her to lose more often than not was her propensity to try to really "increase my wins dramatically when things were going good for me."
If she had a good session or day or trip she would up the denomination of the machine she played to try to "cash in big time." More often than not, the casino cashed in, not Sandra.
Tilting is dangerous. One's emotions must always be kept in check.
COMMANDMENT #2:

KEEP YOUR DRINKING TO A MANAGEABLE LEVEL
There is no doubt about it; drinking relaxes us and will sometimes (and oftentimes for some players) cause us to violate our conservative playing strategies. Most adults know at what level the drinking can interfere with their thought processes. We don't want that to happen. As it is presented in movies, being roaring drunk in a casino might sound like fun, but it rarely turns out that way for one's bankroll.
There is a reason why drinking is considered dangerous on the roads for drivers; those same reasons also relate to driving into the maw of Lady Luck in the casinos. 
COMMANDMENT #3:

THE ATM MACHINES ARE YOUR ENEMY
If you have exhausted the amount of money you've given yourself for playing do not – DO NOT – go to the ATM. The original name of those machines was "At the Moment" and the worse thing to do when you are feeling blue from losses is to hit one of those "at the moment" machines to get more cash. 
Aside from paying interest on the money you are taking out, the heat of battle is the worse time to think you are getting more ammunition for your side of the fight. If you have lost, take that loss with dignity and stop playing.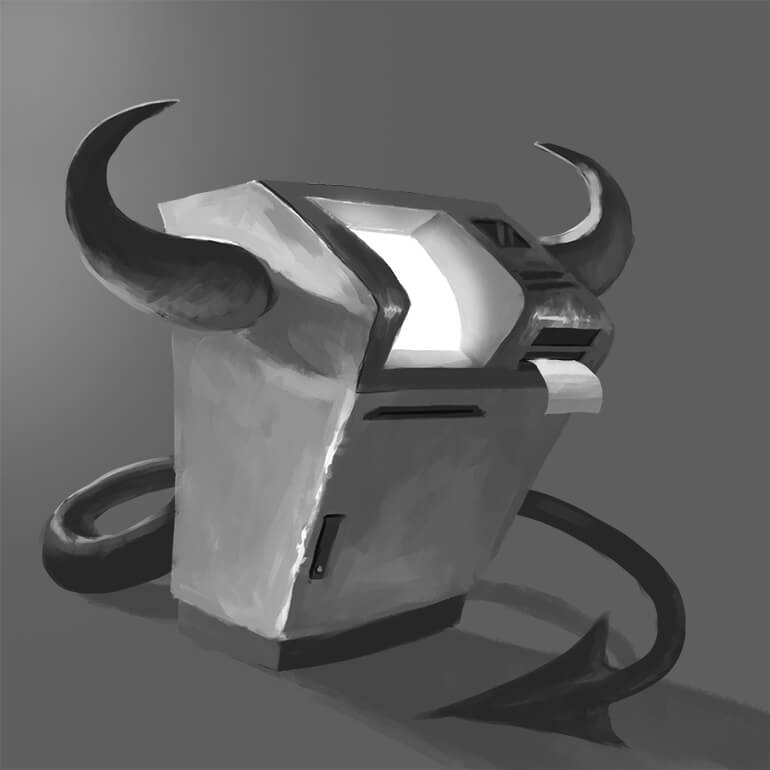 This same advice applies even more so to credit card advances. The credit card companies have their own house edges against the players too!
COMMANDMENT #4:

DO NOT USE EVERYDAY MONEY FOR GAMBLING
Everyone has money he or she uses for daily living expenses such as food, shelter, medical bills, school tuitions, care and feeding of one's pets, cable movies. This is necessary money and should only be spent on such necessities, not on casino gambling. Your heart operation can't wait until you have won your next turn with the dice. ("Baby needs a new coronary bypass!")
Put money aside in a separate account that is used strictly for gambling. This should be a small fraction of the money you make at your job, investments or business. I call this a 401G – the "G" stands for gambling. That is the wise way to proceed; losses do not hurt when they come from money that is strictly for gambling. Make regular deposits into your gambling account and you'll never have to worry about facing the tough challenges from the casinos.
COMMANDMENT #5:

RESPECT THE DEALERS AND TIP THEM WHEN THEY GIVE GOOD SERVICE
First, dealers have nothing to do with your winning or losing. They are merely the messengers of Dame Fortune and have no say in terms of "yeah" or "nay" when it comes to good luck. They just relate the information to you; nothing more, nothing less. The cards say this; the roulette ball landed here; the dice showed this number. They then pay you or take your money or announce a push (tie). That's the be-all and end-all of their impact on a game.
Just like waiters at a fine restaurant who are not responsible for what the chef puts on your plate; dealers do not cook the meal.
Getting angry at dealers because you are having a bad streak is silly and sometimes it is embarrassing – for you! Keep your emotions in check and realize that the dealers have to handle an assortment of ploppies at their tables, so don't let one of these ploppies be you.
Much like other service industry workers dealers in the United States and some other venues do not make huge amounts of money. They rely on tips. If a dealer is friendly, competent and professional in his or her approach to the game and the players at their tables, then tipping them should be a part of one's plan for the game.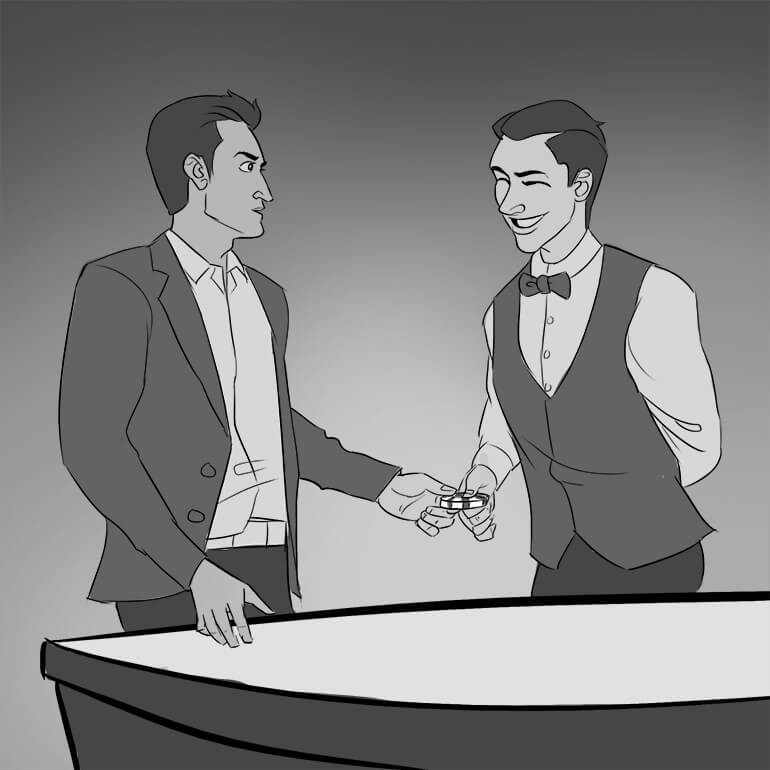 I would not recommend over-tipping as some players do when they are having good fortune. But keep your tips reasonable whether you are having good luck or bad luck. This approach will be much appreciated by the dealers.
COMMANDMENT #6:

DO NOT GIVE PLAYING ADVICE TO OTHER PLAYERS EVEN IF ASKED TO
Pandora's Box let out all the evils in the world and I am quite certain that one of those evils was that of giving advice at a gambling game – even if such advice is asked for. You can't win in such situations. If the player who receives the advice loses then it is your fault; if he wins then that is the way it was supposed to be; you had nothing to do with it.
It doesn't matter if the game is blackjack, baccarat, roulette, craps or any of the carnival games, be pleasant but keep your ideas and opinions to yourself.
What should you do if someone asks you how to handle your next bet or playing decision? Point to the dealer and say, "The dealer is the expert. I'd ask the dealer for advice, not me." 
COMMANDMENT #7:

DO NOT MOAN ABOUT LOSSES OR EXPLODE IN JOY WHEN YOU ARE TRIUMPHANT
This is something many gamblers don't seem to understand. When things are going right or wrong for them, they are under the mistaken assumption that other people care about them as opposed to caring about themselves and their own fortune or misfortune.
Do not complain to other players about your fate on a given day. They don't want to hear it. Do not brag about how much you have won or moan about how much you have lost. Do not blame the dealers or the other players for your losses.
At blackjack many players think the decisions you make on a hand will severely impact them when, in fact, the decisions of the other players are irrelevant. If someone complains about how you play and how you are changing the order of the cards, ask them to tell you what card is about to come up next and after that one and after that one and so on. If they can do that mental feat then everyone at the table will benefit by that psychic's insights into the future. Of course, it won't happen.
COMMANDMENT #8:

PLAY PROPERLY BASED ON THE RULES OF THE GAME YOU ARE PLAYING
All games have their methods of play and the player must follow them. At roulette the dealer will tell you when to place your chips on the layout and when to collect your wins. In craps players must make their bets when the dice are in the middle of the table and not when a player is about to shoot them. In face-up blackjack games no one other than the dealer is to touch the cards.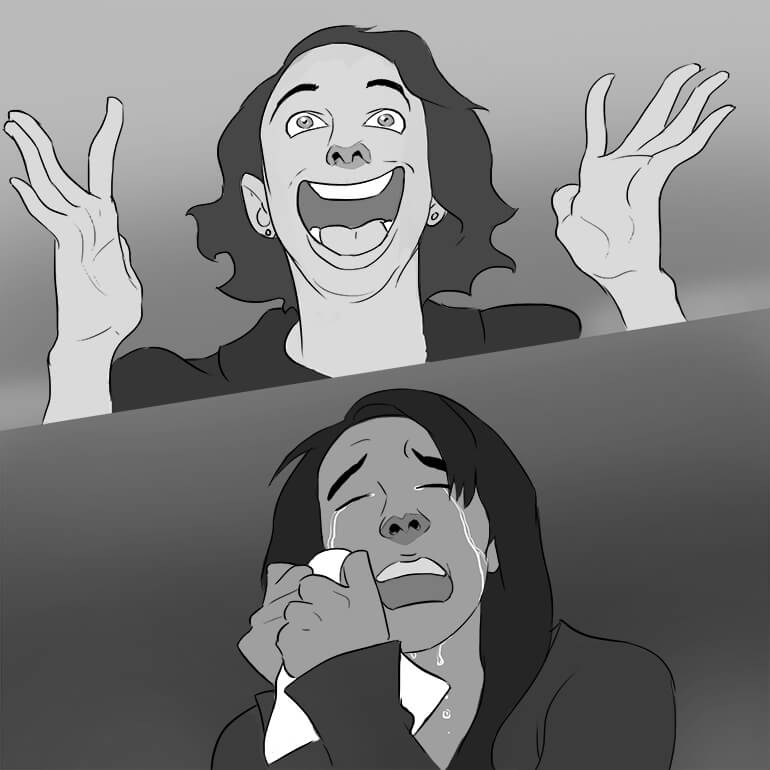 If you are a new player perhaps reading a book on the games you wish to play would be very helpful for you. New players are not in and of themselves annoying except if they upset the orderly flow of a game.
COMMANDMENT #9:

DON'T FORGET THE PROPER STRATEGIES FOR THE GAMES THAT YOU ARE PLAYING
There are better and worse ways to play just about every game in the casino. Not all strategies can give the players an edge over the house; in fact, almost none do. However, a player can reduce the hit on his or her bankroll by betting low house-edge bets. There are plenty of ways to save your money at the games you wish to play. Even if you are losing playing conservative techniques if you suddenly switch to terrible bets to get their big payouts is a major mistake. Usually the bigger the payout for a wager means the house edge is greater than average
COMMANDMENT #10:

DO NOT ALLOW THE CASINO TO DICTATE WHEN AND HOW YOU WILL PLAY
At home before you go on a gambling trip give some serious thought about what game(s) you should play; how much you should bet at the game(s), the proper strategies and how long you will play at any given session. It is important and worth repeating: Decide the proper strategies you will use based on the lowest possible house edges at the preferred game(s). 
Do not wait until you hit the casino to make playing and bankroll decisions. It may be too late for you then. The casino has a fierce 24/7 rhythm and no player can compete with that; but that rhythm can throw even experienced players for a loop if they aren't careful.
It is not so easy to formulate a strategy at home with worries about work or family or whatever movie or sporting event is about to be shown on television. The tendency is to allow all the other aspects of life to stop you from planning your casino playing strategy. If you have to lock yourself away to have the discipline to work out how it should all go down, then do so.  
Trust your playing instincts when you are sober and at home, not when you are in the whirl of the casino. 
Bet in haste, repent at leisure.  
Okay there you have it, 10 basic commandments that should help you avoid disaster and allow you to enjoy a pleasant pastime. Casino gambling does have its pitfalls but these can be avoided or at least reduced. There is no reason for the games of the casino to hurt you in the game of life. 
All the best in and out of the casinos!