Long before he was President of the United States or hosted a reality game show, Donald J. Trump was seen as the savior of Atlantic City because of his plans to reinvigorate the hotel and casino scene. Now, almost 30 years later, some of his behavior and decision-making during this period has been at the center of criticism for his presidential bid. Despite Donald Trump taking a front seat in the Republican nominee candidacy, betting sites do not predict that he will be the party's nominee.


Trump was born in New York City and raised in the real estate business. He learned first-hand from his father Fred at the family's firm, Elizabeth Trump & Son. After graduating from the University of Pennsylvania's Wharton School in with a degree in economics in 1968, he went to work for the firm full-time, and was eventually given control in 1971. He renamed it The Trump Organization.

Whereas his father focused on middle-income rentals in the outer boroughs of New York City, Trump moved the firm's headquarters to Manhattan so he could take on larger projects. His name first drew attention in 1973 when he and his father were accused of racially profiling prospective tenants in some of their Brooklyn and Queens housing. The Trumps countersued, and the matter was settled in 1975.

Trump took on several high-profile NYC projects, including turning the once-beautiful Commodore Hotel into the Grand Hyatt, establishing Trump Tower, and reconstructing the skating rink at Central Park in the early 1980s. As his empire and public profile grew, he began to get involved in other endeavors, such as licensing his name for things like board games and purchasing a team in the United States Football League, a competitor of the NFL.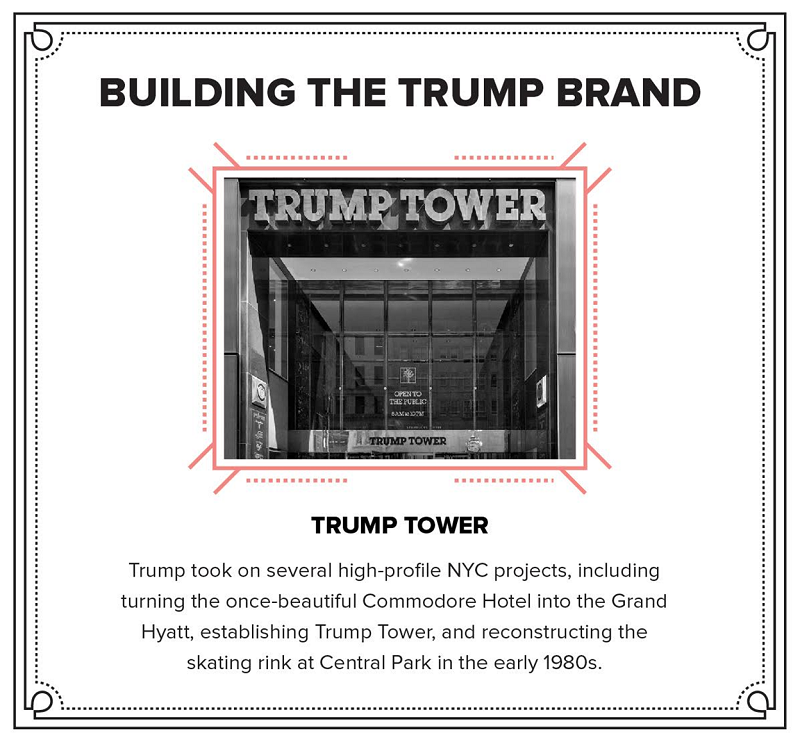 Trump Enters the Casino World
The New Jersey Casino Control Commission granted Trump a casino license in March 1982, as the developer started acquiring land on and around Atlantic City's famed Boardwalk. It was notable in that the commission created the license on the spot, at the end of a two-hour hearing, whereas it could normally take months to approve or deny a license.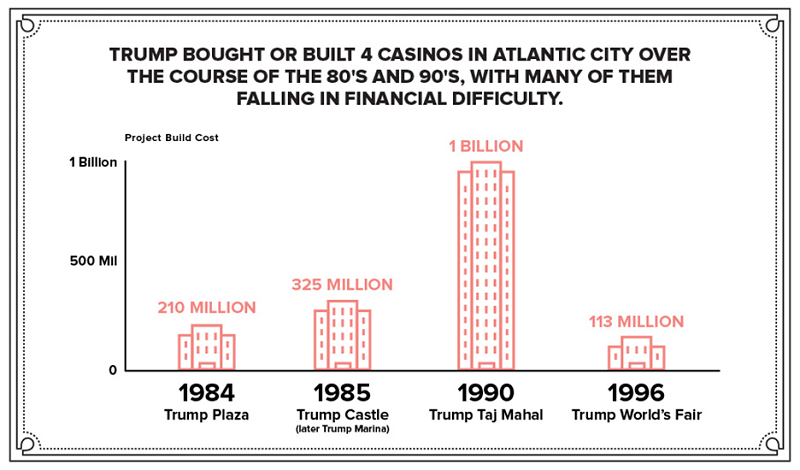 His first venture was as a partner with Harrah's, which paid for the construction. Called Harrah's at Trump Plaza, it was the 10th casino in Atlantic City. It was officially opened in May 1984. Trump was often seen at his casino, usually with celebrities that were in town for whatever major entertainment or sporting event he had lured to the property, but the $220 million project was just a sign of things to come.
Trump decided he didn't need any hospitality-industry partners when he bought a nearly finished hotel at an Atlantic City marina just a year later. Purchased from the Hilton Hotel chain, it was called Trump's Castle Hotel & Casino. This raised the ire of his first partners, Harrah's, which claimed that two hotels with such similar names would confuse customers; but the complaint did not hold up in court. In his typical flashy fashion, Trump would arrive at the hotel aboard his nearly 300-foot yacht when visiting Atlantic City.
Following this disagreement, Trump bought out Harrah's, which meant that he was the owner of two casinos; his third would be considered a masterpiece of design and a loaded gun on the financial side.
The Taj Mahal
It wasn't just Trump who was gung-ho on developing Atlantic City properties. Merv Griffin, known to most as a television talk show host and producer, was also a successful developer, and his Griffin Gaming & Entertainment Company was doing well in the late 1980s. When the hotel/casino corporation Resorts International, credited as one of the founders of the gaming scene in Las Vegas, started faltering around this time due to increased competition, both Trump and Griffin made strong plays to take over the company.
In the end, a deal was brokered between the three parties which gave Griffin the Resorts-branded casinos in both Atlantic City and the Bahamas, while Trump took ownership over a stalled project, the Taj Mahal, in 1988.
The Trump Taj Mahal Casino Resort was opened on April 2, 1990, with over 75,000 people attending the lavish ceremonies, which included a rare Michael Jackson performance. The $1 billion casino was seen as the crown jewel of Atlantic City, bringing in visitors from around the world in its early months; but a little more than a year after it opened, the hotel was forced to go into Chapter 11 bankruptcy.

"He opened it in what in retrospect was a cataclysmically bad time," Steven P. Perskie told The Boston Globe. Perskie was a former State Casino Control Commission chairman and had many dealings with Trump. "Within months, if not weeks, he got hit with a national recession, which made the Taj Mahal economically inoperative."
Along with the recession, Atlantic City's saturation of casinos and the fact that nearby states were beginning to allow casinos to open were the biggest factors in the need to reorganize. Under Chapter 11 bankruptcy, a company is allowed to stay operational while financial arrangements are worked out with creditors. As part of the deal, Trump agreed to limit his personal spending, and sold his yacht and his growing airline company.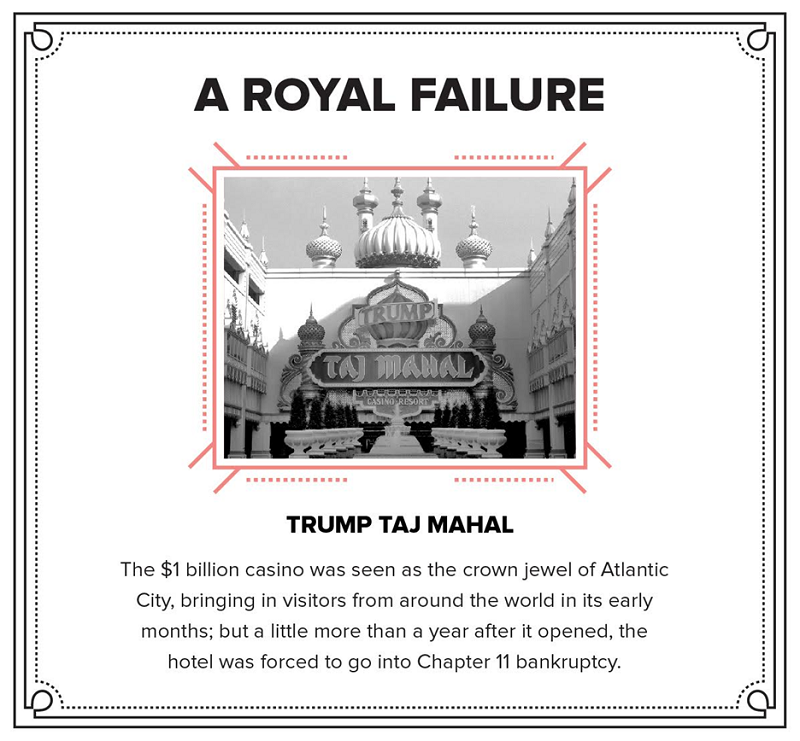 Further Financial Trouble Ahead
The downturn in Atlantic City's economy continued (never truly recovering, even to this day) and less than a year after the Taj Mahal filing, Trump was forced to enter into Chapter 11 bankruptcy for his first two properties, Trump Plaza and Trump Casino. The restructuring worked for several years, and in 1995, Trump established Trump Hotels and Casino Resorts (THCR) as a publicly-traded company.
The new company took ownership of Trump Plaza and a year later purchased the Taj Mahal from Trump. Sensing things were improving in the economy, THCR developed a casino in Indiana and built a new casino, Trump's World Fair, in Atlantic City in 1996. That casino closed three years later, with plans to build a large resort in its footprint.
The Atlantic City comeback never happened, and in 2004, THCR was forced to enter into bankruptcy once again to restructure its debt. As part of the deal this time, Trump reduced his stock ownership from 56 percent to 27 percent. The company name was also changed to Trump Entertainment Resorts (TER).
A year later, TER sold its Indiana casino and scrapped any further development plans it had. In 2007, the company looked for a buyout, but couldn't come to terms with outside investors. Despite cutbacks in its hotels and casinos, the company declared bankruptcy for the fourth time in 2009, just days after Trump resigned as the chairman of the board, and his stock holding in the company was reduced to 10 percent. He has never again been an active part of a casino company. On his campaign stops, Trump explains to supporters that he personally has never declared bankruptcy, and out of the dozens of businesses he owns, his casino companies were the only ones to do so.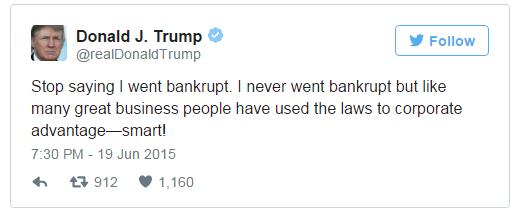 At the time of Trump's exit, shares in TER were worth 23 cents each, down from a high of $14 a decade earlier.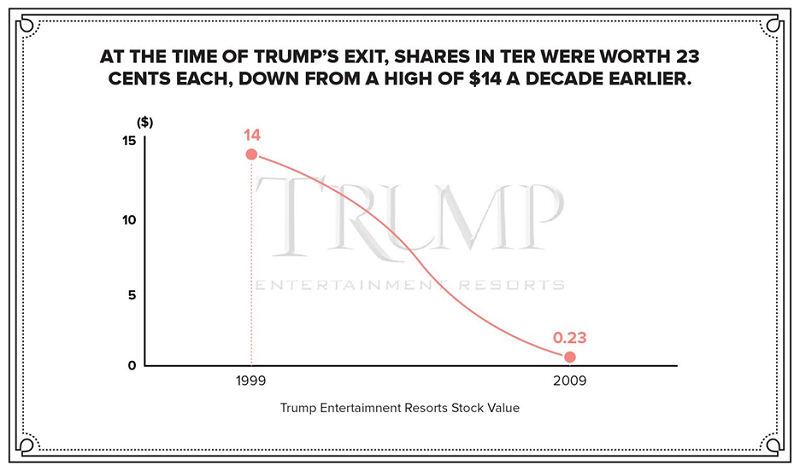 Things never got much better for TER. The company either sold off its assets, such as the Trump Castle (renamed Trump Marina) in 2011, or shuttered properties all together. TER again filed for bankruptcy in 2014, the same year that Donald Trump sued to have his name taken off of the hotels because of the sad state they had devolved into. Trump Plaza closed on September 16 of that year, and Carl Icahn, an investor who held much of the company's debt, took over the Taj Mahal. He struck a deal with Trump in early 2015 to allow the company to continue to use the Trump brand.
Today, the Taj Mahal is the only hotel that remains open from Trump's glory days, and it too almost closed in 2014, before Icahn began its reorganization. It is now one of the only casinos left in Atlantic City. As a side note, Trump has dropped Icahn's name as a potential Treasury Secretary if he should become president.
Trump didn't let his casino ventures affect other parts of his business empire, and while the gaming subsidiary saw its ups and downs, Trump continued to develop real estate in New York City. He also raised his public profile by hosting a television show on NBC called The Apprentice, which was a competition among young executives (and later celebrities) to win a job with Trump.


He has continued to market his name to outside real estate developers and in a variety of different industries, including restaurants, golf courses, and clothing lines.
The Political World
After Barack Obama was elected President of the United States, a sect of far-right-leaning extremists launched "The Birther Movement," charging that Obama was not actually an American citizen. They demanded to see his birth certificate, but proof of citizenship didn't stop this group from continuing to rail against the president. The movement was led by Donald Trump.

Realizing there were a significant number of people who felt disenfranchised by the political process and the state of things in Washington DC, Trump informally began campaigning for the presidency in late 2014. It was assumed by most pundits that he would run on a third-party ticket and stood no chance of winning, but in June 2015, he made known his intention to run as a Republican and officially declared himself a candidate. Trump led almost every poll of candidates seeking the nomination through the end of 2015, a month before primaries would begin.

Positioning himself as an outsider, Trump often referred to his business acumen as a reason he should be elected president. His travails as a casino magnate are often brought up when he plays the businessman card.

Trump responded to his critics in the first debate saying, "Out of hundreds of deals that I've done — hundreds! — on four occasions, I've taken advantage of the laws of this country like other people... But virtually every person that you read about on the front page of the business sections, they've used the law. The difference is when somebody else uses those laws, nobody writes about it. When I use it, they say, 'Oh, Trump. Trump. Trump.' The fact is I built a net worth of more than $10 billion. I have a great, great company. I employ thousands of people. And I'm very proud of the job I did...hundreds and hundreds of deals, four times I've taken advantage of the laws. And frankly so has everybody else in my position."

His opponents have said that while Trump may be an outsider to politics as a candidate, he has been intimately involved with politicians and contributing to campaigns for decades. Jeb Bush, a former governor of Florida who is running against Trump for the Republican nomination, has gone so far as to say that Trump had once tried to use his wealth to influence Florida lawmakers into easing casino restrictions so he could build one there. For its part, the Trump campaign said that while the prospect of a casino in Florida was explored prior to Bush becoming governor, nothing inappropriate happened and the concept was dropped before it took any real shape. At the same first debate of Republican candidates, Trump commented on his exit from his casino empire:

"I had the good sense to leave Atlantic City. I left Atlantic City before it totally cratered. And I made a lot of money in Atlantic City and I'm very proud of it," said Trump.
Trump beat his fellow Republican contenders and won his party's official nomination. And after a rough general election campaign, Trump won the presidency, beating his opponent Hillary Clinton to the White House. Though Trump won the largest number of votes in the Electoral College, Clinton famously won the popular vote.

Since becoming President, Trump's administration has lurched from one controversy to another, and talk a possible impeachment for one thing or another is growing louder by the week.

Given his storied history and checkered presidency so far, what are your thoughts on Donald J. Trump? Do you think his casino exploits contribute to are likely to have an effect on his presidency? Share your thoughts in the comments below.


[This article was orginally published in February 2016 and updated in June 2017]