In previous articles, I've focused on my career as a semi-professional blackjack card counter, author, teacher, and writer. During this time (covering some 30 years), I never considered learning or playing any other casino game. After all, life was good; I was doing well as a card counter, and I enjoyed teaching players in my blackjack school and seminars how to play blackjack, and writing about it in dozens of publications. But this changed in the 1990s.
A few days later I received a package in the mail, opened it, and took out the 56-page book "Expert Video Poker for Las Vegas." I started reading it and to say I was impressed with the ground-breaking work Lenny had done on video poker is an understatement. This was the first time I became aware (from Lenny's mathematical analysis) that you can:
Determine the theoretical return of any video poker game by merely looking at the pay schedule posted on the machine.
Use an optimum strategy for playing every hand dealt to you.
It turned out the man who sent me this book was Lenny Frome, whom many consider being the "Godfather of Video Poker," for his advocacy in promoting video poker to land-based and online casino players for many years. I promoted Lenny's book in my articles, and from our phone conversations, I learned that Lenny was an aerospace engineer with a strong mathematical background. (We had something in common since I worked as a chemist and had a background in math.) After Lenny retired, he and his wife moved to Las Vegas but we still kept in touch.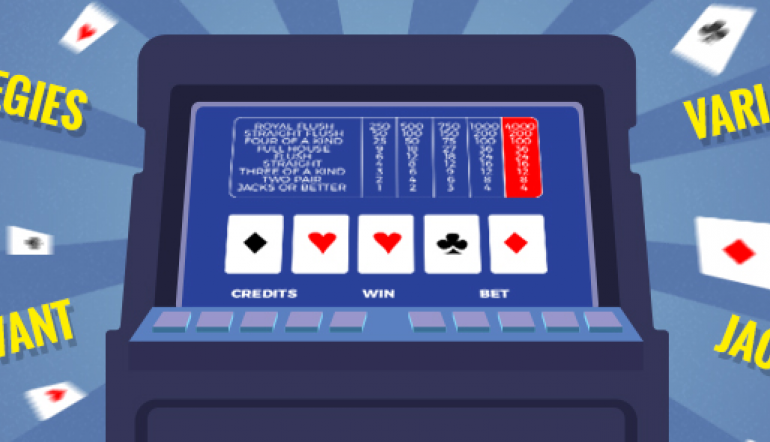 Lenny enjoyed living in Vegas and kept encouraging me "to come out and buy a house here." On one of my trips to Vegas, I met Lenny and he drove me around town specifically to show me different housing developments (including his) where I could by "my dream house in Las Vegas." Lenny also did something else: he took me to several locals' casinos and showed me where the full-pay video poker games were located (specifically, the Full Pay Deuces Wild games that had a theoretical return of 100.76% with expert play).
Lenny went on to write several more books on video poker, and began writing video poker columns in many of the same magazines where my blackjack columns appeared. Lenny passed away in 1998; however, his legacy is still being carried on by his son Eliot Frome. (Eliot has a website, Gambatria, which contains many of the books written by his father that you can purchase.)
Lenny certainly fueled my interest in video poker but what pushed me over the edge was Jean Scott. I had known Jean as the "Frugal Gambler" because of her legendary comped casino trips to Vegas. (She revealed her advantage play techniques on the national TV show "60 Minutes," which dubbed her the "Queen of Casino Comps.") I knew Jean had started her gambling career as a blackjack player but switched to video poker. When I asked her "why the switch?" she uttered four words to me that I have never forgotten: comps and free play.
Jean became my mentor on how to take advantage of free play, bounce back, and casino comps while playing those great full-pay video poker games that Lenny showed me. But just as I had done earlier when my wife (Linda) and I started our blackjack-playing careers, we took it slow and easy with video poker. We set aside $4,000 of our blackjack bankroll to play video poker. Before we made a single bet in a casino, we practiced Video Poker strategy for Full Pay Deuces Wild at home on our computer using video poker training software. After we consistently achieved at least 99% playing accuracy, we began playing video poker for real money in a casino. We always brought a "cheat sheet" with us when we played that we could refer to if we weren't 100% sure of how to play a hand. We also started our video poker journey on a quarter-denomination machine and as our bankroll grew, we moved up to 50-cent denomination and eventually dollar (and sometimes) two-dollar denomination. (In the beginning, we split our time playing blackjack and video poker.)
We were fortunate that we got involved with video poker when we did because there were so many great opportunities available to smart players. I can remember playing Full Pay Deuces Wild machines at the Suncoast Casino (located in North Las Vegas, which in those days had over 50 full-pay machines in the casino). We also spent a lot of time playing at the South Point casino at the south end of the Strip because they also had many full-pay games with great casino promotions and lucrative bounce back offers that we received from their monthly mailers. We were also able to take advantage of some great video poker games in Mississippi. One of the best was at the Palace Casino in Biloxi that had many 9/6 Jacks or Better machines in dollar denomination and a great senior promotion that included triple points (yielding a 0.9% return), a free lunch buffet, a free gift, and at the end of the day we would convert all the free play we earned into cash. But the crème de la crème when it came to video poker advantage play was Casino Montelago, a small casino located in the plush Lake of Las Vegas community (located in Henderson, NV). During the beginning of our video poker career, we played there often to kick-start our bankroll because they had Full Pay Deuces Wild machines (quarter denomination), frequent point multipliers, comps for lunch or dinner in their restaurant, lots of free gifts, and frequent cash-prize giveaways for players. (Once, my wife won a couple of hundred dollars in cash twice in the same day while playing a Full Pay Deuces Wild machine during a three-time multiplier promotion.)
My wife and I had other memorable playing experiences with video poker (most good; some not so good), which I'll describe in more detail in future articles. For now, I hope you will heed the advice of Lenny and Jean (just as Linda and I had done) and consider learning how to play video poker skillfully. You won't regret it.
Note: If you want to get started learning how to win at video poker, I suggest you read my friend Jerry "Stickman" Stich's Ultimate Guide to Video Poker.