I was not able to attend this year's Blackjack Ball because of my wife's unexpected surgery that occurred the week of the Ball. Nevertheless, my good friends Rick Blaine (co-author of the excellent Blackjack Blueprint book) and Max Rubin (co-host of the Ball) provided me with the details that I used to write this article.
As is always the case, this year's 24th Blackjack Ball was held at a closely guarded, secret location in Las Vegas. The 103 invited guests, which included some of the most dangerous players from the USA and abroad, gather each year to socialize, cast votes to determine who will be inducted into the Blackjack Hall of Fame, and compete in a skills competition to determine who will win the title (and bragging rights) for the "World's Greatest Blackjack Player."
(Note: Thirteen members of the Blackjack Hall of Fame attended. There is also a waiting list of players who would like to be invited to the Ball. Each potential candidate must be approved by a committee of Blackjack Hall of Famers.)
The event begins with hors d'oeuvres with plenty of champagne (each guest is required to bring one bottle of "premium" champagne), a delicious buffet courtesy of Barona Resorts and Casino (guests also pony up $100 to defray some of its cost), a charitable Calcutta, and the 21-question test and table competition. There is also an after-party where guests can continue to schmooze and exchange casino stories and blackjack strategies until early the next morning.
The list of attendees includes some of the world's best (and most dangerous) active and retired advantage players, as well as others who have contributed to the craft. Some of the attendees may be familiar to you: Edward Thorp (inventor of card counting); Johnny Chang (MIT Team); Don Johnson (who beat several Atlantic City casinos out of $15 million); and James Grosjean (considered by his peers to be the world's best and brightest blackjack player).
This year, there were also several invited guests:
• Jean Scott (recently retired "Queen of Comps," and author of several popular Frugal Gambling books)
• Jim "Mattress Mack" McIngvale (who lost more than $13 million in bets on the Houston Astros to win the 2019 World Series to hedge a potential $20 million loss on a promotion at his Houston furniture store)
• Todd Dewey (writer for Las Vegas Review Journal, who wrote an article on this year's Blackjack Ball that appeared in the 3/1/2020 edition of the newspaper)
• Roger Gross (publisher of Global Gaming Business magazine, the leading trade publication for the gaming industry)
NOMINEES FOR THE BLACKJACK HALL OF FAME
Attendees voted for the following nine nominees. (Note: After you read each of the nominees' accomplishments, whom would you have voted for?)
CAT HULBERT
Cat was selected as one of BBC's 100 Women of 2016 – an honor given to "high-profile women from the spheres of entertainment, sport, business and politics." Chosen for being the first woman to break through the glass ceiling of professional blackjack in 1978, she played on the Czechoslovakian blackjack team in over 300 casinos worldwide. Cat's aggressive play and fearlessness changed many opinions on the mathematical and emotional capabilities of women to bet it up under pressure.
Selected by Card Player Magazine in 1996 as one of the best and smartest card players in the world, she was one of only eight professional gamblers to be included in Richard Munchkin's book, Gambling Wizards. Along with teaching a women-only poker class for many years at the Hollywood Park Casino, Cat also wrote Outplaying the Boys, a humorous book and guide for women, published in NYC in 2005, teaching ladies how to become more competitive in life and at the tables.
Cat was featured in LA's The Daily Breeze and the Sunday LA Times for her top-notch card-playing abilities in blackjack and poker. Also a contestant on Blackjack's Tournament of Champions, Cat has been a guest on numerous radio shows including NPR, Gambling with an Edge, and BBC's The Conversation. She is often sought out due to her unusual successful life choices and her mission to change how women are viewed – by men and by themselves alike. On December 7, 2016, the BBC published a biographical article based on her remarkable exploits that claimed to have received a million reads the first day it appeared on their homepage.
MIKE MICHALEK
Mike was one of the earliest card counters to realize that there were opportunities in blackjack beyond straight counting. Credited by many for creating some of the earlier shuffle- and ace-tracking methods, he was one of the very few APs who could walk through a casino, see a game or procedure, and often design unique plays to exploit new opportunities "on the spot."
When Mike's name comes up among those in the know, the word "creative" often begins that conversation. As the brain behind many successful sports and blackjack projects, many famous APs relied on the lessons learned from Mike to accumulate massive bankrolls and mostly all of them attribute money they've made over the years to his influence. Renowned professional blackjack players including Tommy Hyland, Bill Benter, John Chang, Peter Wagner, Richard Dougherty, and many, many more often pay homage to Mike for taking their games to new heights.
Although Mike has been inactive for more than ten years due to serious health issues, some of his more clever blackjack "inventions" are still being used by talented APs across the globe to harvest money from casinos that continue to remain unfamiliar with the unique playing and betting techniques that he created decades ago.
MARK BILLINGS
Starting in 1981, Mark enjoyed a blackjack career that included many of the usual suspects (counting, shuffle-tracking, etc.). In addition, he traveled the world as one of the early computer players, and was instrumental in pioneering advanced non-counting methods of getting an edge. Many of these exploits are recounted in his book, The Ultimate Edge. Roulette was next, taking over where Doyne Farmer and the Eudaemons had left off and succeeding in a way that had to be seen to be believed. (Book to follow.)
RICHARD DOUGHERTY
Richard has long been one of the blackjack players casinos fear the most ... and most often. Casinos have sent out literally hundreds of flyers, bulletins, and alerts about Richard during his more than three decades as a blackjack "Road Warrior," and yet he still marches on.
Throughout his long, illustrious and (in)famous career, blackjack has been Richard's virtually only source of income. No matter how many times the casinos back him off, assault him, and even go so far as to have him arrested for his legal activities, he never stops his relentless attack on their games.
Not only does Richard refuse to be intimidated by casino and surveillance personnel, he's also "turned the tables" on casinos and extracted hefty scores via profitable lawsuits after suffering through illegal "back roomings" and outright beatings in front of the public on the casino floor on the Las Vegas Strip! As if that weren't enough to put Richard in the casinos' crosshairs, as a fearless and fun-loving casino prankster, he's also pulled off a number of clever and legendary practical jokes that leave everyone (other than the casinos) laughing with glee.
MARIA "THE GREEK"
Maria is the co-founder and one-time manager of "The Greeks" blackjack team. Having quit their day jobs as very successful New York attorneys, she, her brother, and highly respected colleagues formed the largest single group of players in history; at one time she simultaneously managed over 40 individual players. She recruited only the top talent, having the most notoriously difficult set of tests required to pass in order to get onto the team. Additionally, Maria's team won countless millions utilizing a "slash and burn" technique in which BPs would wade into the middle of a game, often betting 3 x $10,000. Needless to say, each BP didn't last long, but the enormous bets resulted in some of the largest card counting wins in history.
An extraordinary businessperson, she utilized her business acumen, extraordinarily high I.Q. (even among the best of the best), along with common sense to guide the most successful single card counting team this century.
Along with being a master at sequencing, tracking, and now a high-stakes poker professional, Maria is also the only woman to have ever won the coveted title of "World's Greatest Blackjack Player" at the Blackjack Ball (even in the days when arm wrestling, chip shuffling, card tossing, and more were among the 11 events at the final table).
ANTHONY CURTIS
Not only is Anthony the most successful publisher of professional gambling books in history, with over 100 titles to his credit (including eight by members of the Blackjack Hall of Fame), he is also unequivocally the most famous gambling expert in the world.
With a career spanning some 40 years as a highly successful professional player in blackjack, casino tournaments (of all stripes), sports, and other forms of gambling, he is also the creator of "Couponomy," as featured in his monthly Las Vegas Advisor (in print and Internet form). The latter is the most successful, longest running, and ongoing Las Vegas gaming publication ever written and published.
As well as being featured on countless high-profile television programs ranging from The Today Show to 20/20 and more, he has also consulted as a gambling expert for Premium Movies (Disney, Ocean's 13, etc.), and acted as the "go to" writer and expert for scores of print media companies, including The Wall Street Journal, LA Times, Newsweek, USA Today, The London Times, and more.
NORM WATTENBERGER
Norm is the foremost blackjack software developer in the world today, and his line of Casino Vérité products has come to be known as the quintessential tool for analyzing virtually any problem associated with the game of live blackjack. The incredible graphics and the realism of the practice modes of CV have received the highest praise from the thousands of satisfied customers who have honed their skills on this magnificent product.
Norm has made a great many of his computer studies and applications available free of charge on the internet, and you will be amazed at the sophistication of his analyses as you visit his website at qfit.com. A consummate programmer, Norm is an industry legend who continues to provide computer simulations and studies to answer problems on his blackjackforum.com while continuing his blackjack research. His two-volume Modern Blackjack is perhaps one of the most original and comprehensive treatments of the game in print, and represents hundreds, if not thousands, of hours of computer-generated insights into the game not to be found anywhere else.
BLAIR HULL
Blair was a big player on Frank Salerno's highly successful blackjack team in the mid-'70s. He began playing solo in 1971 and continued to run his own team in the late '70s.
In 1977, Blair was intrigued by the financial markets and became a market maker on the Pacific Stock Exchange, where he founded Hull Trading. Using quantitative models, Hull Trading became one of the world's premier market-making firms, trading on 26 exchanges in nine countries until being sold in 1999 to Goldman Sachs for $531 million. Worth Magazine named him one of "Wall Street's 25 Smartest Players."
In 2004, Blair sought the Democratic nomination for the U.S. Senate in Illinois in a race that was won by Barack Obama. He currently serves as manager of Hull Tactical Asset Allocation (HTAA), which uses macro-economic, fundamental, and sentiment data along with machine-learning techniques to predict moves in the S&P 500.
LANCE HUMBLE
Lance (deceased in 2016) was a university professor in Toronto who became fascinated with card counting at casino blackjack in the early '70s after reading Blackjack Hall of Fame member Edward Thorp's Beat the Dealer. Lance hired Thorp's computer whiz, BJHoF member Julian Braun, to devise playing strategies for two counting systems he christened as Hi-Opt 1 and Hi-Opt 2 that Braun also tested via computer simulation, finding them to be quite powerful versus the typical Las Vegas rules and conditions. Lance started selling these systems via mail order in the mid-'70s, at which time he founded the International Blackjack Club and started publishing a newsletter that primarily printed reports from card counters on their experiences and win/loss results in Las Vegas casinos. He also hired BJHoF member Peter Griffin to devise multi-parameter (side-count) tables for his Hi-Opt systems.
Lance is primarily known as the co-author (with Carl Cooper) of The World's Greatest Blackjack Book, published in hardcover by Doubleday in 1980, with a second edition published in paperback in 1987. Doubleday had extensive distribution and the Hi-Opt systems were soon among the most widely used card-counting systems throughout the '80s. Because the Hi-Opt systems required a side-count of aces, they fell out of favor with players who preferred the simpler systems, like Hi-Lo. But Lance was responsible for bringing many thousands of serious players into the game in the '70s and '80s.
NEWEST INDUCTEE INTO THE BLACKJACK HALL OF FAME
Congratulations to Anthony Curtis for being voted by his peers into the prestigious Blackjack Hall of Fame.
Note: Curtis garnered almost twice as many votes as the second place finisher. The other contenders are listed in the order of votes received: Mike Michalek, Maria the Greek, Blair Hull, Cat Hulbert, Mark Billings, Richard Dougherty, Norm Wattenberger, Lance Humble.
Curtis now joins an illustrious group of blackjack luminaries in the Blackjack Hall of Fame. (You can view the physical Blackjack Hall of Fame at the Barona Resort and Casino, located in San Diego, California.) The up-to-date listing of the members of the Blackjack Hall of Fame (and the year they were inducted) follows:
Al Francesco (2002)
Peter Griffin (2002)
Tommy Hyland (2002)
Arnold Snyder (2002)
Edward O. Thorp (2002)
Ken Uston (2002)
Stanford Wong (2002)
Max Rubin (2004)
Keith Taft (2004)
Julian Bruan (2005)
Lawrence Revere (2005)
John Chang (2006)
James Grosjean (2006)
Roger Baldwin, Wilbert Cantey, Herbert Maisel, and James McDermott, collectively known as the "Four Horsemen of Aberdeen" (2008)
Richard Munchkin (2009)
Darryl Purpose (2010)
Zeljko Ranogajec (2011)
Ian Andersen (2012)
Robert Nersesian (2014)
Don Schlesinger (2015)
Bill Benter (2016)
Don Johnson (2017)
Wally Simmons (2018)
Rob Reitzen (2019)
Anthony Curtis (2020)
CALCUTTA
Next on the agenda was the charitable Calcutta, which is sort of pari-mutuel wagering where the attendees can bet on who they think will win the coveted Grosjean Cup and title of "World's Greatest Blackjack Player." Below is the list of the seeds (i.e., THE PLAYERS) where attendees were slotted into an appropriate grouping. The second column (BEST FINISH) shows the results for each seed in previous Balls. Max posted the opening odds of winning (on his overhead slide at the Ball) for each seed, and then started the bidding. (The first row titled THE FIELD is everyone else who isn't listed in another team.) Attendees in each seed are also allowed to purchase up to 50% of themselves from the highest bidder.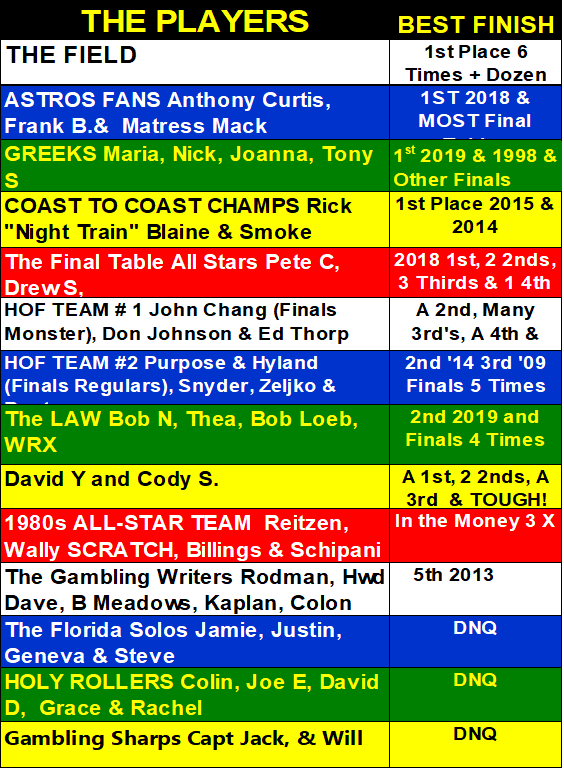 COMPETITION FOR "WORLD'S GREATEST BLACKJACK PLAYER"
The competition for the title (and bragging rights) as the "World's Greatest Blackjack Player" consists of several rounds, the first being a challenging 21-question written test followed by a series of subsequent rounds conducted on a blackjack table that test the player's card-counting skills.
(Note: The written test includes a mix of questions on blackjack, gambling trivia, and general knowledge because, as Rubin puts it, "A world-class blackjack player should know lots of stuff because you never know when it might come in handy.")
Below are instructions read by Rubin prior to reading the test questions. Put on your thinking cap and try to answer them.
Blackjack Ball 2020: Round One Questions
In order to eliminate opportunities for mischief, as always, as you fill out your game card, you must completely answer each true or false question or multiple-choice question and fill in the blank before we move on to the next question. All answers must be marked with dark ink. You cannot change your answer once you have marked your card. If there are any blanks or changed answers when your graded card is turned in, you will be disqualified. It's happened before, right Anthony? So be sure to complete every answer. One time only ‒ with NO revisions.
Please write your name on your card now to make sure that your pens are working. If they aren't, hold up your hand and we'll bring you another one.
Also, those who look at their cell phones for any reason, other than to take an emergency call ‒ in which case we will all wait until that emergency has been dealt with ‒ will also be disqualified from play. You are allowed to use the back of your playing card to calculate your answers.
You may only play with one card and only write on the back of that card. All who haven't completed their single cards within 45 seconds after the last question has been asked will be eliminated.
Anyone on a team can buy a piece, including if you're in the field, you can buy a pro-rata share, so EVERYBODY CAN BE IN ACTION.
MAKE SURE YOU PENS WORK. READY? HERE WE GO.
I'll read each question twice. Ready?
1. True or False? In his playing career, Hall-of-Famer James Grosjean has had a royal flush ON THE BOARD in Ultimate Texas Hold'Em; five Aces WITH A PAIR in Pai Gow Poker; and suited Quads in a 5-deck Spanish 21 game (meaning his first two cards and the dealer's upcard and hole card were all the exact same rank and suit). In the past year, Hall-of-Famer Darryl Purpose had five consecutive blackjacks on the same spot in an 8-deck blackjack game. True or False? Darryl's feat of five consecutive blackjacks is the most unlikely out of these rare hands.
2. Which of these games that modern blackjack evolved from is the oldest? You may pick one of two answers that are correct.
a) Quince from France
b) Vingt-et-Un from France
c) Treinte y Uno from Spain
d) Trentuno from Italy
e) Sette e Mezzo from Italy
f) None of the above
3. How many standard clay casino chips would you have to stack to equal the height of a single chip standing up on its edge?
Fill in the blank: _______________
4. True or False? The "Data on the Nevada Gaming Abstract" from December 31, 2010 and ending on December 31, 2019, spans precisely nine years.
5. Which one of these businesses was founded as a Playing Card Company?
a) GLI
b) Bally's
c) Nintendo
d) Harrah's
e) Atari
f) None of the above
6. Spell Souvenir.
7. True or False? In 1910, Nevada passed a law outlawing all forms of legalized gambling. However, in 1915, Nevada legalized blackjack.
8. Another from blackjack's Jedi Master (aka James Grosjean): Your aspiring blackjack wizard nephew tells you that for his 18th birthday this Tuesday, he wants to go to the Indigo Sky casino and turn his $5 bankroll into a fortune, without any help from you. He has only $5 on this earth. What additional bad news will you have to tell him about his plan?
a) The gambling age there is 21, so he will have to find a different casino.
b) There is almost no chance of finding a $5 table at the Indigo Sky.
c) Even if he finds a $5 table, he'll need to give his ID to get a player's card.
d) Casino security might ask him to remove his "MAGA" hat at the door.
e) The Indigo Sky has only slot machines, no table games.
9. This one could be a little tough for all of you, since by coming to the Blackjack Ball you're all on your honor to NOT play at Barona. Now, while Barona generally has the most full-pay, pitch 21 games in the world (because they don't have to worry about your setting up shop down there) and they'll NEVER rip off their players with those ridiculous 6/5 games, Barona does have a LOT of other different blackjack games, because their players love them. Which one of these blackjack games is NOT currently being played at Barona?
a) Blackjack Switch
b) Dragon Blackjack
c) Down Under Blackjack
d) Zap it Blackjack
e) Zombie Blackjack
f) Double Deck Free Bet Blackjack
10. True or False? According to several respected publications, blackjack, in which players receive a bonus for having a natural, was invented, named such, and began play on riverboats and Wild West casinos in the 19th century. So according to those publications, the name blackjack and the enhanced 3/2 payout were invented, introduced, and played for the first time within the confines of the current contiguous 48 United States.
11. This is another Grosjean special: You walk into a Midwest casino and see that every table has a posted maximum of $100. If you knew that your starting two cards would be a suited Ace and King, which game would be worth the most money, assuming you only play the main game, and not the side bets?
a) 6:5 single-deck
b) 6:5 single-deck with "even money" allowed if the dealer shows an Ace up
c) Three Card Poker
d) Ultimate Texas Hold'Em
e) Mississippi Stud
12. Fact: As of December 31, 2019, downtown Las Vegas had fewer blackjack games of all stripes than they had as of December 31, 2010. Within 50, how many games were lost?
13. True or False? In Deuces Wild video poker with any pay schedule, you are exactly 10 times as likely to be dealt a wild royal flush (i.e., a royal flush containing one, two, or three deuces) than you are to be dealt four deuces.
14. In which of the following video poker games would the value of a suited AK be greater than the value of a suited AQ?
a) Triple Bonus Poker
b) Triple Bonus Poker Plus
c) Triple Double Bonus Poker
d) A suited AK is always more valuable than a suited AQ in these games.
e) A suited AK is never more valuable than a suited AQ in these games.
15. This is a two-part question: What are the most points that either a Division 1 NCAA or NFL football team can lose by in overtime? You must have the correct number and league.
16. True or False? The Silver Reef Casino that offers blackjack in Washington State is geographically north of the Casino de Montreal, in Montreal, and the Woodbine in Toronto.
17. You are playing head's up No Limit Texas Hold'Em and are dealt AK of hearts. Would it be easier to flop a set, or flop a 3-of-a-kind from this position?
a) Flopping a set would be easier.
b) Flopping 3-of-a-kind would be easier.
c) They are the same.
18. Here's another beauty from James. Although the law was later overturned, in 2010 the Black Hawk city council passed an ordinance banning which one of the following from all its casinos?
a) Bicycles
b) Dice games
c) Smoking
d) Bets exceeding $100
19. True or False? The Rolex Pearlmaster Oyster Perpetual Date Just is a lovely watch that will set you back $40,000 to purchase – or what some gentlemen in this room would call a cheap watch. True or False? The numbers on the watch are all typical Roman numerals – other than the twelve, which is replaced by the Rolex logo, and the three, which is replaced by the current day of the month.
20. You're a BP in a casino where no one knows basic strategy at all, so cover plays are unnecessary. The dealer has a 2 upcard. You hit your hard 8 and make a 16, and your beast of a hole-card spotter tells you to stand. Which of the following is not true?
a) The dealer could have a 2 in the hole.
b) The dealer could have a 9 in the hole.
c) The dealer could have a 10 in the hole.
d) As a BP, my job is to follow signals, not try to infer what the hole card is.
e) They are all true.
21. And we finish with one last question courtesy of James. Make sure to answer this one and everything else on your card within 45 seconds after I repeat it. Here we go: Assuming the dealer always plays out her hand and you're playing blackjack on a six-deck, H17 game in which everyone still in action ties if the dealer busts with a 22, within one percent, what are the chances that the dealer will bust with exactly 22? I'm going to repeat the question one more time and then you will have exactly 45 seconds to finish your card. Any blank answers will result in a DQ. I'll repeat it one more time. And good luck.
Note: You'll find the answers to the test questions in Part 2 of this article (including the names of the players who had the most correct answers) as well as a summary of the subsequent rounds in the competition for the "World's Greatest Player," and who won the competition.
For more details on the background of the Ball, read my article on the 2019 Ball or the section on the Blackjack Ball in my Ultimate Blackjack Strategy Guide.