The following ten strategy tips are for casual blackjack players who want to increase their odds of winning while having fun playing blackjack.
THE BEST 10 TIPS ON HOW TO WIN AT BLACKJACK:

STRATEGY TIP #1. PLAY ONLY GAMES WITH LIBERAL PLAYING RULES
Scout the blackjack tables to find the most liberal playing rules. Play only on tables where a blackjack pays 3-2 (and avoid all games where the payoff is 6 to 5 blackjack, or worse, even money). Other liberal blackjack rules are the dealer stands on soft 17, players can double down on any two cards, and doubling after pair splitting is allowed. (If surrender is offered, better yet.) Fewer decks are better than more decks.
BOTTOM LINE
A single- or double-deck game has better odds for a player than a six- or eight-deck game (assuming the same rules).
STRATEGY TIP #2. LEARN THE BASIC PLAYING STRATEGY
Blackjack is not a guessing game where sometimes you hit your 16 against a dealer ten upcard whereas other times you stand. Brilliant mathematicians have been studying the game of blackjack for over 60 years and what they have proven without a doubt is that there is an optimal way to play every hand dealt to you. This optimal blackjack strategy, known as the basic playing strategy, allows a player to minimize the house edge to less than 1% when a player uses the strategy to play every hand.
BOTTOM LINE
You should never play blackjack without knowing and using the proper basic playing strategy for the rules set that you are playing against.
STRATEGY TIP #3. USE A STRATEGY CARD
An obvious tip, yet how many land-based or live blackjack players do you see using a strategy card when they play blackjack? These plastic laminated cards are readily available, casino-legal, and you can refer to them to be sure you always make the correct decision on every hand dealt to you, to avoid costly playing mistakes.
Note: For security reasons, casinos don't allow players to place strategy cards — or other "things" — on a blackjack table, so just hold the card in your hand, and if you are unsure as to how to play a particular hand, glance at your strategy card for the answer.
BOTTOM LINE
Strategy cards can reduce your mistakes while playing blackjack.
STRATEGY TIP #4. AVOID MAKING THE INSURANCE WAGER
Don't make the Insurance wager no matter how much money you wagered on your hand. Insurance is a sucker bet. You are betting that the dealer has a ten-value downcard to go with her Ace upcard (thus giving her a blackjack). A winning insurance bet pays 2-1 but the odds of winning are worse than 2-1.
BOTTOM LINE
In that particular situation, even if you have a blackjack, and the dealer offers you even money, decline it.

STRATEGY TIP #5. IGNORE YOUR FELLOW PLAYERS
The playing decisions of other players on your table have no effect in the long run on your odds of winning. Blackjack is not a team sport. Always use the basic playing strategy regardless of how the other players play their hand, how much you bet, and whether you lost or won the previous sessions.
BOTTOM LINE
You're not in charge of other players winnings, only yours.
STRATEGY TIP #6. AVOID PROGRESSIVE STRATEGIES
Sizing your bet based on whether you won or lost the previous hand is a losing proposition. You should only bet more when there are more high-valued cards vs low-valued cards in the unplayed pack of cards. (This is what card counting systems monitor.)
BOTTOM LINE
There are several simple, entry-level, card-counting systems that I recommend for casual players. (See Chapter 10 in my Ultimate Blackjack Strategy Guide.)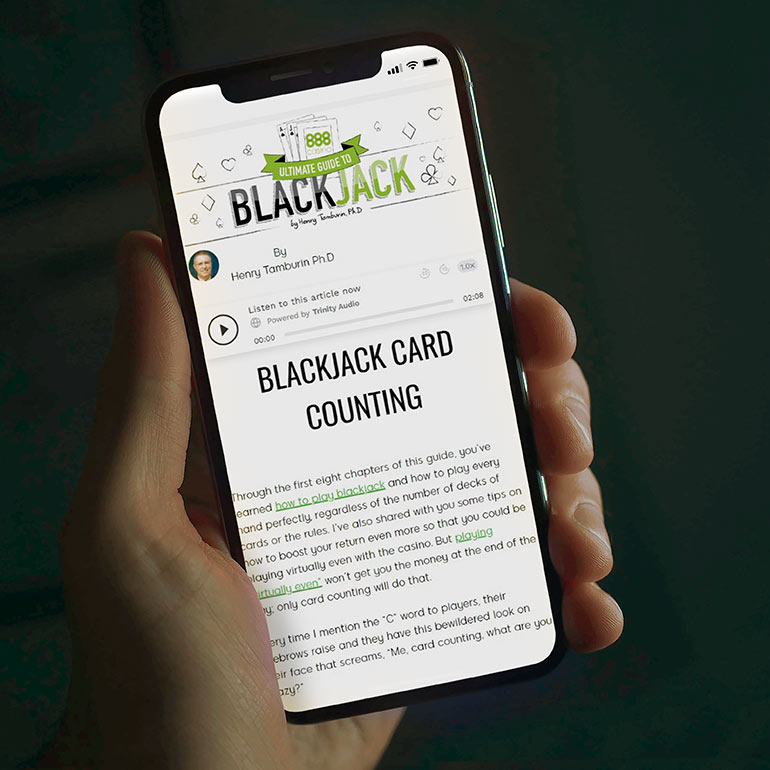 STRATEGY TIP #7. DON'T BELIEVE YOU ARE DUE TO WIN
Don't increase your bets because you feel you are due to win at the game of blackjack. The cards don't know and they don't care whether you are in the midst of a losing (or winning) streak.
BOTTOM LINE
Regardless of what happened during your previous playing sessions, stay the course and follow the tips in this article.
STRATEGY TIP #8. DON'T PLAY ON TABLES THAT USE A CONTINUOUS SHUFFLER
Continuous shuffling machines (CSMs) are devices that shuffle the cards after each round, which results in more hands dealt per hour (good for the casino), and more exposure of your bankroll to the house edge (bad for the player), Play on tables that use a traditional mechanical shuffler (where the cards are shuffled after 50% to 75% of them have been played), or where the dealer manually shuffles the cards.
BOTTOM LINE
Additionally, play on crowded tables (this will reduce the number of hands you play per hour, which will decrease the exposure of your bankroll to the house edge).
STRATEGY TIP #9. GET RATED WHEN YOU PLAY
Always give your player's card to the blackjack dealer to get rated for your play. The extra perks (i.e., comps) you get will reduce your cost of playing.
STRATEGY TIP #10. GO EASY ON THE BOOZE
Alcoholic drinks are "free" when you play in most casinos but too much booze will dull your senses and increase your chances of making a costly playing mistake. Stay focused on playing every hand perfectly.