Video poker may not find the popularity of casino games like slots and blackjack or even the live version of poker found in card rooms and in home games around the world. However, this game still has a loyal following of players who love to jump in the action when heading to Las Vegas, their local casino, or on an online casino.
Video poker can be a great way to relax with a cocktail and find some nice wins if a player can master basic strategy on one of the games offered on an individual machine. This form of gambling also offers an interactivity not found on traditional slots.
The game also has an interesting history that traces video poker from 18th Century poker machines that were similar to slots to early games that grew popular during the rise of the personal computer. Here's a brief look at the history of video poker.
1 – The basics of video poker
While these games are traditionally considered slot machines, they are played very differently. There are no spinning reels and players actually have some choices in how the game may turn out. Video poker is also one of the rare games where In certain situations, players can even turn the tables on the casino and flip the odds in their favor.
But that comes with plenty of practice and perfect use of basic strategy. Combine that with casino reward points accrued and video poker can be a great game for players.
It's important to note that video poker is actually an overall category of games and players parking themselves at a game will usually find several options to play. The basics of the game are played basically like the live poker game Five Card Draw. Players are dealt five cards and then have the option to keep all, some, or none of the cards they're dealt.
Like on a slot, certain results pay out higher than others and players can decide how many credits they want to play per hand. Here's a look at a few of the more popular video poker options.
Jacks or Better – In this game players must have a pair of Jacks or higher to register a win. There are several versions of this game with varying bonuses, and strategies can differ for each.
Deuces Wild – This is another popular version of video poker and is a good option for players who like a bit more action. As the name implies, aa deuces are wild in this game. There are more options to win, but payouts may be smaller. There are also numerous versions of this game as well.
Joker's Wild – This is another version of video poker with the Joker in the deck and serving as a wild card. One version of the game allows players to win with a minimum of a pair and another version doesn't pay out unless you have a pair of Kings or higher. Here's a guide on how to play Joker's Wild.
There are several other versions of video poker games such as Aces and Eights, Pick'em Poker (also known as Pick a Pair Poker), ACE$ Bonus Poker, and more.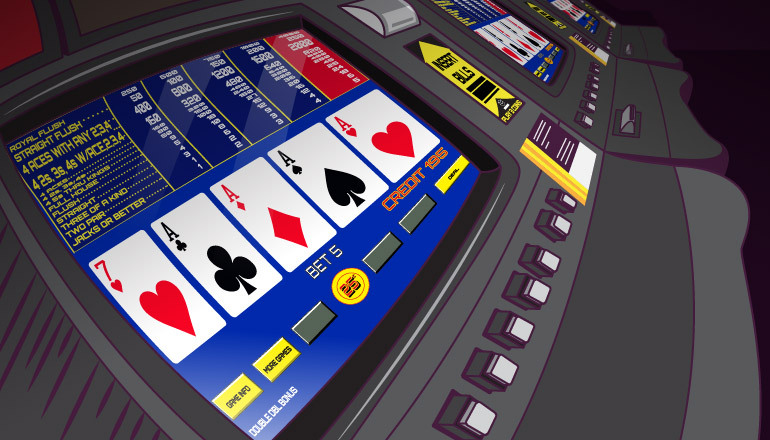 2 – Early versions of video poker
Unlike modern table games and even slot machines, video poker games are fairly new to the world of gambling. As the name implies a true "video" poker game wouldn't be available until well into the age of computer screens.
However, the popularity of poker in the late 19th Century inspired a company in Brooklyn, New York, to create a poker machine that was released in 1891. The game proved popular and could soon be found across the country.
Abou this same time, slot machines began debuting at bars and restaurants throughout California and spread quickly across the country. Both games originally didn't pay out only in cash.
"On many early machines, players put in a coin, after which the machine flipped through five sets of cards that displayed in a window," David Schwartz noted in the Roll the Bones: The History of Gambling. "Lucky players won a prize in proportion to the strength of their hand: two pair might garner only one cigar (or its cash equivalent, a nickel), while a full house might win four."
Poker was particularly popular in San Francisco, California, and so were the poker machines. This is also where Charles Fey began perfecting his first Liberty Bell slot machine, which also proved popular in the area. Fey also built what he called the Card Bell in 1998, which turned out to be the first poker machine to pay out winners automatically with coins.
One can see where this was headed. Fey could only develop three reels for his cards, and the game instead became the precursor to today's modern slot machines. Slots and video poker remain coupled together in casinos even today.
But there seems to be quite a bit of time between those early versions and what we know as video poker today. When personal computers began popping up in the 1970s, so did some of the first video poker games. Video poker dates its history back to a time when computers began becoming more a part of everyday life.
Similar to those earlier poker machines, the games now offered a better experience and some interactivity for players. The game of video poker earned a real shot in the arm in 1979 with the release of Draw Poker from a company named SIRCOMA (Si Redd's Coin Machines). The company was founded in 1975 by Redd, who also owned a casino in Mesquite, Nevada, but would soon see a name change and some massive growth.
SIRCOMA later evolved into International Game Technology (IGT), now one of the largest slot machine manufacturers in the world. Redd eventually became known as the "king of slot machines" and is a member of the Gaming Hall of Fame and the Nevada Business Hall of Fame.
Redd's Draw Poker was a hit and helped contribute to the company's growth. As in a game like Five Card Draw, players dropping a few coins in the machine could select the cards they wanted to keep and also choose the ones they wanted to throw back and draw again.
Draw Poker's popularity saw a major bump in the 1980s. Many players like the laid-back feel of playing the games, which are now often found at bar tops in Las Vegas and in other casino jurisdictions. Those who enjoyed playing poker in home games, but might be a bit nervous about playing a casino card room also enjoyed some time at Draw Poker machines.
"It was not the first attempt at a video poker machine," Roll the Bones notes about Draw Poker, "but it was the most successful."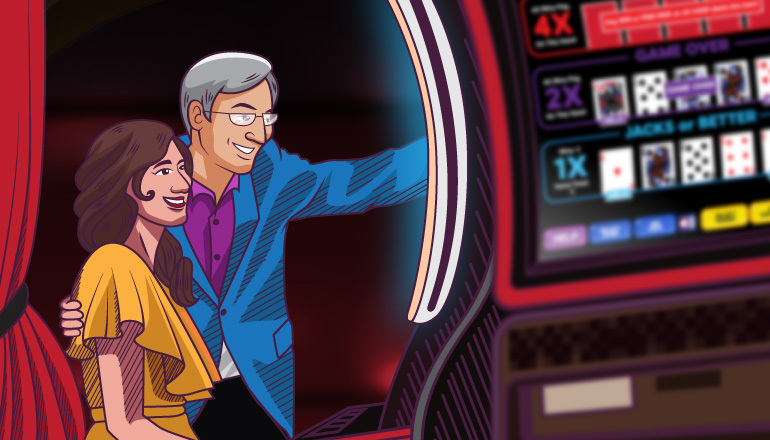 3 – Modern video poker
While modern slot machines have seen massive improvements since their early ancestors, the modernization of video poker machines has been more gradual. Slots are the most popular games in the casino and computer technology have amped up the graphics, sound, and game features in the last couple decades.
Those types of bells and whistles have yet to come to the world of slot machines and those games of the '70s and '80s probably look a bit more like the games we see today. However, there have been some updates in the last few decades.
As noted earlier, players have more options on what types of games they'd like to play, such as Jacks or Better, Deuces Wild, Joker's Wild, and more.
Many players today also enjoy playing multiple-hand games that are available now at numerous casinos. These offer players a chance to play as many as 100 hands at once, cashing out for bigger wins on the drawing possibilities of a single hand all at once.
For some players, the casual atmosphere and gameplay that comes with video poker is a nice alternative to the hyperactivity, bells and whistles, and house edge that come with playing traditional slot machines.
Savvy video poker players have a real chance to find some winnings, depending on their skills. Some video poker players practicing perfect strategy can tip the odds of a game in their favor as well. Those who find nice casino comps can find even bigger advantages.
Of course, many casinos find ways to alter some of the payouts and tip the odds in their favor. That has made it important for video poker players to check out how each game pays out and know what games to watch for. For more information on this aspect of play, click here.
In recent years, video poker may have waned a bit in popularity compared to games like slots and traditional poker. Casinos still regularly offer the game to players. Many Las Vegas players especially enjoy the game at properties catering to locals. These casinos usually feature lower denominations and often better payouts odds than those geared toward tourists on the Las Vegas Strip.
Brush up on strategy and the next time you're in a casino, drop a few coins in and see how things play out. You may just walk away a winner.
4 – Frequently asked questions
What is a video poker game?
Video poker is a form of slot machine that allows players to play several versions of draw poker. Players decide which cards they want to keep and which they want to draw. The games also usually feature several betting limits and are usually grouped with slot machines.
When was video poker invented?
Although poker machines date back to the late 19th Century, around the time of the invention of the first slot machines, actual "video" poker began appearing in the 1970s. The growth of the personal computer gave rise to video poker and casino players were drawn to the Draw Poker version throughout the 1980s. The games were part of the growth of technology in the casino industry.
Can a player beat the house in video poker?
On some favorable terms, players using perfect strategy can see the odds turn in their favor. Players looking to do this should have an idea into which game is more favorable to this and also which game they are best at. Smart players can work on their skills and have a chance to win.